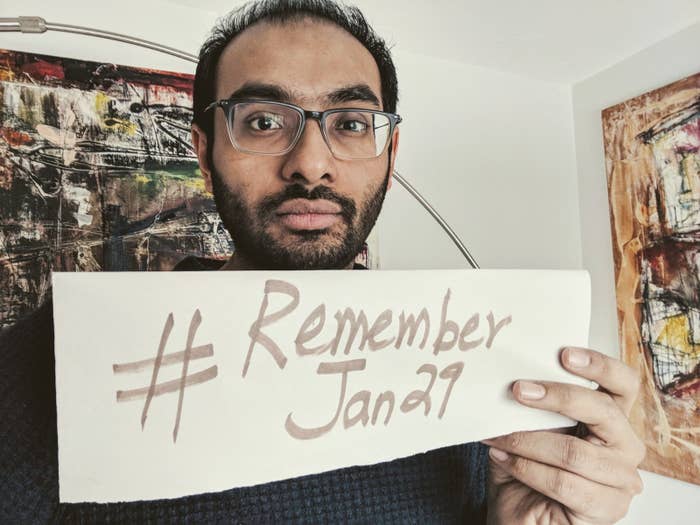 A campaign timed for the one-year anniversary of the Quebec mosque shooting is asking Canadians to reflect on their own memories of Jan. 29, 2017, when a gunman entered the Centre culturel Islamique de Québec and opened fire, killing six men and injuring many others.
Aliya Pabani and Syed Hussan, the co-organizers of the campaign, said the project was motivated by the sense that despite being the biggest politically motivated massacre in decades, the event has already started to fade from the collective Canadian consciousness. The campaign is asking people to remember where they were and what they were doing when they first heard the news.
"We're asking a simple question so people can think about remembering and also think about why they're perhaps forgetting," Pabani said.

Using the hashtags #RememberJan29 and #SouvenezVous29Jan, people across Canada have been sharing their reflections.
Some described the shock of first hearing about the shooting.
This person said it made them re-evaluate how they would navigate the world if they were Muslim.
Hussan said he vividly remembers the shooting, and thinking at the time that it would be "a really critical moment that would fundamentally reshape our politics." But after being out of the country for much of the year, he was shocked to return to Canada and find that it hadn't led to the kind of awakening he'd expected.
"The conversation was really at the surface level, where we're only talking about hate crimes as if all Islamophobia is an attack on civil liberties... but not about immigration policy or anti-terrorism policy or war or imperialism," he said.
He said that wider conversation — about the myriad domestic and foreign policies that shape the public's understanding of Islam and Muslims — is one that Canada still hasn't attempted. His hope is that an act of deliberate remembrance can lay the groundwork for having those tougher conversations about what led up to the mosque massacre, and what can change as a result.
Many people have described the intense grief they felt at the time.
Or how they were comforted by others in the days after the massacre.
This poster admitted that were it not for the #RememberJan29 campaign, they probably would have forgotten about the shooting anniversary. "Thank you. I don't want to forget it again."
There have also been many responses noting the strong acts of solidarity in the days following the massacre.
And others have made sure not to forget the victims of the massacre: Khaled Belkacemi, Azzeddine Soufiane, Boubaker Thabti, Ibrahima Barry, Mamadou Tanou Barry, and Abdelkrim Hassane.
Both Pabani and Hussan said that while they had nothing against declaring Jan. 29 a National Day of Remembrance and Action on Islamophobia, as has been urged by Muslim advocacy groups, their hope is that fighting anti-Muslim bigotry becomes an ongoing process that happens both at the official level, and among average Canadians.

"What we're trying to do," Pabani said, "is have a conversation at a deeply human level with the broadest mass of people, in the broadest possible definition of Islamophobia."
Ishmael N. Daro is a reporter for BuzzFeed News and is based in Toronto. PGP fingerprint: 5A1D 9099 3497 DA4B
Contact Ishmael N. Daro at ishmael.daro@buzzfeed.com.
Got a confidential tip? Submit it here.