Canadian Politics Is Having Its #MeToo Moment
Three prominent politicians have resigned in the wake of sexual harassment and assault allegations.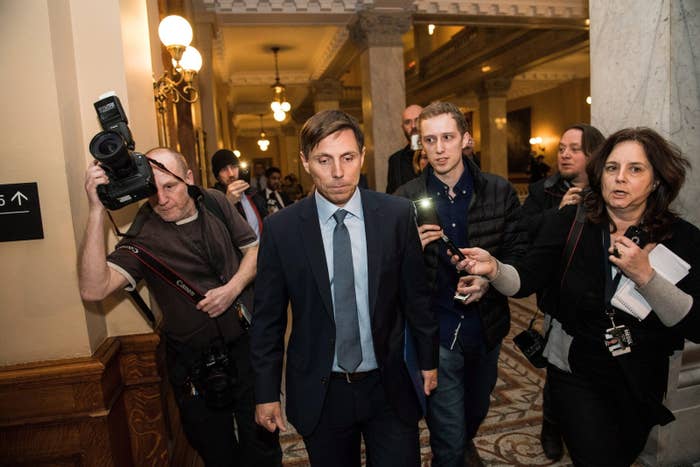 The cultural reckoning with sexual violence and workplace harassment appears to have finally penetrated the staid halls of Canadian politics. This week, three prominent politicians in both provincial and federal office left their positions over accusations of sexual misconduct.
On Wednesday, two women accused Ontario Progressive Conservative leader Patrick Brown of preying on them when they were teenagers. Brown, who denies the allegations, resigned as leader the following day. Nova Scotia's Progressive Conservative Party ousted its leader Jamie Baillie following an investigation into complaints about him, including one of sexual harassment. And in Ottawa, sports minister Kent Hehr resigned from Justin Trudeau's cabinet after a woman said Hehr sexually harassed her and other women in the Alberta legislature years earlier.
The news was encouraging for Megan Leslie, a former Member of Parliament who now heads the World Wildlife Fund Canada.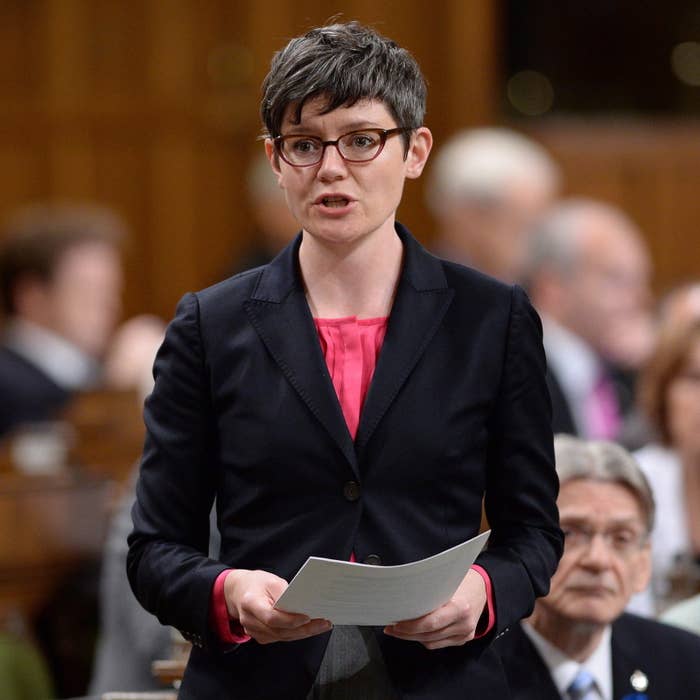 "We're actually confronting this," she told BuzzFeed News of the speedy party responses. "We're actually confronting this issue of sexual harassment and assault on Parliament Hill and in politics in general."
Leslie encountered the entrenched sexism in Canadian politics first-hand during her tenure in Parliament, where she represented her Halifax riding from 2008 to 2015. On her first day on the job, she said a fellow MP told her she had a "fine body" while they were standing in line at the cafeteria.
Leslie, who previously worked in an all-female law clinic and taught anti-oppression classes, said she was shocked.
"I worked in a pretty feminist environment, and then I got to Parliament Hill and it was like I was in a 1950's sitcom," she said.
Leslie said that female MPs and staffers often discussed the toxic atmosphere with one another. But the expectation, she said, was that nothing much would change.
"When I was there, you couldn't just stand up and say, 'So-And-So slapped me on the rear,'" she said.

"So you just smile and suck it up and figure out a way to avoid certain situations. You protect yourself and try to do your work as best you can."
But attitudes appear to be shifting. The #MeToo and #TimesUp campaigns that have shaken up a number of different industries may finally have forced political parties to take women's allegations of inappropriate or abusive behaviour seriously.
And there may yet be more such revelations in the days to come.
"This is just the tip of the iceberg," said Arezoo Najibzadeh, a 22-year-old advocate for women in politics and former political intern.
Through the Young Women's Leadership Network, an organization she co-founded to help train the next generation of female leaders, Najibzadeh says she has come to believe that "culture trumps policy" when it comes to dealing with sexual harassment and assault. Even if there are avenues for people to report such behaviour, she said, the pressures of party loyalty can be a significant barrier to addressing the complaints.
"My experience has been that as soon as it's about to be a PR issue, parties jump on it. But when it's an internal thing, when survivors go through party mechanisms, that's a totally different reaction because we're told to prioritize the party."

But a generational shift in attitudes is also afoot. While older women had to fight through entrenched sexism to get ahead, younger women are simply not willing to put up with it.
"They're really fed up and they don't want to be told to have thicker skin," Najibzadeh said.
"I'm really glad to see so many people across party lines standing up for survivors and I feel like we're at a critical point in addressing this issue in a more nuanced, survivor-centric way."
Still, even a shift in attitudes can't change the reality that women still don't have the the same level of influence in the halls of power that reflects their numbers. In 2015, a record 88 women were elected to the House of Commons — but that still only represents a quarter of all 338 seats in the chamber.
Laurin Liu, who became the youngest female MP in Canadian history when she was elected in 2011, said that disparity is at the root of much of the problem.
"The fact that I was subject to and witnessed a lot of sexual harassment on the Hill and the fact that I was often the only woman around a committee table were not unrelated," said Liu, who lost her seat in 2015.

"Until parties to do a better job of recruiting and electing more women, I think we'll keep hearing horror stories from women who have worked on the Hill," she said.
"Gender parity is the only permanent solution to sexual harassment on the Hill."