Paranormal investigators in Windsor, Ontario, say they're sorry for getting the bomb squad involved after leaving a ghost-hunting device lying around.
This week, police were called to Mackenzie Hall, a historic building in west Windsor, after people came across a suspicious black box with a blue light and a red wire sticking out.
"Investigation revealed that a suspicious item was left in a room within the building," police said in a news release. "Officers from the Windsor Police Explosive Disposal Unit attended the scene and were able to render the package 'safe.'"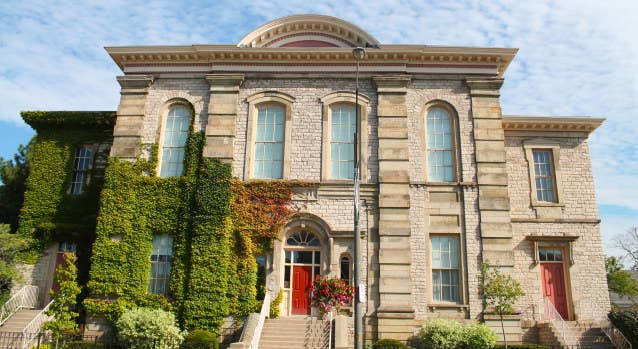 Mackenzie Hall was built in the 1850s by Alexander Mackenzie, who later became the second prime minister of Canada. Though the building today serves as a cultural centre, it once functioned as a courthouse and jail where public executions took place.
That made it the perfect place to go hunting for ghosts, according to Jen Parker, the assistant director of the Listowel Paranormal Society.
"It's supposed to be one of the biggest hotspots for the paranormal here in Windsor," Parker told BuzzFeed News.
Parker said the small box was actually an electromagnetic field sensor, commonly used by ghost hunters. It fits in the palm of one's hand, and Parker said it could look suspicious to someone who isn't familiar with the device.
"We didn't even realize we had left it," she said.
Parker said she only realized what had happened after police called her to ask about the EMF sensor. She said police told her they evacuated the building, then destroyed the device when a bomb disposal robot blasted it with a water cannon.
"Our intention was strictly to go in, do our investigation, get some evidence for our viewers on Facebook and YouTube and call it a night," Parker said.
"I apologize to anybody who was affected by this," she said. "It was not intentionally done. It was just forgetfulness."

Parker said her group of seven ghost hunters is going to start using an equipment checklist on future investigations so as not to repeat the mistake. She said they're still unsure if they came across anything paranormal inside Mackenzie Hall.
"We're still going over the evidence," she said. "We may have some stuff. I believe we do."
Ishmael N. Daro is a reporter for BuzzFeed News and is based in Toronto. PGP fingerprint: 5A1D 9099 3497 DA4B
Contact Ishmael N. Daro at ishmael.daro@buzzfeed.com.
Got a confidential tip? Submit it here.