A newspaper in Saskatchewan was brutally honest with its readers about what's going on in the community. "To be truthful, there isn't really anything happening in the news this week," the Battlefords News-Optimist said on its front cover.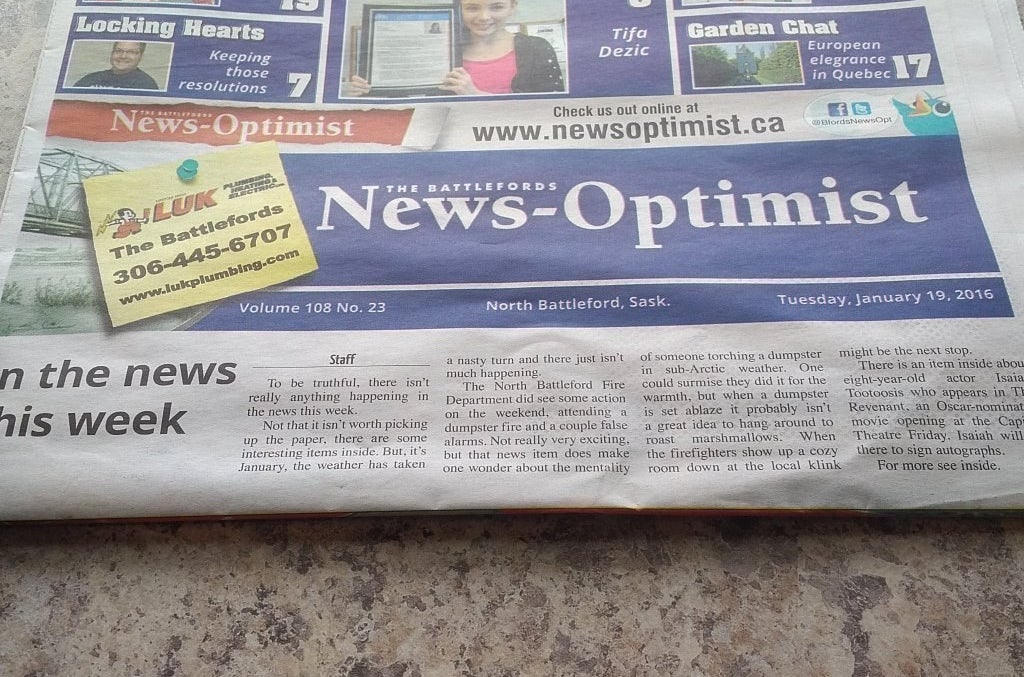 "Not that it isn't worth picking up the paper, there are some interesting items inside," the article continued. "But, it's January, the weather has taken a nasty turn and there just isn't much happening."
The paper noted that the fire department had been busy "attending a dumpster fire and a couple false alarms" but deemed it "not really very exciting."
The piece did, however, speculate about the mindset of someone who sets a dumpster fire.
"One could surmise they did it for the warmth, but when a dumpster is set ablaze it probably isn't a great idea to hang around to roast marshmallows."
News-Optimist editor Becky Doig said she wrote the piece after having just put together a 24-page newspaper during an exceptionally slow week.
"Really, it's the middle of January. Everybody in the news business knows there's nothing going on," Doig told BuzzFeed Canada.
UPDATE
This post was updated with comment from News-Optimist editor Becky Doig.
Ishmael N. Daro is a reporter for BuzzFeed News and is based in Toronto. PGP fingerprint: 5A1D 9099 3497 DA4B
Contact Ishmael N. Daro at ishmael.daro@buzzfeed.com.
Got a confidential tip? Submit it here.
Looks like there are no comments yet.
Be the first to comment!