27 Questions "The Umbrella Academy" Needs To Answer Immediately
THAT plot twist ending though!!! (Warning: Spoilers!)
🚨 WARNING: THIS POST HAS MAJOR SPOILERS FOR "THE UMBRELLA ACADEMY" SEASON 2 — IF YOU HAVEN'T WATCHED IT YET, AVERT YOUR EYES!!! 🚨
Alright, so it's been a couple of days since Netflix dropped the latest instalment of The Umbrella Academy. And while Season 2 was an absolute rollercoaster that revealed A LOT of interesting plot developments, it also left us with a bunch of unanswered questions.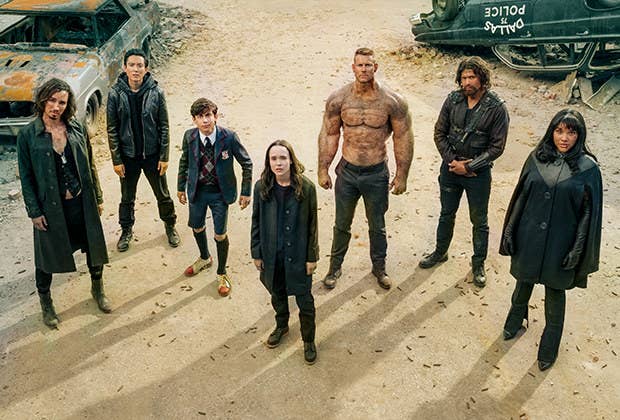 1.
First of all, what exactly is The Sparrow Academy?
2.
And how is Ben alive, even though his portrait is the one that's over the mantelpiece?
3.
How did the Hargreeves siblings mess up the timeline again so badly?
4.
And was them telling Reginald about their existence in 1963 a big contributing factor to all of the changes?
5.
On that, does that mean Pogo is alive in this new 2019 timeline because he hasn't been killed by Vanya?
6.
And was Five able to return to his "older" body — or is he still stuck in his prepubescent one?
7.
Speaking of The Commission's best assassin, how did Five never meet Lila while he was working for them?
8.
Why does Lila have a British accent?
9.
And where did she disappear to after the final fight?
10.
What did The Handler say to make the boy in the pet shop pee his pants?
11.
And why isn't she shown to have aged during the different time periods?
12.
Moving on to Reginald, it's been established that he's an alien — but what's the deal with his external human skin? Did he have to continually replace it so that he wouldn't blow his true identity?
13.
And was he ever on the grassy knoll near JFK? Or was it always the doppelgänger?
14.
Plus, what's the deal with Grace's and Reginald's relationship?
15.
And who exactly is Grace? Like, what's her story, where did she come from and how does she fit into the Umbrella Academy puzzle?
16.
How was Vanya able to transfer her powers to and from Harlan so easily?
17.
And how does Harlan still have powers at the end? Plus, will he pop up in the new 2019 timeline?
18.
Oh, and what happened when The Handler was talking to him in the barn?
19.
How was Ben able to "possess" Vanya when Klaus had been knocked out?
20.
Were Ben's last words to Klaus actually about him being too scared go to the light?
21.
What exactly was baby Pogo injected with after he got injured in a space mission?
22.
Why did the bartender not chuck out the entire Hargreeves family during their reunion dinner?
23.
How exactly did Ben die?
24.
Where does Luther get his clothes from?
25.
What did Ray do with the dead Swede in his house?
26.
Why did The Handler only go after Lila and none of the other children?
27.
And finally, what will happen to The Commission now that all their agents have essentially been killed?
Oh well, hopefully all of these questions and more will be answered in the next season of The Umbrella Academy!