The highly anticipated fifth season of The Crown has finally landed on Netflix, alongside an entirely new cast to portray all the drama and scandals the royal family experienced during the '90s.
While fans have been critical of the casting choices for the latest instalment (I'm sorry, but Dominic West is way too attractive to play Prince Charles), there has been widespread praise for Elizabeth Debicki's performance as Princess Diana.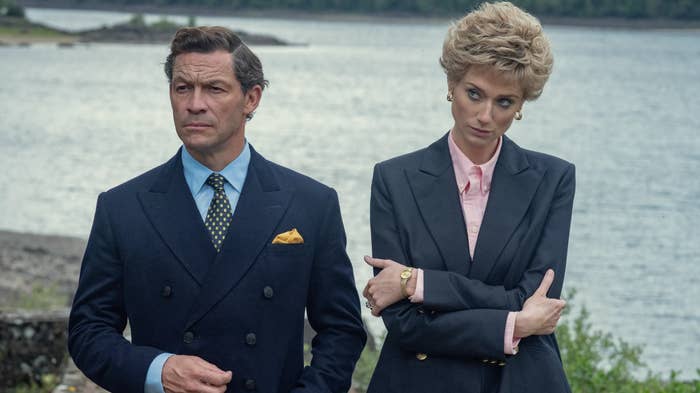 From the very first episode, Elizabeth channels the very essence of Diana — from her mannerisms to her emotional hardships and, of course, the love she feels for William and Harry.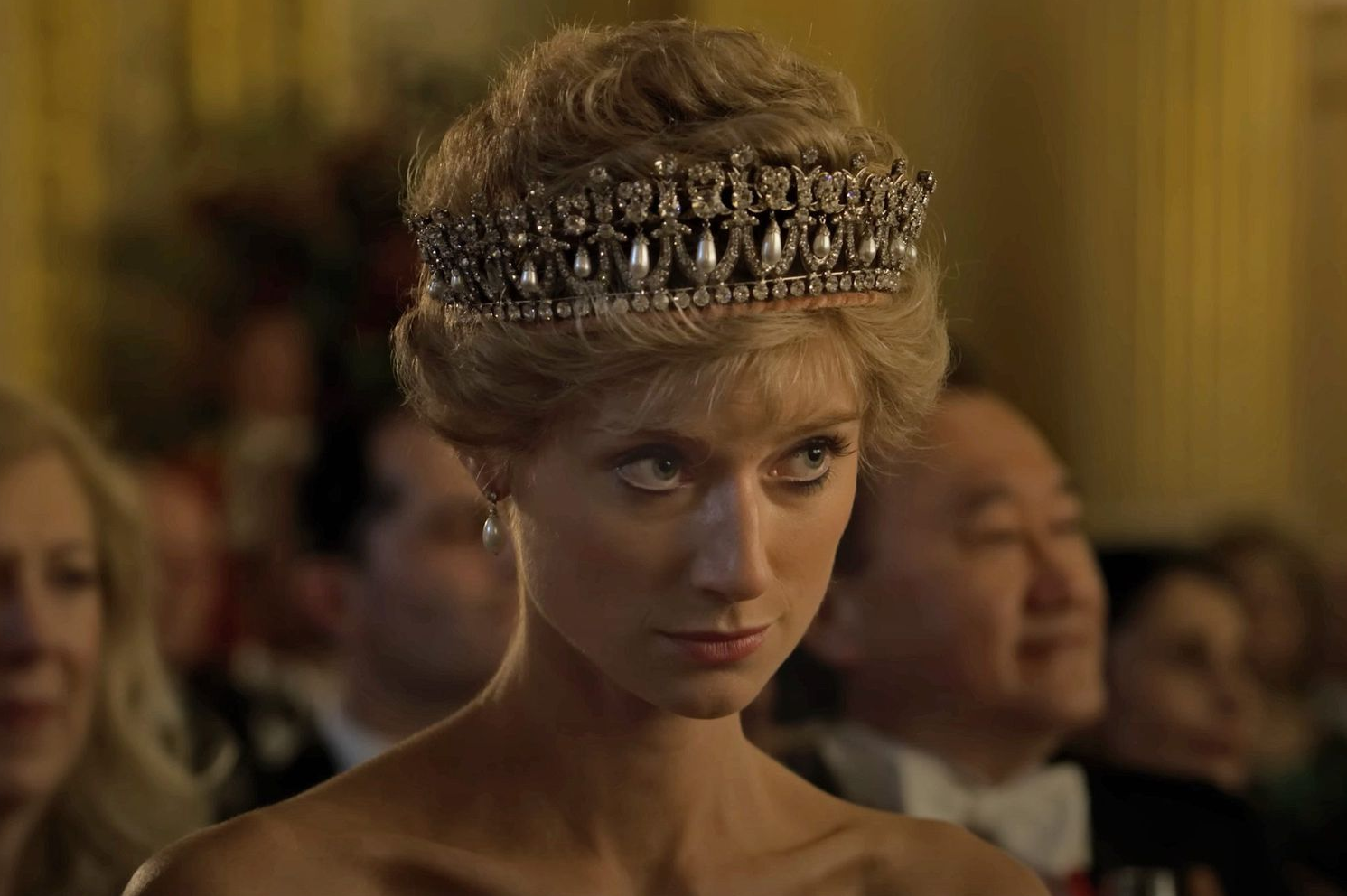 This wouldn't have been possible without The Crown's incredible costume department, who were inspired by and recreated a number of Diana's most iconic outfits. So, let's take a closer look at what was depicted in the Netflix series versus what Diana wore in real life.
1.
First, here's Diana wearing a floral dress in the Season 5 premiere as she prepares to go on a 'second honeymoon' with Charles. In real life, Diana wore a similar dress during her visit to Nigeria in 1990.
2.
In the same episode, Diana is shown wearing an off-white top and skirt, with a matching belt. In real life, Diana wore an almost identical outfit during a 1992 trip to Egypt.
3.
Later on, we see Diana wearing a leopard print swimsuit in The Crown, which was definitely inspired by this real life outfit worn during a holiday in 1990 to Necker Island.
4.
At the Ghillies Ball in Balmoral, we see Diana wearing a white dress, pearls and a tartan sash, which is just about spot on to the outfit she wore to the real Ghillies Ball in 1991.
5.
For a press appearance at a local hospital, Diana dons a red and black suit with gold buttons. In real life, Diana wore a very similar outfit while touring a redevelopment project in 1993.
6.
If there was one thing Diana was known for, it was her sporty style — which usually consisted of an oversized sweater and bike shorts. The Crown recreates this perfectly through its inclusion of a Harvard sweatshirt worn by Diana in 1997.
7.
Here's Diana wearing another floral dress in The Crown, which may have been inspired by a similar outfit she wore in 1991 while standing next to Barbara Bush, the wife of former US president George H. W. Bush.
8.
In the third episode, Diana meets Mohamed and Dodi Al-Fayed at a polo match while wearing a lilac suit. In real life, Diana wore an identical coloured suit while visiting the USA in 1997.
9.
Perhaps the most iconic outfit that Diana wears — both in real life and in The Crown — is her revenge dress worn to the Serpentine Gallery in 1994. The costume department went all out on this one, replicating both the shape of the dress and the jewellery.
10.
For Prince William's first day at Eton, Diana's striking blue blazer and all-black outfit was recreated in The Crown.
11.
In the seventh episode, Diana visits her brother, Earl Spencer, and is wearing a red puffer jacket. In real life, Diana owned a similar jacket, which she wore on a skiing holiday in 1993.
12.
There's also a scene showing Diana wearing a stunning sequinned dress, which looks almost identical to the one worn by Diana to a charity dinner in 1996.
13.
Diana wears several different outfits when visiting Hasnat Khan at the hospital, including this green number that was worn IRL by Diana in 1992 while in France.
14.
There's also this recreation of a green turtleneck-blazer combo that the real Diana wore in 1993.
15.
From the hair, to the makeup, to the outfit and Diana's mannerisms, The Crown nailed their recreation of the Martin Bashir interview.
16.
And lastly, in one of Diana's final appearances in The Crown Season 5, we see her attend a Royal Gala performance of Swan Lake while wearing a blue dress. Around the same time in real life, Diana also wore a similar dress while attending the ballet.
17.
But it looks like The Crown might have also been influenced by this beaded, halter-neck dress worn by Diana in 1995.
Major props to The Crown's costume department! What was your favourite Diana outfit this season?