It's nearly September which means two VERY important things – winter is nearly over (hallelujah!!!) and Stan has dropped all the new TV shows and movies you can look forward to.
It's a pretty ~fetch~ lineup, especially since the one, the only, Mean Girls will be available.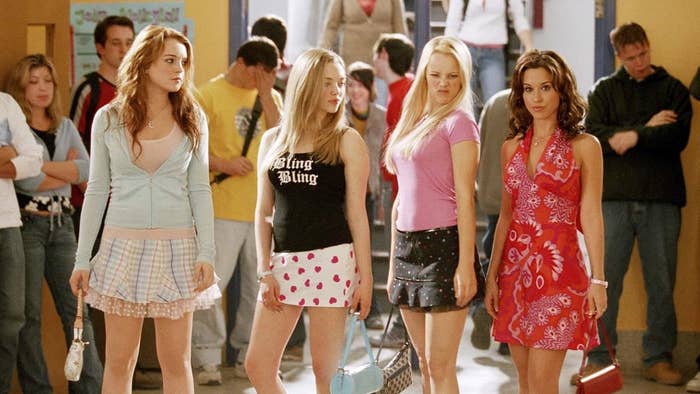 And if that's not your cup of tea – although I don't know how it can't be – there's World War Z, American Beauty and Watchmen to look forward to.
There'll also be a bunch of animated classics, like Shark Tale, Madagascar and How To Train Your Dragon.
As well as updates to some of your fave shows, like Broad City, The Circus and Power.
And if you want something new to watch, keep your eyes peeled for Ramy, Murder In The Bayou and Killing Eve.
This lineup is CHOCK FULL of good stuff, so I'll be inside, making no noise and pretending I don't exist while I binge-watch everything.
Here's the full list of everything that's coming to Stan in September:
September 1
W.E.
Hollywood Homicide
Tears of the Sun
Samurai Jack (Season 2)
We Bare Bears (Season 4, Part 3)
Cast Away
Watchmen (2009)
September 2
Radio
Foxtrot
September 3
New Guy
Euphoria
September 4
My Week With Marilyn
King Lear
September 5
Killing Eve (Season 1)
Duplex
A Happening Of Monumental Proportions (A Very Bad Day)
September 6
Creed II
Friday Night Dinner (Season 5)
Slugterra (Seasons 2-4)
Barbie Fairytopia
Barbie Fairytopia: Magic Of The Rainbow
Katakin Varga
September 7
Gangster Squad
September 8
The Hard Word
September 9
Now Add Honey
The Load
September 10
Boys and Girls
Asako I & II
September 11
Gameface (Season 1)
The Crow
Loose Change 9/11: An American Coup
September 12
The Time Traveller's Wife
Submission
September 13
Ramy (Season 1)
Sherlock Holmes
Sherlock Holmes 2: Game of Shadows
Little People (Season 1)
The Barbie Diaries
Barbie: Princess & The Pop Star
September 14
Murder In The Bayou (Season 1)
The Lake House
The Immigrant
John Grisham's The Rainmaker
Kung Fu Panda
Kung Fu Panda 2
September 15
One For The Money
American Beauty
World War Z
Madagascar
Madagascar: Escape 2 Africa
Madagascar 3: Europe's Most Wanted
September 16
Below
Have A Nice Day
Shrek The Third
Shrek Forever After
Puss In Boots
September 17
The Invasion
Body
Enter The Void
No Country
September 18
The Lady
At War
Mean Girls
Flushed Away
September 19
The Legend Of Tarzan
Little Black Book
The Desert
Megamind
Over The Hedge
Shark Tale
September 20
Ex On The Beach (Seasons 2 & 3)
The Other Kingdom (Season 1)
Barbie In A Mermaid Tale
Barbie In A Mermaid Tale 2
Marshland
Rise of the Guardians
Wallace & Gromit: The Curse Of The Were-Rabbit
September 21
Safe Haven
Free Birds
The Spongebob Squarepants Movie
A Beautiful Mind
The Adventures Of Tintin
Hugo
September 22
Flight of the Navigator
Get Rich Or Die Tryin'
Lemony Snicket's A Series of Unfortunate Events (2004)
Dr Seuss' The Cat In The Hatt
Charlotte's Web (2006)
September 23
Night Of Cups
Limitless
The Incredible Hulk (2008)
September 24
Friends With Money
Endangered Species (Season 2)
Leap Year
How To Lose A Guy In 10 Days
September 25
Hellboy
Boarding Gate
Storm
September 26
New Amsterdam (Season 1)
The Forgotton
Che: Part One
Che: Part Two
September 27
Backstage (Season 1)
Beautiful Creatures
Teaching Mrs Tingle
Barbie In Princess Power
Barbie In Rock 'N' Royals
Still Life
Meet The Parents
Meet The Fockers
Little Fockers
September 28
Steven Universe: The Movie
Teletubbies (Season 4)
Short Circuit
Christmas With The Kranks
September 29
Synecdoche, New York
Forrest Gump
September 30
Broad City (Season 5)
Paw Patrol: Mighty Pups
In The House
Fatal Attraction
Pretty In Pink