A mere couple of months ago, headlines around the world were dominated with news of a white man shooting and killing eight people in Atlanta. Six of those victims were Asian women. The shooting was condemned, it was called a hate crime and it followed a year of skyrocketing rates of anti-Asian violence in the United States during the coronavirus pandemic.
In Australia, things appeared — at least on a surface level — to be much better. Most mainstream outlets weren't reporting large instances of racist attacks, nor did we have our leader of state referring to COVID-19 as the "Chinese virus" or "kung flu". Many Australians considered themselves "better off" and life just kept on going. Or rather, we chose to ignore the things we saw and heard happening to Asian Australians.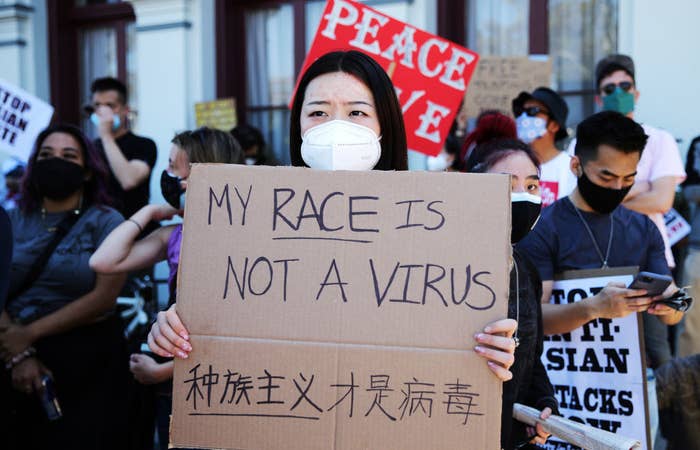 According to a study from the Asian Australian Alliance (AAA), there have been 540 incidents of COVID-related racism that have been reported since lockdowns began last year. What's even worse is that the true scale of the issue is likely to be much higher, with 90% of these incidences going unreported to authorities. That means for every hate crime, whether that's being spat on, coughed on, kicked or threatened, nine more are swept under the rug.
These statistics have led the Asian Australian Alliance to call this a "silent pandemic" — meaning that alongside COVID-19, Asians and Asian Australians have been silently battling and trying to survive this vitriol that many still choose not to acknowledge. It's a terrifying thought to simply imagine, but it's also the reality that many are living.

This is why the Asian Australian Alliance, in partnership with GoFundMe, has launched a new campaign, #StopAsianHateAustralia, in a bid to end this silent pandemic and implore Australians to report on incidences of racism.

To learn more about the importance of the campaign, BuzzFeed chatted to Asian Australian actor and Crazy Rich Asians star Remy Hii, who has already pledged his support for the movement.
I've received a lot of information about the #StopAsianHateAustralian campaign — but tell me why this movement is important to you personally.
Remy: I grew up in Australia with the belief that we're a multicultural country and I grew up in Australia with the belief that racism is something we condemn.

Over the past year, what we've seen is this really disturbing rise in anti-Asian attacks. It was really prevalent in the United States immediately following Donald Trumps remarks about the "China virus". We've also seen that this trend has been occurring in Australia. What really stood out to me is that both the Australian National University and the AAA did these studies into anti-Asian Australian hate crimes and racist attacks, but they were the first of their kind. There hadn't been any similar studies before.

In these studies, it's estimated that for every complaint Australia is receiving, there are another nine that aren't reported. That really struck a chord with me. I want to get the message out there that this is not okay and that we need to speak up — we need to have this conversation out loud in this country [Australia] and tackle it head on before it gets worse.

I also wanted to impress upon, particularly the younger generation of POCs in this country, that you have a voice and that your voice matters.


In terms of COVID-related racism against Asians, I feel that this space has been dominated by an American lens. Reading about the statistics from the Asian Australian Alliance, do you believe this is a wake up call to some Australians who think this isn't happening here?

Remy: Yeah, definitely. What we're seeing right now is that there is hard evidence that it [anti-Asian violence] is occurring and that there are pretty disturbing incidents as well. I'm not saying that microaggressions aren't a big thing — they absolutely are and are damaging — but what the study showed is that these attacks are people getting spat on, coughed on, kicked and threatened with violence [...] and it's happening in our own backyard.

The Asian Australian Alliance have called this a "silent pandemic". Can you explain what that means?

Remy: The coronavirus pandemic is something that has dominated the media landscape since February of last year. But I don't feel as though this surge of racism against Asian Australians has found the same kind of coverage at all. Racism is a virus and we're taking all these steps to stop the rise of the coronavirus, but what are we doing to stop the rise of racism in our own country?

Again, it just goes back to that number — that nine in 10 people feel disempowered or disenfranchised. They don't feel like they will be taken seriously and therefore are not speaking up. That nine in 10 might get called something really horrible on the street or they might get coughed on or kicked or told to go back to where they came from and they're not actually speaking up about it. That is the very definition of a silent pandemic.

What instances of racism have you experienced in Australia?

Remy: You'll be hard pressed to find any person of colour in this country who hasn't experienced that really horrible feeling where they know that they've been made fun of because they don't belong.

Over the last year, what I have personally experienced is an attack on my community. I live in Sydney and it was just down the road from me that there was a lunatic cracking a bull whip outside the Chinese embassy and just spouting absolutely vile filth against Chinese people. And you know, I'm of Chinese descent, my dad's Chinese and it made me feel absolutely horrible. It made me feel angry too...I just don't feel as though our [Australia's] mainstream media is picking up on this enough. The media has given such a platform to people like Donald Trump who will go out there and call it the "China virus", but we're not actually giving any kind of accountability to people who then feel emboldened by that and will commit hate crimes or racist attacks.

Lastly, what's it like being an Australian actor who is also a person of colour?

Remy: I feel really proud to be in the position that I am. It's such a privilege to be able to have a platform that can hopefully inspire and empower other people.

Look, when I was growing up, there wasn't a lot of on-screen people to relate to [in Australia]. It's changing bit by bit. So, what is it like? It's pretty great and I'm really fucking proud to be Asian.