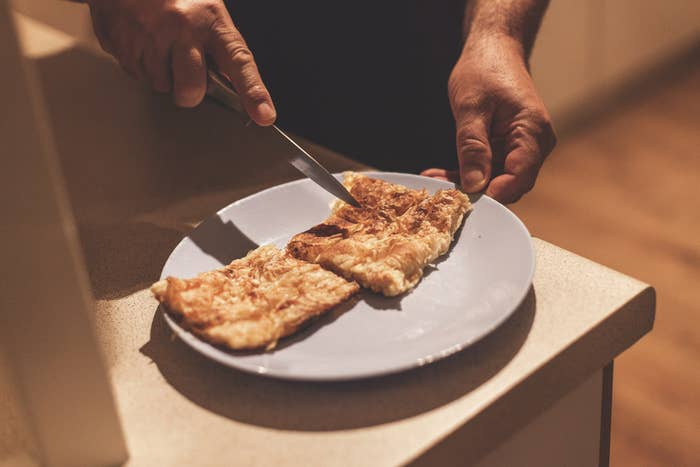 PREPARATION
Put all the flour into a big bowl, make a well in the middle and add the salt. Slowly add the warm water, bit by bit, then drizzle in the oil until the dough is soft but not sticky. Knead the dough for a few minutes on a floured work surface and then divide into six equal pieces. Flatten the six balls, smooth a bit of oil on the surface and cover each disc with cling film. Leave to rest for 30 minutes.
Mix each filling in a bowl and set aside.
Once the dough has rested, it's time to get it stretched out. Lay out the clean tablecloth and dust it with flour. Roll out one of the balls of dough in the centre of the table, as flat as you can, and then slowly begin pulling the edge out with your fingertips. Work your way round the table a few times, stretching the dough out, grabbing from about 2cm in from the edge. This is the most difficult part, but don't worry if there are small tears as it all gets rolled up. Once the dough covers the table you can begin adding one of your fillings. At this point preheat your oven to 250ºC.
Smoother fillings like the cheese can be spread evenly (you can also use apple and cinnamon, meat, or spinach as a filling) and for chunkier fillings like potato make a few rows of filling spaced evenly along the length of the dough. Fold any pastry edges hanging over the table, and start rolling the dough on either side. You can lift the tablecloth to help you if you want to be truly Bosnian.
Slice through to separate the two rolls of dough and either trim and lay sections lengthwise along the pan or roll into spirals. Bosnian women usually have a big round dish for this, so you could try a large cake tin but a regular baking dish is fine. Repeat until you have used up all the dough and the filling.
Cook at 250ºC for about 5 minutes, then turn it down to 180ºC for 20-25 minutes. For a perfect pita, cover with a clean tea towel and leave to cool before cutting.