98 Thoughts You Had During The FIBA Asia Championship
"I'm so proud of Gilas, the ref's gonna call a foul for it."
1. Ay D'yos ko, I'm so proud of Gilas!
2. They're definitely gonna win the gold!
3. Wait, lemme tweet that...
4. "#PUSO #LabanPilipinas #GoGilas!" Post! Ayan!
5. What channel is it on anyway?
6. Nasaan na ba 'yung remote?!
7. Tsk!
8. Ayun!
9. Ay ayan na OMG!
10. Pakshet why are the opponents so tall??
11. That's okay though. Wala naman 'yan sa height!
12. Except for the jump ball. That shit's only for tall people.
13. Basketball is so fun. You can play it anywhere. Sa kanto, sa---aaaay!
14. Jayson Castro YAAAAAAAAS!
15. Juskulord please let us win!
16. OMG 5-0! BOOM! Panalo na talaga 'to!
17. Wait lang, I haven't posted a tweet in a while.
18. Lemme think of a witty commentary first.
19. But I can't think of one over the sound of how awesome these Gilas boys are!
20. Also the cheer of all the Chinese fans in the stadium...
21. Why does Jayson Castro's jersey say "William?"
22. Ohhh I got it. It's an anagram for "Will aim."
23. As in "Will aim for gold!!!" BOOYAH!
24. Ay, anyare?!
25. Why is China leading?
26. Whaaa---
27. No.
28. No no no no noooo.
29. Anak ng--!
30. No. Kaya pa 'to.
31. Tiwala lang.
32. Shoot that ball, ano ba!
33. No, not you, China.
34. WHAT'S WITH ALL THESE FOULS?!?!
35. Tangina naman!!!
36. Whew ok, chill lang dapat.
37. Lemme check my Twitter feed first so I can cool down.
38. Nope. All the people there are mad too.
39. As in #BeastMode, 'teh!
40. I'll just think of good things and share the positivity.
41. Let's see...
42. Food! Food is always nice.
43. Pizza, fishballs, siomai...
44. Wait, siomai is Chinese food! Damn it! ARGGHHH.
45. That's it. I'm taking a shot everytime the ref calls a foul on Gilas.
46. Though if that's the case, I'll be hammered by the end of the first half.
47. Free throws should be banned.
48. Like, for this game only.
49. Or maybe for life.
50. Like, you get hit in the head, so what? Life goes on.
51. Right? No?
52. Punyeta, this eagle sound every time someone scores is getting annoying!
53. You guuuuys, there's a reason you're called Gilas not Gigil. You 👏 still 👏 got 👏 this 👏.
54. Boo us? BOO US?! BOO YOU!
55. ...whore.
56. But seriously, these guys are so tall.
57. NASAAN ANG HUSTISYA?!
58. Just look at Terrence Romeo beside these Chinese guys!
59. I wanna put him in my pocket and pet him.
60. But dude, can this guy play.
61. OMG, don't pull his leg, Manong Dondon! It's just a ball!
62. Although, let's put that last thought into context lol.
63. It sucks that nobody in the stadium cheers for the Philippines every time they score.
64. But we're here for you, Gilas!
65. We're screaming from our homes!!!
66. PUSOOOOOOOOO!!!
67. Shet foul na naman!!!
68. PUTAAAAAAAAAAAAA!!!
69. Ok ok ok ok ok ok ok.
70. 11pt. lead for China at the end of 1st half.
71. No big deal no big deal no big deal no big deal.
72. We got this we got this we got this we got this we got this.
73. Meanwhile, halftime break!
74. Let's focus on other pressing issues first.
75. Like, does Chowking really serve authentic Chinese food?
76. Or should the number of free throws have a limit?
77. Oooh, 2nd half!
78. This quarter is ours! I can feel it!
79. OMG Gabe Norwood is down what the fuck?!
80. Don't hurt Norwood!
81. #WoodForNorwood
82. China ball?? CHINA BALL?!?!?
83. Gabe Norwood sacrificed his beautiful face and it's China ball??????
84. Dude???
85. Bro?!?!
86. Pare?!?!?!?
87. Okokokokok Gilas bawi tayo.
88. You can do this!
89. We. Can. Do. This!!!
90. Terrence Romeo's interceptions and layups are giving me life juskulord!!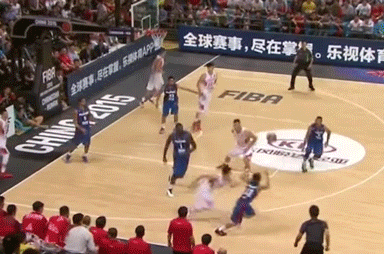 91. Win or lose, we're here for you, Gilas!
92. We love you with all our #PUSO!
93. And you already made us proud for making it to the finals.
94. Like so paking proud, the referee's gonna call a technical foul for it.
95. We may not have gotten to gold, but our Filipino spirit soars high.
96. Like that lecheng screaming eagle everytime the ball goes in!
97. Now come home to the Philippines so we can make you feel better.
98. There are no boos here, only warm hugs. 💙