This Bacon, Egg, And Rice Dish Is A Very Simple Dinner You Can Make
Perfect for a quick dinner that requires no time at all.
by
,
,
Bacon, Egg, & Fried Rice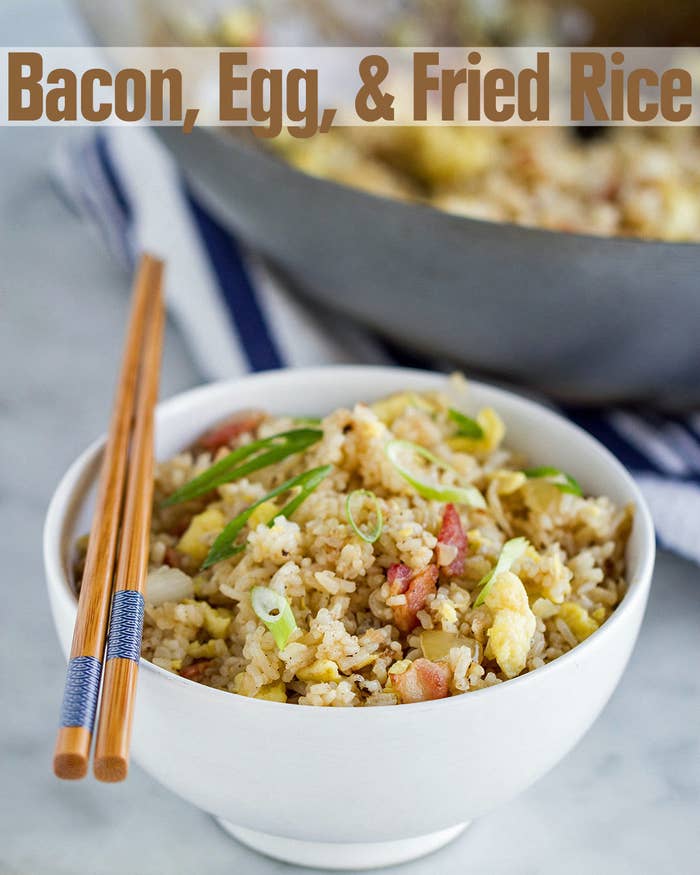 INGREDIENTS
Serving Size: 4
3 large eggs
8 ounces bacon
1 medium onion
1 tablespoon vegetable oil
5 cups cooked rice
Salt, to taste
Black pepper, to taste
1 teaspoon sugar
2 tablespoons soy sauce
For garnish:
Green onions, chopped
PREPARATION
1. Beat three eggs in an empty bowl and add a bit of salt until well-combined.
2. Cut bacon into 1-inch pieces and dice the onion finely.
3. Heat oil in either a wok or nonstick frying pan over medium heat and add beaten eggs. Gently scramble the eggs; when they are almost done, remove from wok and set aside.
4. Add bacon to the wok and allow it to render down and become crisp. Once the bacon is done, take it out of the wok and set aside, along with the scrambled eggs.
5. Add the diced onion to the wok and stir-fry until translucent. Then add the cooked rice, make sure the rice is fluffed and cooled, and stir-fry for 2 to 5 minutes. Use spatula to break up any clumps. Add the salt, pepper, sugar, and soy sauce. Stir for another minute or so.
6. Once there is steam coming off the rice and it is completely heated through, add scrambled eggs and cooked bacon.
7. To serve, sprinkle with green onion. Enjoy.
Want BuzzFeed Tasty right in your inbox? Sign up for our newsletter!