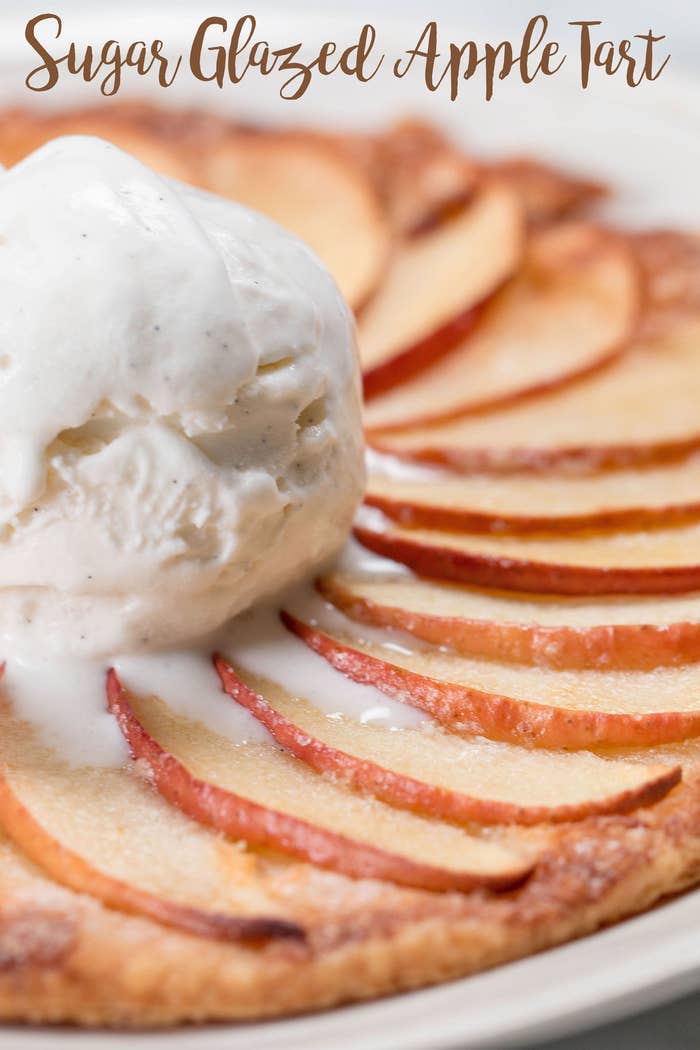 Here's what you will need:
Yields: 1 Tart
• 2/3 cup all-purpose flour
• 3 Tablespoons cold unsalted butter, cut into 3 equal pieces
• 1 Tablespoon canola oil
• 1/2 teaspoon sugar
• 1/8 teaspoon salt
• 1 Tablespoon ice-cold water
• 2 apples, cut into slices
• 2 Tablespoons sugar (Topping)
• 3 Tablespoons butter, cut into small cubes (Topping)
Directions:
Preheat the oven to 400 degrees.
For the dough, put the flour, butter, oil, sugar, and salt in a food processor and process for about 10 seconds, add the Tablespoon of ice water and process for another five or six seconds, then remove from the bowl and form into a flat dough. Wrap the dough with plastic wrap and then refrigerate for 20-30 minutes.
Lightly flour a work surface and roll the ball of dough into a thin layer, around 1/4 inch thick. Using a round cutter, or use a round bowl or lid as a guide and cut out into a nice round circle. Carefully transfer the dough to a large cookie sheet lined with a nonstick baking mat.
Arrange the apple slices, alternating them nicely on top of the dough. Sprinkle the apple with sugar and put butter cubes on top. Bake for 30 to 35 minutes, until the fruit is soft and the dough nicely browned.
Some of the juice from the fruit will have leaked out onto the cookie sheet. Before it hardens and makes the disks stick to the sheet, lift the tart with a broad spatula and transfer them to a cooling rack or platter. Serve lukewarm or at room temperature with ice cream (optional).
Recipe inspired by Jacques Pépin.
Want BuzzFeed Tasty right in your inbox? Sign up for our newsletter!