One-Pot Cajun Shrimp & Sausage Pasta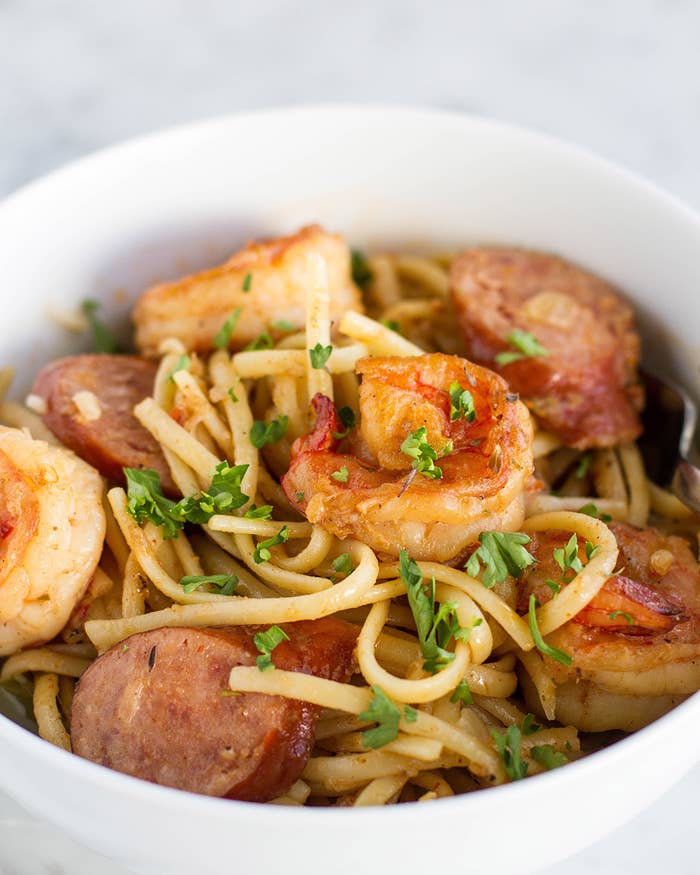 INGREDIENTS
Serving Size: 4-6
1 pound linguine
3 tablespoons butter (divided as 2 and 1)
2½ tablespoons cajun seasoning (divided as 1½ and 1)
1 pound peeled and deveined large shrimp
½ cup diced yellow onion
½ cup diced green pepper
1 pound kielbasa sausage, sliced
2 cloves garlic, minced
1 teaspoon salt
2 teaspoons red pepper flakes
1 teaspoon dried thyme
½ cup chicken stock
½ cup heavy cream
For the garnish:
Parsley, chopped
PREPARATION
1. Cook the linguine in boiling water until al dente. Drain and set aside.
2. In the same pot, heat the butter, then add 1½ tablespoon cajun seasoning and mix the spice with the butter. Add in shrimp. Cook until the shrimp turn pink. Take the shrimp out and set aside.
3. Keeping the heat on, add in butter until it's melted, then add in diced yellow onion and green pepper. Cook for 3-5 minutes, until the onion is translucent. Add in kielbasa sausage and cook for another minute, then add minced garlic, salt, cajun seasoning, red pepper flakes, and dried thyme. When everything is cooked and mixed well, pour in chicken stock and heavy cream. Mix well, and cook for about 3 minutes.
4. When the sauce is thickening, add the shrimp and pasta back into the pot. Mix until everything is well-combined.
5. To serve, sprinkle with chopped parsley. Enjoy.
Want BuzzFeed Tasty right in your inbox? Sign up for our newsletter!