Dulce De Leche Swirled Banana Bread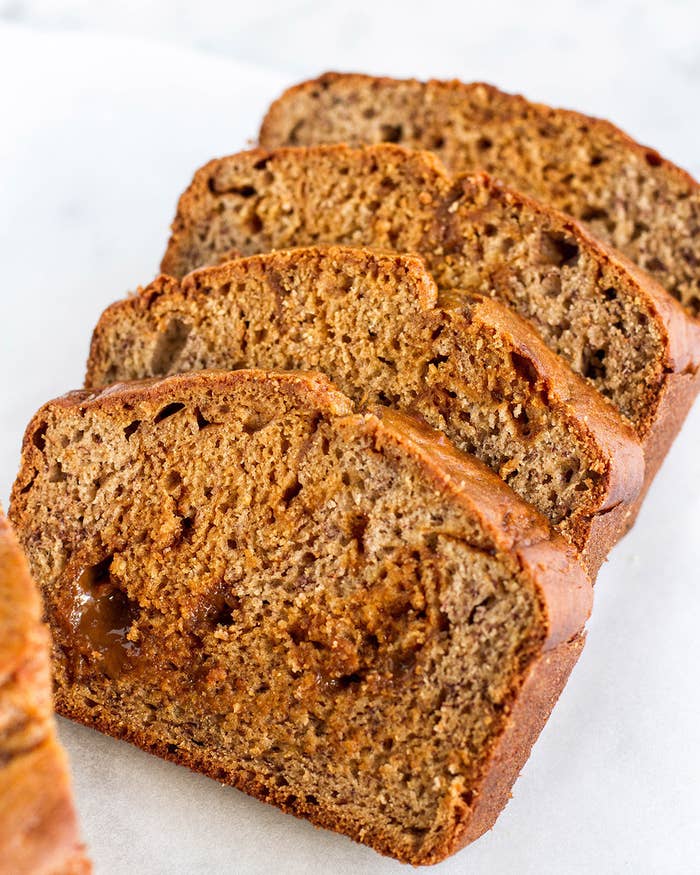 INGREDIENTS
Serving Size: 1 loaf
2 cups all-purpose flour
1 teaspoon baking soda
1 teaspoon cinnamon
½ teaspoon salt
3 ripe bananas (about 1 ½ cup)
¼ cup butter, room temperature
¾ cup sugar
2 eggs
⅓ cup plain Greek yogurt
3 tablespoon dulce de leche
PREPARATION
1. Preheat the oven to 350º F / 175ºC.
2. Mix flour, baking soda, cinnamon, and salt in a bowl and mix well.
3. In a separate bowl, mash the bananas and add in butter and sugar, mix until smooth. Add in eggs and yogurt, mix until well-combined.
4. Add the dry ingredients to the wet ingredients, mix until smooth.
5. Pour the batter into a buttered/oil-sprayed loaf pan.
6. Drop dulce de leche on top of the batter, then swirl gently into the batter with the tip of the spoon or fork.
7. Bake it for an hour and cool completely.
8. Enjoy!
Want BuzzFeed Tasty right in your inbox? Sign up for our newsletter!