That "Empire" Finale Catfight Was Everything We'd Been Waiting For
Cookie and Anika's long-awaited brawl was the most satisfying moment of the finale. WARNING: THERE WILL BE SPOILERS.
The minute Cookie (Taraji P. Henson) and her fur coat sashayed into our lives in the first episode of Empire, she invoked the baddest primetime soap opera bitch of them all: Dynasty's Alexis Carrington (Joan Collins).
And Cookie was immediately given her own Krystle (Linda Evans) — Alexis' rival on Dynasty — in the form of Anika Calhoun (Grace Gealey).
Though their showdown was long teased throughout Empire's debut season, it was always stopped before it could go any further.
That is, until the Season 1 finale that saw the two women finally come to blows.
Angry with Anika for trying to tank her company and sleeping with her son, Hakeem (Bryshere Y. Gray), Cookie finally let her rival have it.
Which, as we've heard from Anika before, is a no-no:
It was a glass-shattering, furniture-destroying fight reminiscent of the catfight Dynasty fans waited an entire season to see between Alexis and Krystle in 1982.
But unlike Alexis and Krystle's showdown, Cookie and Anika's fight was interrupted before it went too far.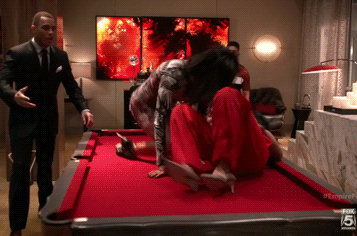 Krystle won her fight with Alexis, but we don't have a clear winner between Cookie and Anika.
But hopefully, there will be more Cookie and Anika catfights to determine a winner in Season 2.
Oops. Something went wrong. Please try again later
Looks like we are having a problem on the server.
Now that you've seen both fights — which one is the best?
Cookie vs. Anika, hands down!

Alexis vs. Krystle, it's a classic!