46 Thoughts About Britney Spears And Iggy Azalea's Cover Art For "Pretty Girls"
Beam down, bitches.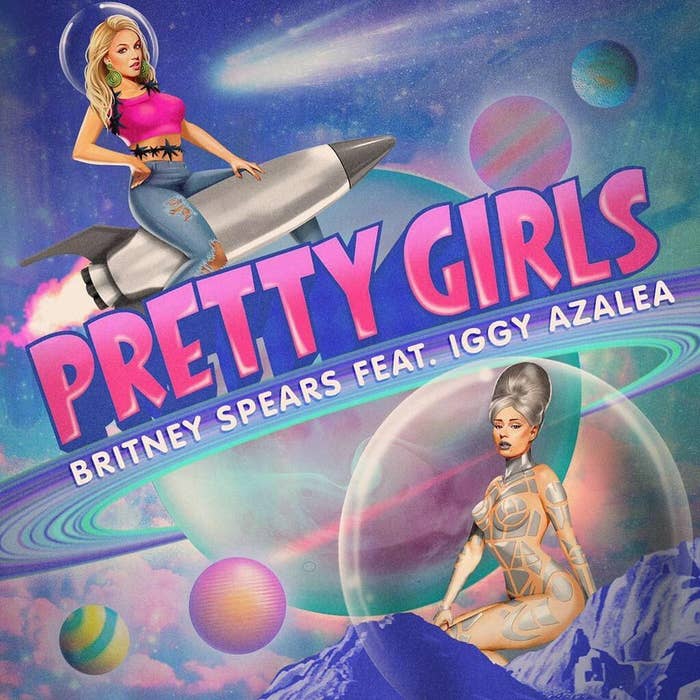 1. OMG. Earth Girls Are Easyney!
2. What do you think Queen Geena Davis thinks of this album cover?
3. Will Jeff Goldbum and Jim Carrey make an appearance in the video?
4. Britney is giving you Will Smith and set out to destroy rebel aliens.
5. I am so here for this "Oops!...I Did It Again" space throwback tho.
6. "I went down and got Iggy for you." "Aww Britney, you SHOULDN'T HAVE."
7. Why is Iggy an alien?
8. No shade on that Iggy comment, I swear. But she is an alien.
9. Is Iggy a good alien or bad alien?
10. Has Iggy been secretly freestyling in her alien dialect this whole time?
11. How long until someone announces a Barbarella reboot starring Iggy?
12. I mean, she did display some #flawless acting in Furious 7.
13. Is this heffa Britney really wearing a crop top in space, tho?
14. Do you think it's H&M or Topshop?
15. Britney is slaying all of your faves with this ninja star belt tho!
16. When will your faves ever ride on a rocket like this?
17. Giving you Snooki's Rolling Stone cover for daaaaaayyyyssssss.
18. Does anyone think Iggy was just photoshopped into leftover cover art from when "Alien" was going to be a single?
19. I'm surprised there's not a sticker promoting "Radar" as an exclusive b-side to be honest.
20. Britney's look is very "I'm a Slave 4 U" video and I'm feeling it.
21. I hope the choreography is sexy like that.
22. These hoop earrings are alien hip-hop flavor and she hasn't looked this urban contemporary radio station since the "Outrageous" video.
23. Are those earring question marks?
24. Is Britney secretly the Riddler?
25. That makes so much sense, because then Iggy is probably Killer Croc.
26. The more I look at Iggy, she actually looks pretty Nicki Minaj in this getup.
27. Her aesthetic is "I'm going as the 'Starships' video for Halloween."
28. It looks kinda good on her.
29. She should just come out as an alien. I think I'd love Iggy if she was a legit alien.
30. Like, if she was just someone who landed here like E.T., I would totally help her phone home.
31. Or maybe she's trying to give you Space Cases extra.
32. Even The Journey of Iggy Strange.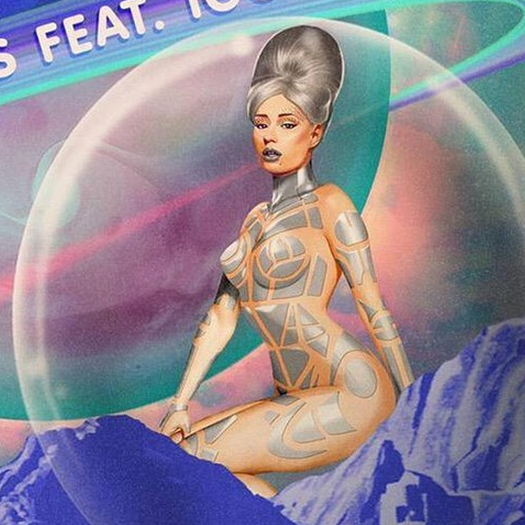 33. Also, why is Iggy in a bubble if she's an alien? Shouldn't she be able to breathe her own natural air?
34. Is she an alien from another planet besides the one we're seeing her on?
35. Maybe she really comes from some kangaroo planet and this one is the other galaxy version of America.
36. They probably have the same questions we have.
37. Is there an alien version of Rita Ora running around?
38. Rita Ora's in everything else. I'm surprised she's not on this album cover if we're being 💯.
39. This entire vibe also reminds me of Tracy Morgan's Astronaut Jones sketches from Saturday Night Live.
40. Britney did one of those!
41. This is warming up my early '00s heart like crazy right now.
42. Now I'm wishing the video were an extended Astronaut Jones sketch.
43. Do you think Britney even remembers that sketch?
44. Maybe Iggy is actually paying homage to Britney in that sketch.
45. Either way, you've never seen an alien trailer park look as flawless as it does in this album cover art.
46. Beam down, bitches.