1.
A dual-layered antimicrobial toothbrush with ultra thin bristles that will help get deep into the creases between your gums and teeth. It won't completely replace a floss, but it's pretty damn close! 

Growing up, I was the absolute worst at flossing and brushing my teeth. It was so bad, I ended up developing periodontitis, which is inflammation of the gums caused by a build up of bacteria. It causes your gums to separate and recede from your teeth. It's pretty bad. Well, now I obviously go to the dentist regularly, but still struggle to floss my teeth at often as I should. These toothbrushes are such a game changer for me! The bristles at the tip are sooo tiny, I can literally feel them cleaning between my teeth. My gums get red easily if I don't floss enough, and ever since I started using this twice a day, they're no longer red! They look so healthy and I truly feel like I'm actually getting a good cleaning, compared to other manual toothbrushes. It's gentle enough for my sensitive gums, but gets in deep to prevent plaque. I'm obsessed! 
Mouthwatchers is a small business that specializes in making antimicrobial toothbrushes for an ultra-clean feeling!

Promising review: "I was intrigued by this toothbrush, so I thought I'd order one. Wow, it really lived up to what it said. After just 2 days, using it four times, I was sold! I have been using an electric brush for probably 20 years. This toothbrush made my teeth feel cleaner. Weird right? A toothbrush is a toothbrush. Think again. It's the combination of the two lengths of the bristles and the softness. I was so happy with how clean my teeth felt, I ordered two more brushes after the second day. I don't want to be caught without it. My only advice is to not get carried away really scrubbing. I did, and it made my gums sore. Once I took easy, it's been absolutely great. I will use my electric toothbrush some, but once it breaks, no more electric, then it will only be this toothbrush." —Skippy
Get a two-pack from Amazon for $9.90. 
2.
A tiny toenail brace to correct the pesky curve in your nail, which in turn, will help reduce the pain you experience from the pressure it puts on your toe as it grows. Luckily, the pain you feel should begin to diminish within three days and your nail should be back to normal in a mere few months!
The kit comes with 10 toenail braces and the materials needed to apply it. Results should be seen in *just* 1–3 days!
Curve Correct is a small business focusing on helping you achieve normal toenails and reducing your chronic pain! Huzzah!
Promising review: "I never realized how curved and not OK my toenails were. I thought the pain I had was just normal and a fact of life. Only when I read about the Curve Correct product did I realize that I had a major problem and it could be resolved! Now I'm on the way to normal, flat toenails that DON'T grow curved into my skin!" —Jamie H.
Get the kit form Amazon for $44.99.
3.
A FURemover rubber broom that isn't *just* for those with shedding pets (but it works wonderfully for that!) — it's also great at pulling human hair out of the fibers in your rugs! We already know how much we shed, but you're about to be real surprised when you see the results. 👀 
It works on all floor types, but is *especially* great on carpet. *And* it has a built-in squeegee great for cleaning up spills on hard surfaces.
Promising review: "This is the best broom ever. My parents own multiple and I just bought my first. It wasn't to clean up pet hair but to collect my own hair, as I shed uncontrollably. The hair ball that formed after sweeping my living room carpet would make you think I should be bald. It was gross but glorious. Everyone should own one." —Michelle K. Tulcan
Get it from Amazon for $12.98.
4.
A nongreasy eye cream designed to help reduce your under eye bags, hydrate your skin, and even brighten your under-eyes. It has a lovely blend of aloe, rosehip seed oil, and vitamins C and E. BTW, having eye bags and dark circles are completely natural, but you do what makes you happy (plus, it'll help you feel more awake)!
LilyAna Naturals is a small business that specializes in clean, vegan, and cruelty-free skincare products.
Promising review: "I have been using this daily for about eight months now. I am 60 years old. It reduced the puffiness and bags under my eyes. I am Sicilian and had dark circles. It has brightened up my eye area. I am very surprised as I have paid much more for eye creams that have done so much less. I recently had precancerous cells removed at the bridge of my nose. After healing, I was left with a dark scar. The dermatologist told me that it would heal over time. Since I began to apply this eye cream, the mark has almost disappeared entirely. I shop constantly from Amazon. This is the first time that I have taken the time to write a review. That's how impressed I am with this product. If you decide to purchase this, you won't be sorry." —Lynda M.
Get it from Amazon for $14.99+ (available in three sizes).
5.
A shower phone holder so you can continue binge-watching the new season of Stranger Things without distractions, like annoying showers. Ugh.
Yes, you can still use your phone when it's inside thanks to the .25mm flexible touchscreen! NOTE: if your phone has a Pop Socket, it probably will not fit inside. 
Promising review: "This product is the answer to my search for a way to have music or Netflix playing while in the shower! The adhesion quality is great, and it's very easy to use. It fits my iPhone XS Max very well and is very sturdy. I would recommend this to anyone!" —Jackie Donovan
Get it from Amazon for $11.99 (available in four colors).
6.
An ice cream pint cozy that'll make eating your favorite frozen dessert *that* much warmer. 🥶 

I have been using this cover every time I whip out one of my ice cream pints and it had made it so much more enjoyable to consume! I love that my hands stay warm *and* dry and it also doesn't get condensation all over the couch or table when I place it down. They come in a bunch of cute colors, but I went with a neutral beige.

Berkshire Yarn Works is a Black woman-owned small business based out of the Massachusetts that specializes in creating handmade cozy products for you and your home. 
Get it from Berkshire Yarn Works on Etsy for $20+ (available in two sizes and eight colors).
7.
A percussion massage gun to help ease those tight muscles and reduce pain and inflammation too! It includes eight different massage heads to work different areas of the body *and* has five speeds to choose from! 
LifePro is a small business that sells personal tools for muscle recovery, endurance training, strength, and wellness. 
Promising reviews: "I've been playing around with this gun for a while, and wanted to leave a review based on my experience with this one and a few others. For the price, this is a great buy. It's got a few things going for it which I like: It's VERY quiet; Very easy to switch speeds, there's a button right by your index, useful when you want to find the right speed for whatever part you're working on; It gets to be pretty powerful, much more than what you'll need most times; It's light and has a great grip, so I don't get tired working on someone with this for a while. I'd recommend this gun for the price, it's a solid buy. Quick customer service too, I had a question answered within a couple of hours so that's a plus." —Artem
"The LifePro Sonic works out knots and eases muscle soreness quickly! For anyone who exercises frequently or plays a lot of sports, this is a must-have recovery tool. I was experiencing a lot of muscle soreness from playing a lot of tennis in a short amount of time. I needed to recover quickly in between matches and practices. The Sonic helped me massage sore spots that are difficult to get with foam rolling or stretching (such are forearm, shins, bottom of the feet, etc). As a fitness professional, I recommend this product to all my clients as part of their recovery regimen." —ABB03
Get it from Amazon for $99.99 (available in four colors).
8.
A mattress vacuum because you'd be surprised at how much dust, dander and dust mites have collected inside your mattress over the years. The results are both alarming *and* satisfying.
The combination of the HEPA filter and activated carbon filter will suck in 99.9995% of particles as small as 0.1 microns, making your mattress practically brand new!

Promising review: "So I brought this originally for my son who gets really bad allergies to dust. At first, we didn't know what was causing this until someone told me to check our beds and furniture. Even though we change our bed sheets regularly, there will be dust left over. So I decided to give this a try and they were right! I couldn't believe how many mites and how much dust there was. I took my time cleaning everyone's bed and our sofa; it was easy to use and light. My son hasn't had a reaction in a while. This product works for my family!" —Lisa

Get it from Amazon for $104.99+ (available in two colors).
9.
A Bissell air purifier that will not only help clear your rooms of allergens, pet dander, smoke, pollen, and orders, but will do so while looking like a literally piece of chic decor.
It has an automated CirQulate system with PM 2.5 particle sensor that monitor and provide color-coded, indoor air quality readings and adjusts to the appropriate fan speed for continuous clean air.
Promising review: "This unit exceeds all expectations! We moved into our new home (built in the 1960's) a year ago and no candle or endless diffuser sticks could get rid of a subtle musty smell, and likely the previous owner's pet. In just a few days after plugging in this new air purifier – the smell is gone! I am sensitive to dust and mold and my allergy symptoms have improved too. I have a relative who has asthma and we can't wait to connect her to this product. Last but not least, this unit looks great in every room – we chose to place it in our family room near our kitchen where we spend most of our time. It arrived in great condition and set up was easy!" —Mary Carol
Get it from Amazon for $239.89+ (available with extra filters).
10.
A few sheets of LED-dimming stickers so you can *finally* get to sleep without getting annoyed by those pesky electronic lights that taunt you at night. "Look at us. We're annoying."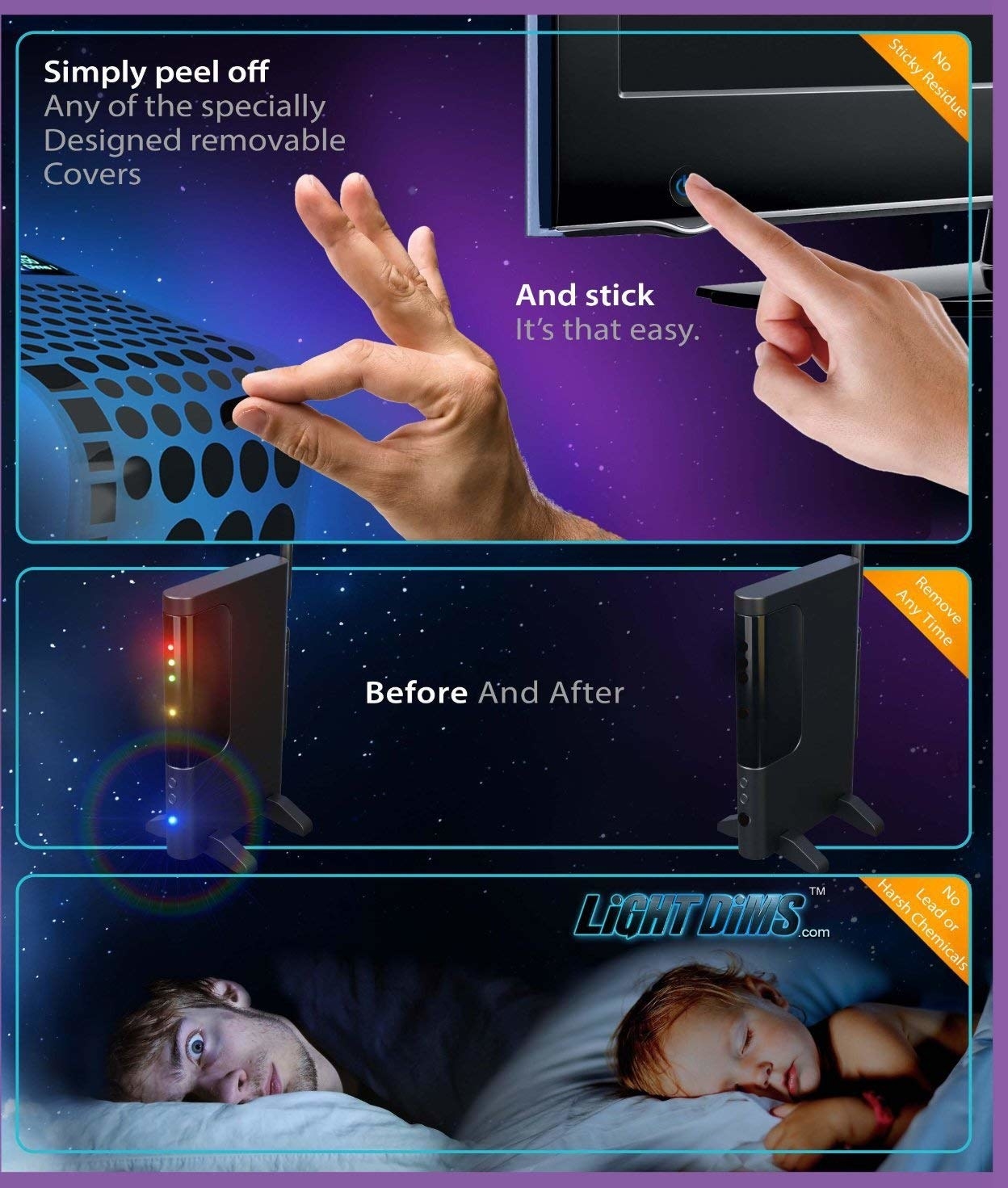 They dim 50-80% of the light, so you can still tell that your devices are still actually *on* and functioning. You can always double them up to completely block out the light source if you'd like (many reviewers do this) or buy the stronger **full black-out** edition!
Promising review: "This is the best thing you never knew you needed. I own a digital clock with the numbers displayed in red LED light, and every night I've blocked the light with a cover so it doesn't shine in my eyes as I sleep. Silly I know, but I like my room pitch black and cave-like. On a whim I bought this product. OH MY GOD! Game-changer!! For the first night EVER I didn't have to cover the clock display before I went to bed!! I had no idea how big a difference this little dimmer could make, but I'm more than pleased with the result. I can still see the time display just fine, but now my room is a happy cave! Some commenters argue you could get the same effect using electrical tape, regular tape covered in sharpie, etc, but true to the name of these products if you're looking for something to DIM, then this is for you. Also the product is easy to remove and doesn't leave a sticky residue at all, which can't be said for most tapes. I did notice a slight lag in response when I covered my TV LED sensor, so if you're trying to block something that actually senses inputs I would maybe not suggest this. Other than that, excellent product!" —Amazon Customer
Get a sheet of over 100 dimming stickers (in multiple sizes and shapes) from Amazon for $6.49.
11.
A mold & mildew removing gel because we are ~tired~ of scrubbing our tiles and still having "mold stains" throughout the grout. Squeeze out some of this magic non-drip gel and let it do its thing overnight — sans scrubbing!
It clings to tile, meaning it'll STAY PUT, killing mold & mildew and keeping it from reappearing later down the road.
Promising review: "Didn't think it would work, but it DID with no scrubbing!! My husband didn't think our grout was originally white, but I knew better. I put this on before bed on a section of grout in the shower, and woke up to gorgeous and bright white, no scrubbing at all the next morning. Just rinse it off. Absolutely buying another bottle. It wasn't quite enough for my entire shower, but to be fair, we have a lot of small tiles. I think two bottles will get the whole shower floor. Bravo on a great product." —thekuan
Get it from Amazon for $13.99.
12.
A pack of Avarelle pimple patches to heal and shrink your zits practically overnight *and* keep you from picking at it (undeniably making it worse). They're formulated with tea tree oil and calendula oil and come in two sizes — classic circular patches and large, square patches to treat larger clusters at once!
A lot of reviewers who have also tried Cosrx and Nexcare patches prefer these!
Promising review: "I've tried so many brands of pimple spots, and these are hands-down the best on the market. I'm a performer at Walt Disney World, and a clear complexion is required. Last night, I put these on a few acne problems (a small cyst, a Whitehead, and a pimple I shouldn't have picked and has been a bump for about three weeks now.) I just woke up and am writing this review in disbelief. THEY'RE FLAT! Gone! All of them! I could cry I'm so happy. The packaging is also ideal, because it allows you to conveniently and easily peel the stickers off without stretching them out or folding them back on themselves. Do yourself and your complexion a huge favor! Have these on hand for a stubborn zit when you really need help. Make sure you apply them to completely clean and dry skin." —Caitlyn
Get the box of 40 round patches from Amazon for $8.49. OR try their large, rectangular size to tackle multiple pimples at once. Get a pack of eight from Amazon for $8.49.
13.
A reusable Revlon oil-absorbing roller stick that'll instantly remove the excess shine right off your face! It's made of volcanic stone and can be reused over and over again with a few washes in between.
Promising reviews: "Best purchase i have ever made. Oily skin type ppl definitely need this. Life changing." —Estefania Barros
"This... this! I don't know what sort of sorcery this is, but this thing totally works, and it's freaking me out! I tested it by standing outside for a few mins (I live in the south, very humid) and then came back inside and rolled it along my nose. Sucked that oil right up!! I cannot believe I have been wasting money on blotting paper when this was out there (and reusable)! Totally buying some for my sister and friends. If you're on the fence about it, JUST BUY IT!" —Stellar
Get it from Amazon for $11.62.
14.
A two-pack of mint-flavored, sensitive skin-friendly teeth-whitening pens you can easily brush on to remove those old coffee and tea stains you've accumulated — all without having to deal with sticky strips or awkward trays.
Just twist the bottom, and paint onto your teeth. Keep it on for 30 minutes before resuming your normal drinking and eating activities. Each pen has 20 uses, and you can see how much you've used through the handy transparent tube!
Promising review: "I have used so many products before and this is the best so far! I even got a whitening kit from my dentist which is supposed to be very effective but it only burned my gums and the whitening wasn't as fast as this product. I bought this just because it was not expensive and had good reviews but didn't have any hopes it would work because it was a lot more affordable than the Dr's kit that cost me hundreds of dollars. It is very easy to use. It actually works even after first application. It doesn't burn gums. It doesn't make your teeth sensitive." —Melinda
Get a two-pack from Amazon for $19.99 (also available in a four-pack).