2.
A set of space-saving folding hangers because you'd be surprised at how much space you actually *do* have in your closet. AKA more room for cute clothes.
Promising review: "I was so desperate for more space that I was considering spending big bucks to have a professional come in and redesign the space. Then I found these and it's like my hanging space quadrupled! It feels downright luxurious in my closet now. I can see all my clothes and nothing is squished together like it used to be. I can also comfortably add a substantial amount of clothing and would still have room to grow. BUY THESE IMMEDIATELY!" —milanina77
Get a 10-pack from Amazon for $11.04 (available in two colors and a 16-pack or 20-pack).
3.
A pocket shoe organizer for when you don't have any space in your closet for a shoe rack, but also refuse to leave them laying on the floor anymore. Doors are so underutilized!
It has 24 pockets for your shoes.
Promising review: "Having no place to store my shoes was driving me nuts, and I was always tripping over shoes. I wasn't sure if the pockets in the organizer would be large enough for my Crocs, but they fit perfectly when I put the shoes in heel first. (For reference: my Crocs are women's size 9). I was able to get two pairs of sneakers in the last two sets of pockets as well. The pockets seem to be well made, and I'm confident that this shoe organizer will last." —A. Roach
Get it from Amazon for $9.97 (available in four colors).
4.
Or an over-the-door shoe rack because you have just waaay too many shoes and need all the space you can get. This bad boy can hold up to 36 pairs!
Promising review: "Me and my boyfriend recently moved in together and one of my main concerns was our combined shoe storage. We just installed this last week and I felt compelled to write a review because it is THE BEST shoe storage solution I have ever come across. I've tried under the bed, over the door pockets, shelves, stands, you name it... but this one is just the most organized, most logical storage ever." —Kathleen
Get it from Amazon for $41.54 (also available in five other styles without folding bars).
5.
A scarf organizer to make all of your favorite shawls easy to spot — especially that really pretty red one you bought in the city one summer and swear it makes you look like Audrey Hepburn. Spoiler alert: it definitely does.
Can hold 23 scarves!
Promising review: "This thing is amazing. I was skeptical about buying because all the other reviews had pictures with lighter summery/spring scarves but my collection is mostly winter wear. I wasn't sure if it would hold all my large blanket scarves, but it does. My grandmother saw it and asked me to order one for her! This was the perfect solution to my organization problem." —Nikolette
Get it from Amazon for $9.97 (available in three colors).
6.
A spacious storage shelf perfect for those teeny tiny apartments in old buildings where the idea of having a normal-sized closet with shelving was completely unheard of.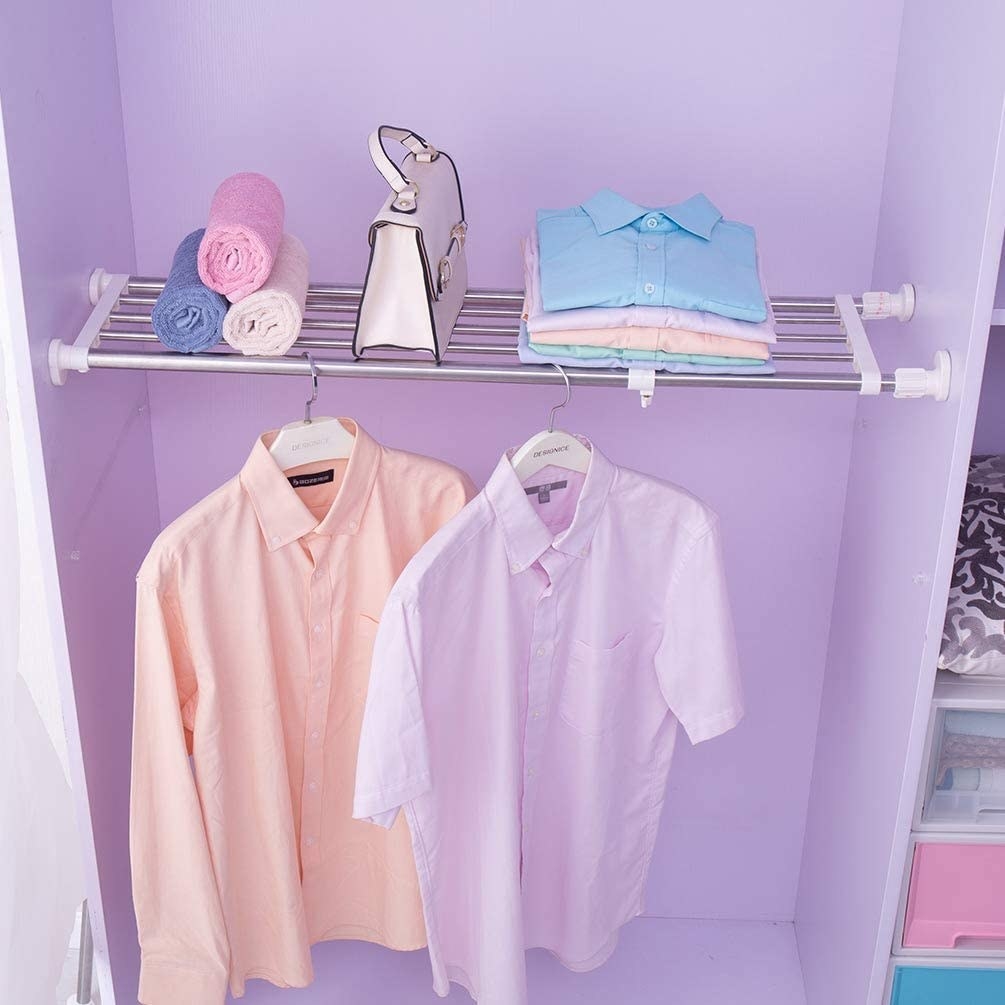 Promising review: "I had a lot of wasted space at the top of my narrow linen closet, and a deep shelf would not work. This shelf was the perfect solution. Now I can stack my less frequently used large towels at the top of the closet and still be able to access the shelf below. Strong and easy to install, and the shelf won't slip. Very happy to have found this shelf." —Mother of Cats
Get it from Amazon for $24.99+ (available in six sizes, four colors, and various variety packs).
7.
A genius T-shirt roll holder to create some storage where you'd least expect it while simultaneously giving you a neat way to display your favorite tees.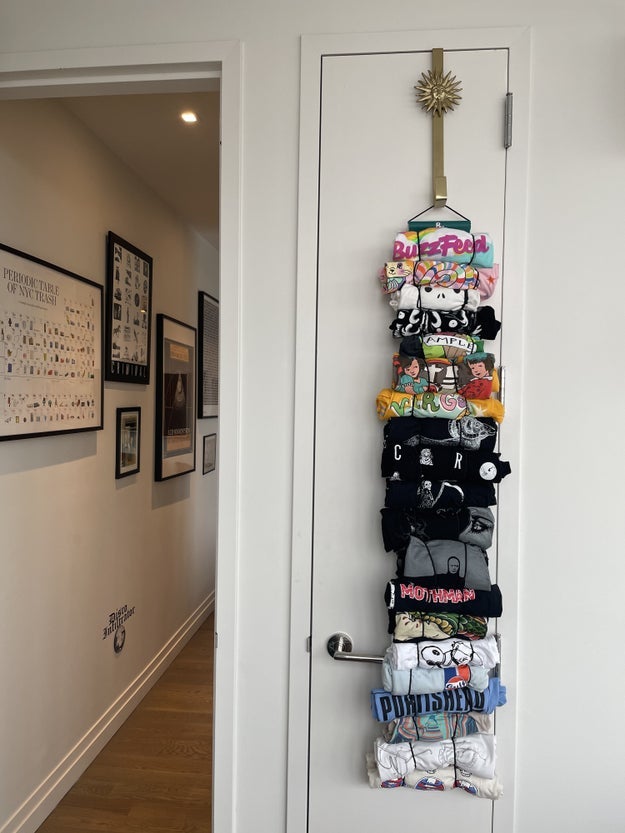 The Roll Keeper is owned by Kelso, Washington's resident crafter, Traci. Traci has been crafting for over 40 years and created her storage design to help organize vinyl, soon realizing that it was the perfect organization solution for much more. Her shop has versions for bottles, wrapping paper, pens, and more.
Promising review: "We moved recently and I realized — going through my clothes and choosing what to donate — that I had SO MANY T-shirts that I totally loved but that hadn't seen the light of day in months! It's so hard to go through a drawer and see what you've got to choose from, especially when the images are folded up and hard to see. Let me say. This is fantastic. I finally unpacked my shirts today and rolled them all up and put them in the keeper and I've never been happier! I'm so excited to be able to see my tees and choose based on how I'm feeling for the day. Totally cool and excellent. Would buy again if I ever needed anything else stored — maybe another one for the T-shirts of the future!" —Cassandra Aleman
Get it from The Roll Keeper on Etsy for $16.99.
8.
Some nifty shoe stackers because shoes take up an unnecessary amount of space without tackling all the vertical space above them. This product solves both issues! It's a win-win!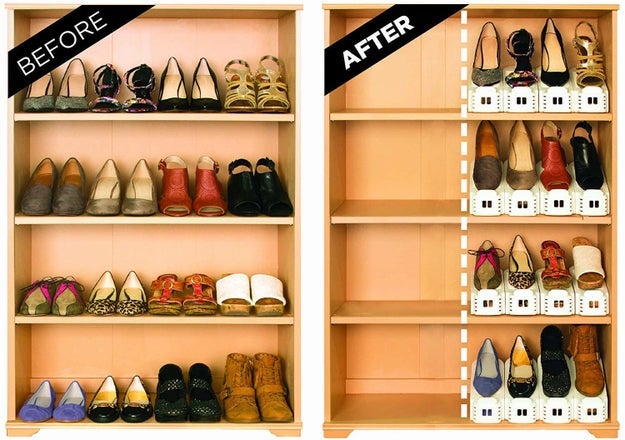 Promising review: "These shoe holders are fantastic. I'm using them for heels, casual shoes, and sneakers. For people with smaller feet (I'm a 7) it doesn't 'double' your space, but you can get three pairs where you had two. For people with larger feet, you really will double the space." —silversong203
Get a 10-pack from Amazon for $29.95 (available in multiple packs).
9.
Foldable drawer organizers with tiny sections to organize your undergarments instead of having them stuffed in the drawer in a big pile. Who would do that? Okay, it's me. 

It includes four multi-sectional organizer bins that can be used for all kinds of items!

Promising review: "I am so relieved that I purchased these for my kids' drawers. I'm having an all-out war with clutter and I'm winning! Thank you so much for these sturdy, affordable drawer organizers. Saved my life one room at a time." —Marilyn D.

Get them from Amazon for $13.99+ (available in six colors).
10.
A storage unit that has pull-out drawers you can stuff into your closet for extra space to store your clothes without having to hang everything, making your closet a big overstuffed mess. 

The unit comes with one drawer with a removable divider for 12 spaces (perfect for socks and underwear), one drawer with a removable diver for two spaces, one large drawer, and two side-by-side small drawers.
Promising review: "If you are looking for an alternative to a dresser/closet organizer system due to limited space or limited budget, this is a great product. It is easy to assemble. The drawers slide in and out easily. Has a good amount of storage space. It is secure with the Velcro that holds to the closet rod, even with the clothing's weight. It is also a great value for the price." —Janet K.
Get it from Amazon for $35.99.
11.
A double laundry hamper with removable laundry bags to make your trip to the laundry room way less of a hassle. You can either sort your laundry like regular wash and delicate wash, lights and darks, or just clean and dirty! Plus, the lid ensures the after-barre-class stink won't come pouring out. 

 It can hold up to four loads of dirty laundry!
Promising review: "Visually, it looks great. It has a nice, modern, contemporary look and feel. It is sturdy and came clean and smelled fresh. The set up was incredibly simple and the directions were helpful. The hamper comes with two mesh bags that are secured in place via velcro. There are two handles on the side of the hamper to make it easily movable. The lid closes completely and opens easily all the way back. Some reviews mention that the top comes off when opened fully, but I have not had this problem. The item came clean, fresh, with all materials, and looked brand-new." —Kenya360
Get it from Amazon for $51.96 (available in seven colors and as a single hamper).
12.
Or a hanging laundry hamper because every little bit of space counts in your closet, so why not utilize that unused space behind your door?

Promising review: "This laundry is much larger than I expect! Very easy to use! I'm hanging it at the back of my bathroom door, which is perfectly convenient. 100% recommend, especially for those who live alone. It's capacity is large enough to hold around 1–2 weeks of dirty clothes!" —SL
Get it from Amazon for $13.96+ (available in three colors).
13.
A clothing divider set so you can arrange your closet and not have to rifle through each hanger trying to find that teeny body suit that always gets lost in the trenches of jackets and pullovers.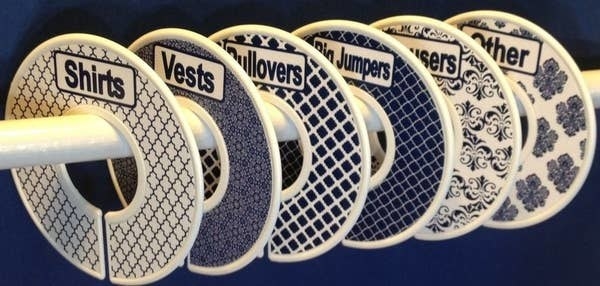 Gina Marie Originals / Etsy
Don't forget to list what you want each one to say in the Personalization box!
Gina Marie Originals is a small business based in Chattanooga, Tennessee, that sells a cute variety of closet organizers, shirts, drawer organizers, and more!
Promising review: "These are EXACTLY what I have been looking for to organize my closet. Not only are these functional, but they add some fun design to my closet. I was blown away by how incredibly fast these arrived." —Amber McCreary
Get six dividers from Gina Marie Originals on on Etsy for $16.20+ (originally $18+; available in larger quantities).
14.
Acrylic drawers to hold all of your glasses without having to worry about leaving them around the house (me) or storing them somewhere where they'll inevitably get scratched (also me).
Promising review: "Love this organizer. It fits all of my glasses and aviators in it perfectly. My dresser was getting out of control, and I desperately needed something to bring some organization to it, and this did the trick. Though it's made for nine pairs of glasses (I currently have 10), I was even able to stack an extra pair onto another pair and was able to close the drawer smoothly." —JessLivin
Get it from Amazon for $24.99.
15.
A *lockable* jewelry cabinet that doubles as a mirror so you can stop fishing in a bowl for all of your necklaces that have inevitably tangled and see them perfectly displayed for your viewing pleasure. This is perfect if you're blessed to have a huge walk-in closet!

There are three horizontal holes on each side of the stand; you can adjust to the most suitable angle according to your height to get a better view. It contains 24 necklace hooks, 78 ring grooves, 108 stud earring holes, 36 earring slots, four shelves, two bracelet rods, three makeup tool cups, and two bottom drawers.

Promising review: "This jewelry cabinet is elegant and super functional. Most of my necklaces and earrings got their own places. It displays everything neatly and makes it easier for me to find the right accessories. It also kinda stops me from overbuying accessories of the same styles. Love that I can put some makeup in. With this mirror and everything inside, it easily became my favorite styling place before going out." —D. Kim
Get it from Amazon for $109.99+ (available in two colors).
And check out an over-the-door model.