1.
So, you already fell hard for Impastor Season 1.
2.
It's very dark and very funny. It's ~miraculously~ the only show quite like it.
3.
The main character, Buddy Dobbs, is still the complex nightmare we know and love.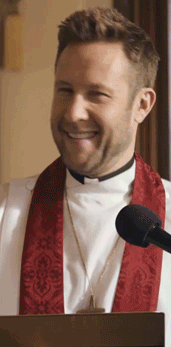 He might look like an angelic pastor, but you know his garbage-person miscreant side is alive and well.
4.
He's somehow managed to become an established member of his small-town community...
5.
...even though his understanding of scripture may still need some work.
6.
Dora and her enviable style will be back to give us all the grandma-chic goals.
7.
And all our other favorite Ladner residents will be resurrected too.
8.
There will be action...
10.
There are even more sinful secrets to keep, and the intrigue will only intensify.
11.
So get excited: The second coming is super nigh.
All images courtesy of TV Land.