For '90s Bolly kids like myself, life would never have been the same if it wasn't for this particular movie. I know how to weave a friendship band. And I know you probably wanted to own a "C-O-O-L" necklace like Rahul at some point in your life, too.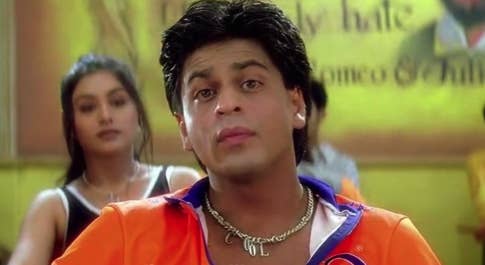 We see a very sad Rahul standing near a burning chittha, mourning the loss of his wife, Tina, who died soon after childbirth.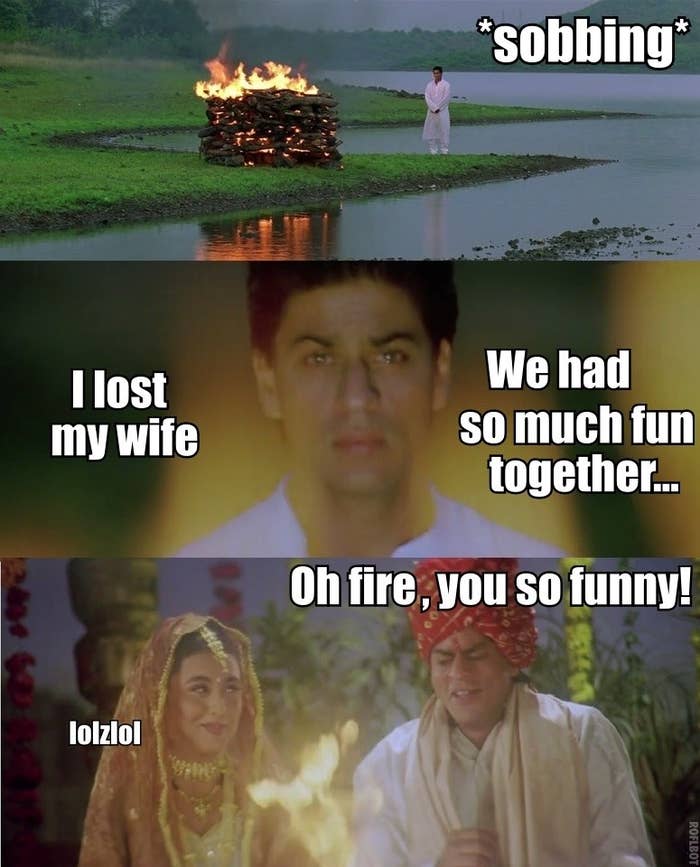 Tina left eight letters for her newborn daughter and asked Rahul's mum to give one letter to her on each of her eight birthdays.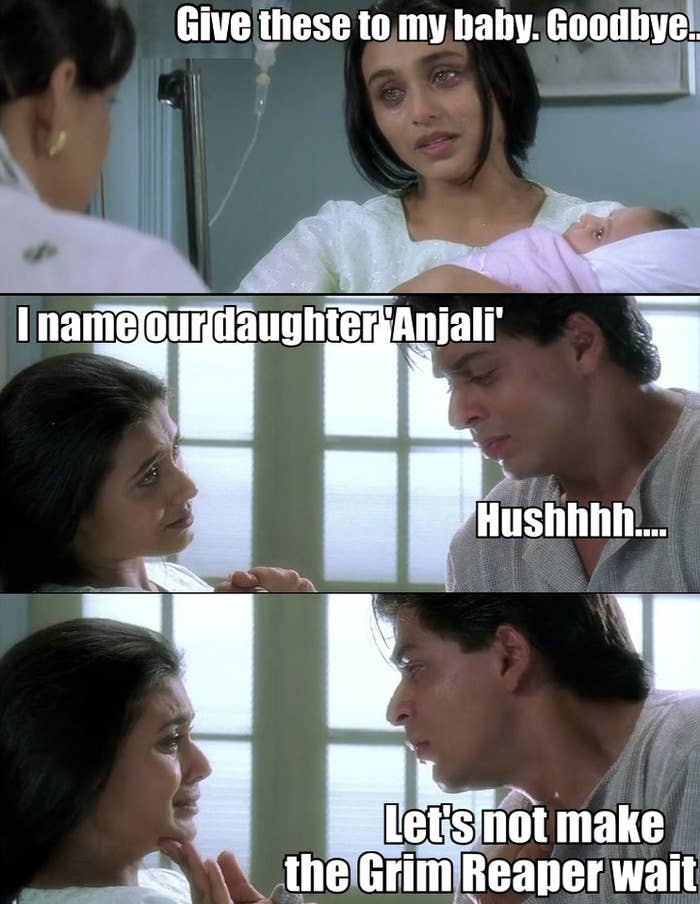 We are fast-forwarded into Mumbai eight years later. Rahul and Tina's daughter Anjali has grown to be a total doll. A beautiful Cabbage Patch Kid doll.
Anjali and daddy are very close. She has to help him do everything – shop for his clothes, remind him to take his meds, invest an unfair amount of emotional labour into him.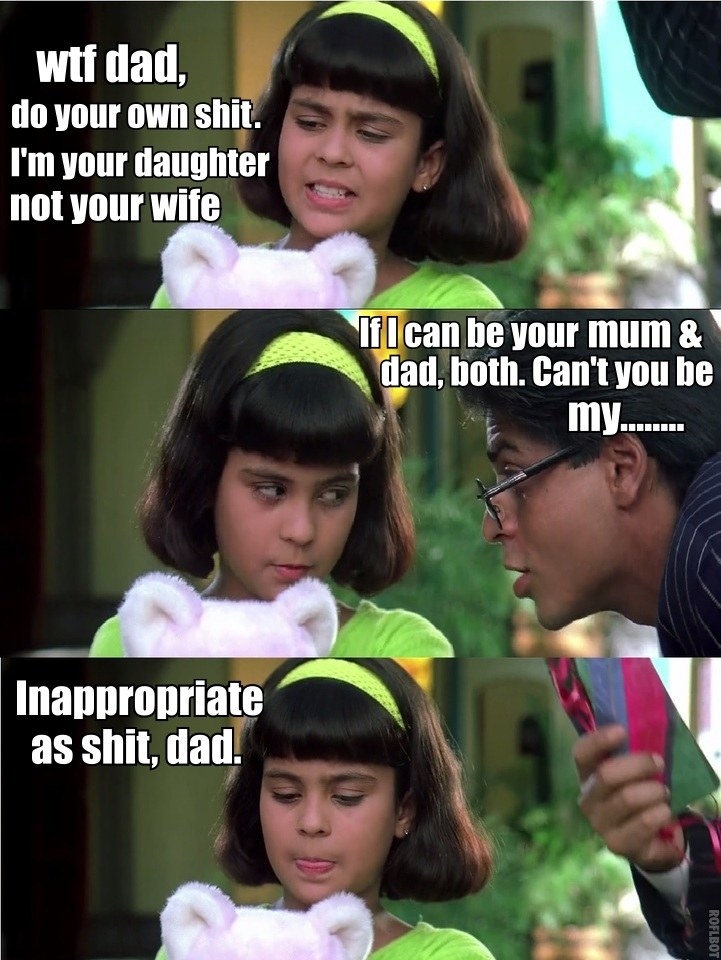 Daadi (Rahul's mum) is a religious woman. She often delivers religious sermons on bringing up children to women in the neighbourhood.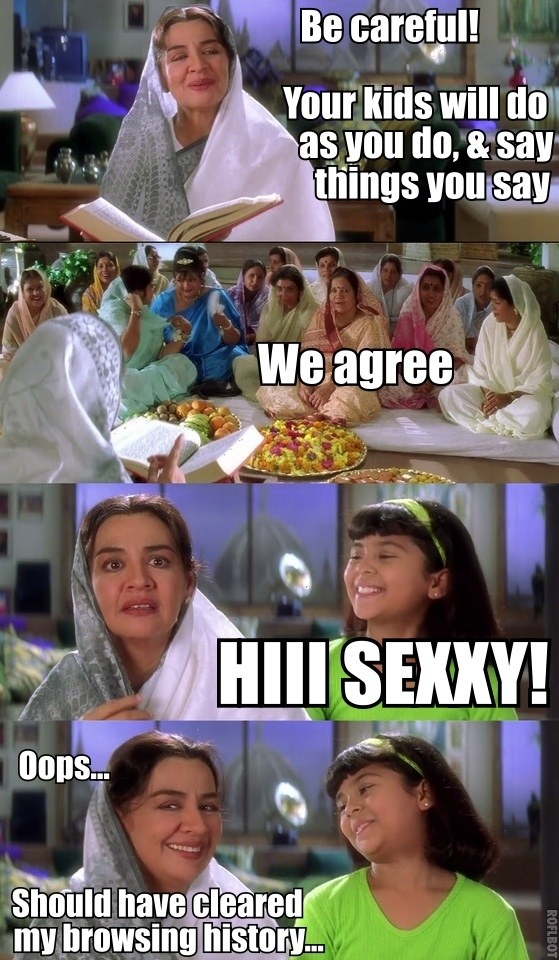 Kid is kind of annoying but no one says anything to her because she is motherless. Everyday things remind this poor child of her motherlessness. One day at a junior talent show in school, THIS happens.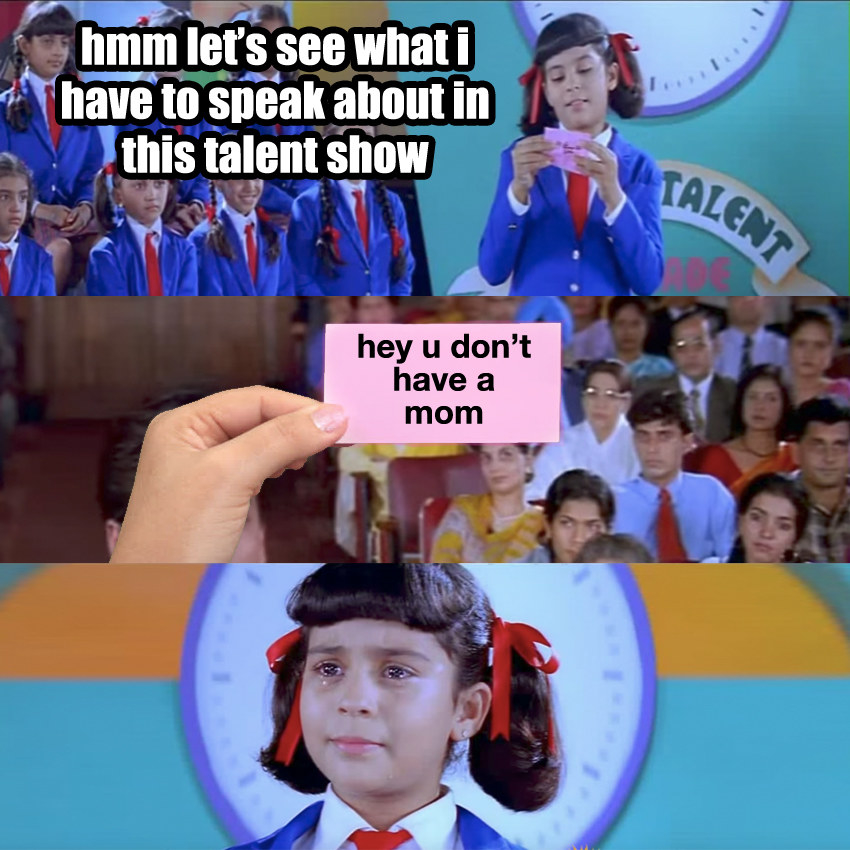 Anjali's eighth birthday arrives and she finally gets to read the last letter her mum wrote to her.
We are taken back in time, to the life of a young college-going Rahul Khanna and his annoying best friend with severe internalised misogyny, Anjali Sharma. Imagine dealing with this every morning.
They're practically always fighting. Anjali fucking DETESTS being a girl. She gets quite pissed if you remind her she is one. Actually, she's pretty much always pissed and they're both roasting each other in a perennial barbecue.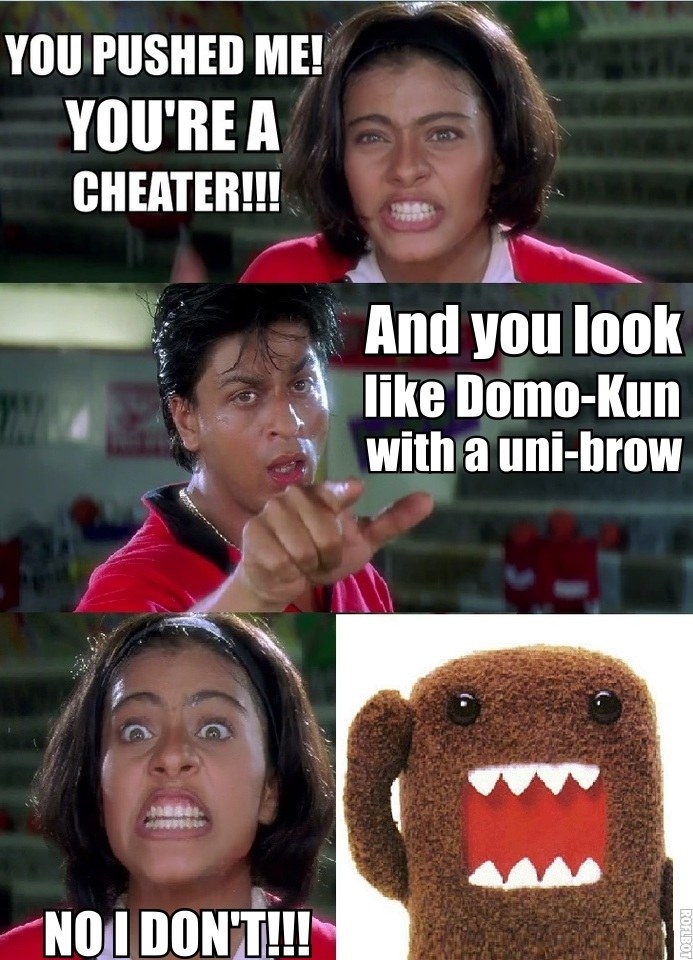 The amount of shit St. Xavier's College gives about Rahul and Anjali's fights is enough to grow an entire healthy forest. If only all this time and energy was invested preparing for a test, these guys would have jobs in the future.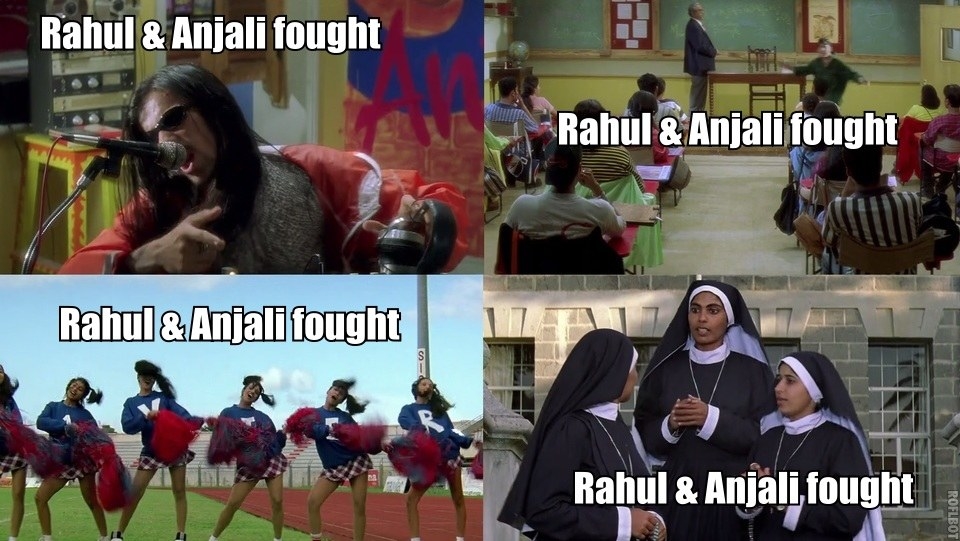 Seriously, why the fuck are these guys so excited? What is so exciting about this, please explain.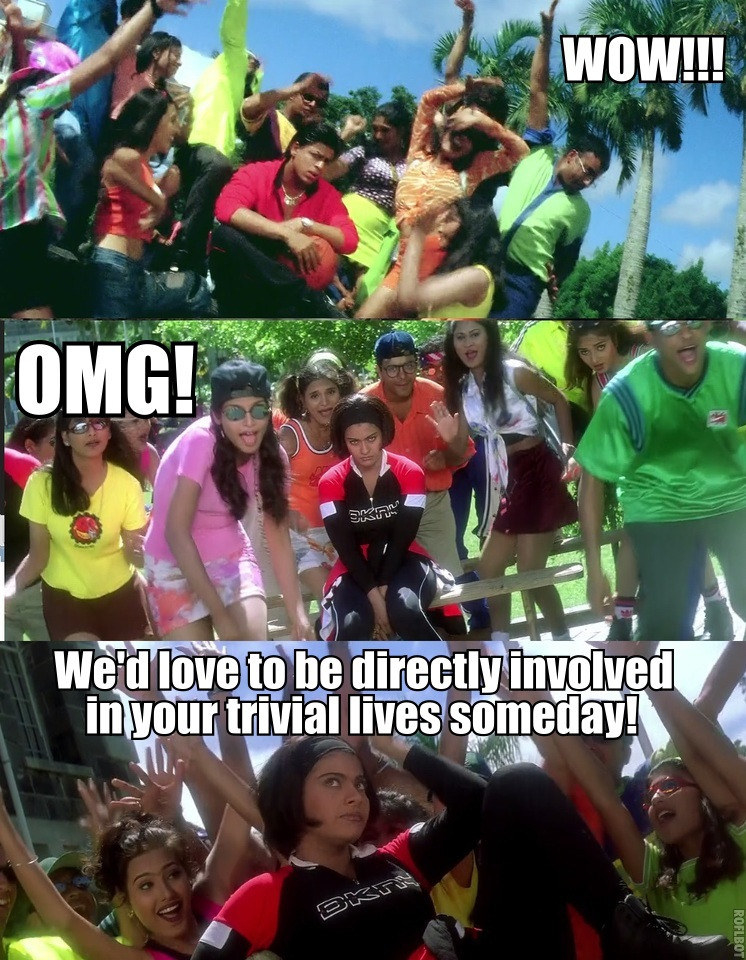 Next we meet Riffat Bee, who is Anjali's… caretaker? I don't know but she looks after a bunch of girls and she's the only person who knows wassup.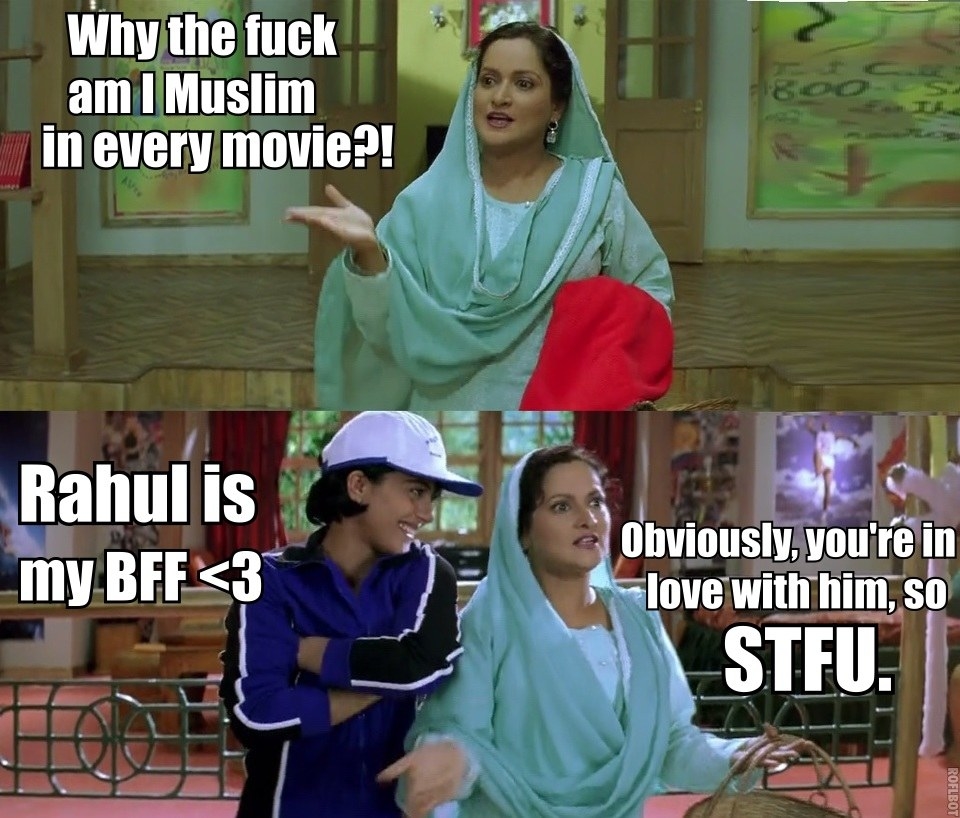 And after this, we meet potential rape apologist and college principal, Mr. Malhotra, who firmly believes girls wear short skirts to excite men.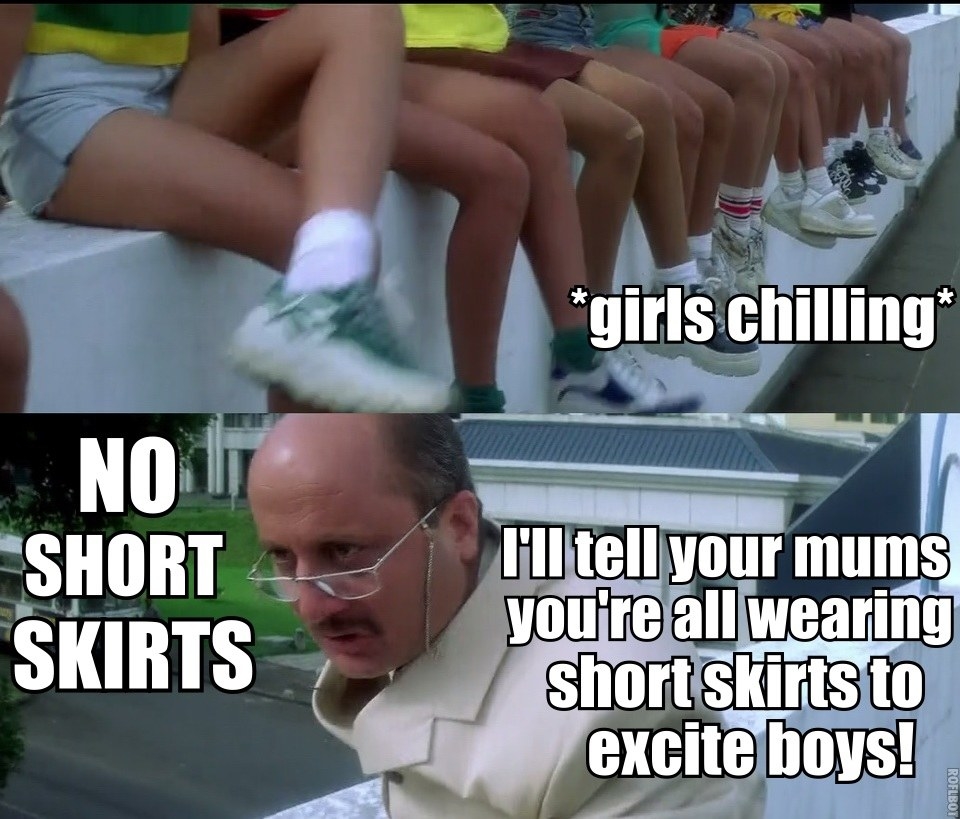 Mr. Malhotra's daughter Tina (Rani Mukherjee) has arrived from London. She quit Oxford to join St. Xavier's College in India. Yup. Brilliant decision. Exactly why you shouldn't be at Oxford.
Rahul is struck by Tina's beauty, but the narrow-minded misogynist shitnugget in him is standing in the way.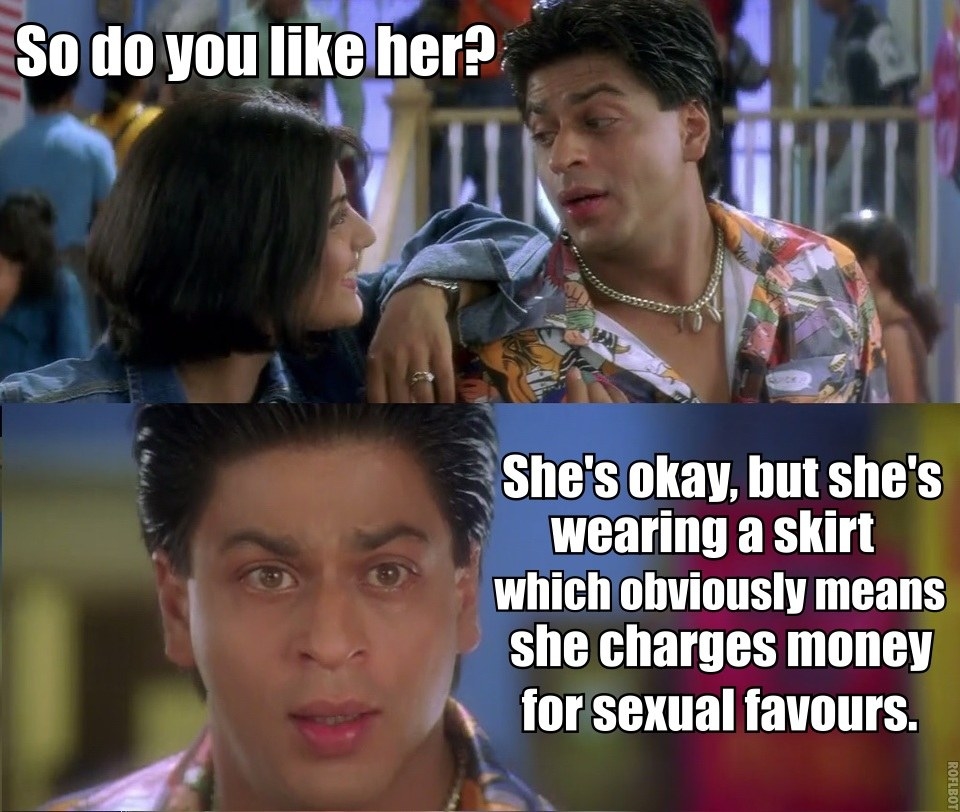 But soon, Tina proves her mettle and qualifies as sanskaari bahu/biwi material.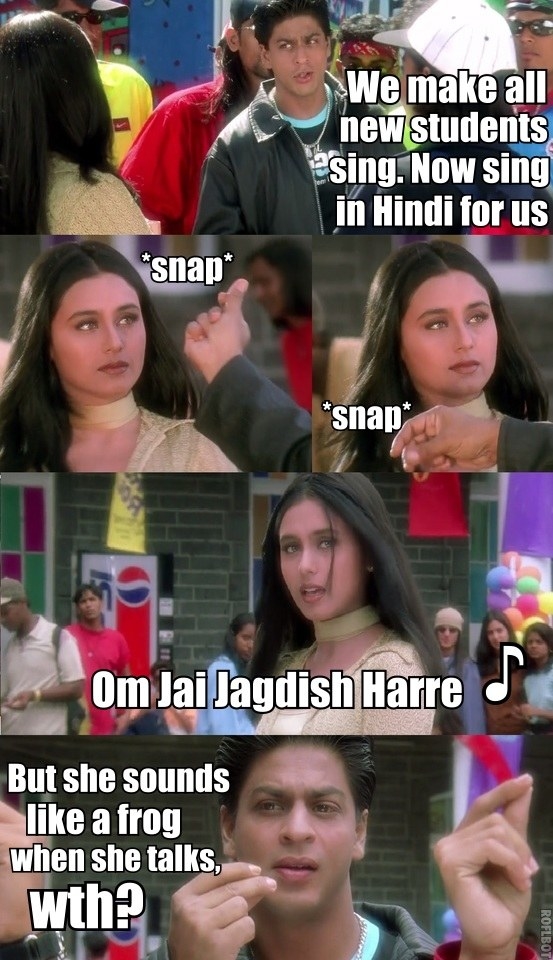 In English class, a little bit of inefficient hinting on Rahul's part leads to this massive misunderstanding.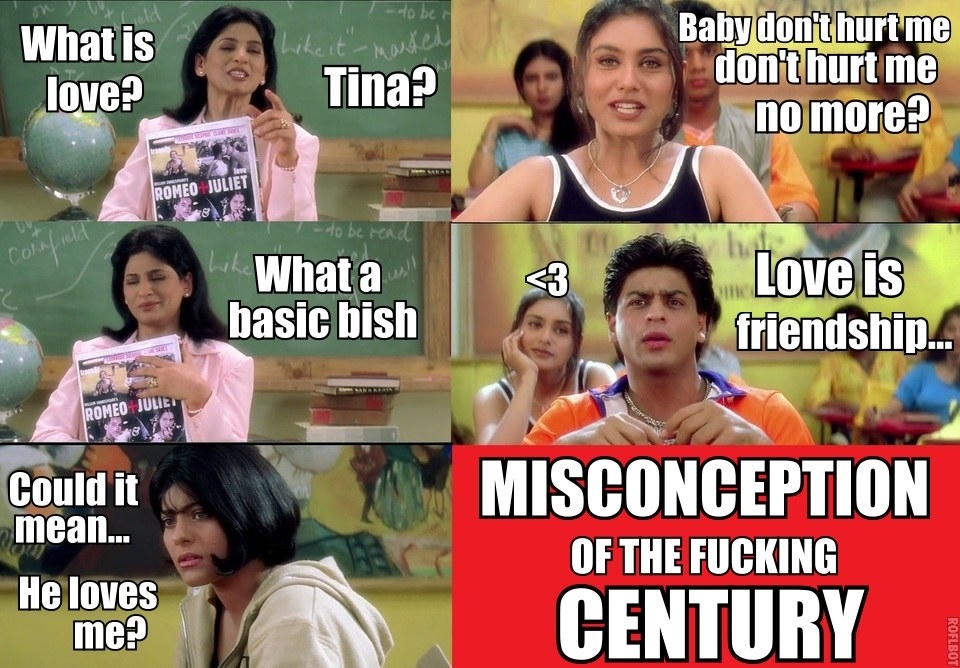 Lots of our favourite songs happen while strengthening this misconception further.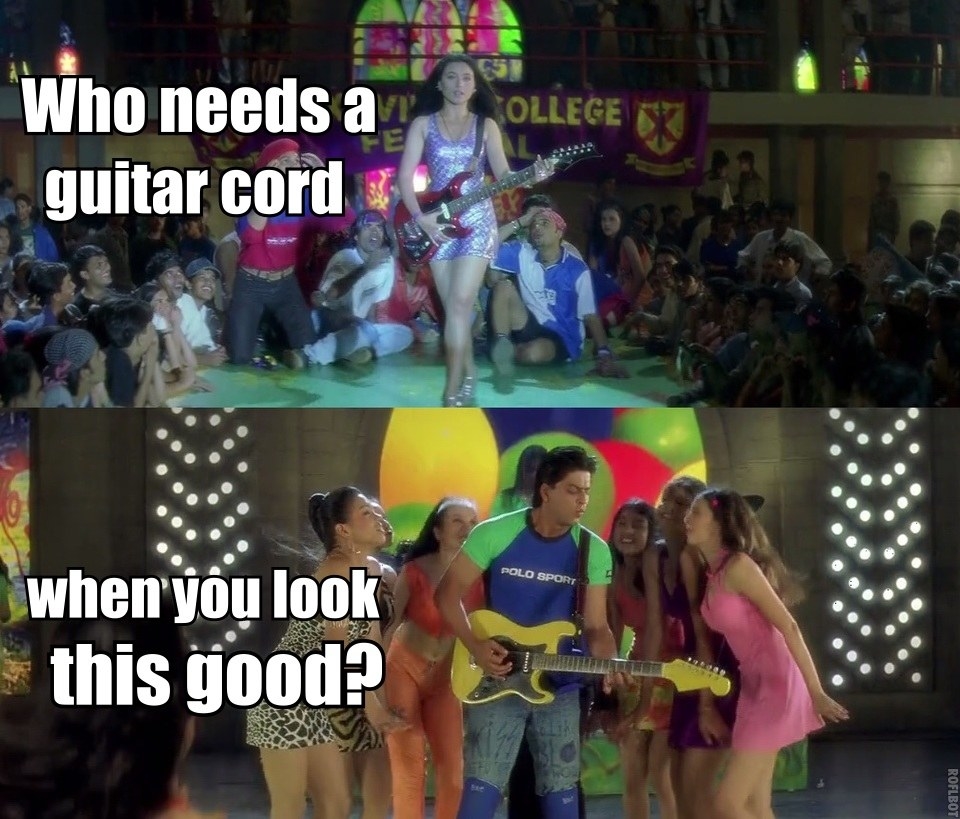 Rahul and Tina's love is blooming. Anjali is as relevant as stick-on nails on a rabbit.

Anjali begins to get overly possessive about Rahul. Her realness ain't shit compared to Tina's sanskaar-skirt combo.
As you would expect, Anjali's attempts to become Rahul's main squeeze go in vain. Dressing up girly, trying to be nice — nothing works. She's always the pichhwaada of all jokes and is forever going to be in the bro zone*.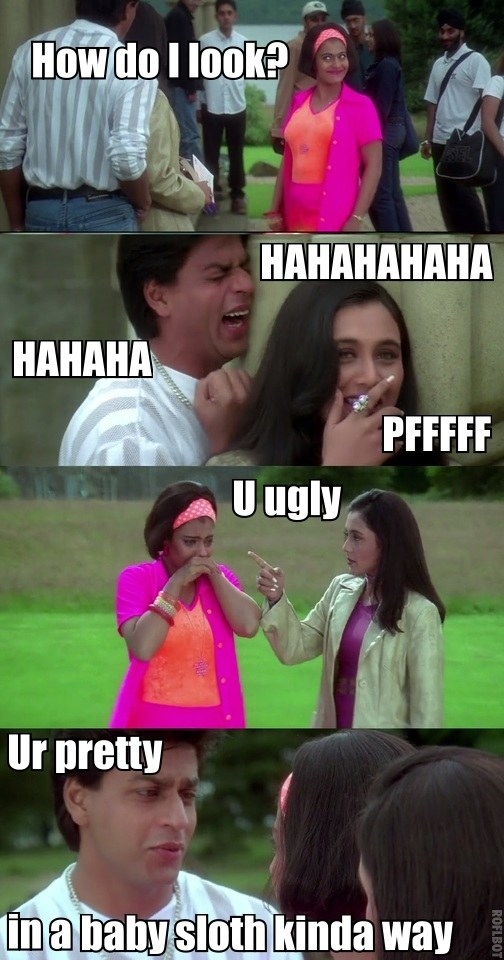 90 minutes of film later, Anjali gets done with reading her mum's letter. She's eight. Ordinarily, she'd struggle with reading the McDonald's menu, but this is Bollywood so she can read her mother's novel ass letter.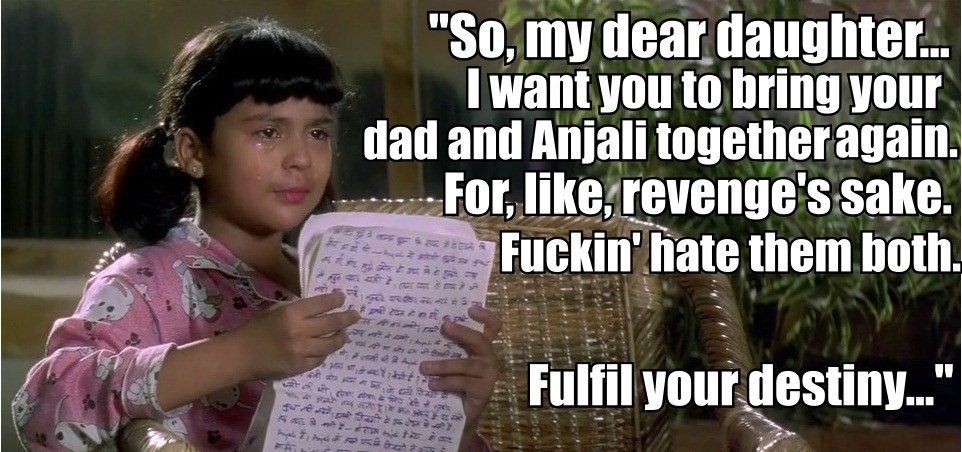 Little Anjali asks her dad about his college BFF Anjali and he tells her what she was like.
Anjali Sharma has finally turned into everything society wants a woman to be. By defeating her actual sporty personality after years of struggle, she is perfect bahu material. But UH OH. WHO'S THIS AMAN? THIS TWATWAFFLE SHE'S MARRYING?
Meanwhile, little Anjali and her grandparents are trying to trace big Anjali. From school records to going to Riffat Bee, they try everything. When they reach Riffat Bee's house, she's obviously praying because believe it or not, that is all us Muslims do in films and IRL.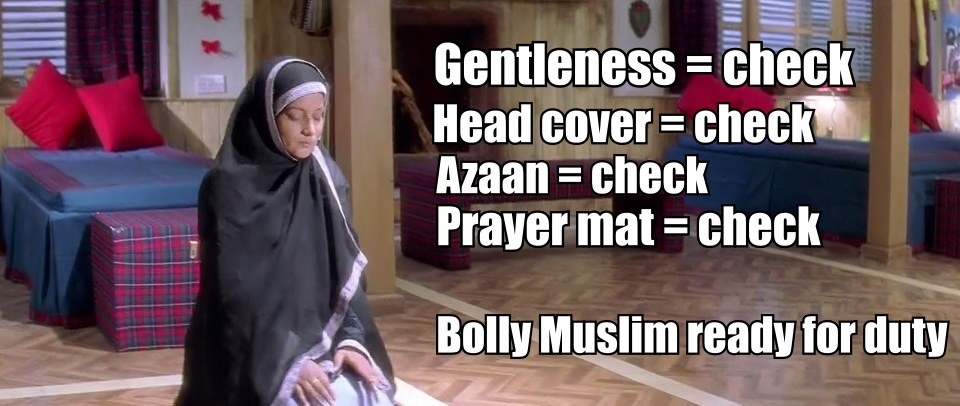 In Bollywood, aunties pray on a ja-namaz, and uncles (often called Kareem Chacha) wear skullcaps and hold rosaries for fashion. Luckily, Riffat Bee tells them where Anjali lives and that she's getting married in a week. But then Little Anjali begins to pray and somehow, Big Anjali's wedding is delayed till December.
Not only is the wedding delayed but we also find out Big Anjali is considering this entire thing a compromise and isn't in love with Aman.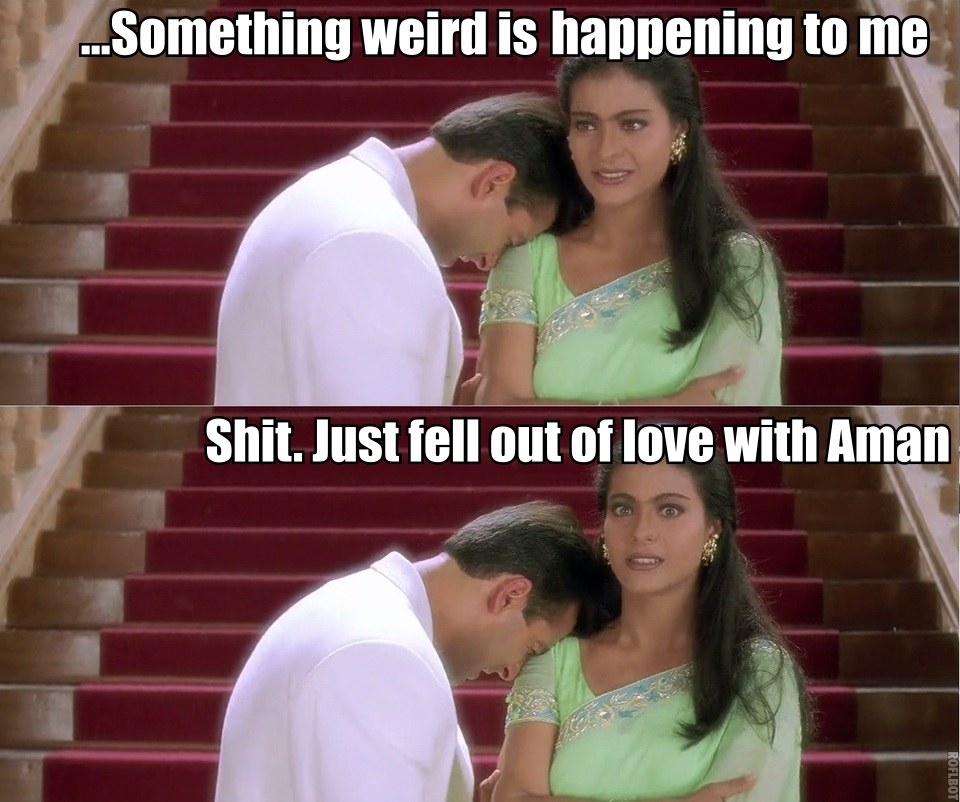 BTW, Big Anjali goes to a summer camp in Shimla every year to teach kids dancing and singing. Being a stalker from the womb, Little Anjali is obviously on her way to that summer camp now.
Meanwhile, Rahul and Aman bump into each other at a conference over a "Anjali calling" mix-up at the hotel's reception. And Aman's just… weird. This is not how you start a conversation.
Anjali meets Anjali at summer camp. Creep that she is, the kid doesn't spare a minute before freaking out her teacher.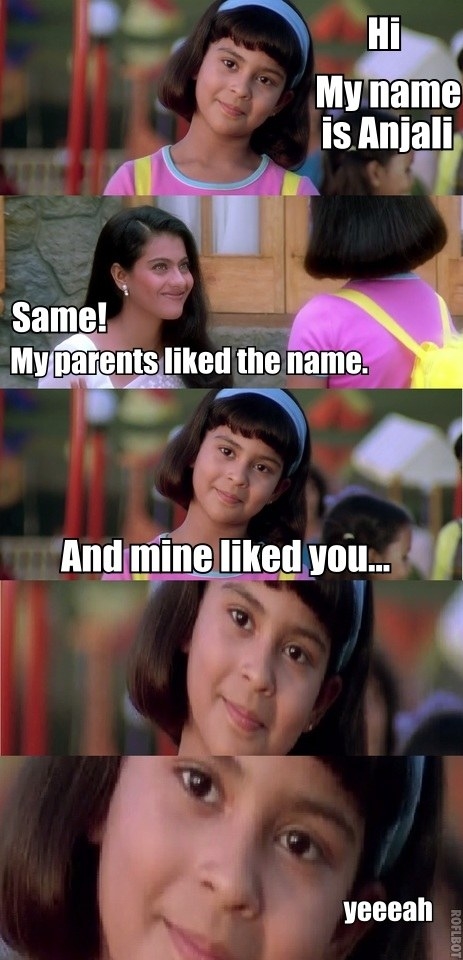 Through a live TV show where "love messages" are being sent out, Big Anjali realises Little Anjali is Rahul and Tina's daughter. She also misses another huuuge ass misconception by a hair.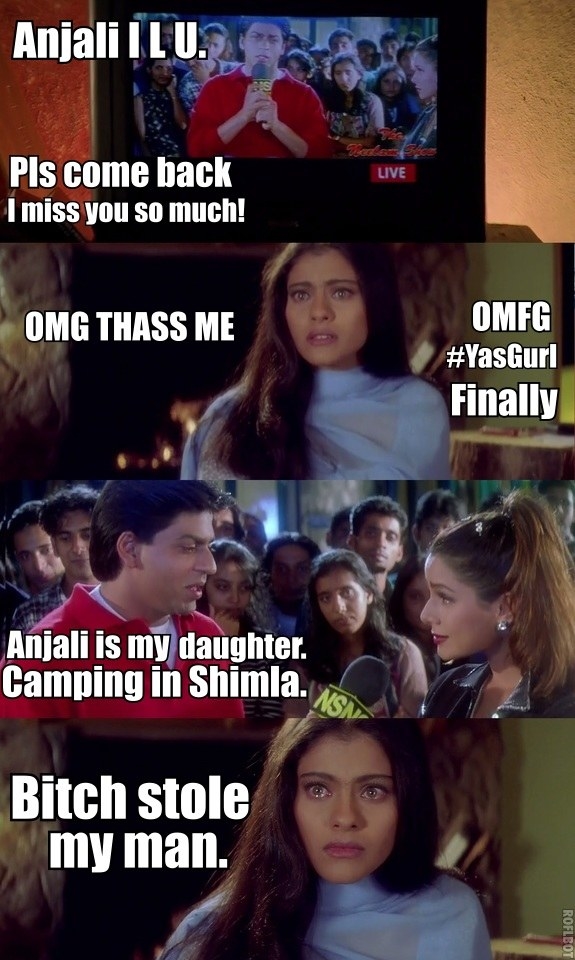 Little Anjali fakes being ill, making concerned father Rahul catch the first flight/truck/train to Shimla. He sees Anjali at the summer camp… Big Anjali. #HawtDamn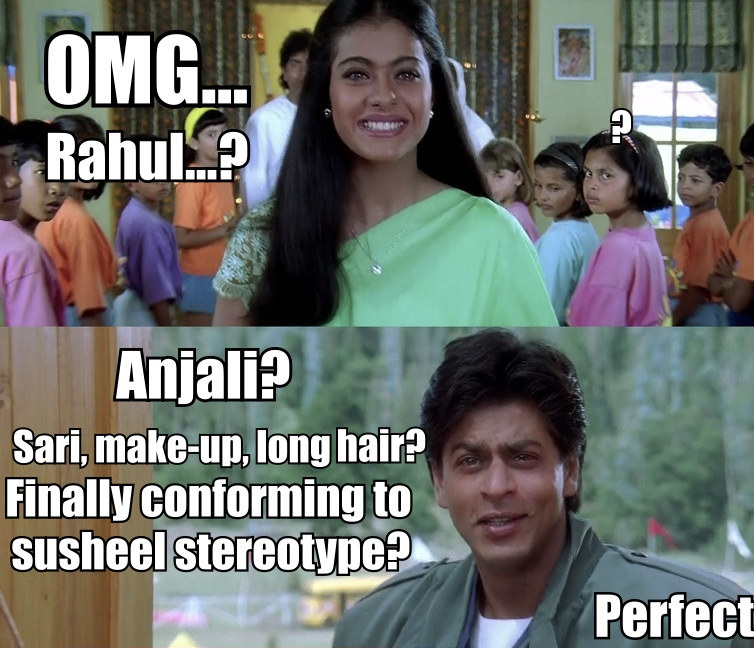 A few days later, Rahul's male superiority complex kicks in again and he declares that women cannot play basketball, thereby earning a basketball match with Anjali.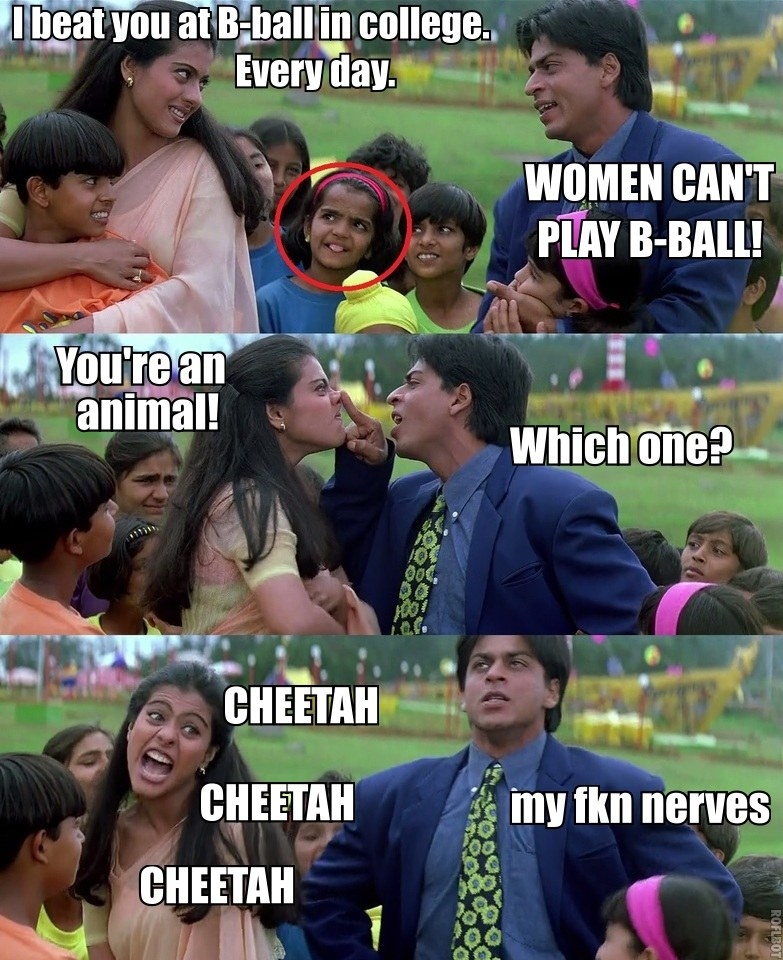 They both cheat a little and Anjali loses.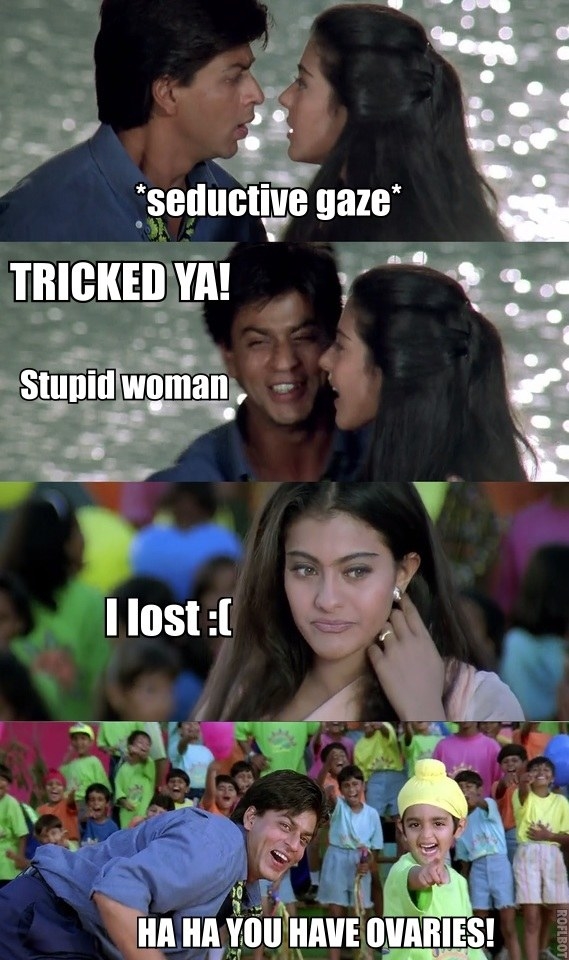 And soon, they start getting attracted to each other. By "soon", I mean over one three-minute song.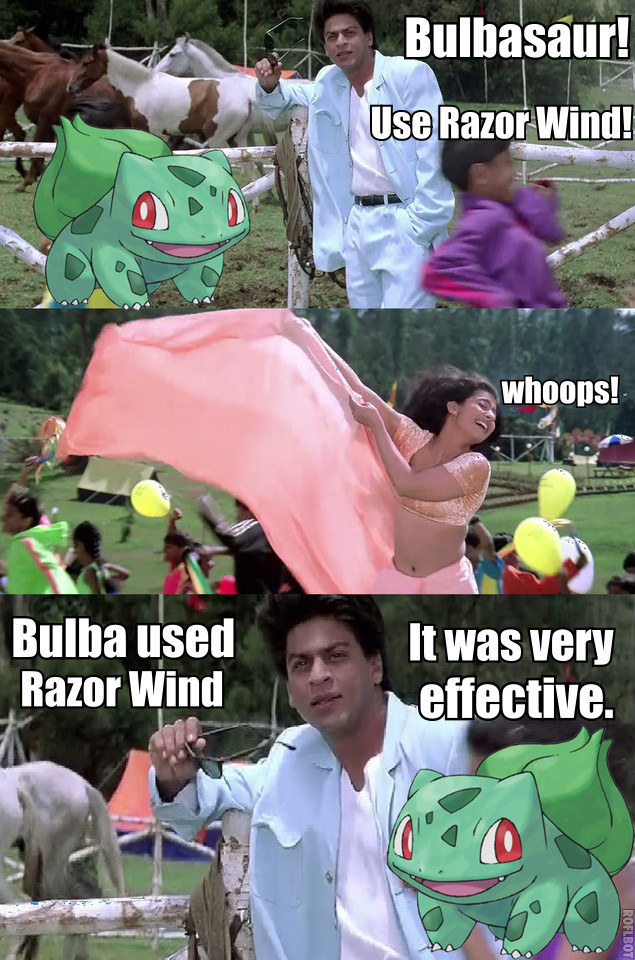 Hell, things even get kind of steamy on rainy night.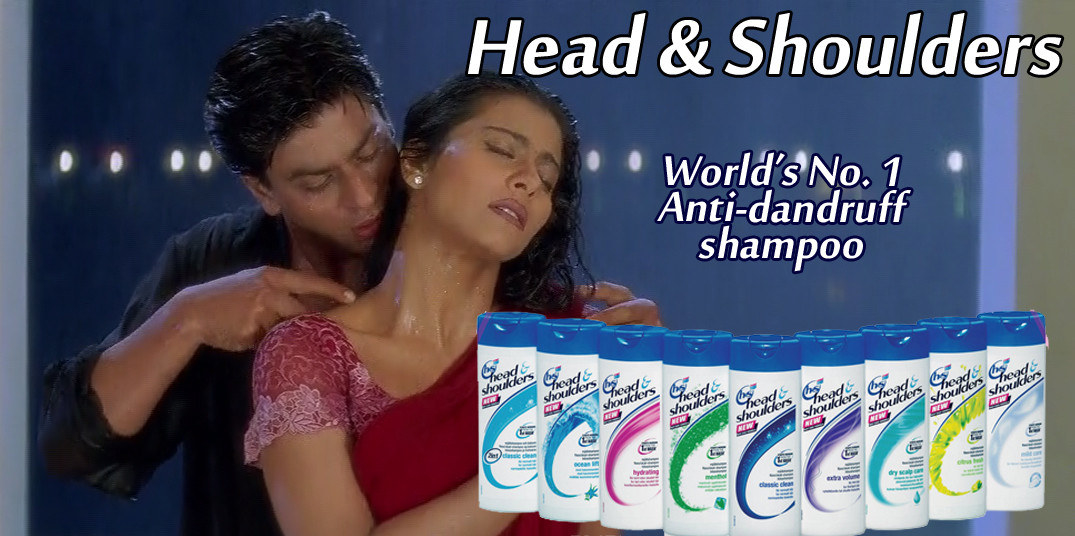 In the middle of their mating dance, Anjali realises she's engaged and runs into the woods crying. You know, because that is the right thing to do. There, she confesses her love for Rahul to… herself. Or this tree.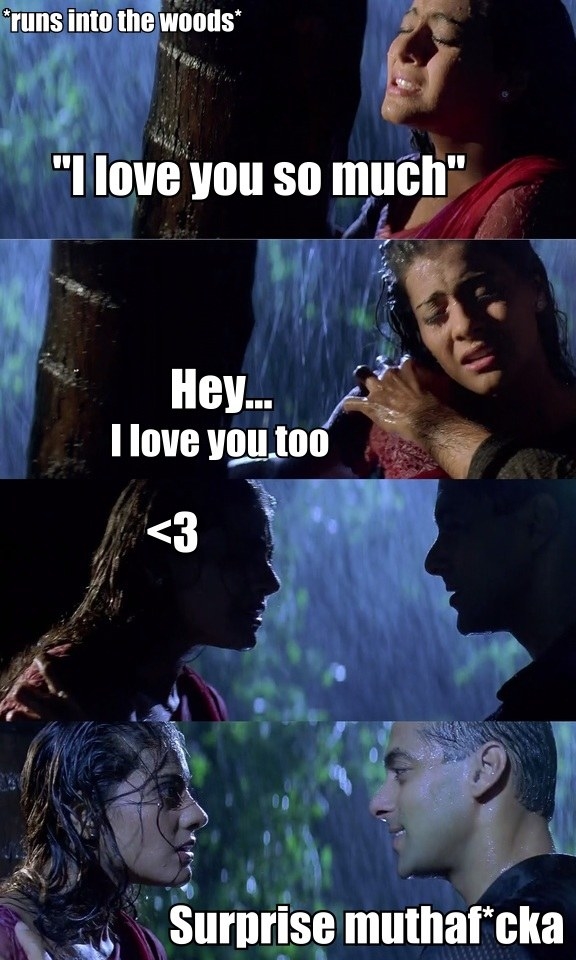 Even on other notes, Aman is beyond annoying and scary. He often gives you those "I love you but may kill one day" vibes. And I think he's drunk most of the time.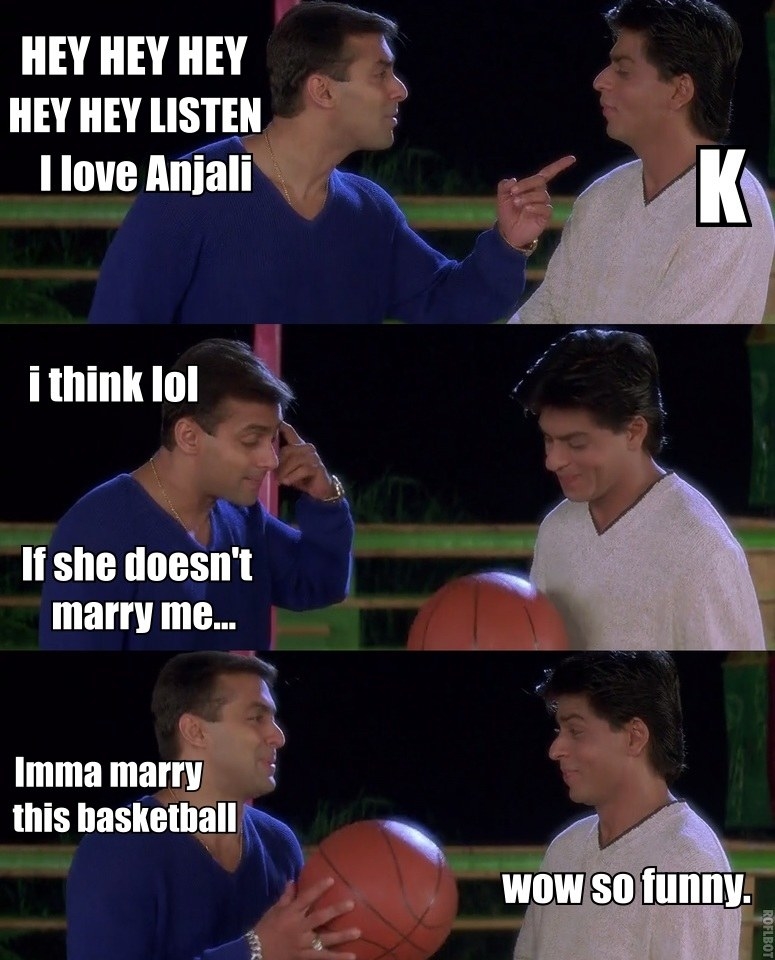 Mind you, Rahul is shady as fuck also. Upon discovering Aman is Anjali's fiancé, dude totally acts like nothing happened the previous night.
Little Anjali tries everything she can to stop this union from happening.
Everyone's tricks fail and Anjali leaves the camp early, looking forward to her wedding. Even the quiet Sikh kid who is always counting stars can't stop her. Yes, that one kid who came to camp to get sky fuckin' high, clearly.
Rahul gives Anjali a red dupatta she once gave to Tina.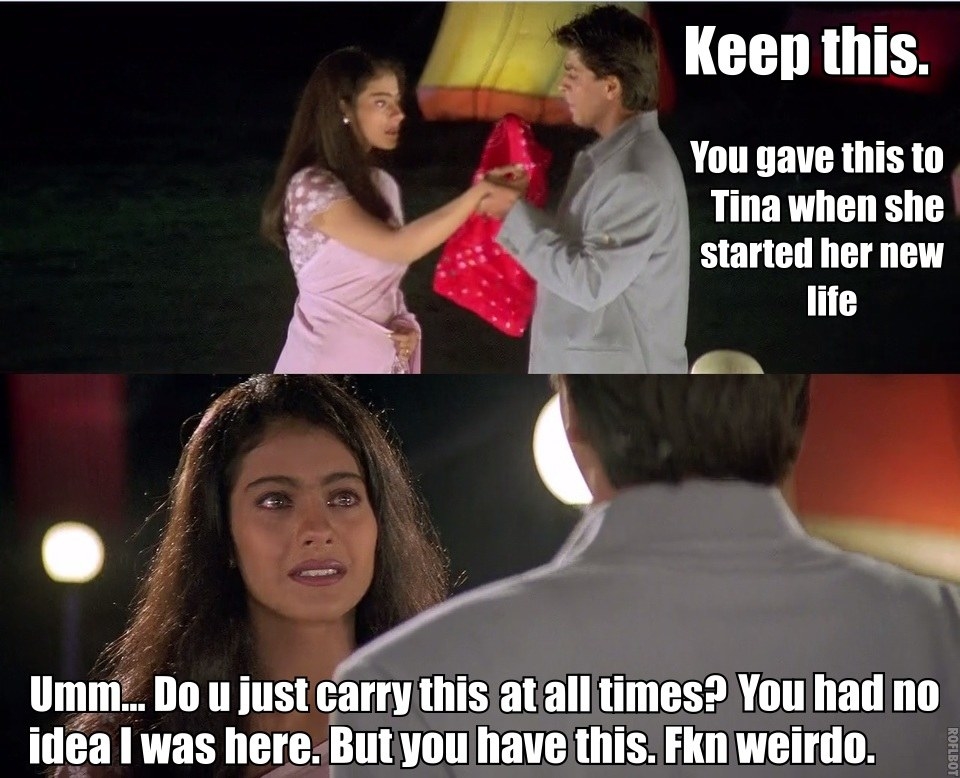 Anjali takes it and leaves. Rahul's life sucks.
Anjali goes home and insists on getting married as soon as possible. But Rahul has not entirely given up, so he and his family go to Anjali's wedding, only to do this. What a tease.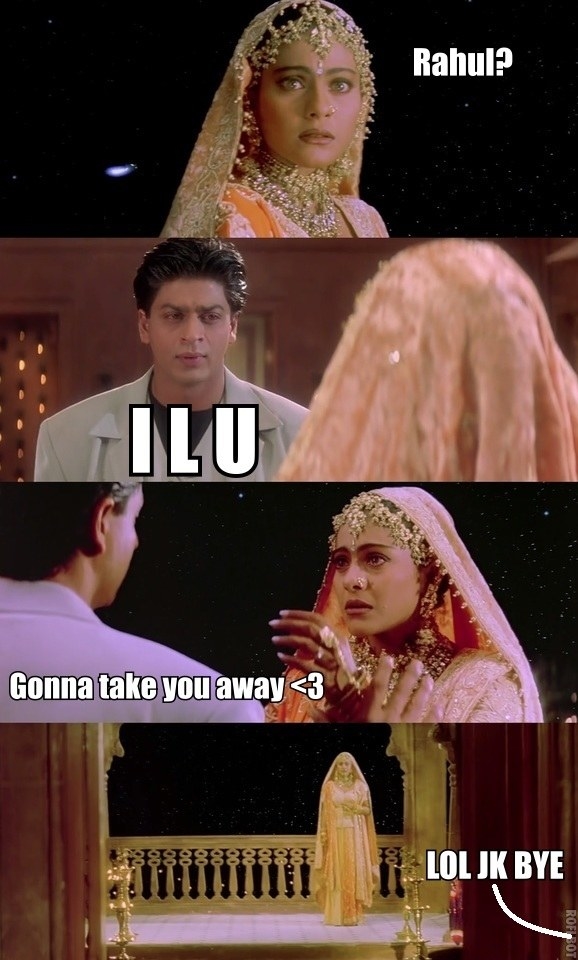 Now that Rahul and his uninvited family have officially stunk up this bhalli changi wedding — with Anjali crying, her mum getting uncomfortable, and Aman getting mad suspicious — these bitches decide it is okay to leave.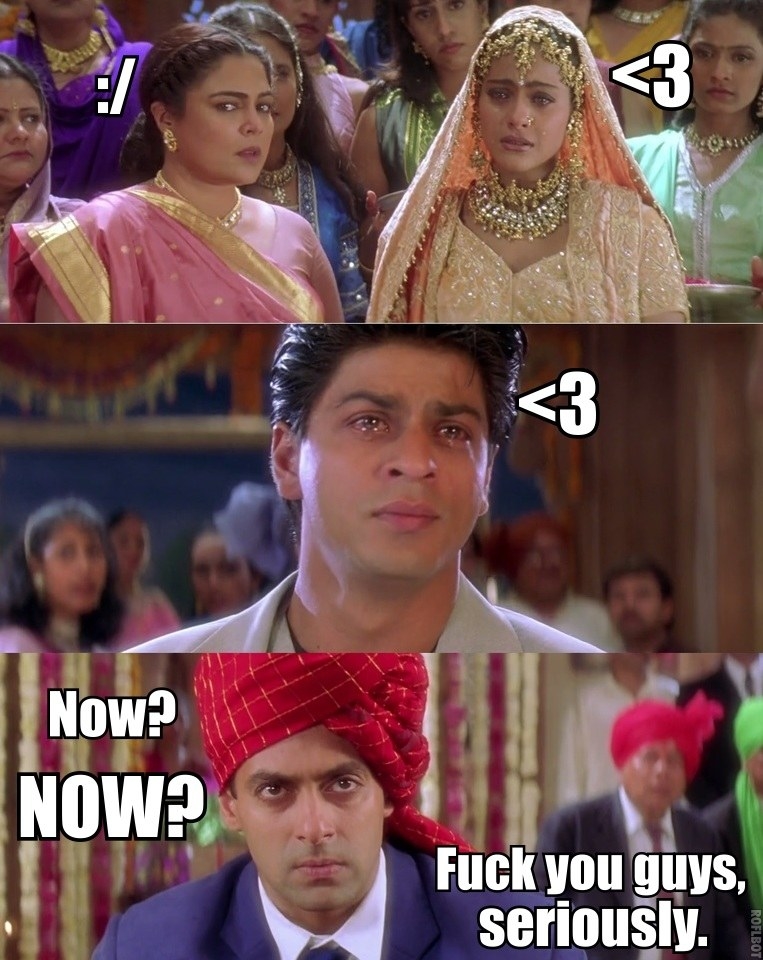 Aman, who can sense what is wrong (as can everyone at the wedding) gets up, grabs Anjali by the arm and tells her what she should do. She makes an assessment.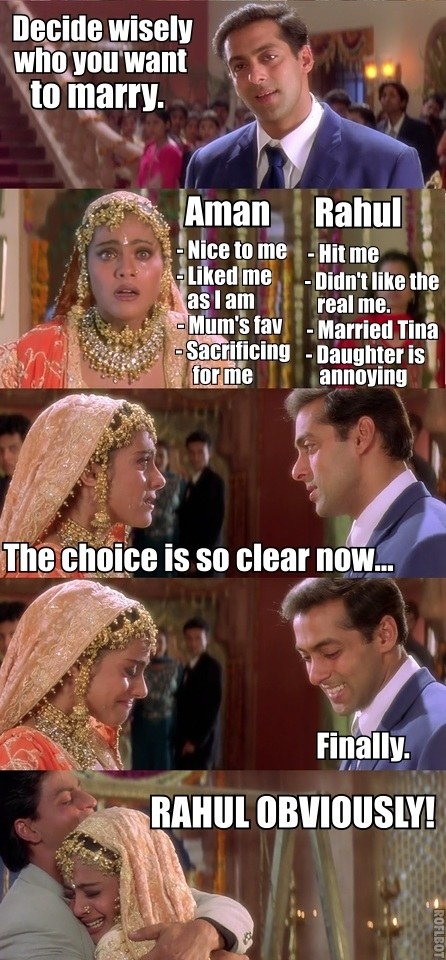 Also, Aman's sense of humour, my god, ew. Who cares if he's nice enough to sacrifice everything for Anjali's happiness? I'd rather he marry that basketball he was eyeing earlier.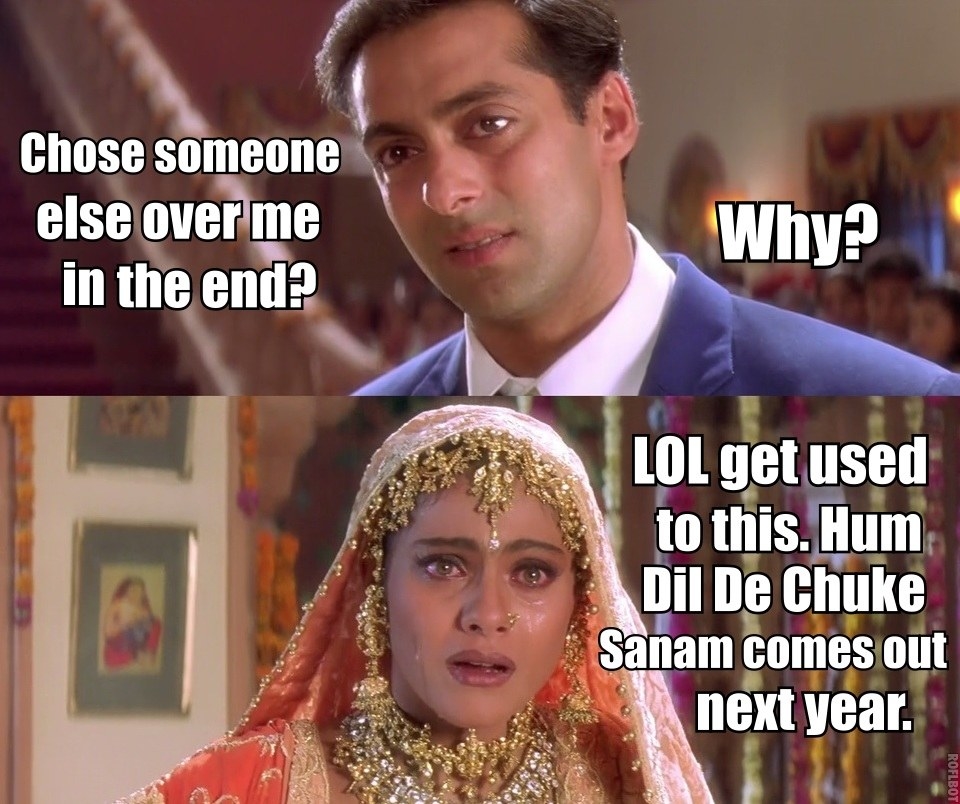 Always remember: Anjali, an eight-year-old, somehow managed to reunited her dad with his college friend on the instructions of her dead mother; something Sir Isaac Newton is yet to achieve.
Now let's talk about the ~Morals Of The Story~ like we always do...