"Kaho Naa Pyaar Hai" is a nearly-impossible, and thus, a beautiful story about I don't know, was too busy looking at Hrithik, just read on.
We enter the life of Rohit, a car salesperson and an aspiring musician who often has an accident in his pants from dreaming about performing on a huge stage.
He lives with a an older Christian couple and his little brother Amit who is a compulsive liar and an overall irrelevant addition.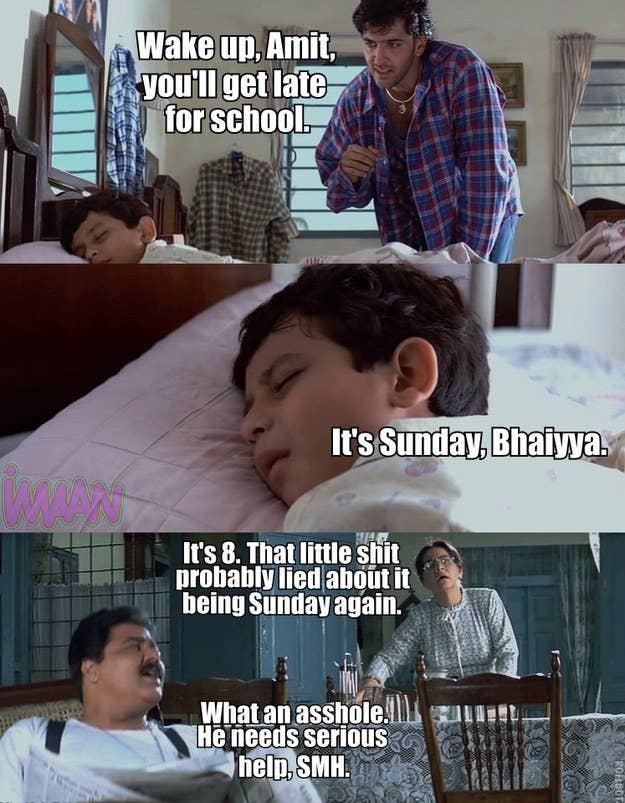 And Rohit knows no better than to spoil this spoilt little shit further. Kid has zero respect for his brother.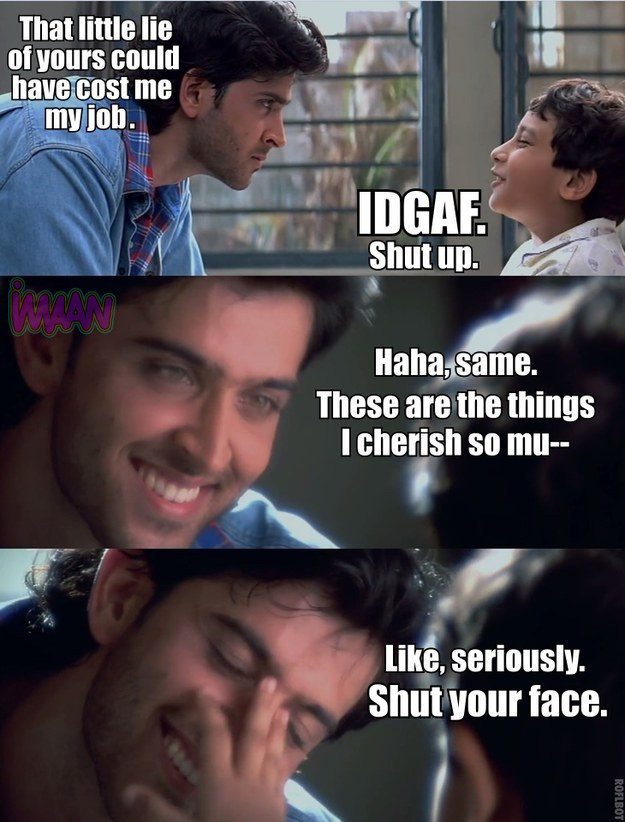 While dropping his brother to school on his bicycle, Rohit comes across a beautiful girl at a signal. She's doing what? A hairflip, of course. Not fun if it ain't cliche, right?
There's no one else in the car but a driver. Unless he's cracking the funniest joke in the universe, this is not a normal reaction.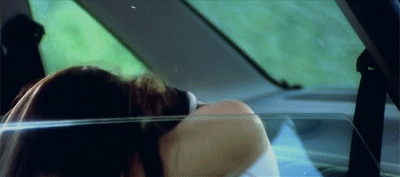 Rohit drops some fashion advice to get noticed.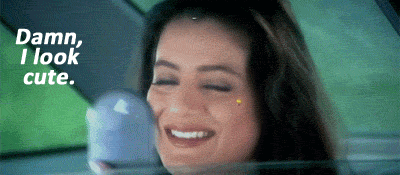 Ordinarily, I'd get annoyed if some random dude on the road told me how to look, but in this case, I'll allow it. Because look at that fucking sticker on her cheek. Unless you are a in grade 2, gold stickers on your face are a questionable idea.
This girl is Sonia, the daughter of millionaire Mr Saxena (Anupam Kher).
Saxena buys a flashy sports car from the showroom of his BFF Mr Malik. Coincidentally, this is where Rohit works and Rohit is the one selling the car to him. He is asked to deliver the car to Sonia on her birthday.
Sonia has the mind of a 3-year-old, so when asked to go check out her surprise at the door, she believes Rohit is the surprise.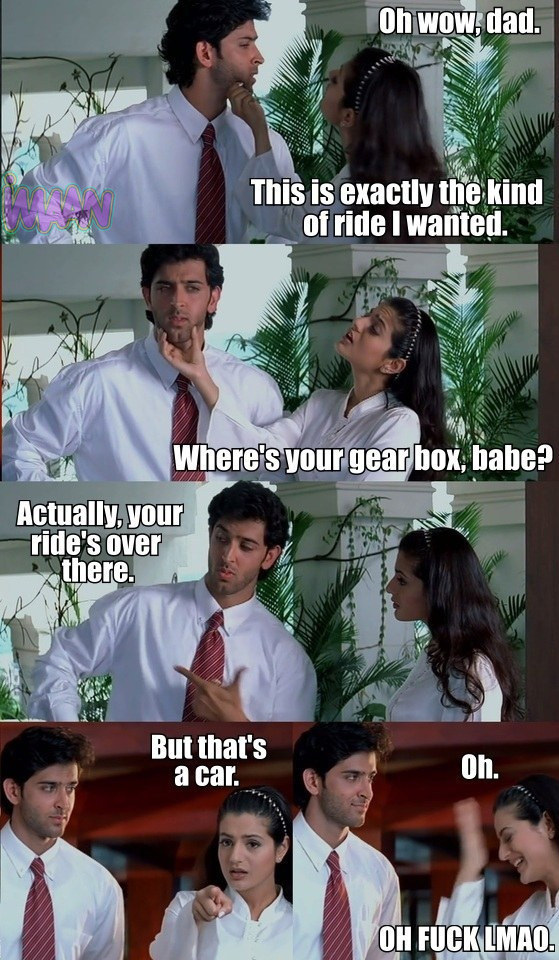 Rohit, who's super into music but doesn't have a band, now takes the liberty of performing at Sonia's birthday bash, uninvited. Of course, nobody objects because good looks are god.
Rohit gets looked up and down by everyone.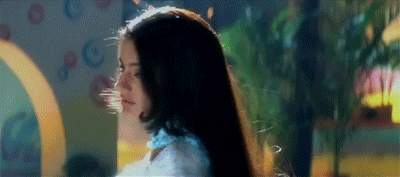 A lot happens at the party. Sonia gets a crash course in candle-blowing.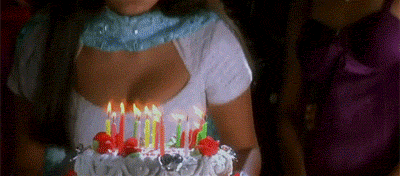 Sonia's got that weird early-2000s suffocated squish-boob thing going on.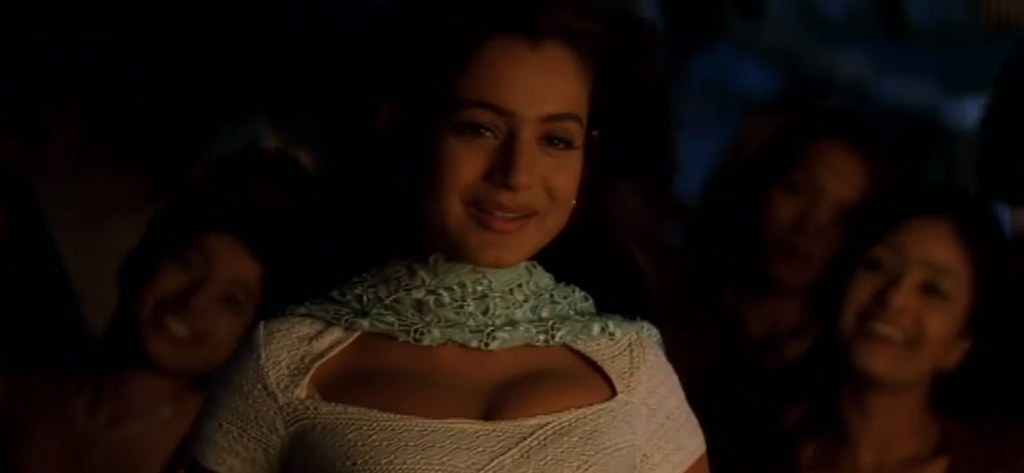 Umm, what was Amisha's designer thinking?
"Hey, Amisha, so you have to be Sonia, who is sweet, innocent, and sexy, and nothing says sweet, innocent, and sexy like having your boobs pushed so high up, they become BFFs with your chin. Essentially, you should look like you're carrying two very large cookies under your neckline at all times. You know, it's practical too since your boobs are pushed out so far, you can rest a cup of coffee on your chest when your hands are busy.... No, you know what, guys? Fuck everything, Amisha will play the role of a coffee table in this film, that's it."
Sonia pretends to be shy for a second.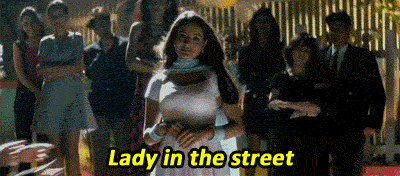 Sonia and Rohit fall in love because this is all it takes sometimes. Good looks.
We find out that Rohit's car showroom boss, Malik, actually runs a drug cartel. Some policemen are involved with him, but one of his shipments has been discovered and most of the drugs have been burnt down by the police (we all know what that means, #420BlazeIt).
So his two cop-henchmen tell him they've saved some of the stash and will only give it to him if he gives them their share immediately.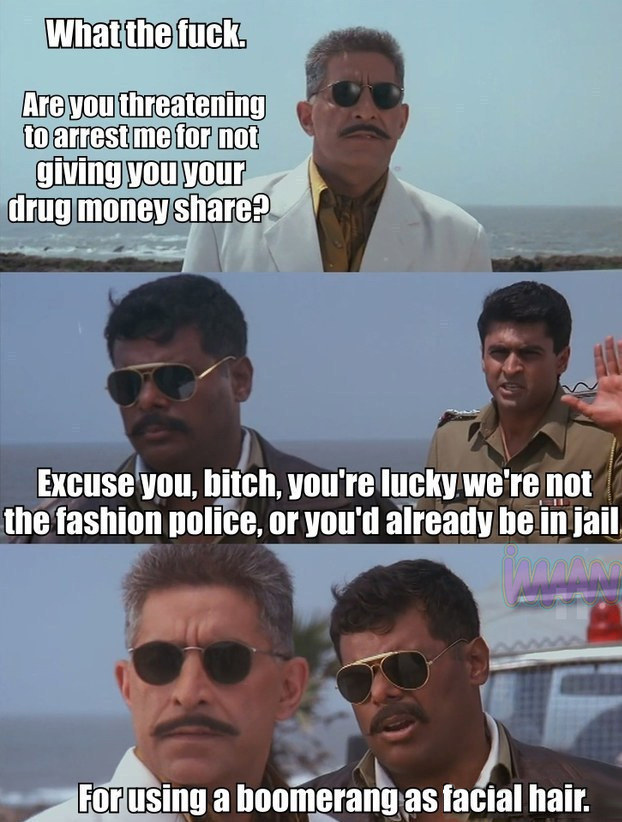 Meanwhile, Rohit is being a dick (as was expected of him) and not paying rent.
Aunty and uncle are getting a little worked up about it, which is totally understandable since these are your fucking landlords, not your chachi chacha.
Rohit is not broke. He sold a fucking sports car -- the most expensive one at the showroom, no less -- to Mr. Saxena. He probably got a hefty commission but he isn't paying rent.
Desperate measures are to be taken.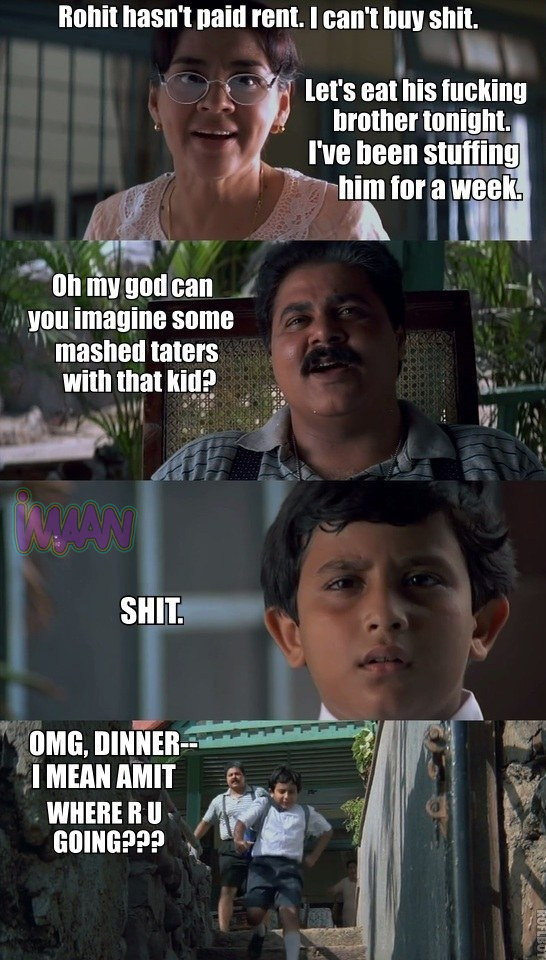 Amit overhears the conversation and runs away. He hates everything.
What's Rohit really doing? Making cash money money money.
He gets paid an advance of Rs 10,000 to perform on a cruise ship. This is 2000, guys, 10k is pretty good money for some amateur shithead with no band.
Let's not forget the commission for selling that car. He's just on a fucking cruise ship over here, feeling people up every chance he gets and not giving a single shit about rent. This guy deserves to have his brother eaten.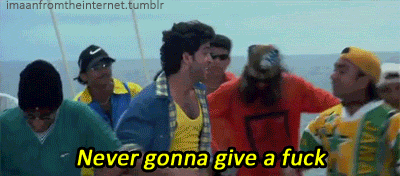 Impressionable Sonia is obviously in love with him. They haven't confessed it yet but it is so obvi.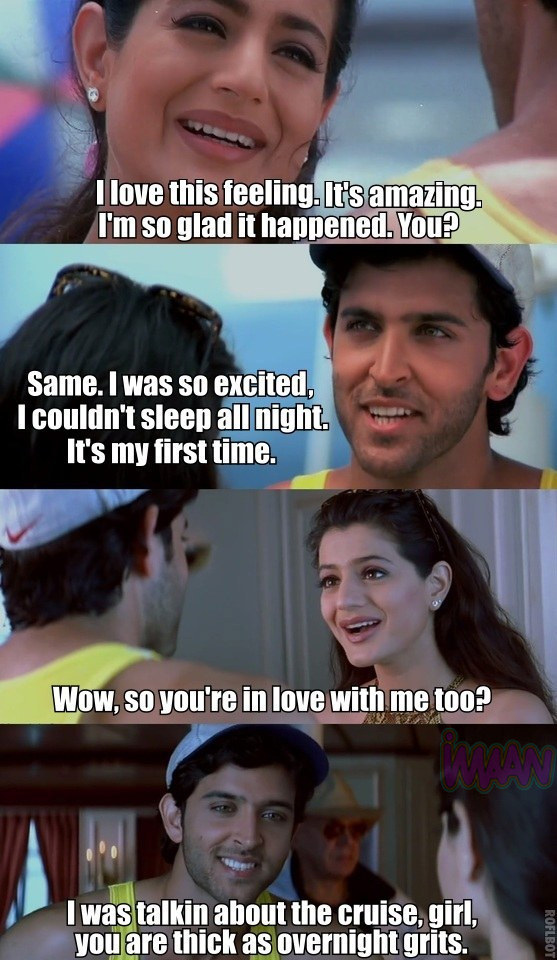 Whatsherface gets Rohit drunk on the ship on Christmas night and they fall inside a lifeboat.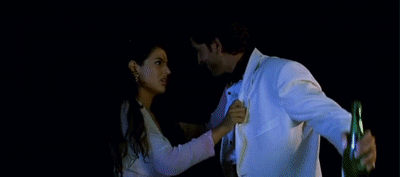 The next morning, Rohit is regretting his entire existence because they're stranded in the middle of the sea and the ship is nowhere to be seen.
Not everyone can deal with things like Sonia.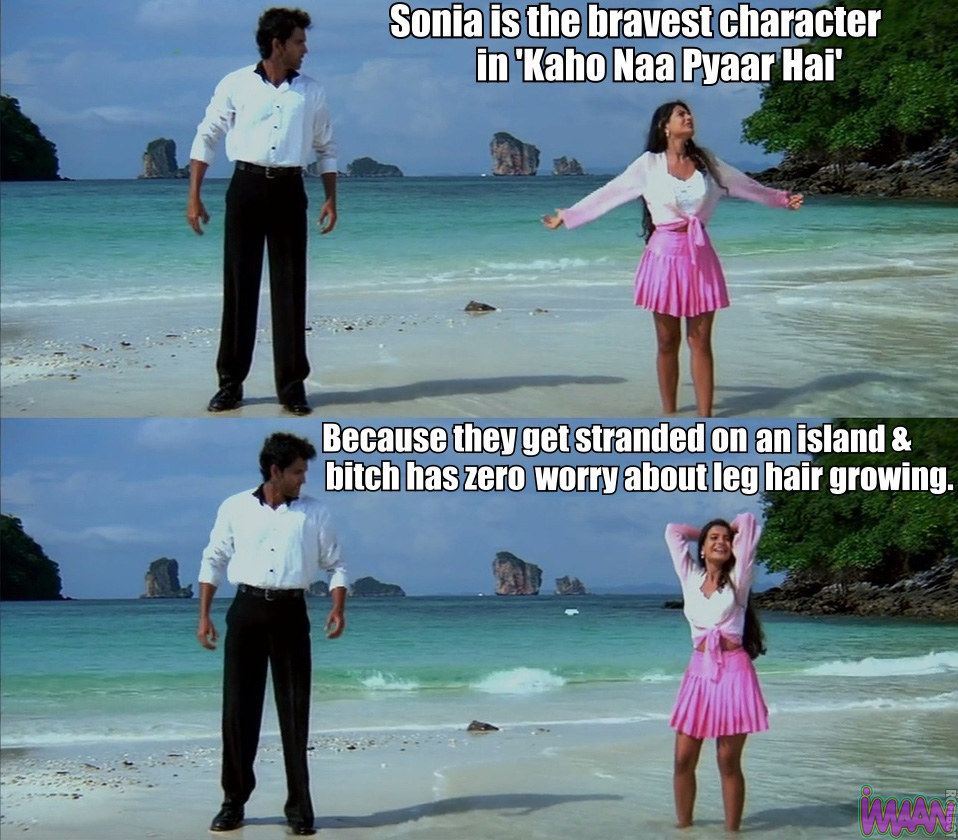 Rohit has to single-handedly propel the boat to an island and use Sonia's pink skirt to make a flag so that anyone who's looking for them can see it.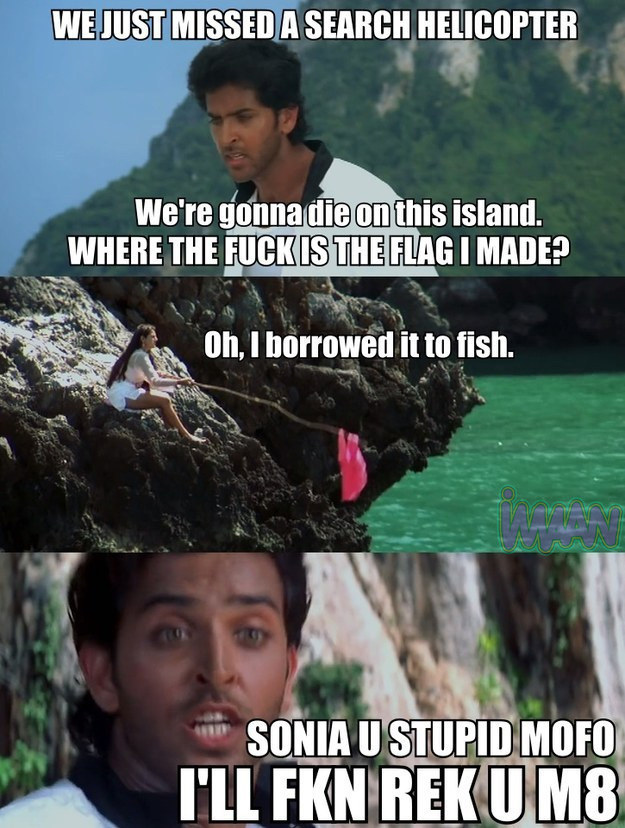 Despite her bravery, this girl is just the worst.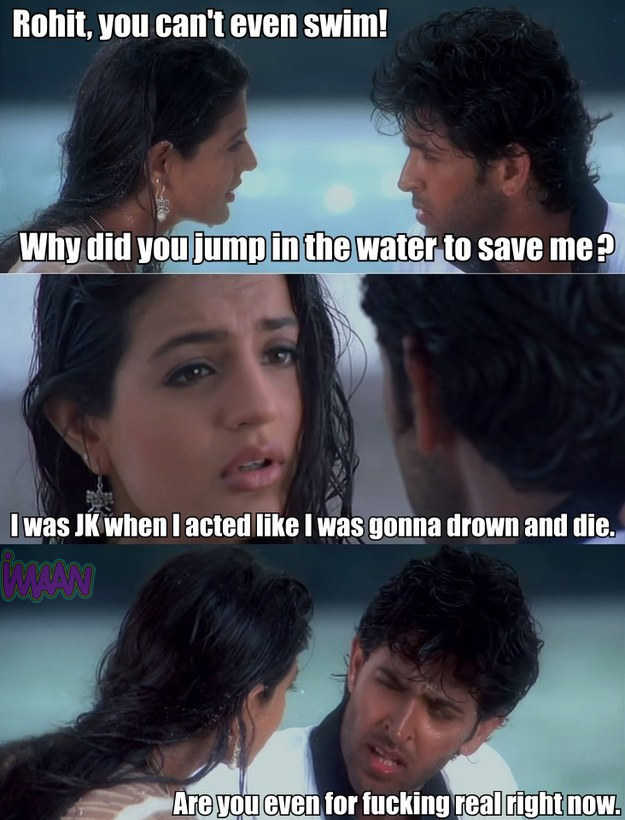 After several hours of chaddi-dancing, Sonia begins to get really shy when night falls for some reason.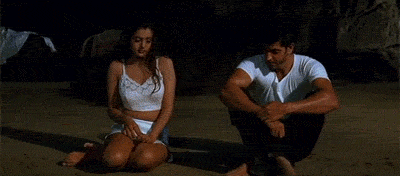 Lots of 'accidental' sexual harassment happens.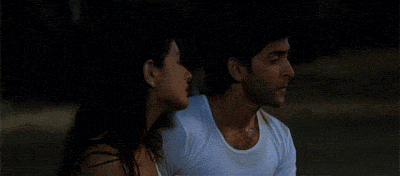 From both sides...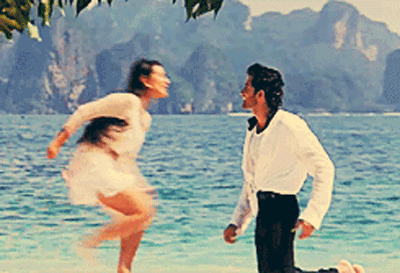 Soon, they are discovered by the copters and Sonia's dad just fuckin' hates this.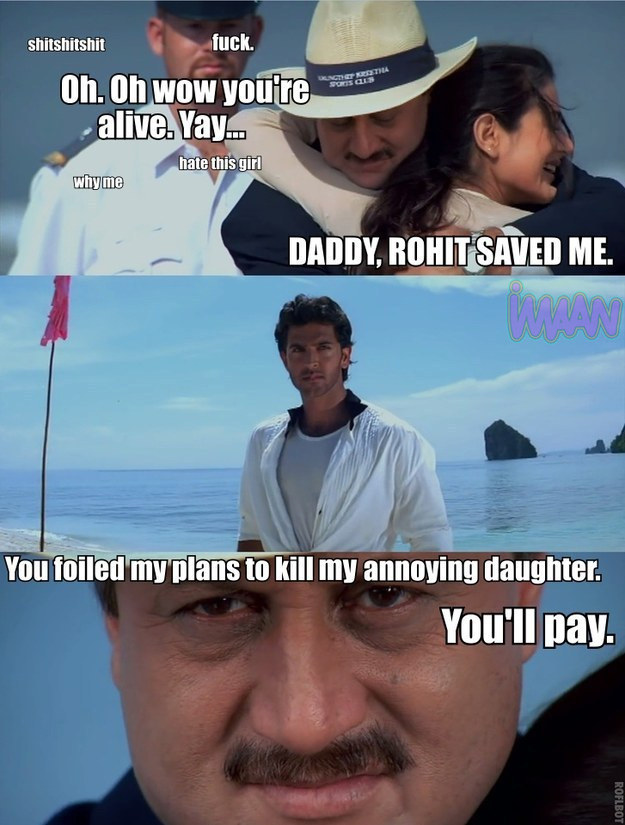 He gets back at him by making Malik ruin his career.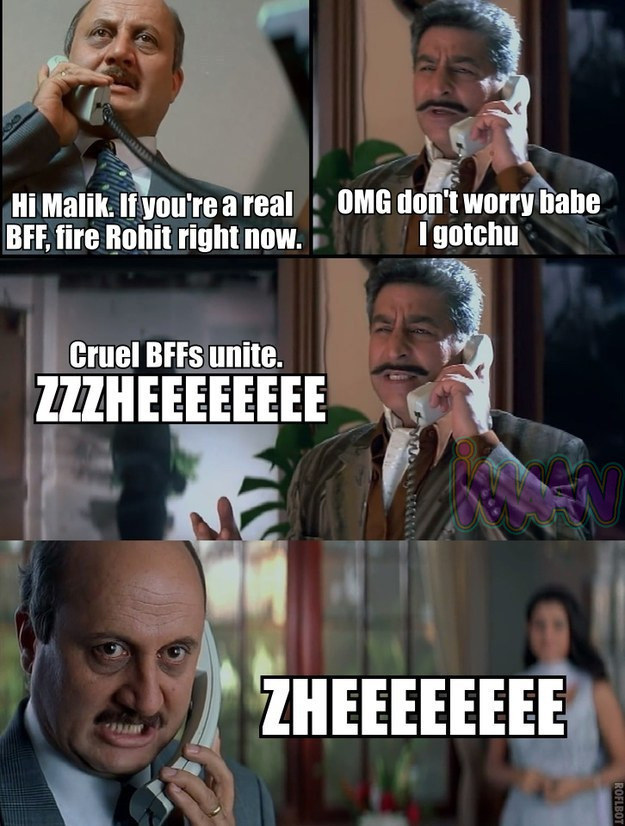 Sonia and Rohit are still very much in love.
Dad's hella weirded out at the fact that poor people can also still be date-able.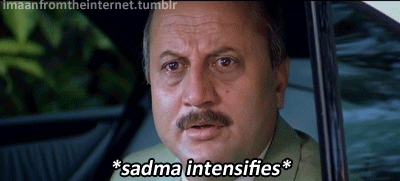 At first Saxena's all like: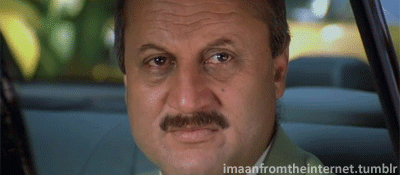 However, as you would expect from any Bollywood movie, people change dramatically.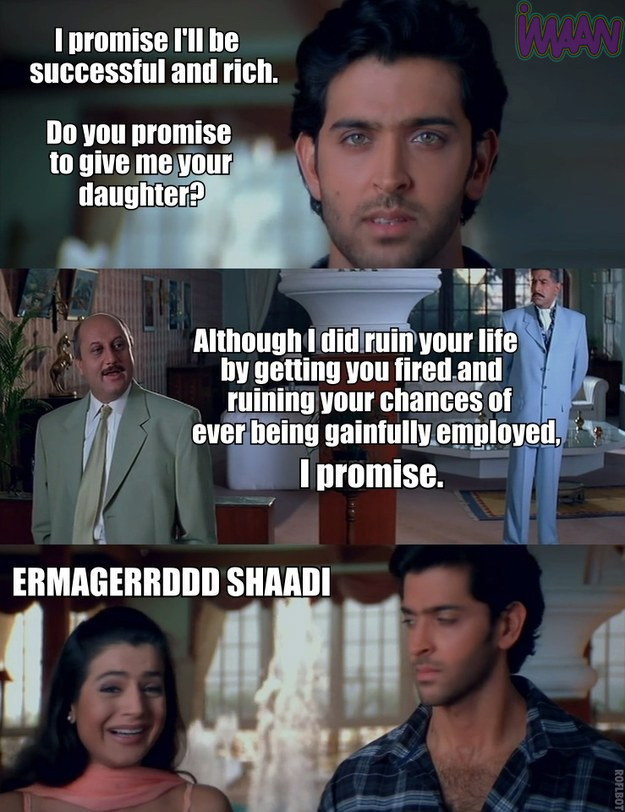 Rohit's useless friends with terrifying fashion choices decide to help him.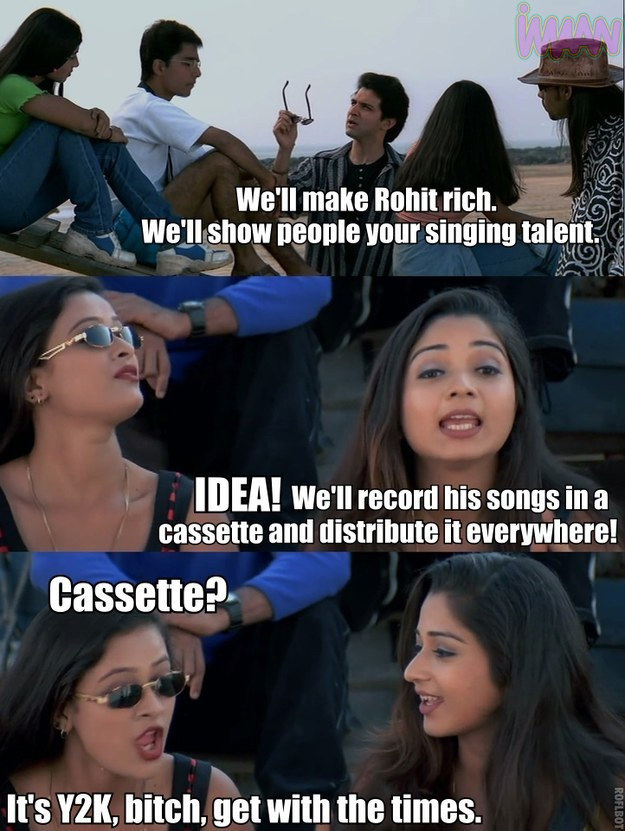 Ok, can we just take a minute to think about why they're helping him?
Yes, Rohit sang two times in their little gatherings, but that's about it. He's a shitty friend otherwise. Does he get anyone gifts? Nah. He touches people without asking and steals people's clothes on ships (YES, this happened). This guy is a dick but thank the lord for good looks because bitches be laying flat on the ground throwing money at him right now.
It doesn't take long before the buzz makes Rohit a local celeb. His first concert is all set to happen.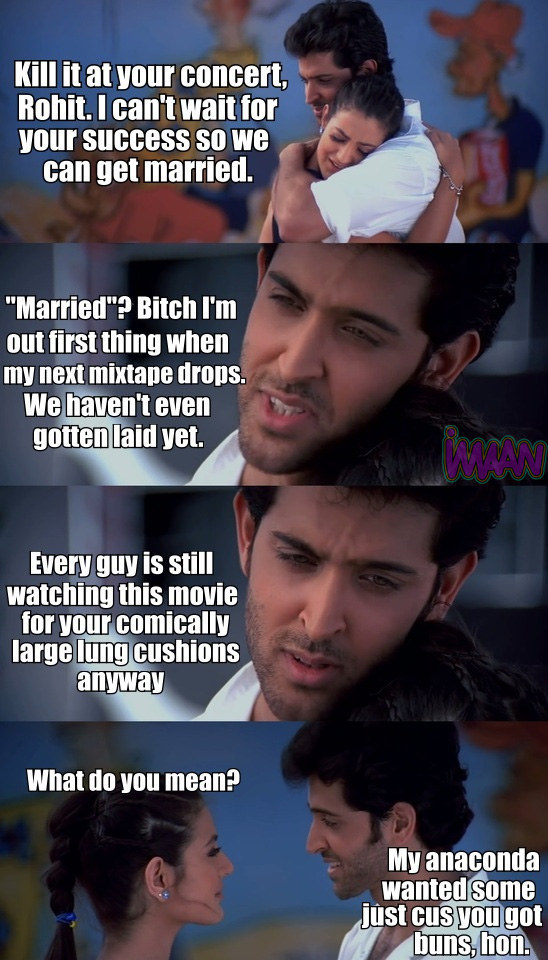 Just before the concert, he decides to take a stroll on his bike because something dumb like that is obviously more important than your first actual big break.
He spots Malik and his cop-henchmen killing a police commissioner in a public parking lot, which is just the most ideal place to carry out a fucking assassination, isn't it? Great job, fuckwits.
Malik phones his drug cartel partner, whom he calls 'Sir Jee' but he's actually Saxena. They've got a Heisenberg-Water White thing going on here.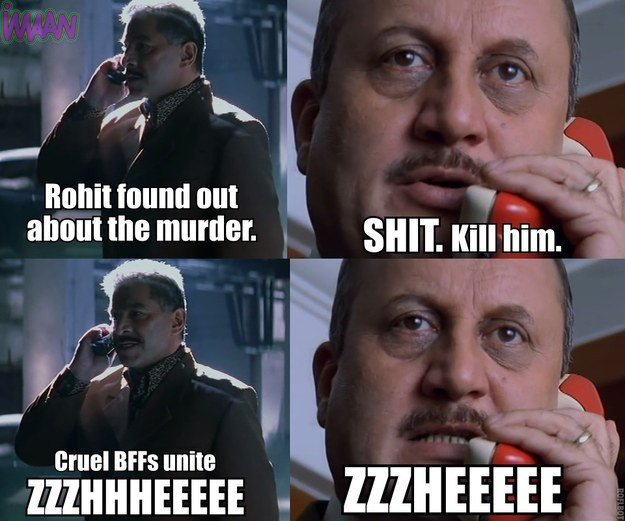 The cop-henchmen shoot Rohit several times but this is the climax so it needs to be stretched, and after ten minutes of playing cat and mouse, Rohit falls to his death into a body of water off a bridge.
Sonia is devastated and no one understands her pain.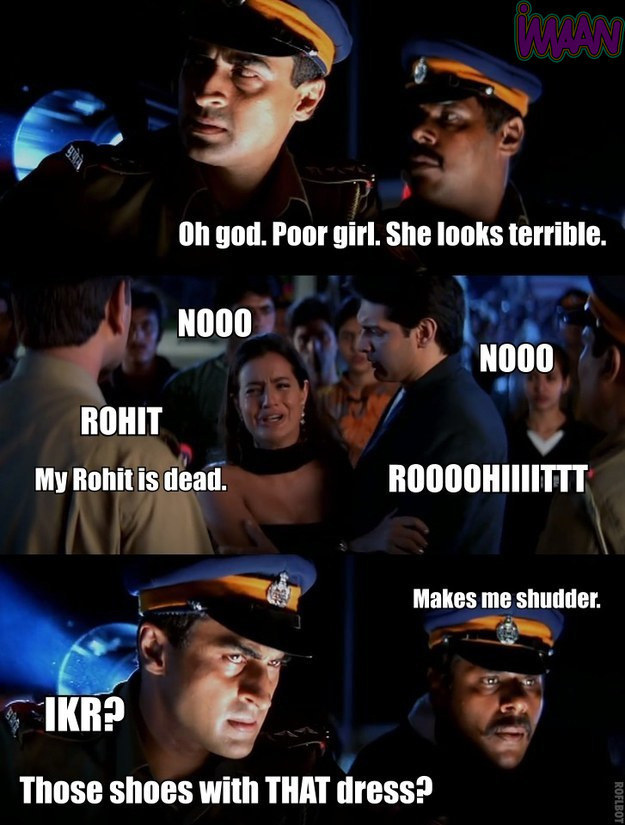 Amit on the other hand has stopped talking entirely, which, I guess, goes in everyone's favour anyway because children are annoying.
You may feel like the worst has happened already but the worst is just beginning. Sonia is sent to New Zealand to live with her and his family. And her cousin...Neeta.
To quote Sonia "This is worse than seeing Rohit's swollen, purple dead body after most of it had been eaten by sea crustacea."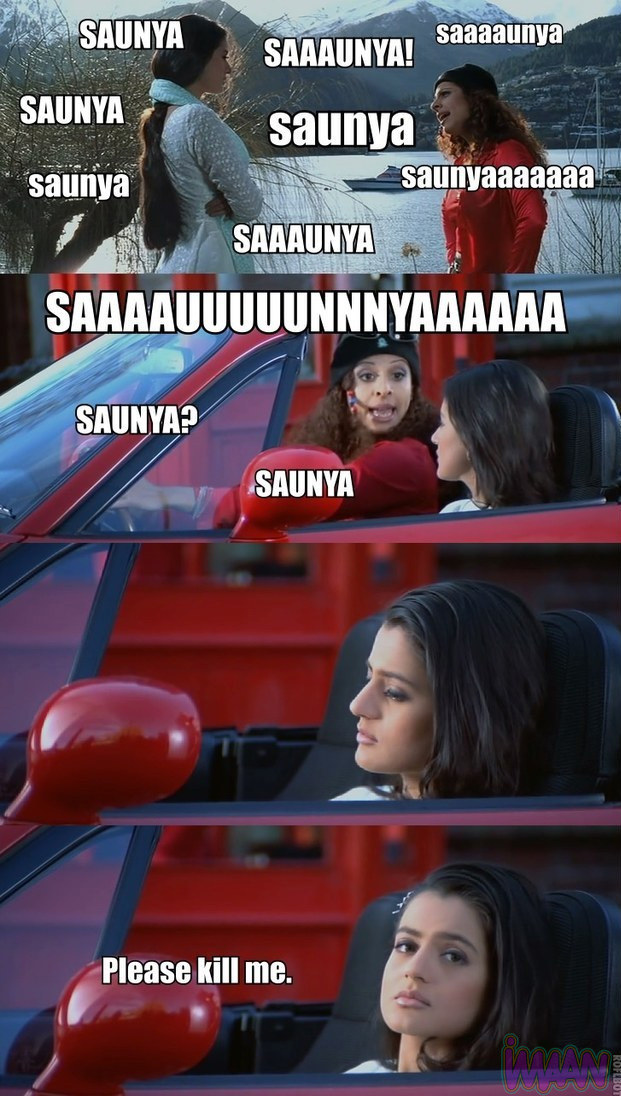 Neeta AKA SAUNYA-MON is a special kind of Pokemon that picks one name and mispronounces it for life. Special attack includes repeating the fuck out of that name till the victim's brain explodes and/or they have been brainwashed. Daddy Saxena sent Sonia to the right place after all, I guess.
Sonia meets a Rohit lookalike at a club, where he's practising to artistically pack for a trip.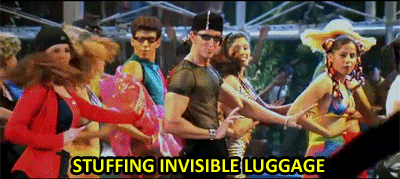 But can we just take a minute to appreciate this in slow-mo?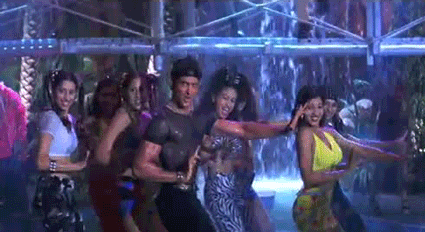 I don't know if it's because of Hrithik's extra finger but why is his hand shivering like a newborn kitten? Also, that dancer in yellow does not give two shits about your hipster-ass dance, she's going straight up bhangra.
Anyway, this is Raj Chopra. This is 2000, guys, Malhotras, Chopras, and Saxenas are still reigning the industry.
Raj is friends with Saunya-mon (Neeta) and he speaks broken Urdu for some reason which is hella annoying. Sonia cannot believe her eyes. She keeps stalking him and finds out he was born in NZ and has lived there all his life.
This is like the 2000s equivalent of going through your crush's Facebook albums.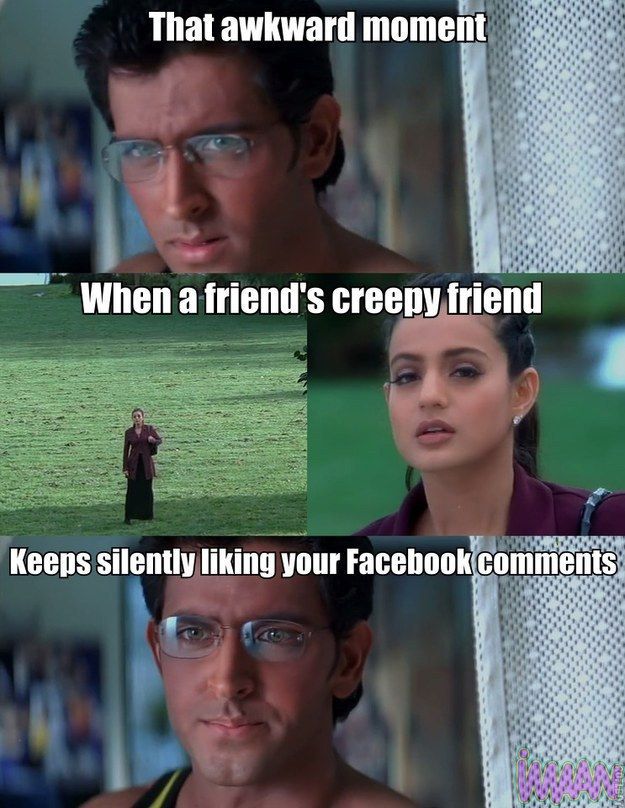 Raj soon finds himself in love with Sonia because women who look shy and don't talk are the best, right? <3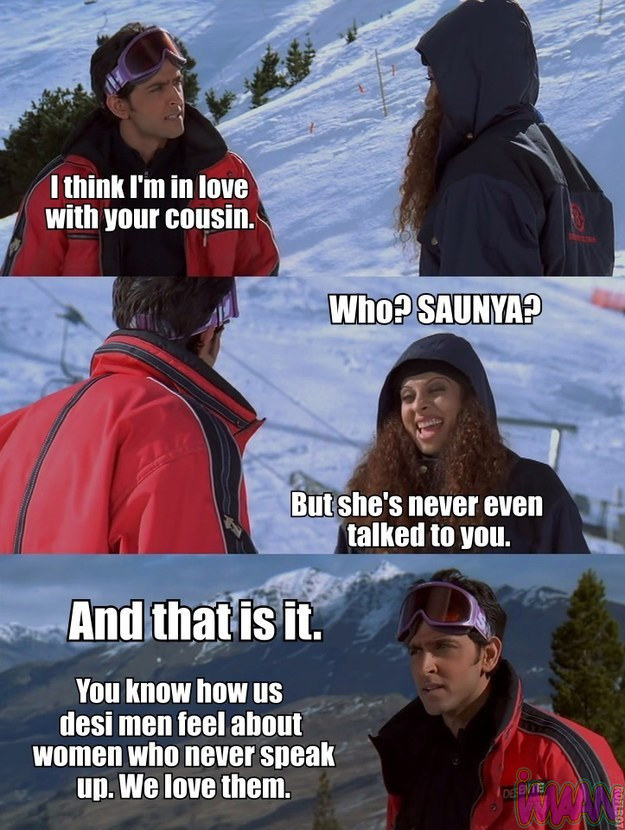 He tells his family and his older-Rahul-Gandhi looking dad.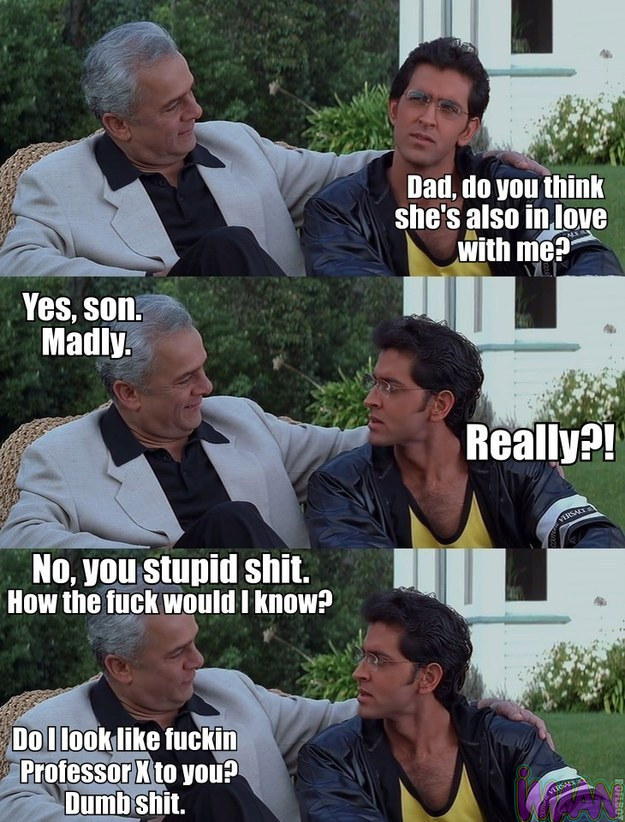 But Raj soon finds out that he looks like Sonia's dead ex. She says she never wants to see him because his face tortures her. Ouch.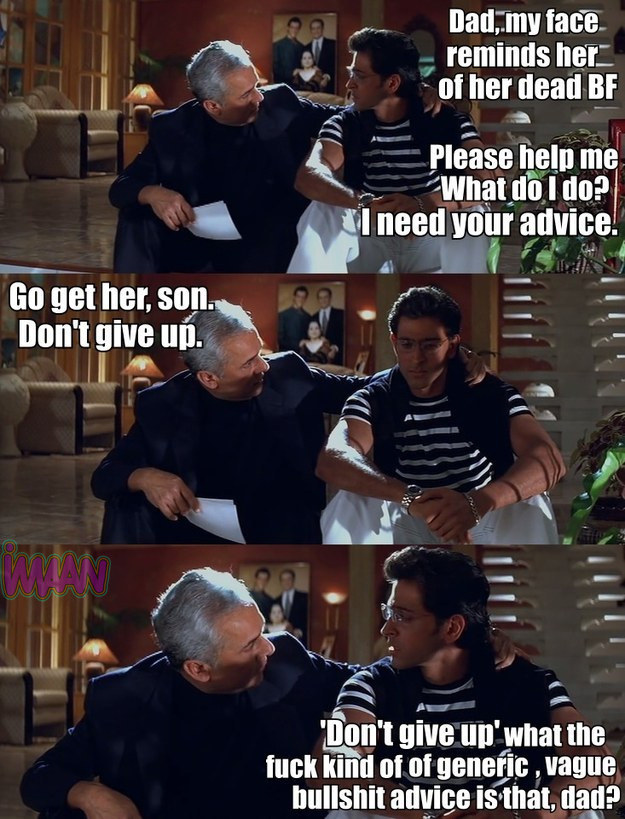 Raj takes the advice anyway and just follows Sonia to India, casually.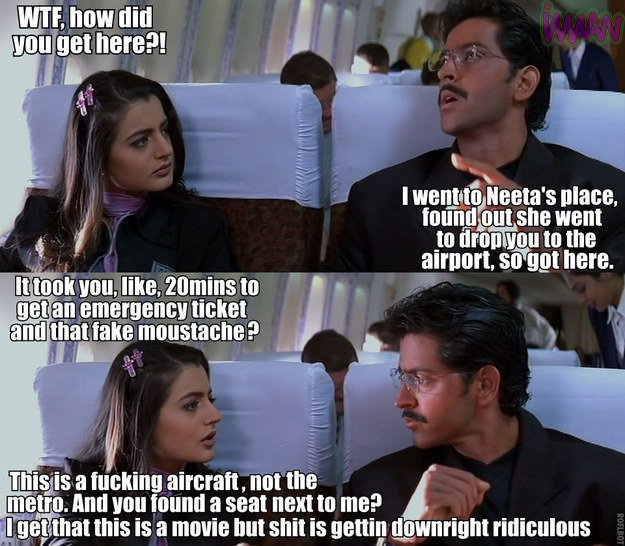 But India isn't kind to him. He gets attacked by Malik's cop henchman at the airport LOL.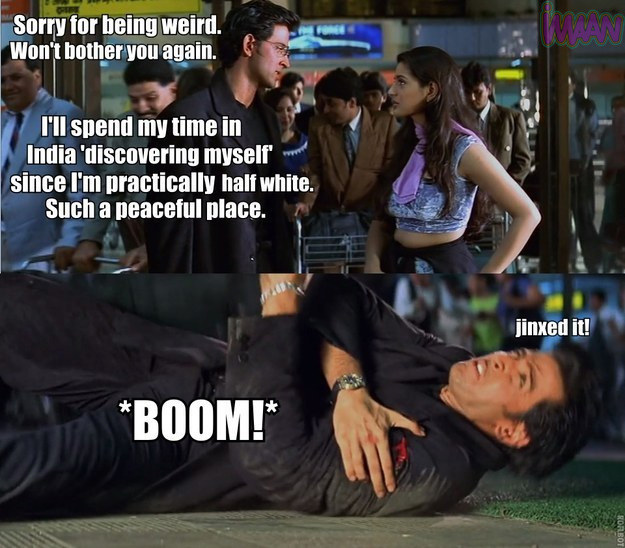 This is followed by Malik and Saxena's goons chasing Raj and Sonia, which leads the two to escape and try to investigate what the fuck is going on.
They realise that Rohit must've been killed and the accident was no accident.
Raj meets Aunty, Uncle and Amit.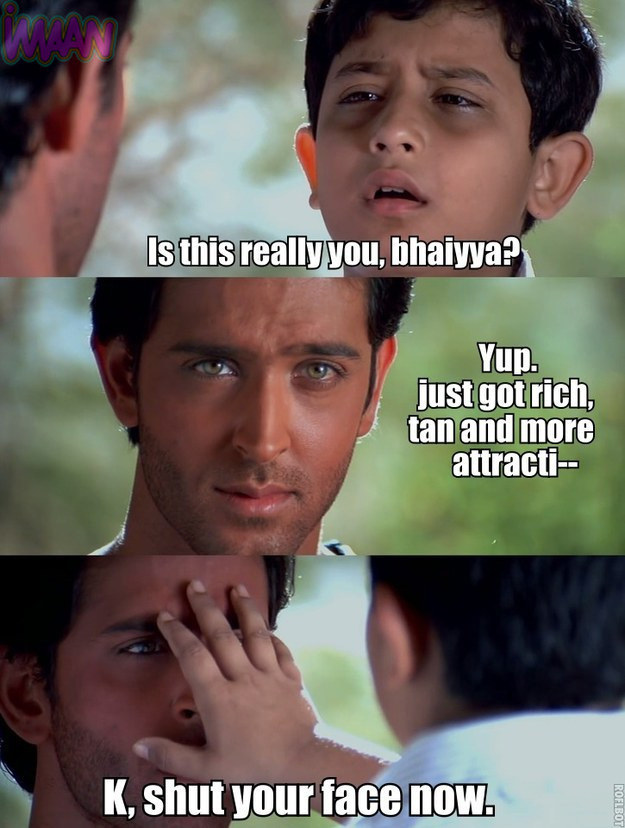 Amit tells everyone that he was in the parking lot when Malik and his henchmen tried to kill Rohit but he didn't know who they were. He says, however, that he'll recognise them if he saw them, and he saw one of them make a call to some dude called "Sir Jee."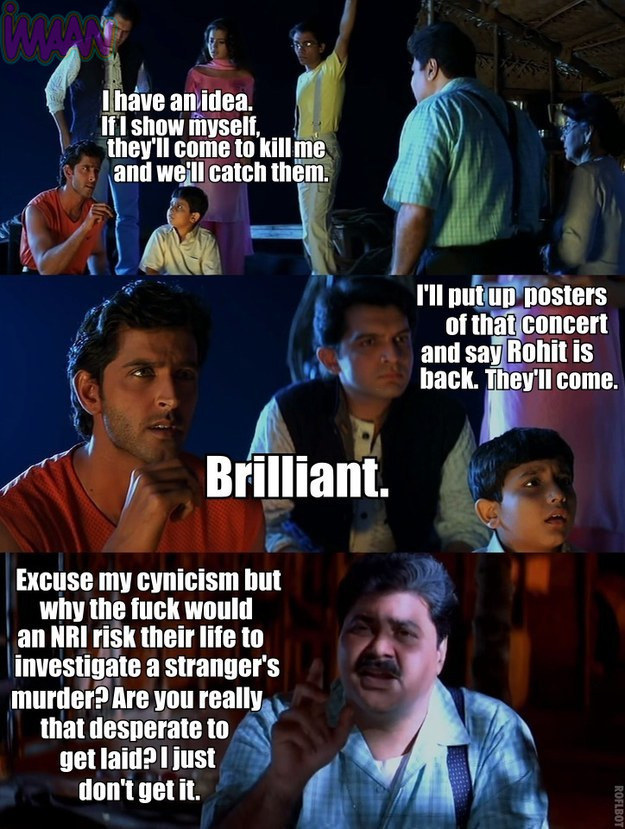 Anyway, the concert happens and, wow, Raj is basically Rohit. Sonia tells her dad the real story but the killers are already on the lookout for him at the concert.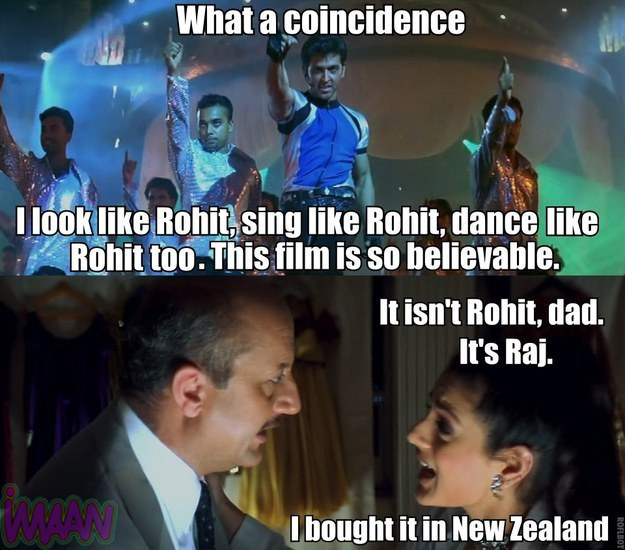 OH WOW. SUCH SAFE. MUCH DECISION OF BRILLIANCE.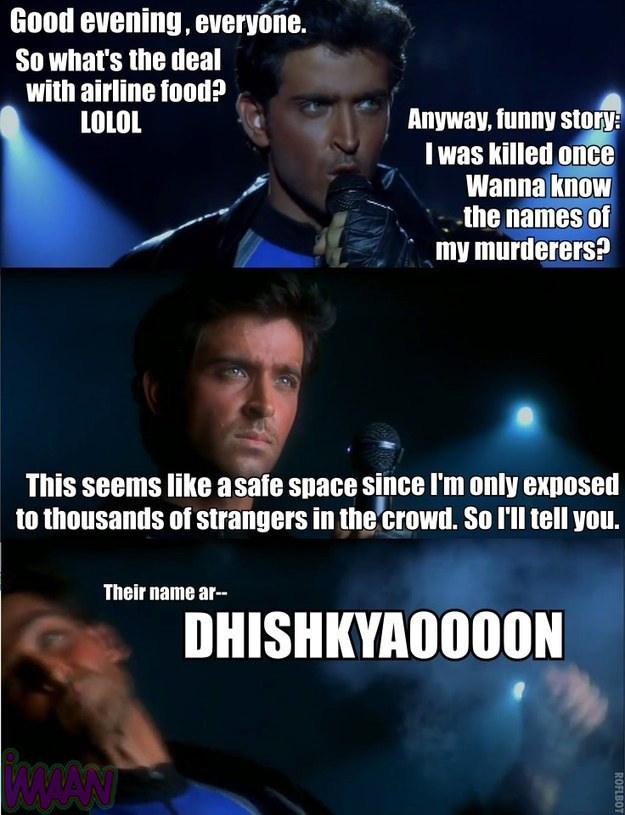 But he survives the shot thanks to, I don't know, a bulletproof jacket or prayers or some shit. However, Malik's goons turn against Saxena and don't believe him when he tells them this guy is actually a doppelganger. They kidnap Sonia, which was so easy to do because these MFs have literally no security planning skills whatsoever.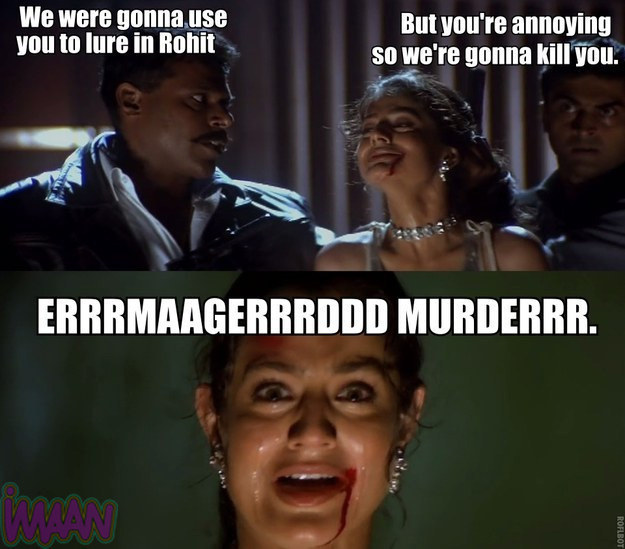 Raj kills the goons though, because hero.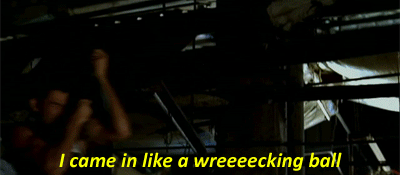 Everyone's family comes to the place where this whole shenanigan is taking place. Like, literally at the same moment, aunty, uncle, and Amit walk in, and even Mr Saxena walks in and casually shoots Malik dead because he is about to reveal his name.
Raj retrieves Malik's phone and calls the person saved as 'Sir Jee.'
AND HELLO, IT'S MR SAXENA, DUH.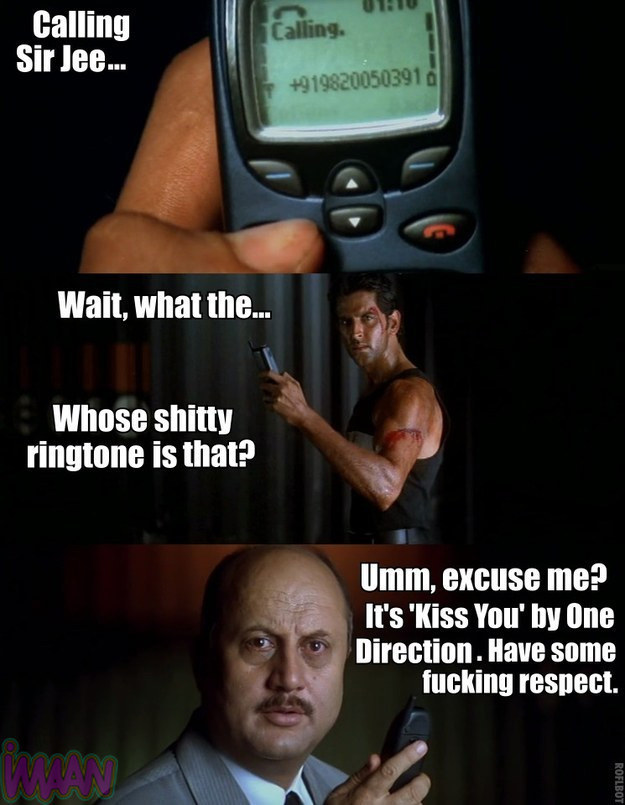 Saxena pleads guilty and goes to jail.
Raj says he's going to New Zealand and taking Amit with him, which is such bullshit, I mean you did ALL of this to get laid so stop pretending. Also, is it really that easy to take some random kid to New Zealand? Ugh cut the fucking crap, Raj, GOD, you'd be so annoying if you weren't as hot as hellfire.
And they lived happily ever after.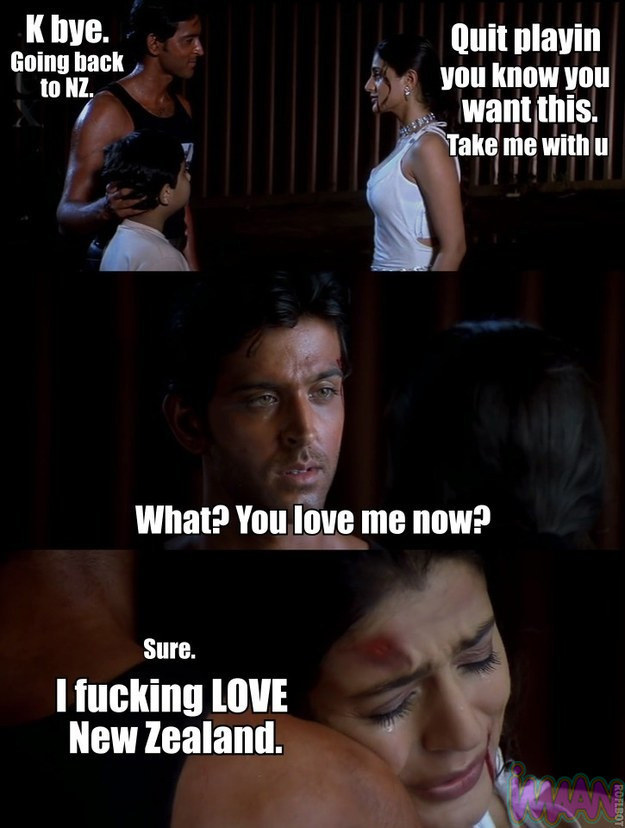 ~Moral of the story~
It's pronounced "So-niya."