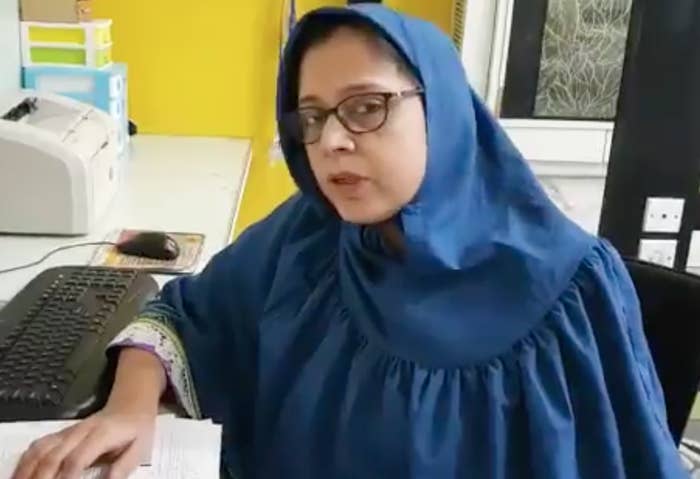 Twitter has come under fire for allowing a tweet that activists have said is pro–female genital mutilation to be promoted on its site, meaning that it showed up on the timelines of users who didn't follow the poster's account.
The tweet, posted by a group calling itself the Dawoodi Bohra Women for Religious Freedom (DBWRF), featured a video of a woman discussing so-called "khafz", or female circumcision. The group claims on its website FAQ that "female circumcision and female genital mutilation (FGM) have often been confused".
It goes on to claim that the former involves "removal of a speck of superficial skin, a simple gentle process in which there is negligible, if any, pain".
In August, an Australian court overturned the conviction of three people who had been carrying out female circumcision, which DBWRF welcomed.

However, the World Health Organization classifies the smallest form of removal as type 1 FGM, and any nicks or pricks are considered type 4 FGM.

Twitter had not commented at the time of writing, but BuzzFeed News understands that promoting the tweet would have been a breach of the site's advertising guidelines. As of Thursday, it was no longer promoted.
Nimco Ali, cofounder of Daughters of Eve, a UK nonprofit that seeks to end FGM, said that Twitter should go further and take down the account behind it.
She said: "FGM has been accepted as a form of torture and we know that it's one of the most horrific forms of child abuse. Therefore it's astonishing that a platform like Twitter would allow those seeking to promote FGM on.

"It is illegal to incite violence on the streets of many countries across the world, therefore it should be online as well.
"I hope Twitter sees sense and not only takes down these accounts but also puts in place measures that will stop others in the future."
Mariya Taher, cofounder and US executive director of Sahiyo, a nonprofit aimed at tackling FGM in Dawoodi Bohra and other Asian communities, told BuzzFeed News that she was disappointed that Twitter allowed the tweet to be promoted.
Taher said: "I'm so disheartened that Twitter would allow this promoted ad paid for by DBWRF that outright states that it is okay to cut your daughter's genitalia. How can this not be a violation of their community standards?"
"There are many survivors who have faced harm, whether emotional, psychological, or harmful. And you are still doing something to a minor girl who is not old enough to consent.

"You are violating her human right to bodily integrity. But instead of DBWRF believing that women have been harmed and/or that community members do not want to practice FGC, they continue this false narrative that cutting the genitals of a girl is for her betterment.
"I'm saddened that Twitter would not recognize this form of gender-based violence and hold higher standards so that they would be a company that upholds human rights."

She said that, in the past, she and other campaigners had been harassed on Twitter for standing against FGM but the accounts that targeted them have remained up.
"The other day I blocked someone who started attacking the women who took part in a project I pursued, called Sahiyo Stories.

"I am disappointed but I also have hope that if Twitter really understood the issue, that they might update their community standards to protect all survivors of gender-based violence.

"They might recognize that they should not allow ads that promote female genital cutting/mutilation."
Taher said: "There is also a false narrative out there that the DBWRF group is trying to say that what the Bohras do (Khafz) is not female genital cutting, but what 'they' do in Africa is... This kind of statement has undertones of racism built into it.

"The current Australian law isn't clear enough in its definition regarding what FGC [female genital cutting] entails, and because there was no physical damage viewable in the girl's clitoris, they stated that FGC wasn't done.

"However, Sahiyo is very much aware that survivors might not have any viewable physical damage. It doesn't take away from the emotional/psychological/sexual harm or trauma that can occur."
DBWRF, along with Arwa Sohangpurwala, the woman featured in the tweet, has been approached for comment.

UPDATE
In a statement sent to BuzzFeed News on Friday evening, a spokesperson for DBWRF said: "We represent over 72,000 practising Dawoodi Bohra women. We are all collectively against Female Genital Mutilation( FGM).
"We practice female circumcision (FC) just like we do male circumcision. FC is not FGM and ought not to be confused. The women who are part of DBWRF want their voice to be heard.
"FC is a harmless religious practice, which is being followed since over 1,400 years. We can't understand why is there such hue and cry if we are trying to tell our side of the story. We chose to take advantage of social media to have our voice heard. What is the harm in promoting our stand?"