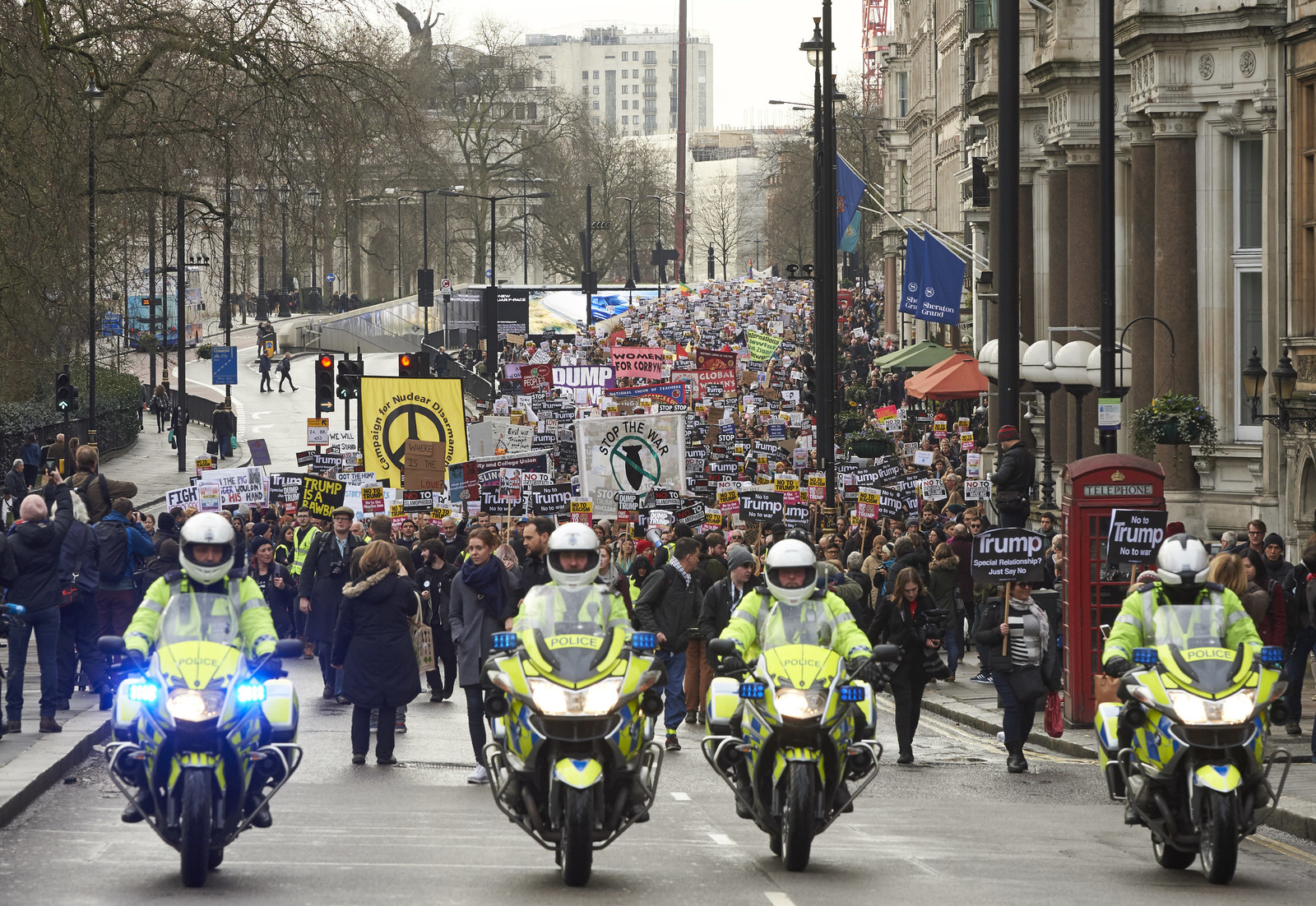 Thousands of people have marched in London and elsewhere in the UK to protest against Donald Trump's travel and refugee ban.
London's march started outside the US embassy, went through central London and came to an end just outside Downing street.
As the march was taking place, US president Trump tweeted that a judicial ruling that his crackdown on people coming to the US from seven Muslim-majority countries effectively be halted was "big trouble".
Protesters also demonstrated against Trump being invited to the UK for a state visit later this year – a petition making the same demand has been signed by more than 1.8 million people. Similar protests also took place today in Manchester, Bristol, Ipswich and Wolverhampton, and more are planned over the coming month.
Today's London march was led by Stand Up to Racism and featured speakers from Muslim and Jewish faith groups, but was boycotted by the organiser of the Stop Trump group that protested outside Downing Street earlier this week, due to the involvement of the Socialist Workers Party.

A spokesperson for Stand up to Racism told BuzzFeed News: "We stand in solidarity with the thousands protesting across America to what Donald Trump has done.
"We also want to send a clear message to Theresa May – you're not blameless, we know you haven't come out and condemned this which we find absolutely disgraceful."
One protester told BuzzFeed News his message to May was that it's "really important we stand up against Trump, and especially the Muslim ban."
He added: "I think it's really time for us to be strong and say what we agree with and express the type of society we want to be in."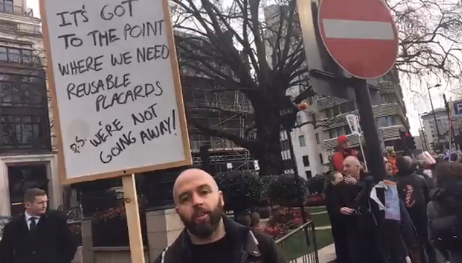 As the protesters marched they chanted "refugees are welcome here", and "Theresa May shame on you".

A video message from Labour leader Jeremy Corbyn was played to protesters at the end of the march.

"I support the demand of millions of people in Britain that Donald Trump should not be welcomed on a state visit to this country while he continues to propagate his anti-women, anti-Muslim and anti-Mexican policies," Corbyn said.

Yesterday a federal judge in the US issued a far-reaching order effectively stopping Trump's ban from being enforced, and government officials have said they have officially stopped complying with the executive order as a result.

Trump has vowed to overturn the ruling, however, criticising the "so-called judge" behind it, US District Court Judge James Robart, who was nominated by former president George W Bush and approved 99-0 by the Senate.