A wheelchair user has had to crawl on to trains on his hands and knees after assistance failed to turn up to help him on board on nearly half his journeys, he told BuzzFeed News.
Dave McQuirk says he has had to get out of his wheelchair and crawl on to trains before pulling his wheelchair on behind him when station staff haven't arrived to help, despite him having told them about his journey in advance.
McQuirk, 49, who has been a wheelchair user for two and a half years, commutes daily from Farnborough station in Hampshire to Waterloo in London.
He notifies train companies of his journeys 24 hours in advance, as wheelchair users are required to do for most stations so staff will be able to help them and provide ramps for them to get on, but estimates help fails to turn up on around 40% of his trips.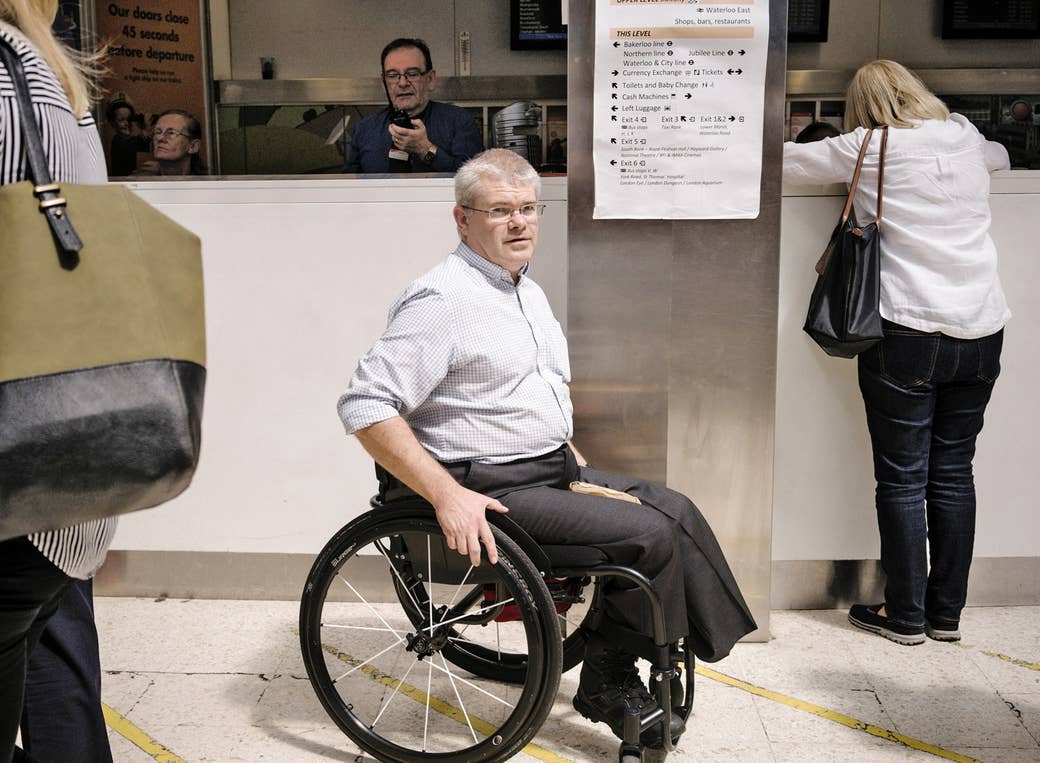 This leaves him forced to ask for help from fellow commuters or, on rarer occasions, get out of his chair and crawl on to avoid missing his train to work.
He told BuzzFeed News the experience of crawling on to the train was "undignified".
It took a few trial-and-error attempts to figure out how to get himself on the train, he said. "I tend to get out of the chair, sit on the edge of train, pull up my chair behind me and then get into it. So yes, a little bit of hands and knees, a little bit undignified."
But getting off the train is easier: "You just bounce on the back wheels and bounce down."
"That does alarm a lot of the travelling public who don't expect you to do that," he said, adding that people sometimes make well-meaning offers of help but that "some of the help will actually make it more risky".
McQuirk, who works as an emergency-preparedness manager at Public Health England, blames these problems on a lack of staff at stations.
Most recently, McQuirk said he had to travel across London a few weeks ago and didn't receive any assistance. "I ended up getting myself on and off the train, and that was both with South West Trains and the London Overground. Because they don't have the staff to respond to short-notice requests for assistance."
Having to notify train companies of his plans in advance can be severely restrictive, he said. "I intend to book my journeys at the beginning of the week for the whole week. But this means any last-minute changes might be difficult to accommodate by the rail staff. But things change – I end up having to work late."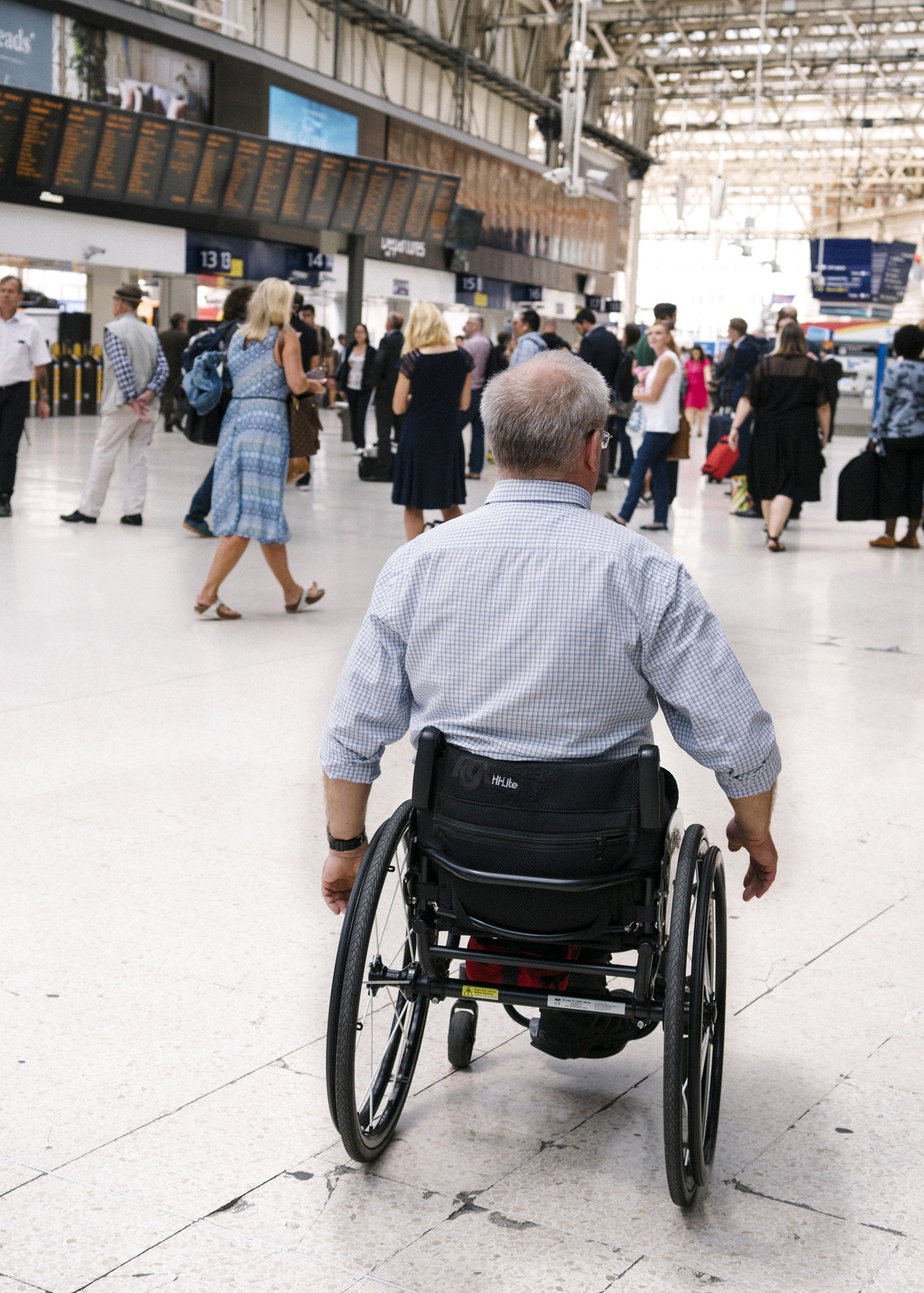 McQuirk also has to arrive 20 minutes before the train leaves to make sure he gets help, he said. "That means I can finish work at 5 and not be on a train until 20 to 6, so it adds to your day."
He usually tells companies about his regular commuting a week in advance, but even then, staff sometimes can't help.
"Even though I book, it still occasionally does fall through if the station staff have to be elsewhere, because there's only one member of staff to serve four stations and the train crew haven't got the email, which means I have to get myself on and off the train."
He's seen this at other stations too. "They had a graffiti incident that had to be cleaned up quite quickly because it was fairly offensive graffiti at one station, but luckily the guy finished cleaning it just as the train I was on went through. He could get on to travel with me to Farnborough and get off again.
"Individual staff have always been really helpful, really willing to support that kind off stuff, but it's the systems they have to operate [that can be a problem]."
Any more general disruption and delays to services can make everything more difficult, he said, "because then the trains get a lot more crowded, which means then you can't fight your way into the wheelchair spaces."
McQuirk feels London is easier to travel in compared to stations in other places like Farnborough, where he lives. "It's not too bad at Waterloo going home, because they've got a large number of staff so they can accomodate me." While Farnborough is used by millions of passengers a year, it shares one member of maintenance staff with three other stations, he said. "In London … stations are really busy and as you move further out it gets worse and worse."
McQuirk has also seen issues with the lifts in train stations. The lift in Waterloo fails in hot weather, he said, which means he has to be escorted through the "bowels of the station".
"Last week and the week before it failed three times," he said. "Which then means you have to phone someone who will take you through the bowels of the station and you have to be escorted through or you have to take an outside route." He said he is able to manage this but that other wheelchair users might struggle as the route is long.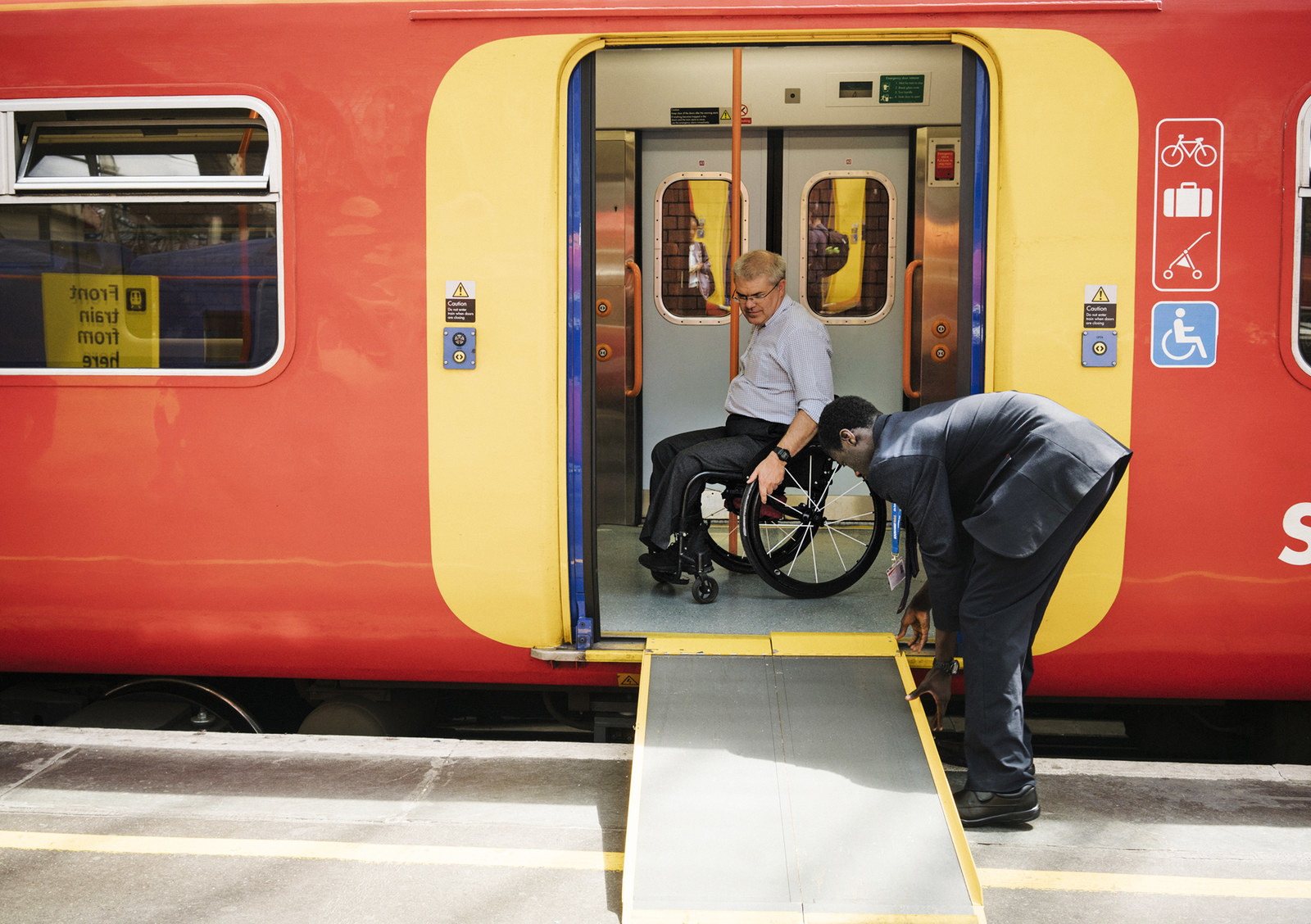 When the lifts fail at Waterloo, McQuirk said staff sometimes put up a notice asking passengers to phone for help but that the station has poor phone reception. He also pointed out that this relies on people having a mobile phone. "It's unlikely these days, but still lots of people don't have them," he said.
These experiences led McQuirk to activism – his story is one of many being shared by Transport for All, a campaign group calling for the government to put more funding into making transport accessible, after the government deferred £50 million worth of funding for Network Rail's Access for All project.
The money, which has been rolled back for five years, would have added step-free access to eight stations across London as part of a £160 million funding boost.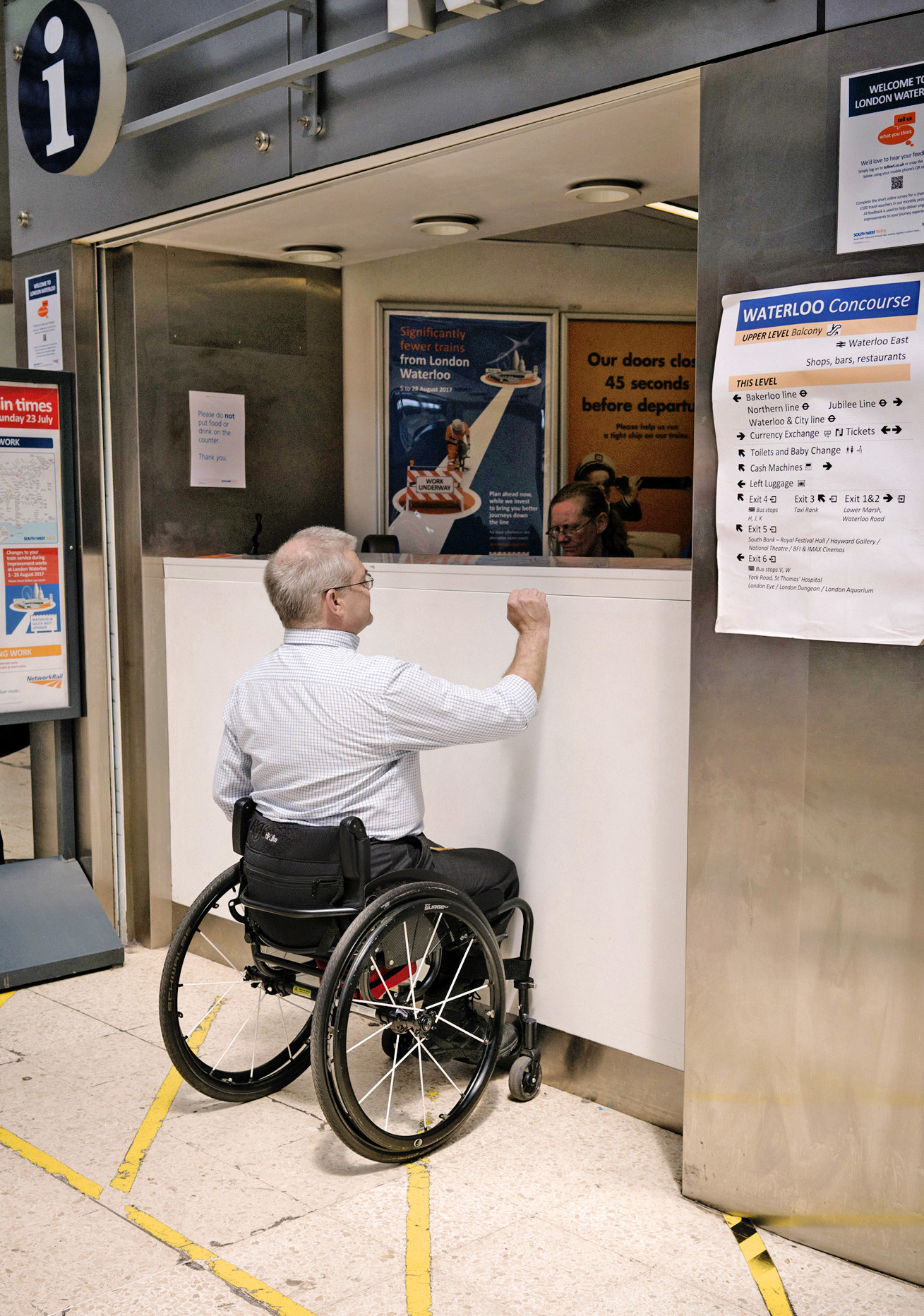 Campaigners claim the announcement of this change – which was barely mentioned by the media – was "hidden" on page 138 of Network Rail's 150-page Enhancements Delivery Plan in December. Earlier this year train operator Southern Rail also said it could no longer guarantee to help wheelchair users who haven't given advance warning of their journey, scrapping its "turn-up-and-go" service, which allowed disabled people to travel spontaneously at 33 stations across its network.
Transport for All calls it a "national shame" that in 2017 only a fifth of railway stations have step-free access to and between all platforms. It says its helpline receives calls every day describing similar experiences to McQuirk's.
Catherine Smith, its campaign and outreach officer, said: "Sadly, Dave's story is just the tip of the iceberg of the situation disabled and older people are facing. It's shocking that he was forced to crawl on to the train after his assistance failed to turn up."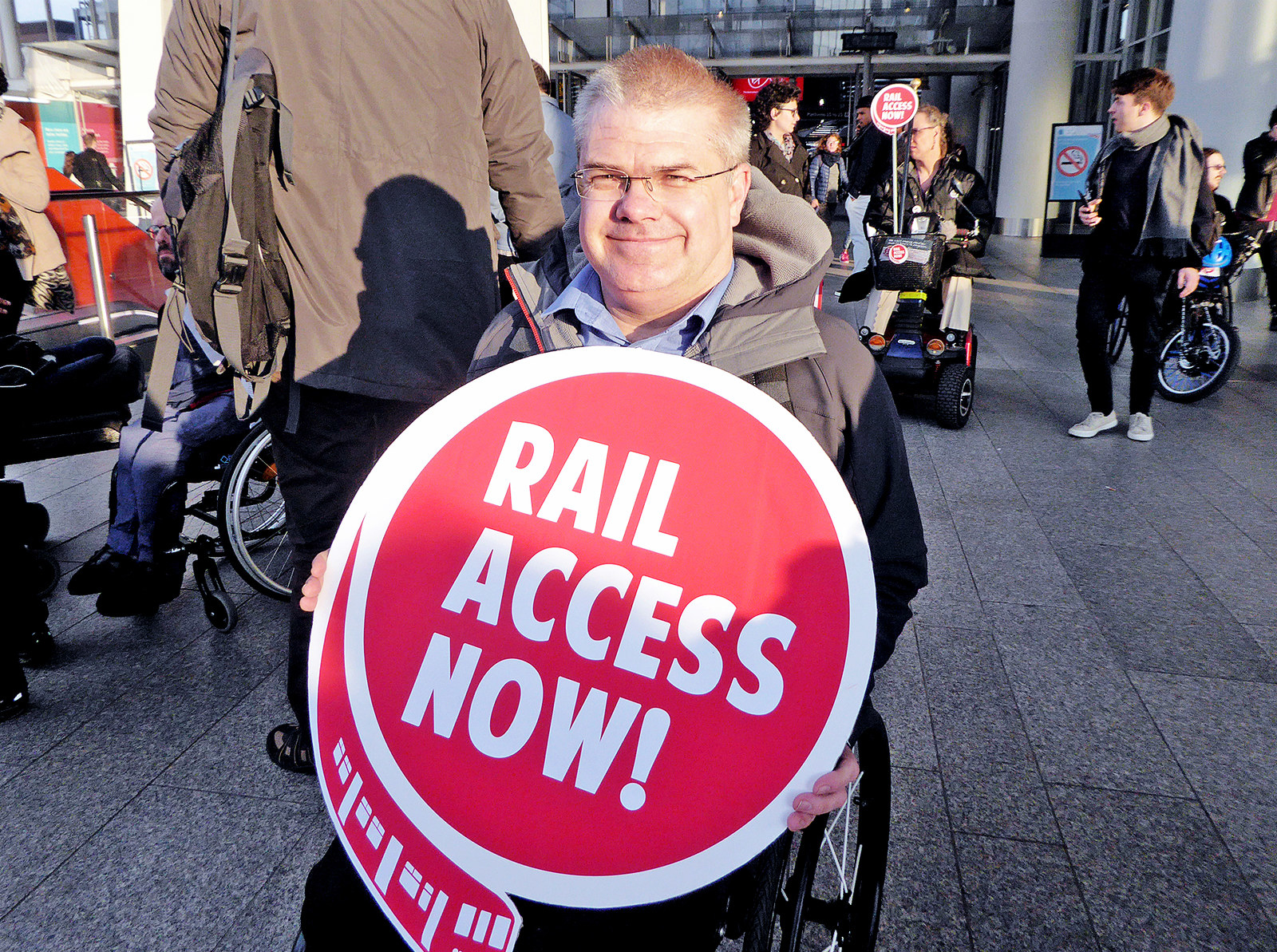 She said that while the group didn't have numbers for how many people were being forced to crawl onto trains, incidents of booked assistance not turning up to meet people were extremely common. "Not everyone is able to crawl like Dave, so people are often left trapped on the train or platform until someone is available to assist them," she said.
"It's over 20 years since disabled people's right to access transport was passed into law, but many of us still can't even use our local train stations. Just 1 in 5 stations across the UK are step-free, and cuts to station improvement funds has meant that progress has now all but ground to a halt.
"Whether it's a lack of step-free access, staff to help people board, or the unnecessary requirement to book 24 hours before travelling – there are so many barriers that prevent disabled people from travelling.
"At Transport for All we are calling on the government to restore vital rail accessibility funds, and ensure that disabled and older people are able to travel with freedom.''
In April, McQuirk joined protesters at eight London rail stations in demos supported by Labour MP Chuka Umunna and Liberal Democrat MP Sarah Olney.
McQuirk also spoke of his concern about proposals to increase the number of driver-controlled operation (DCO) trains, where the train driver is in control of the doors and there is no guard on the train.

DCO is already in use in around a third of UK services and critics say it can cause even less help to be on hand for disabled people. A petition to the Department for Transport asking for more guards has gained 3,000 signatures and been backed by Labour MP Andy McDonald.

McQuirk said his situation has improved somewhat, especially as train staff are aware of his regular journeys. "Because I use the same train every day and I'm always on the same point on the platform every day, they get to know me [and] it is getting better," he said.

For a while, Southern Rail paid for him to have a taxi to another nearby station when assistance wasn't arriving on time at Farnborough, although this made what should have been a short journey into a 45-minute one.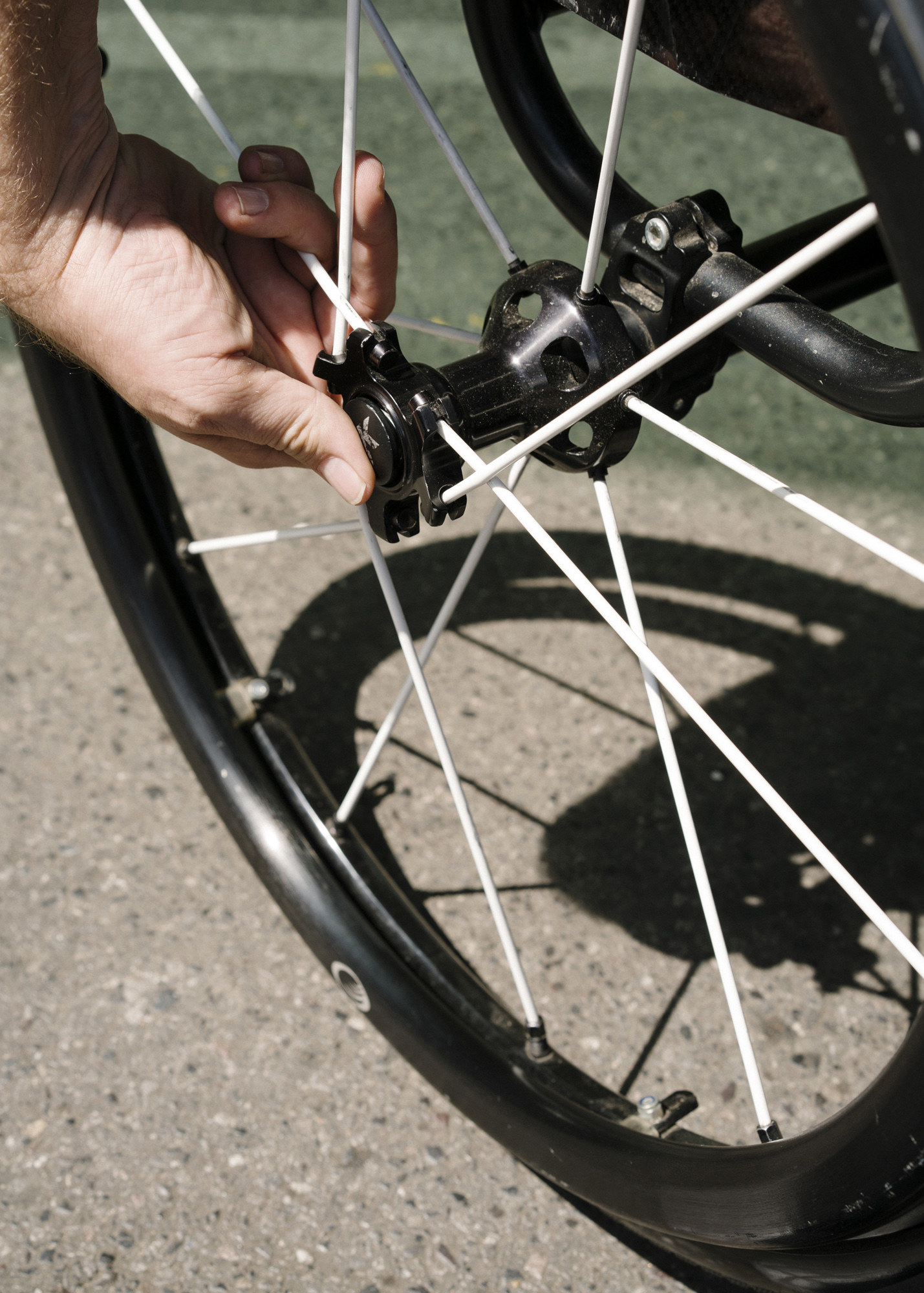 He's now returned to commuting from Farnborough and says assistance still doesn't always turn up, but that the station has taken many steps to help him, such as putting up notices asking staff to look out for him on his regular trains.
"While I appreciate this effort, I do wonder why in 2017 it still takes all this effort just to get on a train to go to work," McQuirk wrote in a blog about the experience. "I have to catch this service daily to travel to work like any other commuter, I cannot always turn up an hour early to allow for their regular assistance failures. The vast majority of individual members of staff have been helpful and understanding and tried to make the systems work but it seems almost impossible.
"I'm an articulate, confident regular traveller and I still have this incredible stressful 'will I, won't I' worry every morning. I can only imagine how hard it is for the occasional traveller who doesn't know how the system works and doesn't have the mobile phone numbers of a number of managers across the company."
Transport for All told BuzzFeed News it would continue to campaign and protest. "This is definitely a growing issue in the disability rights community," Smith said. "The accessibility of our rail network is now well behind other public transport like buses, and most people cannot afford to wait hours for assistance to board their train."
A spokesman for the Rail Delivery Group, which represents Network Rail and train operators, said: "Working together, rail companies have made huge improvements thanks to significant investment which is making journeys better but we need to do more to make it as easy as possible for everyone to be able to enjoy travelling by train independently.
"Rail services are far more accessible than ever before; record numbers of disabled people are travelling by train and the vast majority simply turn up and go, and we want to ensure that those who most require assistance get the help they need.
"We want to work with customers, campaigners and government to help us secure more funding and agree how best to spend what is available to continue to make the railway even more accessible and meet the expectations of Dave and all our customers now and in the long term."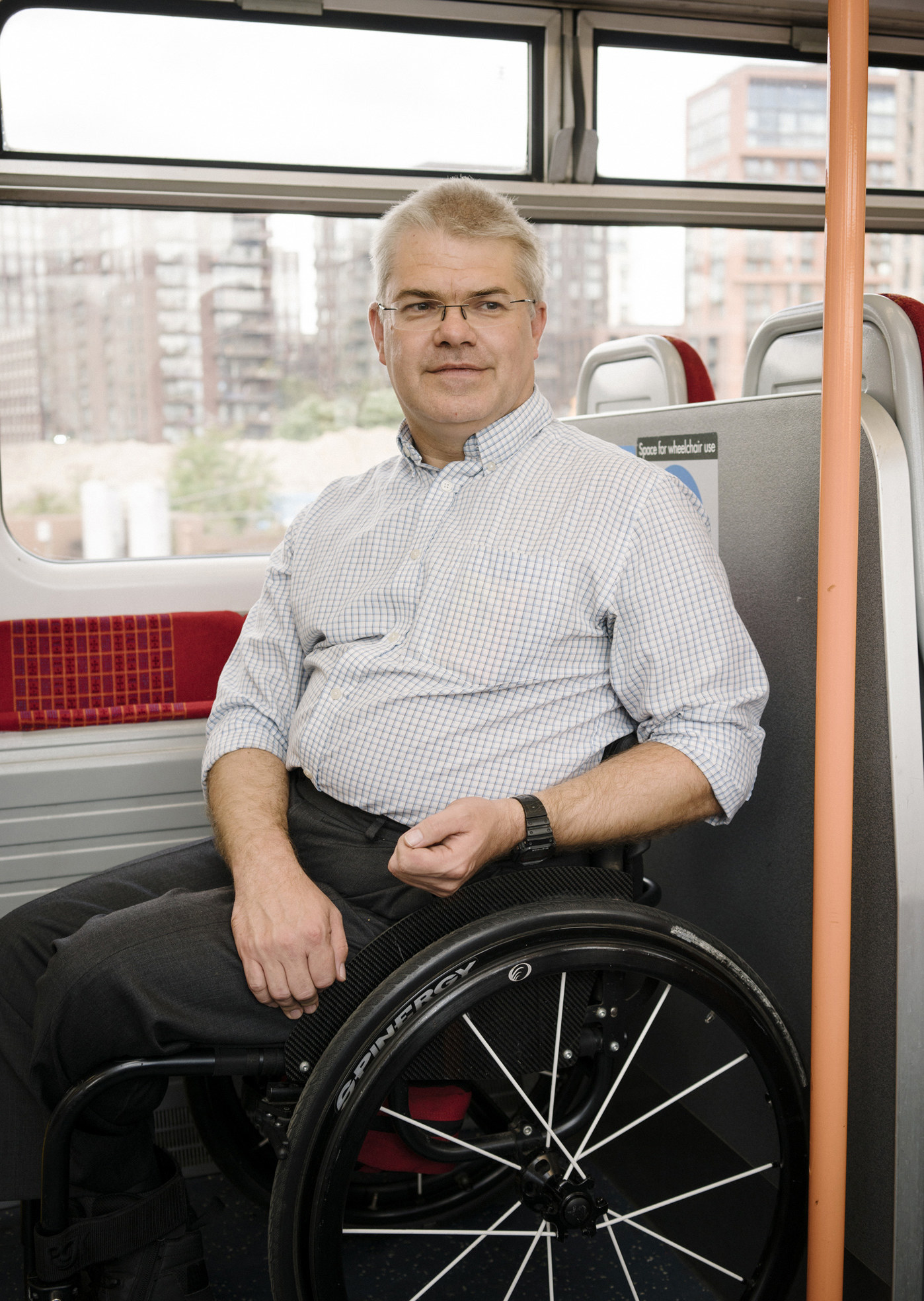 A Department for Transport spokesperson said: "We take the issue of accessibility on our railways extremely seriously and recently secured several commitments from industry to improve things for disabled passengers.
"It is vital that all passengers, including disabled passengers, are able to use public transport and can turn up and go, and we will continue to push train companies on this matter.
"Train companies have legal obligations to provide the same access to the disabled, and we take action to ensure they do."
They said the DfT has delivered more than 150 accessible routes and has more than 60 in various stages of development, and that it has instructed Network Rail to continue developing the 26 projects deferred by the Access for All funding, so that they can start on site as soon as possible after April 2019.
They added that DCO services didn't necessarily mean there would be fewer staff, saying there will still be staff on the platform and train, in addition to the driver.
McQuirk says he can handle standard train delays that happen to everyone. What he finds wearying is when he's delayed only because he is a wheelchair user. "Other commuters say, 'Yeah, everybody's journeys get disrupted,'" he said. "But I don't mind that if everybody is getting disrupted. But when it's just me because of my disability, that's the disruption that I don't like.
"If I'm sat on a train and the train in front is broken down and it takes an extra 20 minutes to get in, that's fine, because that's part of the commute. [The problem is] where my journey takes 20-35 mins longer just because I'm a wheelchair user."
He added: "You don't know when it's gonna happen again."