Meet Cherrie, a singer-songwriter from Sweden whose music video "163 För Evigt" may have popped up in your timeline recently.
People have fallen in love with the song, which translates as "163 Forever", even though many have no idea what Cherrie is saying because, hello, it's in Swedish. Still, people are really feeling it, and one Instagram upload has had over 250,000 plays.
While Cherrie, 26, whose real name is Sherihan Hersi, is relatively unknown in Britain, she's a breakout star in Sweden. She rose to fame in 2015 with her evocative hit song "Tabanja" (Swedish slang for "gun"), and earlier this year her debut album Sherihan won in the hip-hop and soul category at Sweden's answer to the Grammy Awards.

Oh yeah, and she's also collaborated with rapper Stormzy, on the song "Aldrig Igen (Må Sådär)" – in English, "Never Again (Feel Like That)" – before joining him on the European leg of his tour.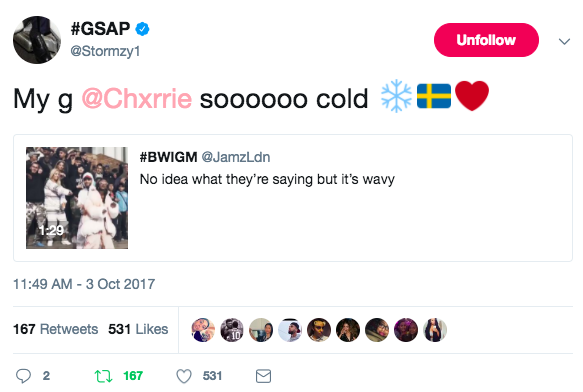 Cherrie told BuzzFeed News that "163 För Evigt" is a tribute to the 163 postal code – the code of Rinkeby, the Stockholm suburb she grew up in. "A lot of non-European immigrants live here, and the conditions and possibilities for people out here are less fortunate than anywhere else in the city," she said.
"It's also me celebrating my career, as it has been tough to get where I am as an independent artist."
The song contains the line "Om jag lyckas då vi alla kan", which means, "If I succeed then we all can." Cherrie said she wanted to make a song that would instil hope in the young people of 163 and others growing up in similar conditions.
"My music is known for its emotional and honest feelings that sometimes come from a dark place," she said. "This was my first release since my debut album, and I just really wanted to make something that had the same depth but could be positive and something people could vibe to."
The international reception to the song – including in the Somali diaspora – has left Cherrie in awe, she said: "The fact that this is in a language most people don't understand and it still translates enough for them to vibe to, it just makes me believe in myself even more than I did before."
She added: "A lot of people say they can tell that whatever I'm singing about comes from something real through the conviction of my voice.
"Also, it carries a message of self-love and love for others, and even if they don't understand I know they will feel it, and I'm just happy to be doing something positive through my music. If you listen … with an open mind, you'll feel the energy and message no matter what language I choose to do it in. And for that I'm forever thankful."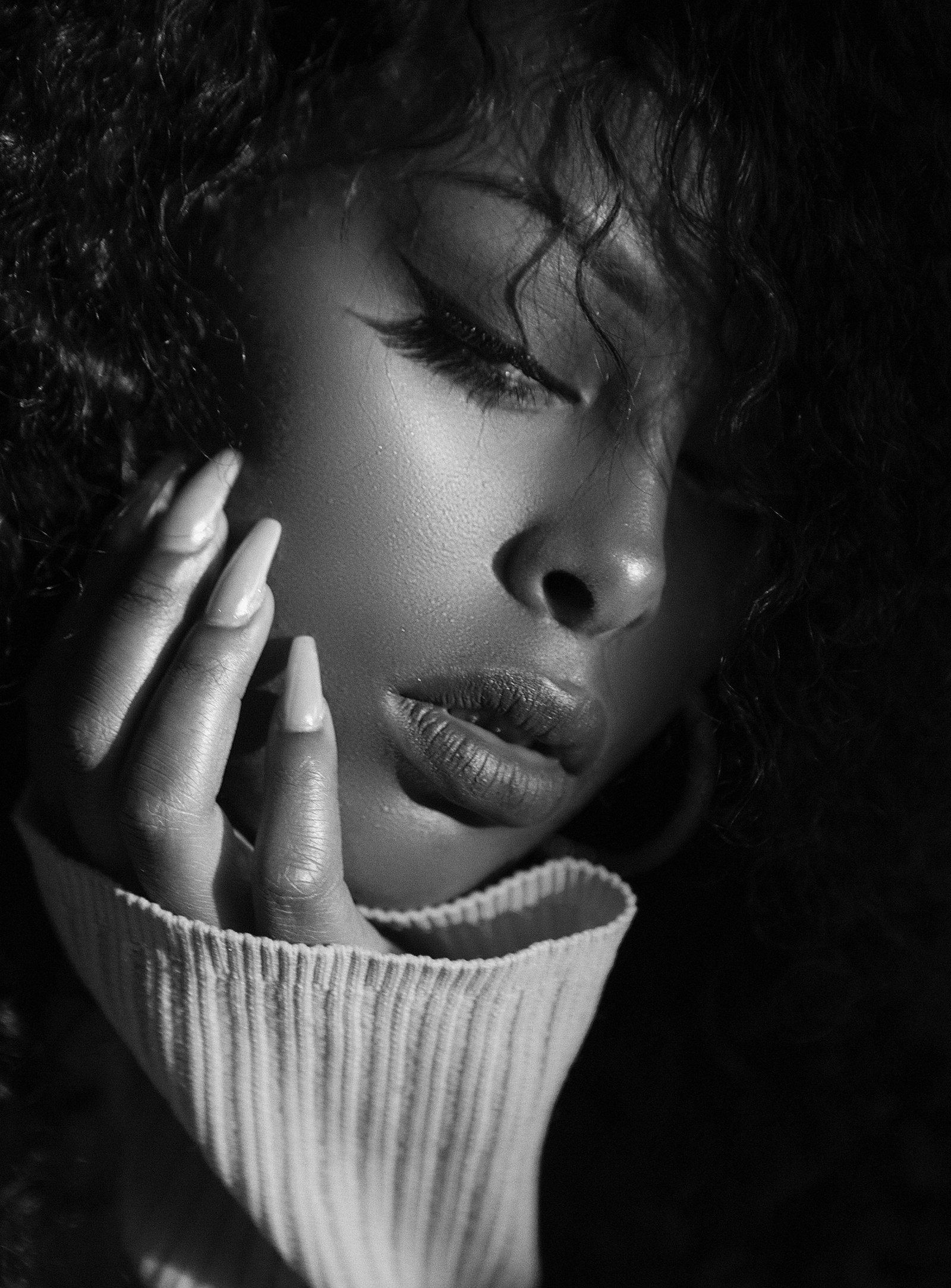 Cherrie was born in Norway but grew up in Finland – she says her family were among the first African immigrants to move there, at a time when racial tensions were high. They later moved to Sweden, where she says they encountered a different kind of racism.
"I always felt like racism was more institutionalised here like in the workplace and school," she said. "Kinda more hidden racism."
And while things aren't as tough now, Cherrie says racism is still a huge problem across Scandinavia, despite the region's liberal credentials. An anti-immigrant party, the Swedish Democrats, is now the country's second-biggest.
"At the same time I feel like these racists are fading — this is their last fight to stay relevant in an evolving world where people like myself are becoming the norm in society," Cherrie said.
Cherrie is proud to be a "third culture kid" – someone who has grown up in a different to society to their parents. The singer even contributed to an anthology telling stories from 40 people who identify this way. She also leads workshops in Sweden's "less fortunate suburbs" to talk about identity.
"The world is changing, third culture kids are everywhere," she said. "Like, even if you are 100% Swede but you grew up the last 15 years in an area where you have 90 different nationalities, you are bound to understand that all these narrow-minded homogeneous type of people are dying out.
"I definitely see myself as a third culture kid or cross-culture kid. I was born in Norway, moved to Finland, then to Sweden, and then to London and then back again."
She added: "I think we need to rule our situation here in Europe and build identities that we feel safe with, rather than [allowing] the government or such to put labels on us."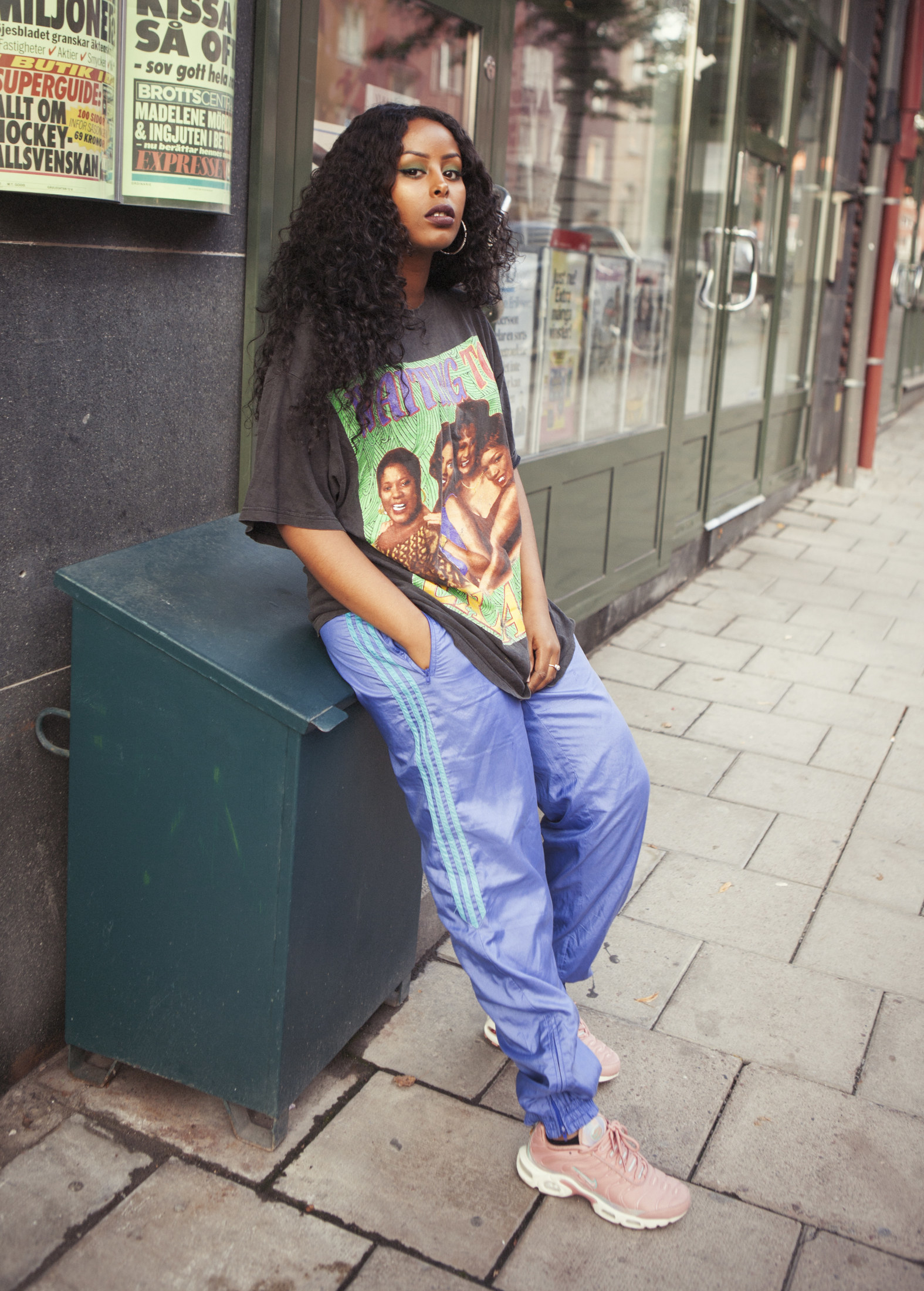 Her personal influences include all of her identities. For example, she named her independent record label Araweelo after a fearsome queen in Somali folklore who Cherrie says was "probably one of the first feminists ever".

Growing up, Cherrie heard stories about Araweelo, and even though they were supposed to scare her, they did the opposite and inspired her instead.
Cherrie is now working on her second album and will be the opening act for Canadian music artist Daniel Caesar as part of Red Bull's 30 Days in Chicago next month, before heading to South Korea for two shows.
Of course, there's only one question her new army of stans want to know: Will Cherrie be creating any music in English or Somali?
"I have and I'm considering it," she said. "For me, it all boils down to if it feels right in my gut.
"I know what my music has done in Sweden and if it doesn't feel as real and important in the next language then it's not really worth it. But I really believe that I'll get there soon enough."