Last year, British-Somali poet Warsan Shire's work made it on to Beyoncé's Lemonade album, sparking a huge interest in poetry and the spoken word. But more and more young, creative Somalis are also moving toward more visual forms such as photography.
The art often draws from their own experiences and diasporas. For example, British-Somali Amina Adan mainly photographs Somali communities in the UK, where she lives. Meanwhile, Canadian-Somali Amaal Nuux's photography includes pictures she took while volunteering in an orphanage in Uganda and includes stories beyond her own.
These images have amassed thousands of likes on social media, a sign that they clearly resonate for viewers beyond aesthetics. BuzzFeed News talked to five Somali artists about what draws them to photography, how they got their start, and how their work challenges perceptions of Somali life.
Mohamed Mohamud, 24, London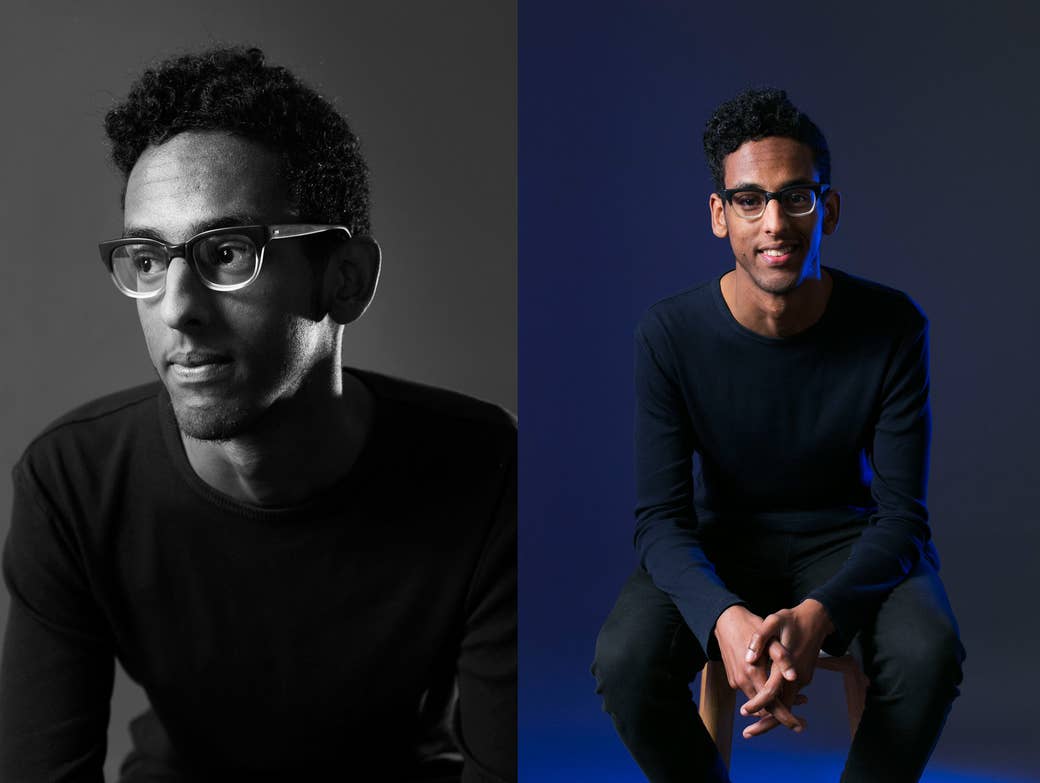 Mohamed Mohamud, a 24-year-old graduate of Brunel University London, founded the viral Somali storytelling platform Somali Sideways.

He first got into photography while at university. Shortly afterwards, he launched Somali Sideways, which began as a personal project: He would take photographs of people standing sideways and post them online. Soon he started receiving submissions, and the website evolved into a space where Somalis across the globe could share their stories.
Why photograph people sideways? He was drawn to the concept, Mohamud says, because people choose to share certain aspects of their lives, keeping other stories private. "On one side it's about sharing stories [you] wish to share ... and the other side remains a mystery. ... In the beginning I thought [the name] was weird but then I realised it's the weird thing people remember."
Projects such as Somali Sideways help combat negative stereotypes because "Somalis are generally not shown in a positive light" in mainstream international media, Mohamud says.
Thus far the platform's been well-received. "People loved the idea and I felt it was a duty for me to share amazing stories from our people," he says. "Especially what's going on in the media toward Somalis – I feel like it's even more imperative to carry on." He aims to make the platform accessible, so that anyone can find a way to share a story.
Family and friends thought he was "going bonkers" when he explained the project to them. "They believed it was something weird and people would not react to it as much," Mohamud says. "They still support me regardless, and I thank them so much for it."

Though he received a death threat when he first started Somali Sideways, Mohamud says most of the feedback, from both Somalis and non-Somalis, has been amazing.
He has received submissions from high-profile Somalis such as YouTuber and blogger Hodan Yusuf and musician Aar Maanta. "I was so surprised when celebrities from the Somali community were in support and decided to take part," he says. Aar Maanta's submission – a message about building an orphanage in memory of a friend who passed away – was the most memorable for Mohamud, and it still inspires him to this day.
When Mohamud travelled to Minnesota, home to a large Somali community, he was showered with love and support. "So many people knew this project and I was so happy to witness it. That's when I realised this was a great platform," he says. "People have sent me photos from China, Costa Rica, Canada, Australia, UAE, to name a few. ... It has taken me places I never even dreamed of going. So Alhamdulillah."
Amina Adan, 22, London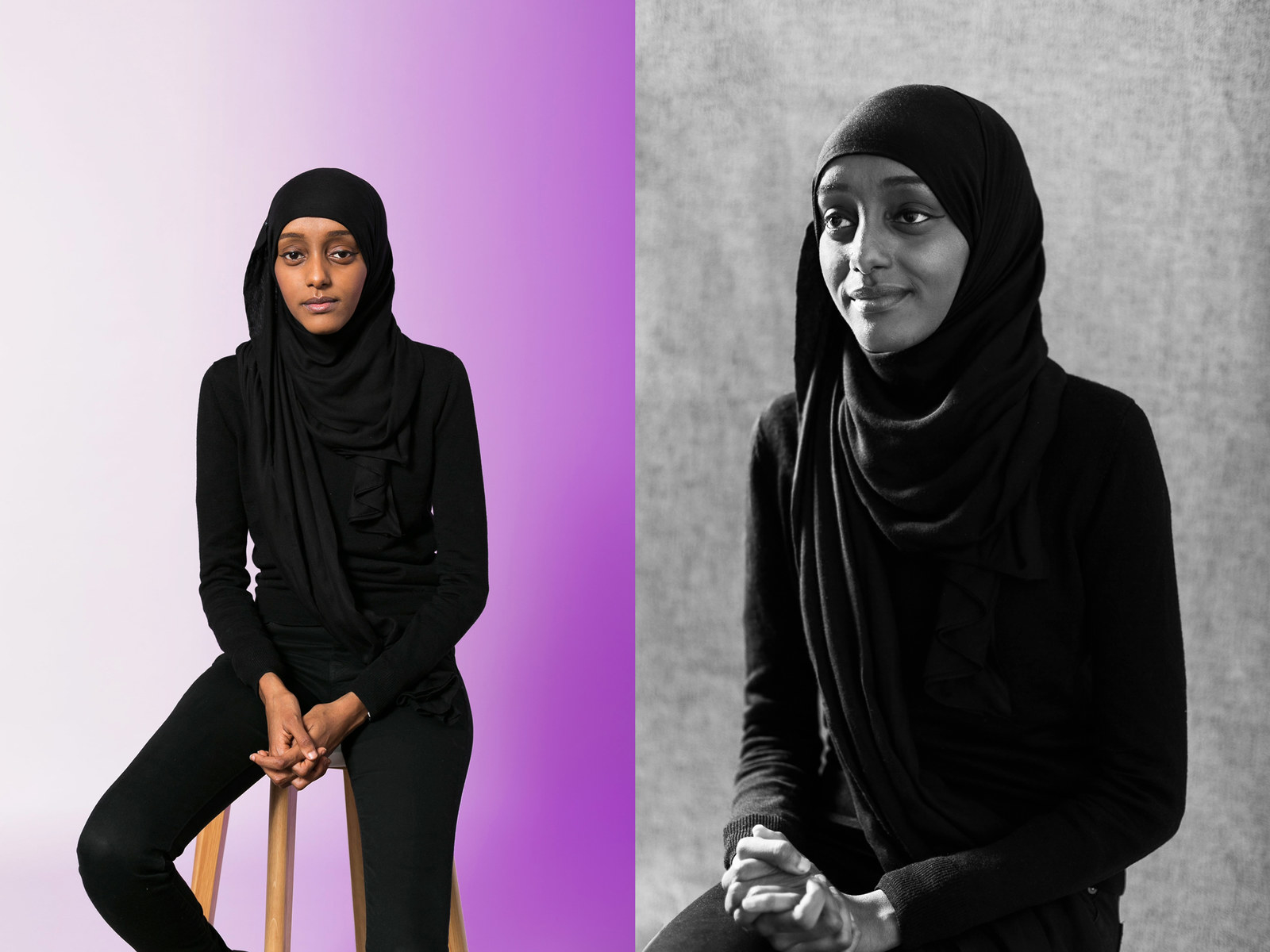 Amina Adan, a business accounting graduate from northwest London, creates photographs that focus on the lives of Somalis living in Britain. She first picked up a camera for fun, and taking pictures of people has become one of her favourite things to do.
Her parents were oral storytellers, but following the civil war in Somalia photography picked up as a way "to document the journey that everyone went through. Or they used art," Adan says. "Orally the story changes are it goes along, whereas with photography, with art, once you take that picture ... it doesn't change."
Adan says she doesn't make a full-time living as a photographer because she worries she wouldn't love it as much as she does now. "I know they say 'do what you love and love what you do' but I feel like it has to be right balance," she says. "It's more of a getaway from the rest of the world."

Adan is an avid Instagram user. She describes social media as this generation's "version of standing in the street and shouting something out".

Before social media, she says, a lot of published news about events in Somalia lacked actual Somali input, or that input came from limited perspectives. "Without this, we would still have older Somalis stealing the limelight to represent 'Somali views', when in reality, they never spoke for anyone in the community," she says. "Social media has [created] the opportunity for you to connect with someone on the other side of the world who you have one thing in common with, which is your Somalinimo [Somali identity].
Social media has also allowed members of the Somali diaspora to learn about social justice efforts in the country and contribute to those causes, Adan says. For example, "British-Somali uni students raised over £45,000 for the famine and drought in Somalia in their Somali societies by creating a narrative via social media. ... There have been many instances in which Somalis have complained about not having anyone to tell our narrative. But my simple advice is if there's no one to tell it, you tell it, you reclaim it. Utilize platforms like Facebook, Twitter, and YouTube to create a space through which we can support one another.
"There's a Somali proverb, 'ka muuqo ama ka maaqno', which means 'be seen or be absent'. And that's what you have to do to claim our stories. Tell it ourselves."
When asked about being a woman in the Somali media industry, Adan says: "It's dominated by men. Journalists are men ... and even they find it fascinating to see a Somali girl [actively working as a photographer]."

Amaal Nuux, 27, Toronto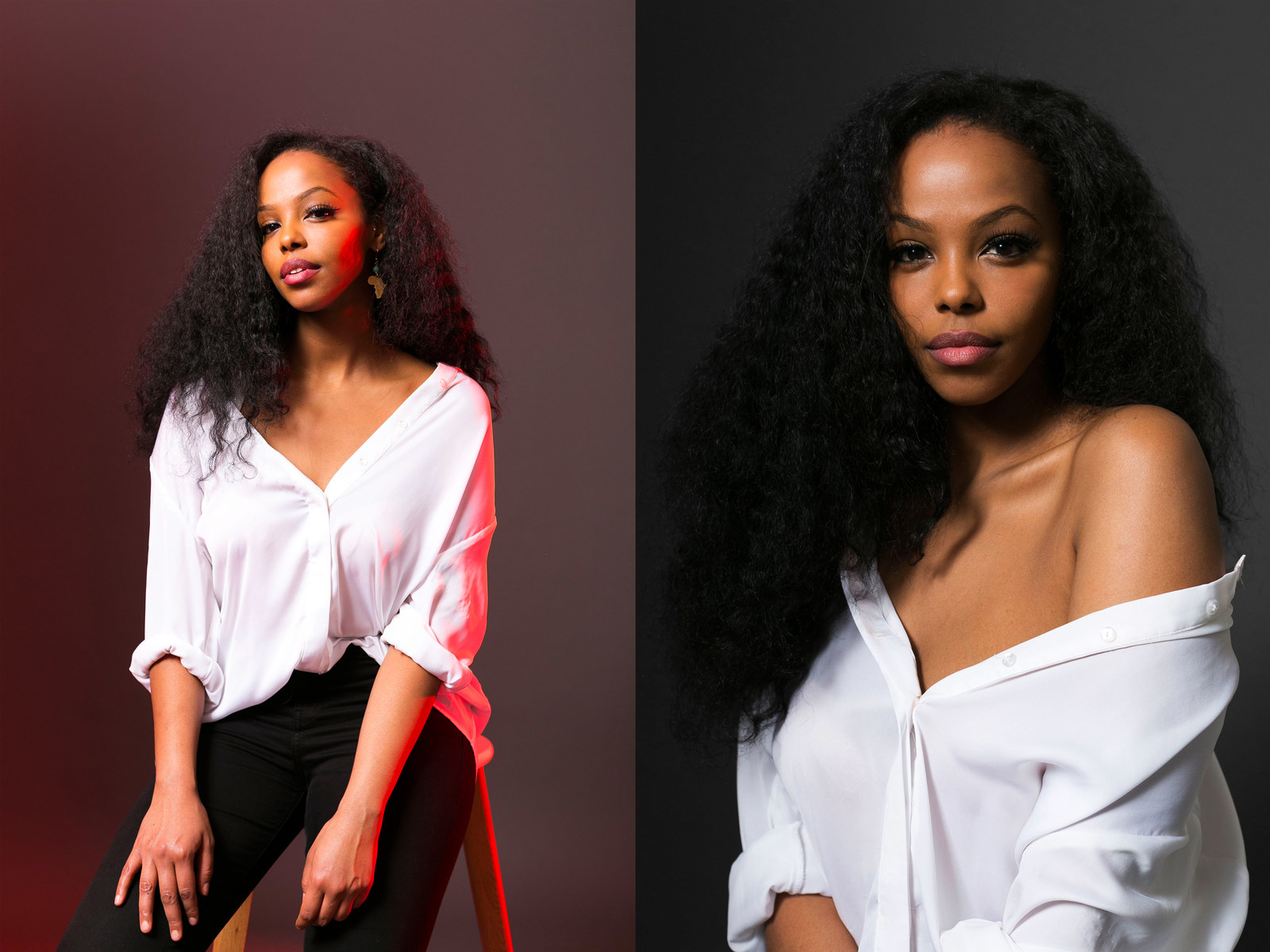 Amaal Nuux, a 27-year-old independent singer-songwriter, was born in Mogadishu and relocated to Canada once Somalia's civil war broke. An artist working in many genres, Nuux primarily wrote poetry before she took up singing; thus her familiarity with spoken-word traditions. And she's had much success in her musical career: Nuux was previously signed to a production deal with Noah "40" Shebib (producer for OVO and Drake), but didn't release any music through it, and recently performed in London for her first European tour. But her newest passion is photography.
While working at an orphanage in Uganda in 2015, Nuux took many photographs, and began posting them on Instagram using the hashtag #AmaalNuuxPhotography.
"My photos have always been about showing true humanity. I never take any photos without permission from my subjects," Nuux says. "I want to show their strength, resilience, and unwavering faith while maintaining their dignity.

"We have all seen too many pictures of African kids hungry, malnourished, and sick. Although [poverty] exists not only in Africa but around the world, it's not an accurate depiction. I just hope to show the true beauty and strength within people."
The photo below became part of the promo for her single "Who We Are", one of the ways in which she's combined her skills in both photography and music.
The lyrics from Nuux's latest song, "Last Ones", send a message of strength and hope in the face of adversity for those from marginalised communities:
"Oh the day has come where we can be our heroes / Let us write the greatest story ever told / When the flame and fires burn out / When the storm and rains turn drought / Stand up stand tall / Shout it out / That we will be the last ones down."

Speaking about the perception of Somalis in the US following the election of Donald Trump, Nuux, who travels to the US frequently, says: "Somali people have actually helped boost the economy of the state of Minnesota and other cities they reside in. They are a powerful economic force. ... Too many people have formulated their own opinions about Somalis, and a lot of their ideas come from the media. The media has done their share of polarising the whole country. We, the Somali diaspora, are the ones who have now been changing the narrative."
This is her goal as an artist, she says: "Visually documenting and displaying the beauty of our country in order to dismantle the world's view of who we are as a people."
Ubah Abdirahim, 20, Leicester, UK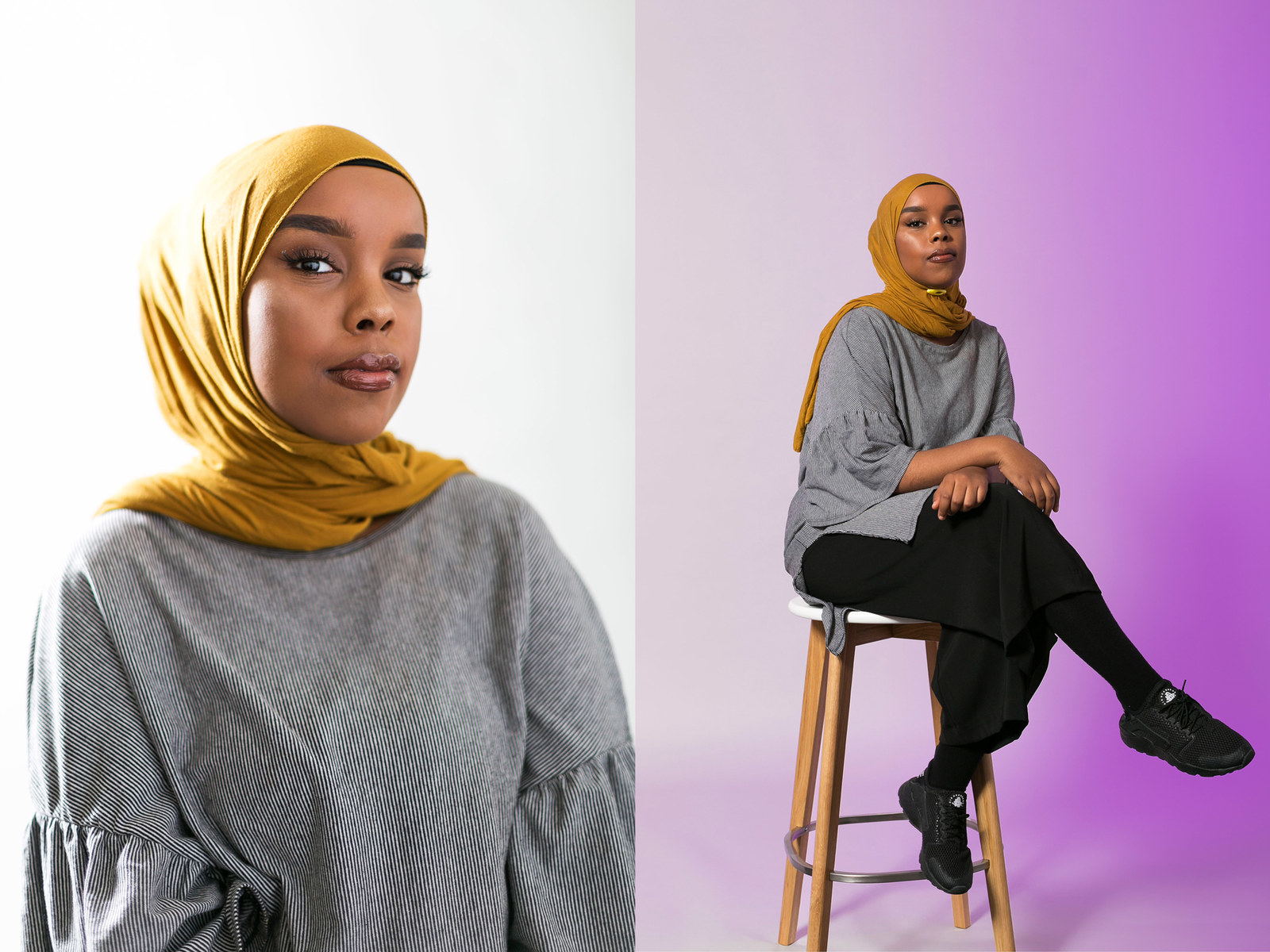 Ubah Abdirahim is from Leicester and a university student at De Montfort University. Though she only recently turned 20, she's already a seasoned photographer. During a three-year stay in Kenya from 2011 to 2014, she accidentally realised her love of photography while trying to casually document her experiences.
Photography "made me appreciate moments and memories. So after Kenya I was pretty much obsessed" with it, Abdirahim says. "Back then it was more about enjoying the moment."
Eventually those efforts to capture memories and friends (and take selfies) transformed into a part-time job photographing weddings. But her true passion lies in taking candid photos, as well as photos of nature, she says, because those are the things that drive her to think deeply about life and Allah.
Abdirahim says that being young and having to convince people to take her seriously was a hurdle: "People use that as a reason for you to not be good. For example, people try to take more advantage of you if you're young – like it's just a joke to you."
But her family members have been very supportive of her hobby – particularly one relative who tends to be brutally honest, who said her pictures were really good.
Eventually Abdirahim wants to move on from wedding photography. "You don't see it as a money thing," she says. "It's not like a side hustle. I don't think about it [that way]. I wouldn't want it to be my full-time thing."
But it's an important for of expression for her: "I feel like social media is a great platform to show non-Muslims that even with our Islamic garments we're all the same, and we share the same interests. ... I feel as though I've found my way of expressing myself as both an individual and as a Muslim through photography."
Mabdulle, 22, London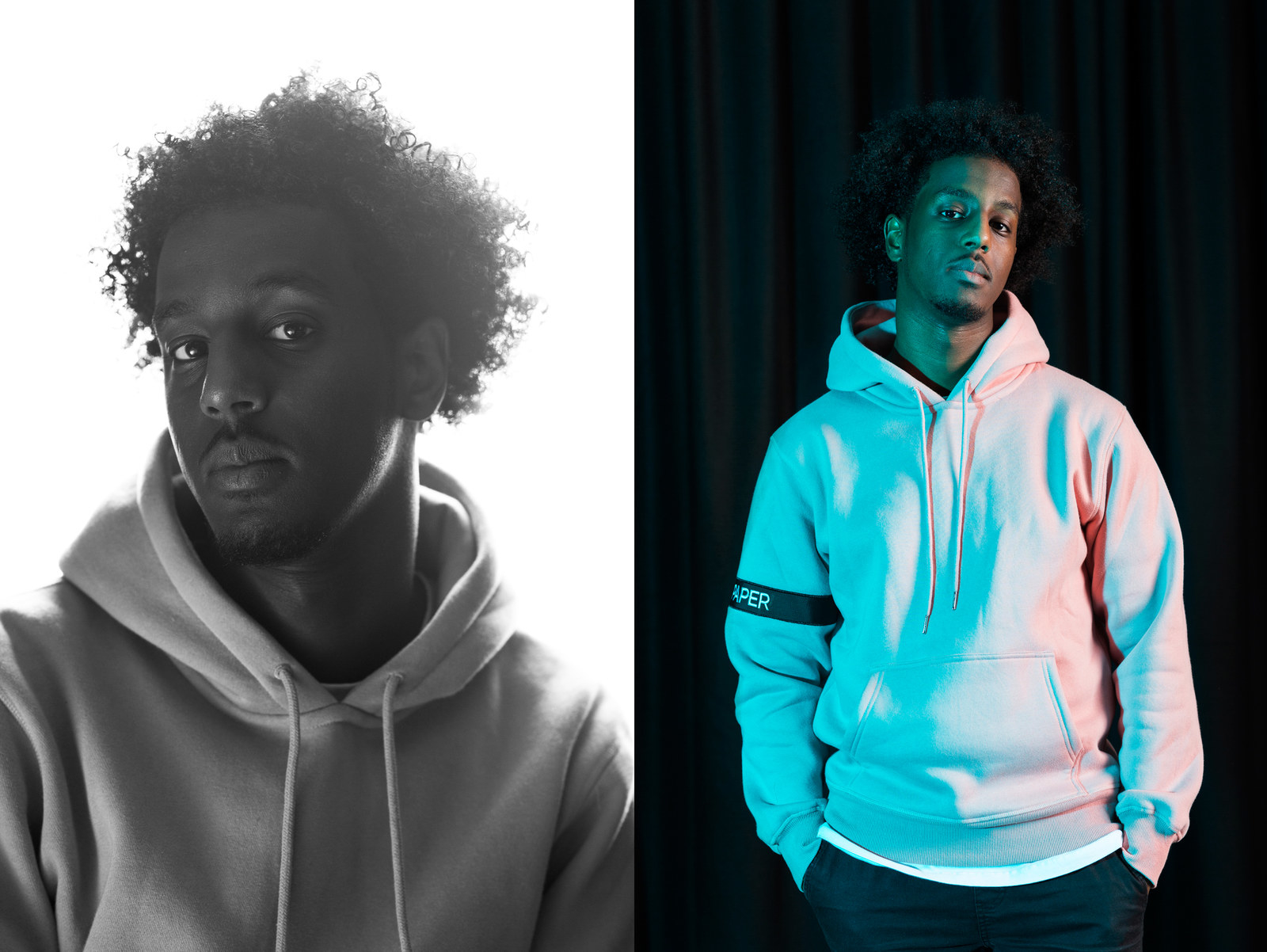 Photographer Mabdulle said he started taking photos for fun when he was 15 years old. His parents gave him a camera, so he started photographing his friends at school.
He still takes photos purely because he loves doing it. "My favourite ones are the ones you look at for more than five seconds, and you start to raise an eyebrow."
Now 22 years old, Mabdulle has amassed over 18,000 followers online, having joined Instagram when it was first launched. "I had a basic Instagram [account], where everyone posts selfies and stuff. And then near the end of 2014, that's when I jumped into my photography," he says.
And shortly after that his profile started to gain more recognition, Mabdulle says: "In 2015, I started to get a bit of a following. People were commenting on my photos. People were messaging me for advice, and I'm just there like, I'm still learning, I can't give advice."
He continued to upload photos every day, and was soon meeting with photographers who he now calls his best friends. "London has a big photography community," but everyone seems to know one another, "which is cool," he says.
In 2015 he got his first job as a photographer. "Someone hit me up on Instagram and said, 'Hey, we're doing a piece for Complex x Puma, and we'd love for you to take photos,' and I realised, Shit, I can actually make a good living from this," he says. "And that's when I started to take it seriously."
In terms of what he sees himself doing in the future, Mabdulle says: "If a fashion campaign interests me, I'll do it. A documentary, a tour, anything, really, like whatever happens."

This year he was one of the photographers on Stormzy's UK tour, something he describes as "one of the best experiences of my life. Being able to take photos every day, it was a sick, sick experience. Just waking up every day shooting shows, travelling to different cities, capturing the vibe, which is awesome." He says the highlight was getting to see new parts of the UK.
Talking about representation, Mabdulle says it matters. "At the end of the day everyone has different experiences in life. ... My photos are the story of my life – the experiences, the places I've been to, the things I've gone through. It's just about my narrative, and my representation rather than someone else's."
CORRECTION
Amaal Nuux was signed to a production deal with Noah "40" Shebib, who is a producer for OVO and Drake. A previous version of this post stated that she was signed to Drake's OVO label.