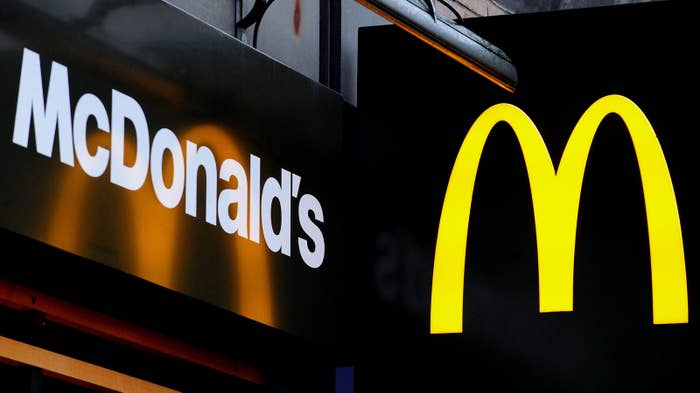 A young Muslim woman has received an apology from McDonald's after she was told by a restaurant manager that she was not allowed to wear her headscarf while working there.
It comes after McDonald's said sorry to another young Muslim woman, who was asked by a security guard to remove her hijab in order to be served.
Samira, a university student from London, told BuzzFeed News she attended a group interview at a McDonald's in southwest London in August this year along with one other young woman who was also wearing a headscarf.
Samira, who asked that her surname not be published, said she and the other woman were asked whether they would wear their hijabs while working if they were hired, and in a spur-of-the-moment decision she said she would not.
After being invited to a training session at the restaurant, Samira noticed the other women had not made it to the next stage. She then emailed over a few general questions to the manager who interviewed her about the McDonald's uniform, and about wearing her headscarf at work.
"I decided that I actually did want to wear it and mentioned it, thinking it wouldn't be a problem," she said. "But I was called in for a meeting where he basically told me I couldn't wear it as it wasn't part of the rules.
"I said there are other workers in other McDonald's with hijabs on and he said that it was specific to this McDonald's, which sounded ridiculous so I told him I'd bring higher offices into this to clarify."
Samira said that at this point the manager contacted her again to say that she could in fact wear her headscarf.
"When he called me back in, some of the workers were looking at me strangely, it was a hostile vibe, which made me decide that I wasn't even going to accept the job if I was offered [it] because the environment felt so unwelcoming.
"Even after the interview, I came in a few times to get food and some of the workers who were there that day would look at me, and I just really did not like it."
She reported the incident to McDonald's, which referred her complaint to the franchise. In emails seen by BuzzFeed News, the franchise apologised and said "appropriate action" had been taken against the manager for what it said was a misinterpretation of the situation. Samira was also offered an interview at another nearby McDonald's franchise.
A McDonald's spokesperson told BuzzFeed News that in the restaurant in question there are a number of employees who wear hijabs as part of their uniform.
"The restaurant owner spoke to the manager to ensure that the manager resolved any miscommunication with the applicant, reiterating the point that that women are very welcome to wear a hijab if they would like to. An apology, in writing, was also made.
Last week, in a separate incident, a Muslim woman said a McDonald's security guard in London said she could not be served unless she removed her hijab.
The incident went viral after a friend tweeted her video of what took place.
McDonald's has since apologised and said it does not have any policies in place that restrict or prevent anyone from wearing a hijab.
But the woman involved, speaking to BuzzFeed News anonymously, said the apology was insufficient.
"So many Muslim women have gone through an experience like this and nothing is actually being done about it," she said.
"Because it's not just McDonald's, it's a lot other organisations who do these things and it's never tackled."
A McDonald's spokesperson said: "We welcome people of all faiths and do not have any policy which restricts or prevents anyone wearing a hijab, or any other religious attire, in our restaurants either as customers or employees."