This Guy Said He Would "Eat His Book" If Corbyn Got 38% Of The Vote And The Internet Made Him Do It
"If you want a pictorial representation of the impact of the general election on the UK political world then this is hard to beat."
Matthew Goodwin, a professor and co-author of Brexit: Why Britain Voted to Leave the European Union, tweeted last month that he would happily eat his book if Labour did well under Jeremy Corbyn.
Labour ended up doing better than expected in the election, getting 40% of the vote, and people demanded Goodwin live up to his promise.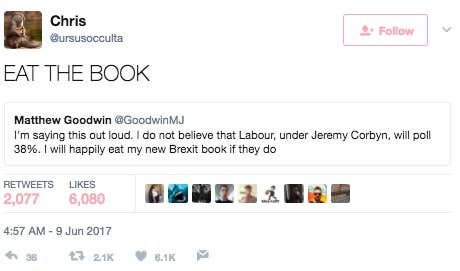 They wouldn't let it go.
Goodwin said that people were screaming at him to eat the book.
Then he announced he would eat his book live on TV.
And said he would donate the fee from Sky to charity.
He went on air and people were glued to their screens.
People began to lose hope because he was just talking about the election, and not eating the book.
But then he delivered, tearing a page out of the book and putting it in his mouth, chewing happily.
And the internet rejoiced.
Though he did not eat the whole book.
And whether he actually ~ate~ the book, we don't know.
Ladies and gentlemen, the 2017 general election.