Daniel Espinal delivers mattresses on his bicycle. In fact, the first time he delivered a Casper mattress on his Bullitt cargo bike, he had to ride over the Brooklyn Bridge. "It was awesome," he says, smiling. "There was a lot of wind and the bike was tilting."
Today, it's about 20 degrees, a temperature Espinal insists is warm. He's in his early twenties and covered up in long sleeves, jeans, and a hat that looks like he's wriggled a condom on his head. Only his happy face is visible. He uses bungee cords to secure the bed to the front of his ride before hopping the bike over a slab of ice on the curb and taking off.
Espinal isn't about to ride for 20 minutes with a fully expanded mattress strapped to the front of his bike. The bed he's delivering has been smashed down until it fits in a box about as big as a golden retriever — this is one of the things the "Warby Parker of mattresses" is known for, along with the $14.95 million it has raised from investors like Ashton Kutcher, Nas, and designer Steven Alan. (The rest of the U.S. and Canada have to settle for stodgy old UPS delivery.) Hefting the 68-pound box, the bike bobbles as Espinal turns onto the quiet street leading into the apartment complex. A woman passing by sees the box and says, "He's not delivering pizza."
Rebecca Gentsch, 25, her roommate Misha Mayeur, 24, and a fluffy cat named Abella are waiting for Espinal in their apartment. It's Gentsch's new bed. She loathed the Ikea mattress she bought about a year ago, but hadn't gotten around to going to a store to shop for a new one. "I was being lazy about it," she says. So, instead, she ordered a queen-size Casper online after seeing ads for it on the L train.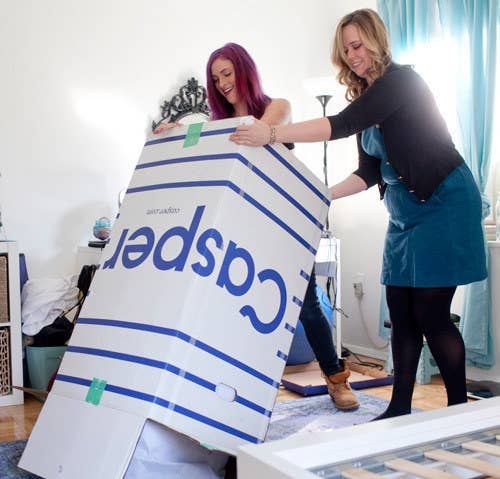 After Espinal wheels it on a dolly through the living room and into Gentsch's bedroom, Gentsch and Mayeur cut open the roughly 3-foot-tall box and shimmy out the tightly plastic-wrapped bed. Gentsch slices through the covering and the bundle starts expanding quickly. The women yell and gasp, hopping around the edges warily as if they're not sure how big the bed's going to get. It's like they're little kids observing one of those foam sponge figurines grow in water. After about a minute, the mattress looks like just another regular bed.

Casper encourages buyers to take videos of themselves unboxing their mattresses, a practice pulled from the YouTube mega-trend in which consumers film themselves opening everything from Disney toys to Chanel handbags. Gentsch and Mayeur pass, but the strategy seems to be working: One such video has over 118,000 views, and photos of white-and-blue Casper boxes dot Instagram. In March, 17-year-old Kylie Jenner, who has 19.4 million Instagram followers, posted a picture of her Casper box in the empty living room of her new $2.7 million mansion.
Casper is one of a wave of companies seeking to make us covet what previously have been mundane, inconspicuous household items, and lend a folksy transparency to notoriously opaque industries. After all, few people know what you sleep on, even if you have a bumping social life. "It's a challenge for us. Mattresses aren't about external signaling, it's different than eyeglasses or sheets," says Philip Krim, Casper's co-founder and CEO. "We deliver a mattress on a cargo bike in New York. That just doesn't make sense. But you're spending your hard-earned money, it should be delightful."
The rash of sock-subscription companies and razor blade clubs — and now Casper and its ever-growing field of competitors — won't just prevent headaches, their shiny sales pitches suggest. They will "surprise and delight" you. Call it making the mundane fun — fundane. This is the philosophy espoused by the teachings of life guru of the moment Marie Kondo in her best-selling The Life-Changing Magic of Tidying-Up: Whittle your home down to only the items that spark joy; throw out the rest.
It's no longer enough for an object to be functional; it has to make you giggle, or at least smirk — at which point, these brands and their investors hope, you'll tweet about the experience. Or Vine it. Or post your new purchase to Instagram — all of which gives an odd intimacy to things that used to be chores. Can businesses built around the idea of intimacy do what it takes to break into the mainstream and still be your friends?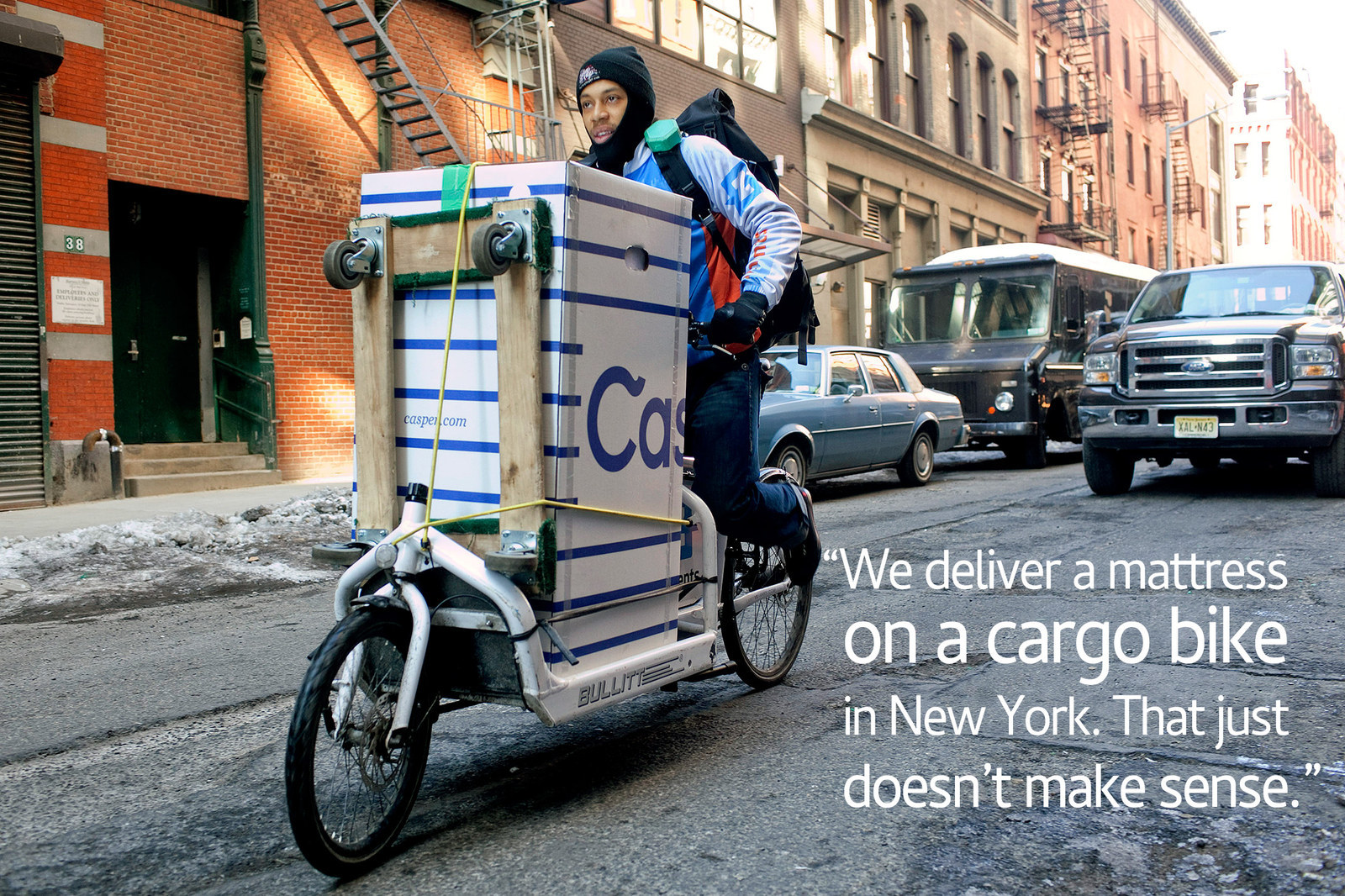 Casper is one of at least six fledgling bed-in-a-box brands seeking to disrupt Big Sleep; there are Keetsa, Leesa, Saatva, Tuft & Needle, and Yogabed. (Casper and Yogabed seem to have missed the memo about using a double vowel in the company name.) Their websites are cool and sleek, with white backgrounds, pictures of a happy, diverse group of twentysomethings (often lounging on mattresses), and the promise that they alone are reimagining the slumber experience.
Four of the mattress startups have nearly identical business plans: mail-order, single-model mattresses at a budget price. The goal is simple, brainless consumption you can feel good about. (It's easy! It's fun!) You can't lose sleep mulling over whether you'd prefer tightly coiled springs, layers of foam, or gel-infused massaging beads because there's only one kind of bed for sale. In the case of Casper: The actual mattress is a 7-inch layer of base foam, topped with a 1.5-inch layer of memory foam and a 1.5-inch layer of cooling latex foam, at $500 for a twin and up to $950 for a California king.
"It's a threatening message," says David Perry, an editor at Furniture Today who has covered the mattress industry for 20 years. "They're saying, 'It's so confusing to buy a mattress that we're going to take all of the confusion' ... It's good old David versus Goliath. These guys are the David of mattresses."
Scott Galloway, a clinical professor of marketing at NYU's Stern School of Business, calls this one-product plan "sniper retail." "They're taking one product and going after it with a laser focus," he says. "And they're much more skilled. Traditional companies might be going after the same thing, but they're using swords. The startups are trying to achieve the scale and efficiency of a value-based retailer, like Wal-Mart, but at the same time give you the individual attention you'd get from a specialty retailer, like Duxiana. So you feel like you're getting Williams-Sonoma at a Costco price. That's a powerful combination."
The big companies think that the idea of mattresses being one-size-fits-all is preposterous — and not going to catch on; one told Perry that it was the same as a winemaker saying he had one bottle everyone would adore. "While everyone desires simplicity, we have also learned through experience over time that comfort is unique and subjective to all individuals," Serta emailed in a statement. "It's important to offer a variety of mattress constructions and comfort levels, from firm to plush, so that consumers can find a mattress that is going to work for them." Galloway predicts that in five years, only one or two of the mattress startups will be successful — but it's early still.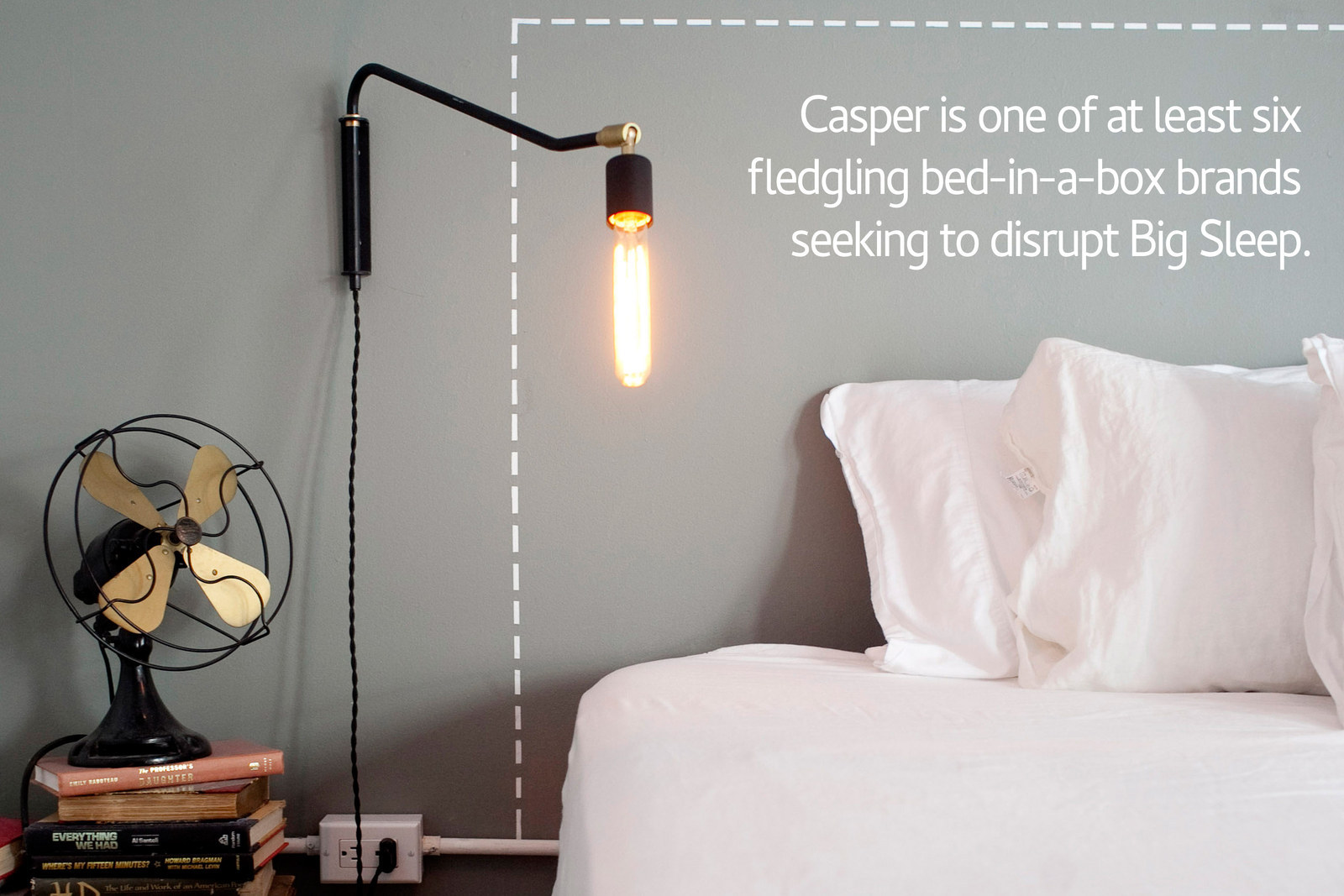 A decade ago, my then-roommate and I bought our first mattresses in New York at the Sleepy's that's down the street from where the Casper headquarters is now. We lay fully clothed on a bunch of beds in front of a guy in a suit before bargaining for two mattresses at $300 each. I felt pretty good about the whole thing — until they were delivered. We lived in a six-floor walk-up, and the delivery guys stopped at the third floor and demanded $20 more per mattress for each successive floor. My roommate called me at work, panicked; neither of us had $60 to blow. "Can you just stand there with the beds until I come home from work?" I said. It was around noon. We ended up paying.
I haven't been mattress shopping since.
I am not alone. According to Perry, most people go mattress shopping only once every eight to ten years. This makes the mattress industry relatively small compared with other consumer goods; it's valued at around $14 billion. "People are spending more on coffee," he says. "Only 10% of the population is buying a bed each year."
Americans haven't always slept on mattresses that cost as much as a month's rent. Mattresses were fairly standard until the 1950s, when Simmons introduced bigger, more plush versions — it was the first company to sell a queen and king size, in coil-spring versions. Materials and types of beds ballooned from there, from extra-firm to pillow-top — and never forget the 1970s love affair with the waterbed. In 1991 Tempur-Pedic introduced a bed made from memory foam, the technology that makes most of the bed-in-a-box startups possible.
The mattress world is dominated by huge chains. The margins on beds are high: Depending on whom you speak to, the markup on mattresses is anywhere from four to twelve times what it costs to make them (unsurprisingly, disruptors like Casper frequently point to the higher figure). According to Bloomberg Business, last year the three largest public companies in the mattress business — Tempur-Sealy, Select Comfort, and Mattress Firm — collectively saw sales rise by 21% to $5.4 billion. Profit at the three companies also went up by 11% to $276 million. Sleepy's is a private company that doesn't disclose sales, but it boasts over 1,000 retail stores nationwide. "The irony of being down the street from Sleepy's wasn't lost on us," Krim says.
Right now, the number of beds the startups are selling is small in comparison to the big guys. Americans buy 35 million beds a year. Perry says that if one of the mattress startups siphons off even a minimal amount of mattress shoppers, it could be a very good business: "If they became a $100 million company, that would be a huge success."
Casper says it made $20 million in revenue between April 2014 and February of this year, including an impressive $1 million in its first 28 days. But if you break that down, assuming it comes solely from the sales of Caspers and that each bed was bought for an average of $800, that's only about 25,000 beds. (The company has yet to release official figures for how many beds it's sold.)
I decided to return to the Sleepy's near the Casper headquarters I'd last been in a decade ago. It was pretty much the same as I'd left it. There was a sales guy in the corner eating a late lunch with a paper towel tucked into his collar like a bib, and another named Louis who told me they were having a 50%-off sale. "The discount bonanza is the biggest of the year," he said.
Much like the used car dealerships they're often compared to, mattress stores are always having a sale. Both Louis and I knew this. We moved on. I tried out a few beds, going, as directed by Louis, from firm to soft ones. Confusion is baked into the business model for many mattress retailers: The bed makers rename identical products for each store to make it impossible to comparison shop. When you can't find the same model at Sleepy's that you can at Macy's, how can you possibly figure out which is the better deal? Most likely the answer is you can't — and you just buy the last one you flop on after you're completely exhausted.
I asked about foam beds, and Louis led me to a Tempur-Pedic but told me they never go on sale. "They don't have to," he said. I liked the bed, so he said, "Maybe I can get them to throw in free pillows." After a brief call to someone at Tempur-Pedic named Hector, the price was down $600, from $3,100 to $2,500. Sleepy's salespeople work on commission — which is typical in the furniture industry. I said I'd think about it and asked for Louis' business card. "We don't have business cards," he said, acknowledging that he was never going to see me again. "No one ever comes back." He called Tempur-Pedic again. "Hector, she's not going to take the deal," he said. Sleepy's declined to comment for this story, saying it doesn't talk about competitors.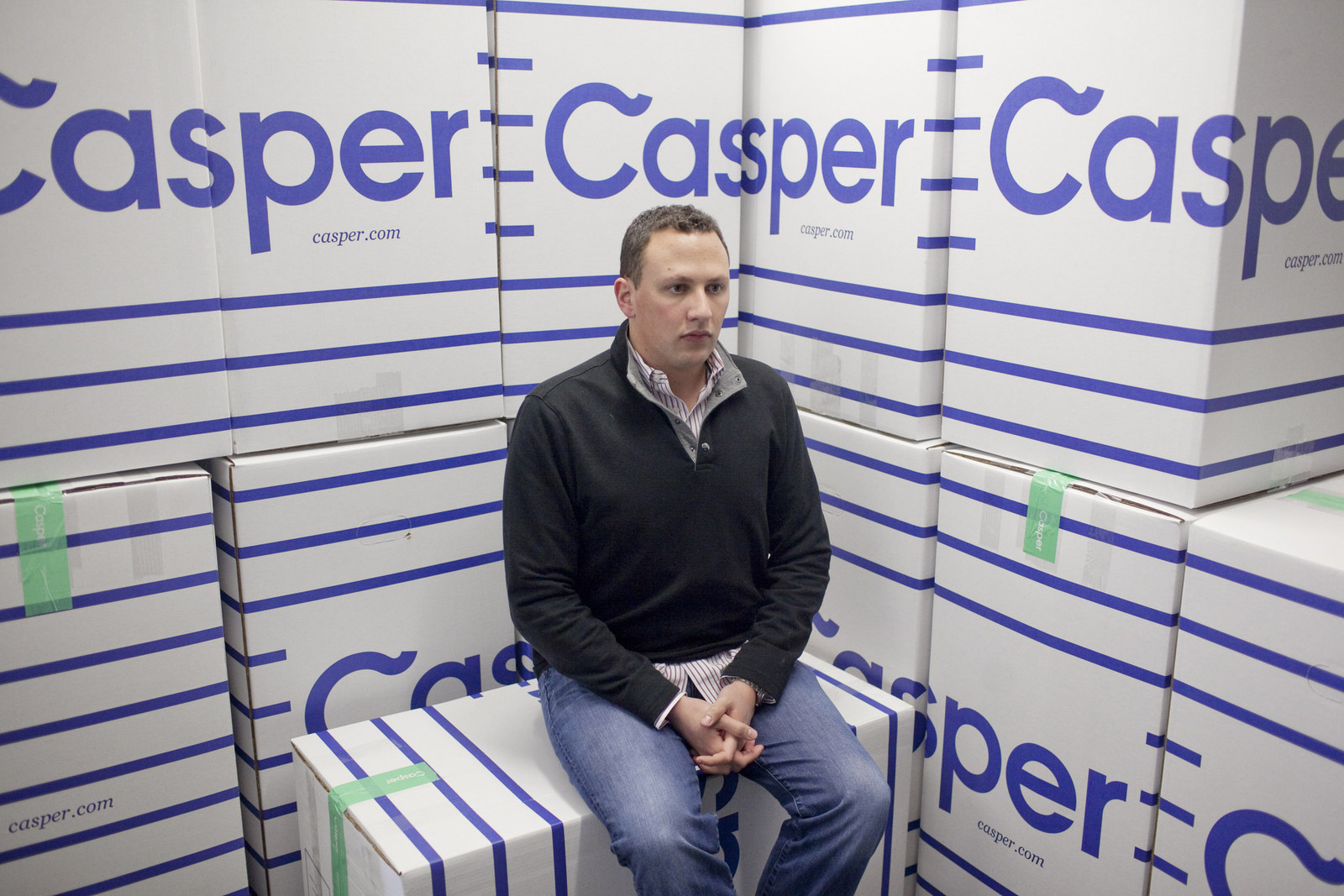 The Casper headquarters feels more like an apartment on the first night after you move in than an office space. Pretty much the only items there are Macs, a large leather couch, a coffee table — and lots of naked beds piled in the corners. Newsweek and the Harvard Business Review sit on the coffee table. Appropriately, the kitchen is stocked with breakfast food, including seven flavors of Pop-Tarts. Lindsay Kaplan, Casper's vice president of communications, even has a dog named Bagel. "It's a coincidence," she says. (Another woman on staff has a dog named Donut, and a third has one named Blitz, which Kaplan has been trying to persuade the owner to change to Blintz to fit the breakfast theme.) Everyone on the 45-person staff has presumably rolled in from a night's sleep on a Casper — a free mattress is an employee perk.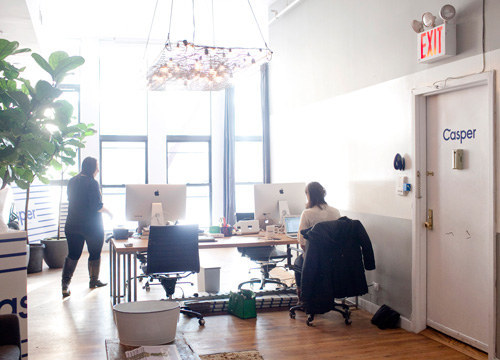 During a morning staff meeting before Valentine's Day, Kaplan describes an upcoming promotion centered around the holiday. "We want to make it clear that Casper is a bed that loves you back," she says. "We're asking people to tweet us their dream Valentine's Day, and we'll try to help. So we'll be sending stuff like movie tickets or Seamless gift certificates. Some people might even get a poem from their Casper."
She riffs: "'Roses are red / Casper is gray / Come back to bed / I want you to stay.' I just made that up."
Kaplan goes on with more ways it's building the brand. "Everyone knows Neil is going to be one of Elle.com's most eligible bachelors in America," she says. Neil Parikh, a co-founder and the COO, who's sitting nearby in a yellow sweater, grins. (The pickup line he chose to share in the piece: "Have you tried a Casper mattress for a hundred nights yet?")
"And we're continuing with 'Casper in the wild,'" she says of an Instagram campaign where the Casper is shown as a mattress about town. "We're going to have the mattress holding a coffee that says Casper with a 'K.'" She pauses before explaining, "You know, because Starbucks always spells your name wrong."
All of this — the social media campaigns, the poetry, the pimping of the co-founders — is how Casper is positioning itself as not an old-school mattress brand. It's a point all of the mattress startups are trying to make, but Casper might be the most committed to it. Over Labor Day weekend, the company staged a promotion to deliver via Uber in New York City. The brand describes the bed's look as "MacBook meets mattress."
That formula seems to be working, at least so far. For the first month, the company struggled to meet demand and customers had to wait weeks for their mattresses. Casper sent them air beds from Amazon so they'd have something to sleep on in the meantime.
Though most sales are made online, the brand has two showrooms designed to make customers feel like they're at a house party rather than a retail store. The newest is in a midcentury modern home in Los Angeles, with floor-to-ceiling glass windows overlooking the Hollywood Hills. The New York showroom, a one-bedroom apartment on Bond Street, looks like a moneyed bachelor pad, with a minimalist leather chair, stacks of books, including five copies of Dune, and a pinball machine in the corner.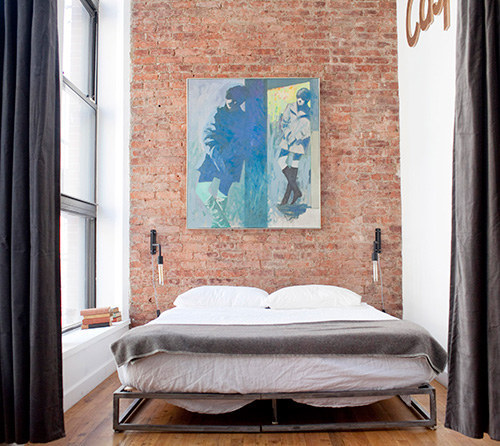 The showroom has two Caspers. One is a queen that sits in a windowed alcove. The other is a king, set up in the bedroom, dressed up in chambray sheets. You can try it, along with a mimosa and croissants, for however long you feel like, and no one will stand over you asking how it feels when you do. A chandelier above is made of old mattress box springs. "Keeping this really casual is important to us," says Monica Brouwer, Casper's director of experiential marketing. "We want to make it a local hub versus just being about selling the mattress." She's thinking of starting a "nightcap series" featuring different mixologists.
About 50 people stopped by on a recent Saturday; after one couple decided to buy a mattress, everyone celebrated with more bubbly. Later the couple invited the Casper team to a party at their place. All of this fundane can be exhausting. "It's tough cycling through clean sheets every day," says Luke Sherwin, a co-founder and the creative director. "Plus there's minutiae like dealing with the croissant flakes."
At times, when talking to Casper's founders or investors, it can feel like the company was built on a whim. When testing the mattress, co-founder and Chief of Product Jeff Chapin said they'd give prototypes to friends to sleep on (their pals made them keep their old beds in storage just in case). Chapin and his girlfriend had a test model made of different types of foam on either side; they'd periodically switch sides so they could each rate both. At one point they slept with weights on their chest so they could feel what it'd be like to be 250 pounds on the bed. "I think it was a failed experiment," he says, "but it was fun to do."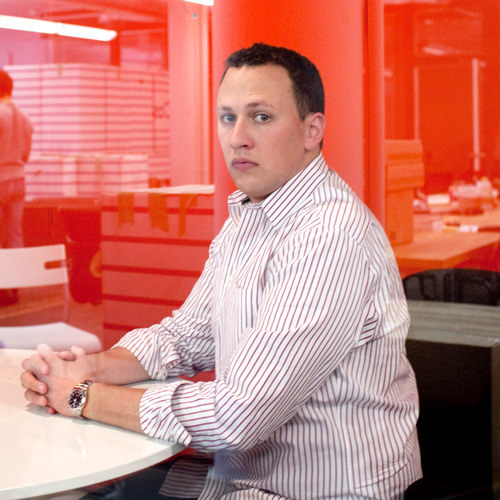 And it doesn't come across that anyone there has made it a point to study up on what the mattress giants have done well. More than once during the day I spent with Krim, the CEO, he distances himself from them and the entire industry. "I wasn't particularly interested in mattresses," he says, when telling me how he began selling beds. He'd started a website out of his fraternity house at the University of Texas at Austin to help companies with their e-commerce and needed to sell items he didn't have to store himself, which led him to mattresses (and window blinds and poker software). All five Casper co-founders met years later while working with different businesses at a co-working space. Krim says they became obsessed with sleep and how to make it better when they noticed no one around them was taking it seriously. "We were all in startup mode and trying to be productive," he says. "We'd pass out in beanbag chairs."
When I ask Krim if he's tried to reach out to the CEOs of the big mattress companies like Simmons or Tempur-Sealy, he says no. I press and ask why not, and he seems mildly irritated that I'm lumping him in with them. "Yeah, I don't really care," he says without looking up from his MacBook. "It's so far from what we're focusing on." He may think it's ironic the Sleepy's is down the block from the Casper office, but he's never been inside it.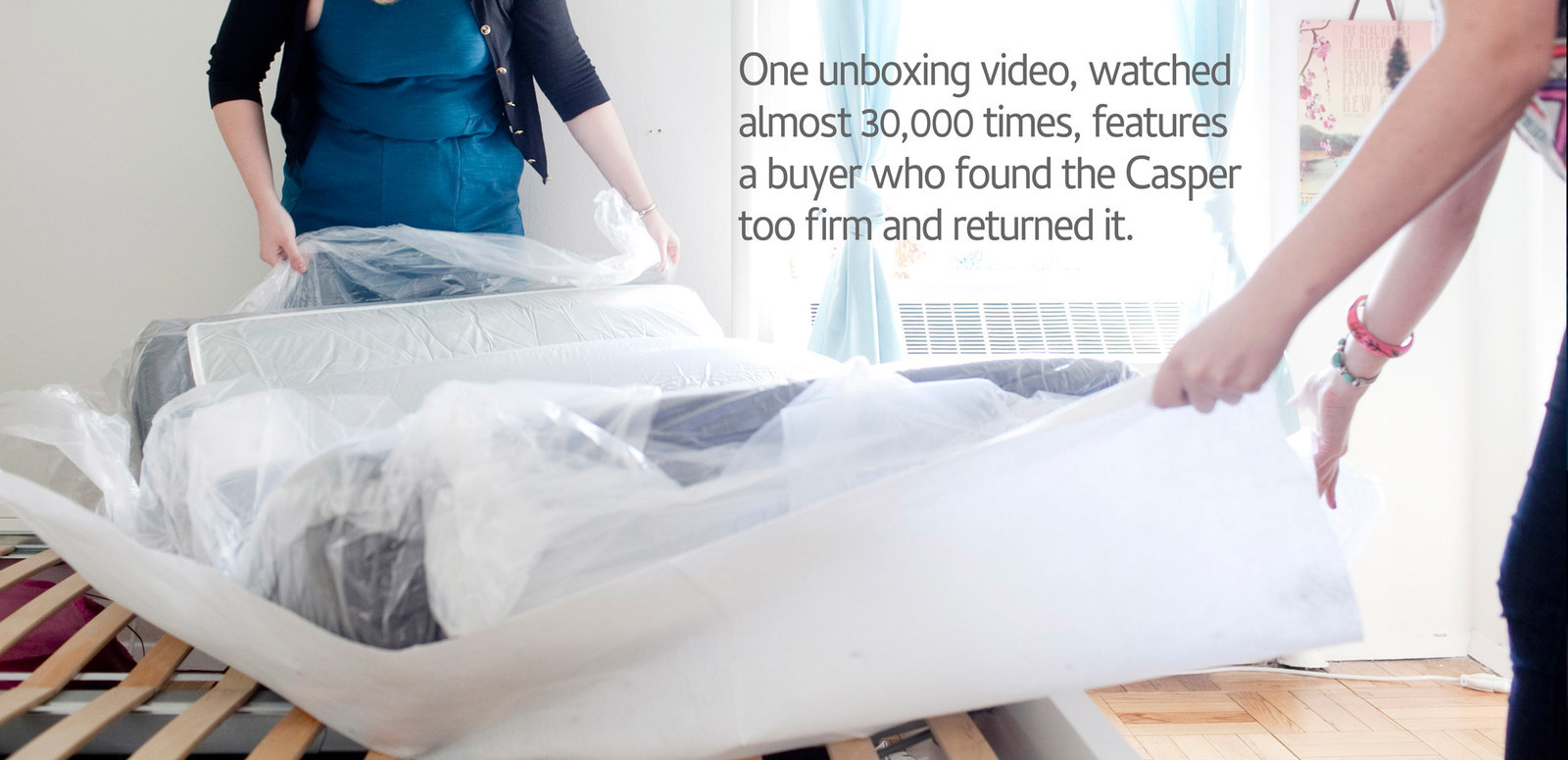 Back in Gentsch's apartment, her Casper is all set up. "It's so squishy," she says, clarifying that this is a good thing. "I wanted squishy."
"I want to jump on it," Mayeur says. Abella the cat goes to check out the empty box.
Casper says its eventual goal is to become a sleep company with more products than just the mattress, but details about this — like what it might sell next — are vague. The company is also starting a publication all about sleep (they've already hired an editor), but won't say much beyond that they're "exploring original writing and reporting." For now, the bed is everything, and the company's long-term strategy relies on customers recommending a Casper to their friends and followers — even if they don't like the bed itself.

One unboxing video, watched almost 30,000 times, features a buyer who found the Casper too firm and returned it — full refunds are available within 100 days for Casper, 101 for Yogabed — but urged her followers to buy one anyway. "It was fun to try it out," she says. "We were actually really sad that it didn't work out and we had to get rid of it. I felt really bad about that."
The delivery done, Espinal leaves, still smiling. Mayeur, however, isn't quite finished. She looks back at the bed, knowing there's one more task. "I guess I have to put sheets on it now," she says.
For that, naturally, there's more fundane. A new company named Parachute that's selling sheets online — Egyptian cotton, manufactured in Tuscany by artisans — is pitching itself as the "Warby Parker of bedding." Its mission statement? "We believe buying bedding should be as enjoyable as your best night of sleep."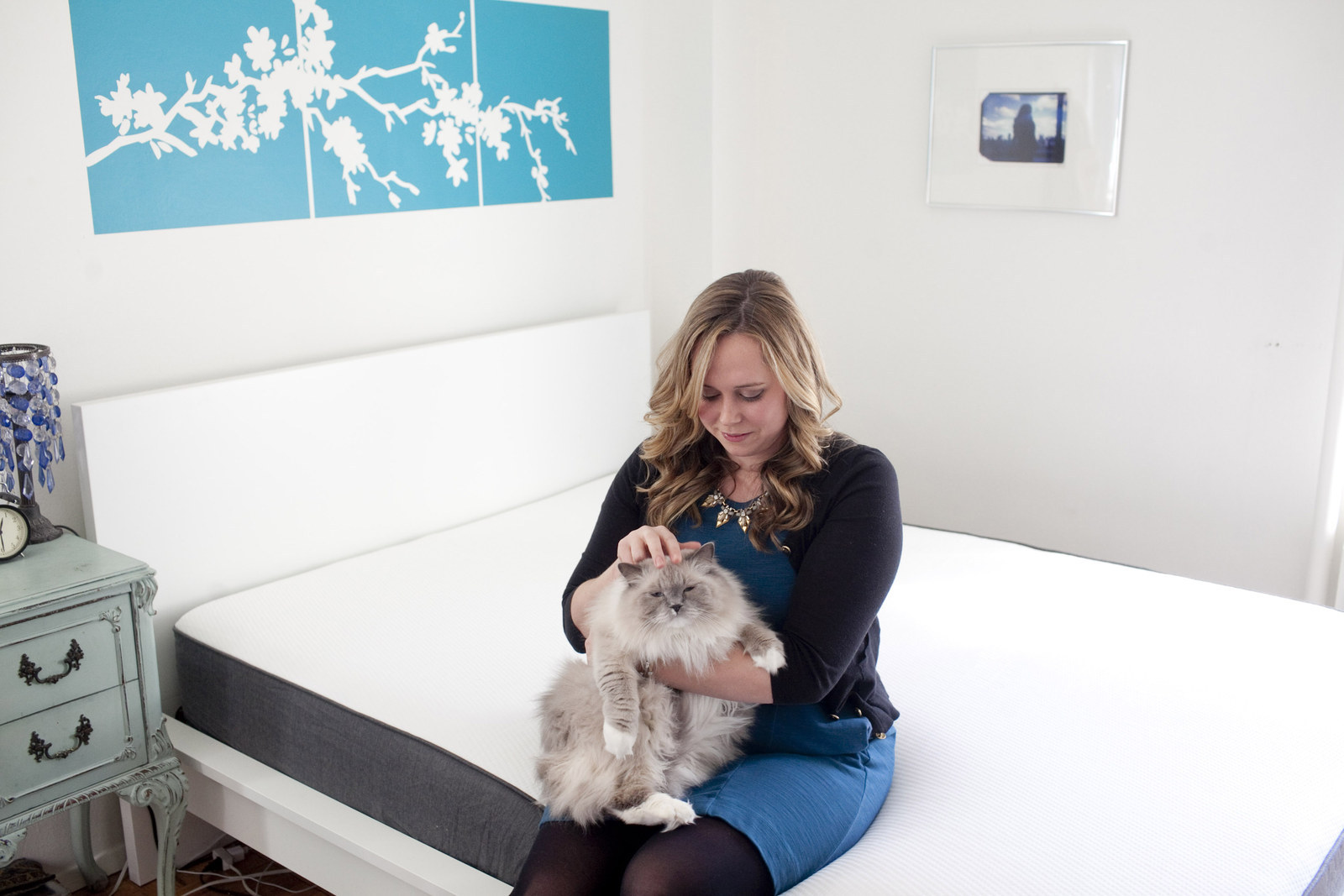 Want to read more stories like this? Sign up for our Sunday features newsletter, and we'll send you a curated list of great things to read every week!