Hello; Just stole your soul!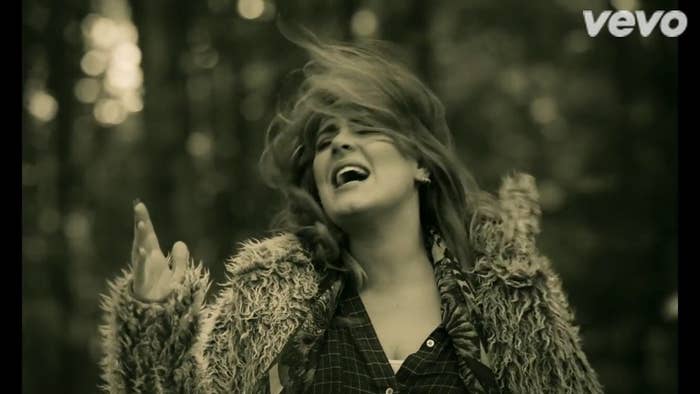 It all began yesterday, a 30 second teaser that let us all salivating at the mouth for more. A half minute of all sorts of questions, because Adele has been quiet since 2012's "Skyfall" with a single and since 2011 with an album.
We all knew that "25" was happening, but we didn't know if she could maintain her critical success and pull a hat trick. Let's face it, there is a bit of a curse for singers of this genre, (Alanis Morissette, Sarah McLachlan, Paula Cole), especially when they get "Happy" - Adele was happy,(new baby, new man, tons of money, awards et al), and this scared us immensely.
Even though that teaser showed tremendous promise, it in no way prepared us for the majesty that is Adele. Let's just start with the music itself; a masterful production that takes the melancholy of longing and heart ache and makes it tangible in verse.
What makes it refreshing is 19 and 21 focused on other people breaking her heart, and yes it resonated deeply, but this song sets her up, (and hopefully the album), as the heart breaker. The lyrics are art with lines like "They say that time's supposed to heal, yeah, but I ain't done much healing. Hello, can you hear me?" and her vocal range and control in this song resonates with every fiber of your being. What she does with this piece of music takes the audience into pain from both sides of a break up. She's singing to you, and about you, as a person who broke up something before its time or as someone who's been left behind. This is clearly sorcery!
The video itself is a window into the Doldrums of Disappear. From jump the story telling is so compelling and represents the power in the music. First of all can we just stop for a moment and admire how beautiful this young woman is? Her styling, hair and makeup are flawless and she manages to remain innocent, enchanting and mysterious in every frame. She is complimented with a sexy male lead that you just bleed for, and the locations also contribute to the story. With movie quality cinematography, direction and scripting, if the song didn't make you cry, the video left you utterly destroyed.
If you live under a rock and have not seen the video yet visit http://imsr.me/Hello-Adele1 or check out Youtube for the official video. The album is set to drop on November 20th, 2015 and if this hit is any indication, Adele is sitting on pure gold and a ton of Grammys.
10 Times Adele broke your soul in the video