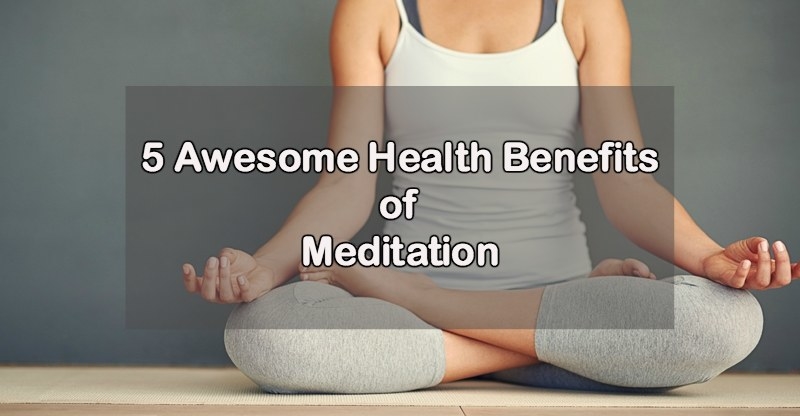 In the busy lives that the people have today, it is necessary that you realize the importance of taking a back seat and relax. A lot of our readers ask us for hacks and tricks to stay at their best each day and our answer every time is to practice meditations. There is a lot that you can do by practicing this simple technique of relaxation every day. To list some major benefits out of many, here are the 5 Awesome Health Benefits of Meditation that you can gain by embracing it.
1. Better Sleep
Sleeping is underrated. There was a time when everyone used to emphasize upon the 8-hour sleeping schedule, but with so much of workload and media that people consume for 24 hours, they find it tough to fall asleep. Meditation helps learn you to cope up with the useless thoughts and how to keep them away from your mind. Meditating will keep you relaxed so that you can wake up refreshed each day.
2. Go Stress-Free
With meditation, you get the time to take your attention away from all the worries and bring calmness to your body and mind. Stress is known to be a major cause of various mental and physical ailments which you can avoid by meditating each day. Stress can mess up the regular functioning of the body and it is even one of the major causes of erectile dysfunction in men. Meditating does not keep the stress away only while you are doing it. If meditation is done regularly, you can spend your whole day without any stress or anxiety issues.
3. Focus More
Are you one of those people who find it difficult to concentrate on one thing at a time? Meditating is known to build stronger concentration among individuals. The clarity of thoughts that meditation can give you will help you focus better on your work, studies or even sports. Meditation is particularly known to aid sportsmen to perform better as it helps to take the performance pressure off and channelize the focus in the right direction.
4. Replace Your Bad Habits
People rely on smoking and other injurious addictions to beat their stress. Meditation is the perfect replacement for such addictions. Practicing meditation as a pressure reliever works way much better than any other toxic escapes that the market offers. If you are into such a habit, then you can start meditating and use it as a substitute for your addictions.
5. Improvement in Memory
If you are a student and you happen to have a lot of trouble in retaining what you study, you should start meditating today. You do not have to give hours to meditation, but 20 minutes per day can do wonders for you. There is so much that goes on in a student's life that the brain is overloaded with information, music, media and what not. Adding meditation to your lifestyle will give you the clarity of thoughts and keep your mind focused on what you need to. You will find significant improvement in the retention of the information that you need and will help you score better as a student.
So, these are the 5 Awesome Health Benefits of Meditation. Now that we have made our point clear, why don't you start putting it into practice today? Stay connected to us on BuzzFeed for more content on lifestyle and health.
This post was created by a member of BuzzFeed Community, where anyone can post awesome lists and creations.
Learn more
or
post your buzz!