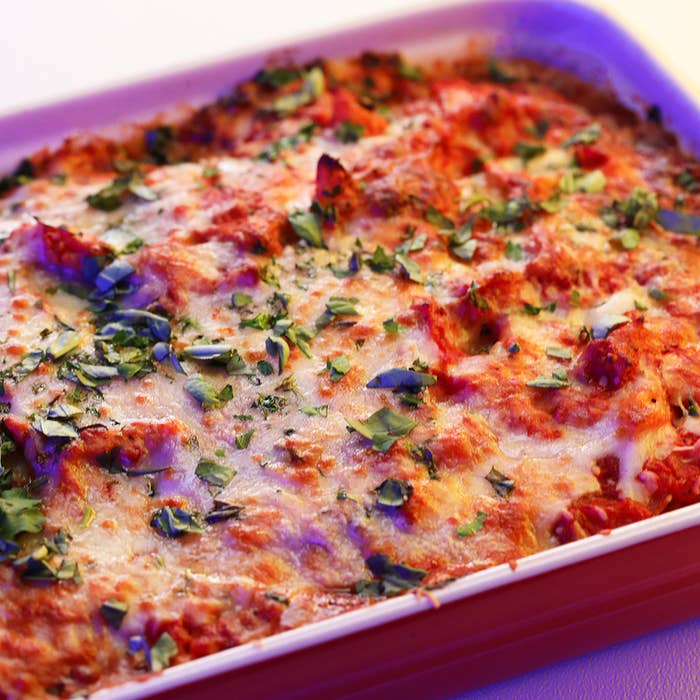 Baked Pasta As Made By Dan Deacon
Servings 8-10
INGREDIENTS:
16 ounces penne rigate
16 ounces Italian sausage, cooked and crumbled
4 ounces cream cheese, cut into small cubes and softened 16 ounces ricotta cheese
41⁄2 cups shredded mozzarella cheese
1 egg, whisked
1 teaspoon red pepper flakes
1⁄2 cup chopped herbs
1⁄2 cup shredded parmesan
Marinara sauce
1 tablespoon olive oil
1 yellow onion, chopped
3 cloves garlic, minced
2 (28-oz) cans crushed tomatoes 11⁄2 tablespoons salt
1 teaspoon pepper
2 sprigs basil
PREPARATION:
1. Marinara sauce: In a large saucepan, heat the olive oil. Add onion and garlic and saute for 5 minutes, until translucent. Stir in tomatoes, salt, pepper, and basil. Simmer for 15 minutes, stirring occasionally. Remove basil sprigs and set sauce aside.

2. In a large pot of heavily salted water, boil penne for 2 minutes less than the package instructions.

3. Preheat oven to 375°F.

4. In a large bowl, mix together the cream cheese, ricotta, 3 cups of mozzarella, whisked egg, red pepper flakes, and half of the chopped herbs. Once mixture is well combined, add in the sausage, pasta, and 2 cups of the marinara sauce. Stir together, then stir in another cup of marinara.

5. Coat a 9x13-inch baking dish with cooking spray and pour in pasta. Spread the rest of the marinara sauce on top of the pasta. Sprinkle with some more of the chopped herbs (being sure to leave about a tablespoon out), 11⁄2 cups mozzarella, and the Parmesan.

6. Bake pasta dish for 30 minutes, until bubbling and browned. Remove from oven, let cool for a few minutes, then top with the rest of the chopped herbs. Enjoy!