This Muslim Teacher Says He Had To Pretend To Be White On A Job Application To Get An Interview
Langdon Academy, the school in question, told BuzzFeed News it recruits "more staff of Islamic faith than any other religious denomination".
This is Hamid Mahmood, a newly qualified religious studies teacher from London.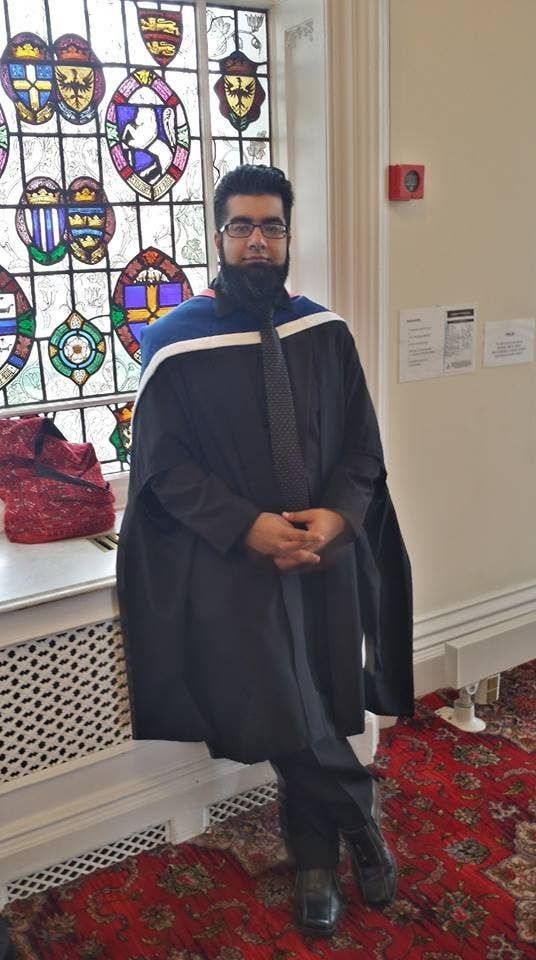 Mahmood, from Walthamstow in northeast London, has a first-class master's degree in religious studies and got a distinction in his postgraduate teaching qualification.
For seven years he also studied and taught religious education at Islamic seminaries, known as madrassas.
He claims on his blog that despite these credentials, he has been rejected from around 30 religious studies teaching posts in the past 16 months.
Additionally, he says he has never been on the shortlist for any advertised position.
Mahmood wanted to find out why he kept getting rejected – and whether it was because of his race or religion.
"Last year, in May, I sent off an application and cover letter to Langdon Academy via email and through the official application system," Mahmood told BuzzFeed News.
The school, which is in Newham, London, initially "seemed very positive" about his chances, he said, "but after that, I didn't receive any sort of response. I rang them up to ask them about the progress of the application, and the school said it would get back to me. Two weeks later, I was told I didn't get shortlisted."
Mahmood claims he then found the position being advertised again on the school's website.
"I wondered if it was something about myself that was the reason I didn't get shortlisted, he said. "So I did something that would test my assumption that I was rejected because of racism or Islamophobia."
He decided to send the same application to the school using the name "Harry Mason" and saying his ethnicity was "White British" rather than "British Pakistani".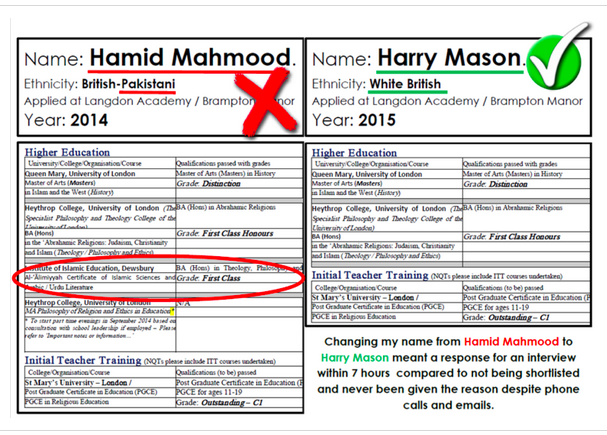 He also removed references to having trained at the Institute of Islamic Education in Dewsbur and mentions of work experience and training at other Muslim institutions.
Hours later, he claims, he received an email from the school offering his alias a job interview.

As a result, Mahmood believes that it was his background in Islamic theology that resulted in his first application being thrown out.
"I strongly believe my Islamic Seminary background has been most influential in my rejection," he told BuzzFeed News, "and I want to clearly state that if their head of RE is also a graduate of a traditional Islamic Seminary then I am prepared to publicly apologise for the assumptions and uproar.
"None of the schools have given any reason why I wasn't shortlisted, and the school shouldn't generalise [about applicants]. I want them to be specific about my application."
He added: "This isn't just me – there are lots of ethnic minorities who have found themselves in similar situations."
A spokesperson from Langdon Academy rejected Mahmood's claims and said it was an "equal opportunities employer".
The school said in a statement:
The academy does not comment on the details of confidential staffing matters. However, this allegation is refuted entirely. We have a proud record of equal opportunities recruitment and every appointment we make is compliant with employment law and safer recruitment practices.
The statement also pointed out that the academy "recruited more staff of Islamic faith than any other religious denomination, including both new appointments to our senior leadership team", and added that "the head of religious education at the school is an Asian Muslim".