A British family has accused a young offenders institution of "turning a blind eye" to health conditions they blame for him contracting tuberculosis.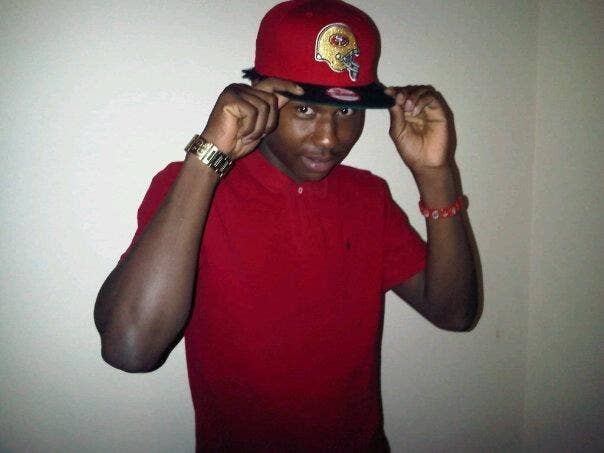 Demar Smikle, 20, from Northampton, is currently being treated at Birmingham Good Hope hospital for a non-contagious strand of tuberculosis and meningitis, both of which he allegedly contracted in Swinfen Hall young offenders institution in Staffordshire.
Smikle was admitted into the hospital on 27 August after he collapsed with swelling on his brain.
He has been an inmate since 2013, after being convicted on a blackmail charge.
Family and friends told BuzzFeed News they believe "negligence" in the prison over his health resulted in his deteriorating medical condition, and that he was admitted to the hospital "when it was too late".
Julie Burke, a family friend of Smikle and one of the lead coordinators for Demar Smickle's justice campaign, told BuzzFeed News that he had been experiencing health problems earlier this year, such as finding it difficult to breathe and relying on friends to help him walk while he was in the prison.
"At the beginning of August he collapsed and cut his face – he was having a seizure," she said. "And when he was found by the prison guards, he was just taken back to his cell."
According to Burke, he was "immobile" when he was admitted to the hospital, although he is said to have shown limited movement now.
Burke said also that his "brain has been damaged, [and] he has drains coming out of his head".
The family also say that despite his medical state, Smikle has been handcuffed to a police officer who guards the hospital room.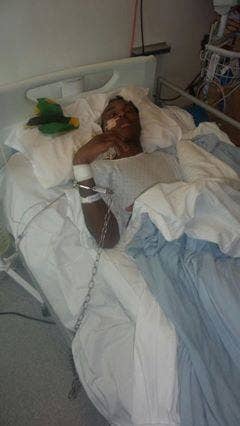 "He can barely move his elbows and can't move from the waist down. His movements are very slow," Burke said, adding that the prison authorities insisted he needed to be "shackled to the [hospital] bed".
Burke added: "His mum visits every day, and other relatives try to visit when they can – but now they've been told they have to arrange visits 24 hours in advance, and some of the guards have said that his mum can't bring food for him.
"The regulations have made it very difficult for the family to cope."
In May, Swinfen Hall confirmed there was an outbreak of tuberculosis and at least four people had been diagnosed with the disease.
Campaign group Joint Enterprise: Not Guilty by Association (Jengba) said it was in contact with family members of a number of inmates who had been diagnosed with TB following the outbreak.
"TB and other diseases are probably wider spread in prisons than we expect, especially if the prisons aren't managing the diseases properly and communication to inmates about the prisoners isn't there," Gloria Morrison, spokesperson for Jengba said.
Morrison also said the organisation was in contact with friends and families of inmates, and had heard that in some cases "signs of illness or being unwell were ignored, or they weren't treated unless it was too late".
"These prison policies often humiliate and demonise inmates, even those with diseases," she added.
Frances Crook, chief executive of the Howard League for Penal Reform, told BuzzFeed News that fears over catching TB were "common among inmates in many prisons".
"In a lot of prisons, there's no health monitoring when you go into prison," she said. "So there might be some people who come into prison with TB and similar communicable diseases, that and no one knows about until it's too late.
Cuts to prison services would cause situations such as Smikle's becoming more common, she added.
"Swinfen Hall, and other prisons and young offenders institutions, have seen major cutbacks, some up to 40%," she said.
"So doctors in prisons have more demand put on them, and in the prison itself, there are less staff expected to maintain the welfare of prisoners – it's unsustainable and it's putting the lives of prisoners at risk."
A petition set up by family and friends accuses Swinfen Hall of not providing adequate medical help to Smikle at the earliest instance.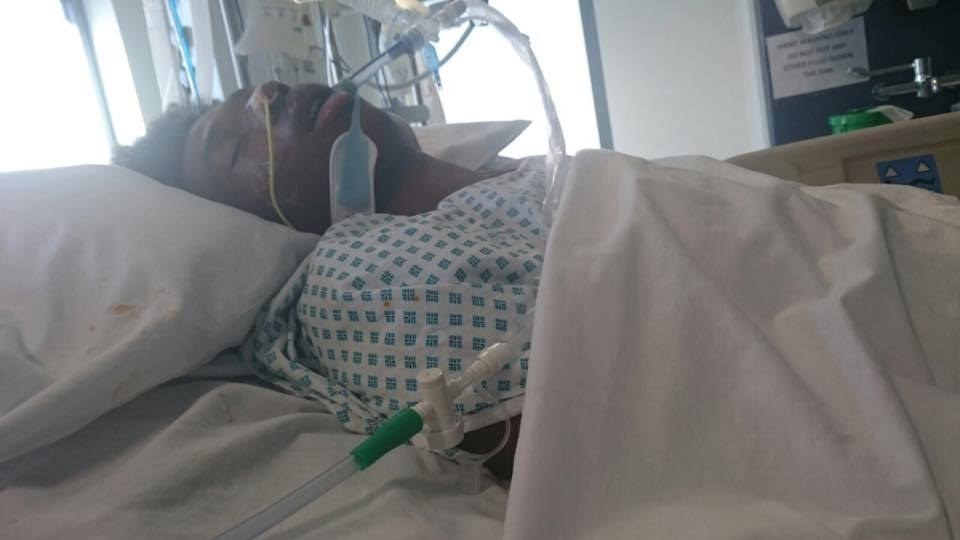 "Prompt medical attention should have been arranged on Demar's behalf since his freedom has been removed, meaning he Could not very well walk to the local A & E department himself. The prison [is] responsible for this," the petition says.
A spokesperson from Swinfen Hall told BuzzFeed News it did not comment on individual cases.
Earlier this month, it told the Lichfield Mercury that Smikle's condition was not linked to previous outbreaks of TB in the prison.
"A member of the prison was admitted to hospital in Birmingham last week and is being treated for meningitis – but has not been confirmed as having TB," the spokesman said.
"This individual is not infectious, does not pose a public health risk, and is not linked to previous TB cases in the prison.
"Precautionary measures are in place to check the health of any prisoners or staff that may have been in close contact with those individuals with TB while infectious."
BuzzFeed News contacted the Ministry of Justice, which is responsible for the UK's prisons system, for its response to the claims about staff conduct and health conditions at Swinfen Hall. But the department said it was unable to comment on individual cases and referred questions about health issues to Public Health England.
In a statement, Public Health England, an executive agency of the Department of Health, said it was continuing to work with the prison and the NHS to deal with TB diagnoses:
The first case was diagnosed in October 2014, received treatment and has responded well. Three further prisoners were diagnosed between March and May 2015. They are receiving treatment and are responding well. None of these cases are infectious and, as such, they pose no risk to the prison population or visitors.
A spokesperson for Her Majesty's Inspectorate of Prisons told BuzzFeed News that in an assessment last year, they found Swinfen Hall's health facilities to be "providing at the same level as community standard health centres."
"In our last inspection, we found that healthcare was up to good standards, equipment was up to date and regularly checked and staff were trained to a high standard," they said.
While the inspectorate said they did not comment on individual cases, the spokesperson told BuzzFeed News that it usually "conducted inspections in prisons once or twice every five years", and that health inspections would usually take place "if there was worrying intelligence, or information that we felt might put inmates in the prisons at risk".
"It is up to the prison managers to ensure these standards are met," they added. "We make sure that prisons have the knowledge and outlines of how to manage communicable diseases within the prison, and to [ensure] these to not enter the wider community."