One Of The UK's Few Domestic Violence Centres For Ethnic Minority Women Could Close
Zlaka Ahmed, the founder and chief executive of Apna Haq, says the closure could result in many women being stuck in violent and abusive households.
A specialist centre for black and minority ethnic (BME) women has said it may be forced to close, after its £145,000 contract was not renewed by a local council.
Apna Haq, which means "our rights" in Urdu, defines itself as an "advice centre led by and for black and minority ethnic women".
On its website, the organisation says it also provides support by offering information and assistance in regards to housing, police inquiries, and legal help as well as by helping with medical and educational needs.
Since opening in 1994 in Rotherham, the organisation has provided support for BME women and children who are survivors of domestic violence and abuse, as well as victims of racist verbal and physical violence.
In addition, the centre says it gives refuge to women fleeing violent and abusive households.
Apna Haq claims to have helped over 2,000 women from BME communities escape abusive environments and start new lives.
The chief executive of the organisation, Zlaka Ahmed, told BuzzFeed News that the majority of cases received at Apna Haq relate to south Asian women, while the rest come from other sections of Rotherham's BME communities.
"We started the organisation because there was a need for women from the south Asian community to talk to people who had been victims of domestic violence," Ahmed said.
"I had heard of many cases where women – especially who came from abroad or who had partners who came from abroad – were being hit or attacked by their husbands. Others faced difficult situations at home with families and their [cultural] communities.
"In some south Asian families it's difficult for women to get out of these situations – often they won't know who to talk to, or they won't have a place to go, or anyone to speak to if they do manage to get out. So this organisation is there to help them, and we have volunteers here who understand the situations these women are going through."
However, the centre now faces possible closure after Rotherham council informed them that their £145,000 contract would not be renewed.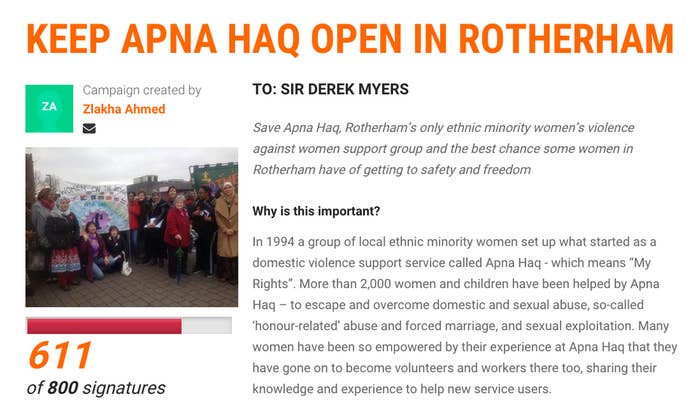 In a petition hosted on the campaigns website 38 Degrees, the campaigners say that the council plan to give abuse case work to "mainstream organisations".
"At the end of July this year Apna Haq received a devastating letter from Rotherham council informing them that their £145,000 contract for providing domestic violence support was to be ended and that a mainstream service with no specialism in the needs of minority ethnic women would do the work instead (for a slightly lower price)," the petition reads.
"We cannot allow Apna Haq to close. It is expert. It is life-saving. It is run by women who know the lives of the women who seek help there. We cannot try to put right horrific abuse of girls from across different communities in Rotherham and simultaneously create new barriers to women and children who need help."
Ahmed told BuzzFeed News that it was seeking donations from the public and volunteers to assist them, but acknowledged the funding cut would mean "we will spend more time raising money and much less time helping vulnerable people who need us."
She added: "There is a risk that if we close down, or we can't manage these cases, then the women would be forced to stay in these dangerous environments."
Ahmed said the centre deals with nearly 100 cases each year, mostly from women in unique situations which require cultural understanding in order to help effectively.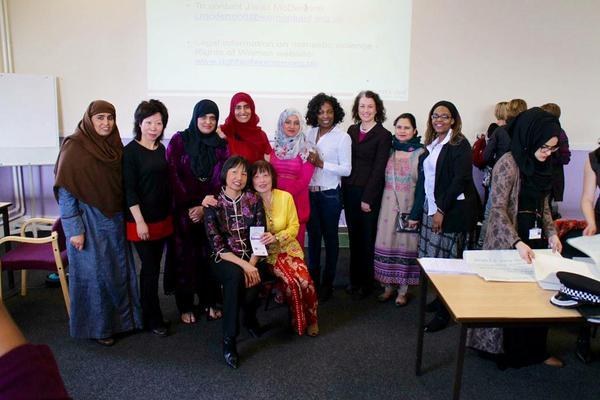 "We helped one woman who had been working to bring her husband over to the UK from Pakistan," Ahmed said. "When he arrived here, the day after, he beat her black and blue because he disapproved of her working.
"Her parents didn't want the marriage to break down, so she didn't have anywhere else to go. And she felt the larger organisations that deal with domestic violence wouldn't understand her position. Eventually she asked me to write to the Home Office to tell them about her situation and to help her get to safety."
Documents seen by BuzzFeed News also detail other cases where Apna Haq has intervened to help BME women in situations of domestic abuse.
In one case a woman, who has not been named, said she was being beaten by her husband and contemplating killing herself as she had not been receiving help from the police. She claims that Apna Haq helped her by providing emotional support, access to professional therapy, and refuge away from her husband.
Others also say that Apna Haq provided language translation services to help them in child custody cases in court, and one woman says that the organisation assisted her in getting a visa and a place of refuge after she left an abusive marriage.
According to the most recent statistics, around 1.4 million women experienced domestic violence in the past year.
The data, published by the Office of National Statistics earlier this year also found that around 70,000 men were also survivors of domestic abuse.
However, there is no recorded data showing the number of women from BME backgrounds who have been subjected to violent domestic abuse.
BuzzFeed News has contacted Rotherham council for comment on the decision not to renew Apna Haq's contract.
Rotherham council was unable to provide a statement by the time of publication.
However, a spokesperson confirmed that the contract would not be renewed, adding that "multiple services, including Apna Haq, had bid for the contract."