The lawyer representing the families of three British schoolgirls who fled to Syria last year to join ISIS has said a new government website aimed at tackling radicalisation in schools could end up targeting vulnerable children.
Tasnime Akunjee told BuzzFeed News on Tuesday that the guidelines on spotting behaviour that could link to extremism were far too vague.
"It is supposed to inform parents and teachers about the signs you need to look out for to spot whether someone is becoming radicalised," he said. "But its guidelines show that any type of character change – even those that are normal when you're a teenager – as a potential sign of extremism."
He added: "The government is still thinking about extremism in the same way as they were a year ago," and said it could "target people who are not at risk of becoming extremists".
The website, Educate Against Hate, was launched by education secretary Nicky Morgan on Tuesday at Bethnal Green Academy in east London. It aims to provide resources for parents and schools to help prevent radicalisation.
Akunjee represents the families of Bethnal Green Academy students Kadiza Sultana, Amira Abase, and Shamima Begum, who made headlines in February last year after leaving the UK for Syria.
Speaking about the teens' families, Akunjee said: "They're still traumatised, but they've adapted to the idea that their children are in a war zone, though it's still very hard from them. It's punctuated by the knowledge that [Syria] has become much more dangerous, and that they cannot do much about that."
He said the family had received a "limited" amount of support from the police and local authorities since their daughters went missing.
"Since Scotland Yard apologised to the families for what happened last year, they have provided some updates on their daughters," he said, "but the engagement has been limited since then. "
The Educate Against Hate website contains a list of potential signs of radicalisation that includes "excessive time spent online" and a "susceptibility to conspiracy theories and a feeling of persecution".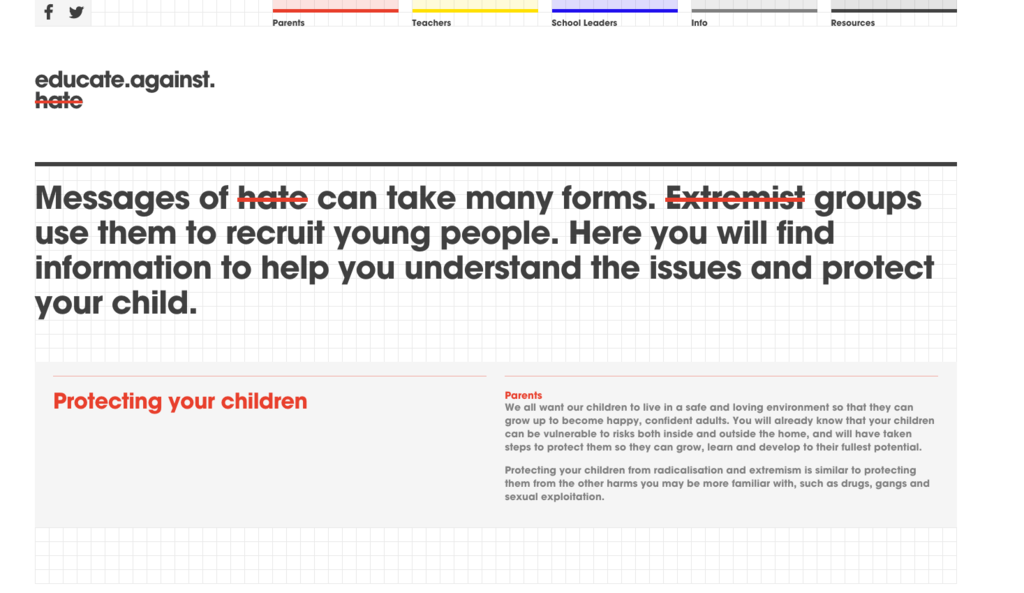 In a speech on Tuesday, Morgan said the website would help young people at risk of leaving the UK to join terrorist organisations.
"It's hard to comprehend that promising girls from this school took the decision to leave their homes and their country to join a brutal terrorist group," she said.
"But I do know this, they didn't take that decision alone – instead, they were systematically targeted and groomed."
Morgan said the government was ensuring schools had "the tools and arguments they need to challenge extremism and deconstruct the false claims" of groups like ISIS.
She also announced that the Department for Education would give more powers to the schools regulator, Ofsted, to shut down unregistered schools operating illegally.
"There will be no single knockout blow against those who seek to corrupt young people, but the action we are taking, to protect children inform parents and support teachers, will put us firmly on the front foot," she said.
The speech comes following statements made by the prime minister on Monday about a potential link between extremism and some Muslim mothers being unable to speak English adequately.