On Thursday, hundreds of people gathered at a rally in support of Lutfur Rahman, the disgraced former mayor of Tower Hamlets.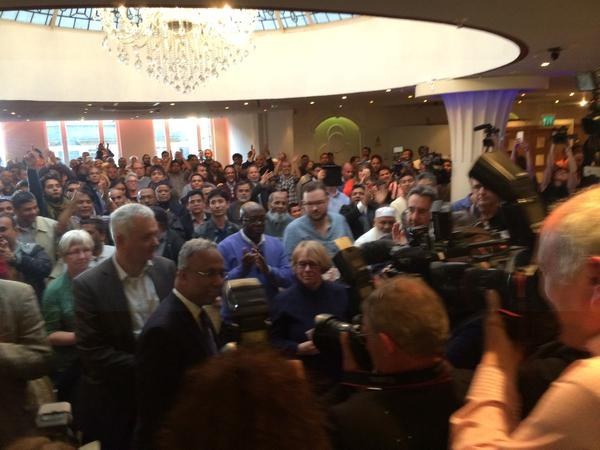 Rahman was the borough's first directly elected mayor, but was forced out after the high court found him guilty of corrupt practices.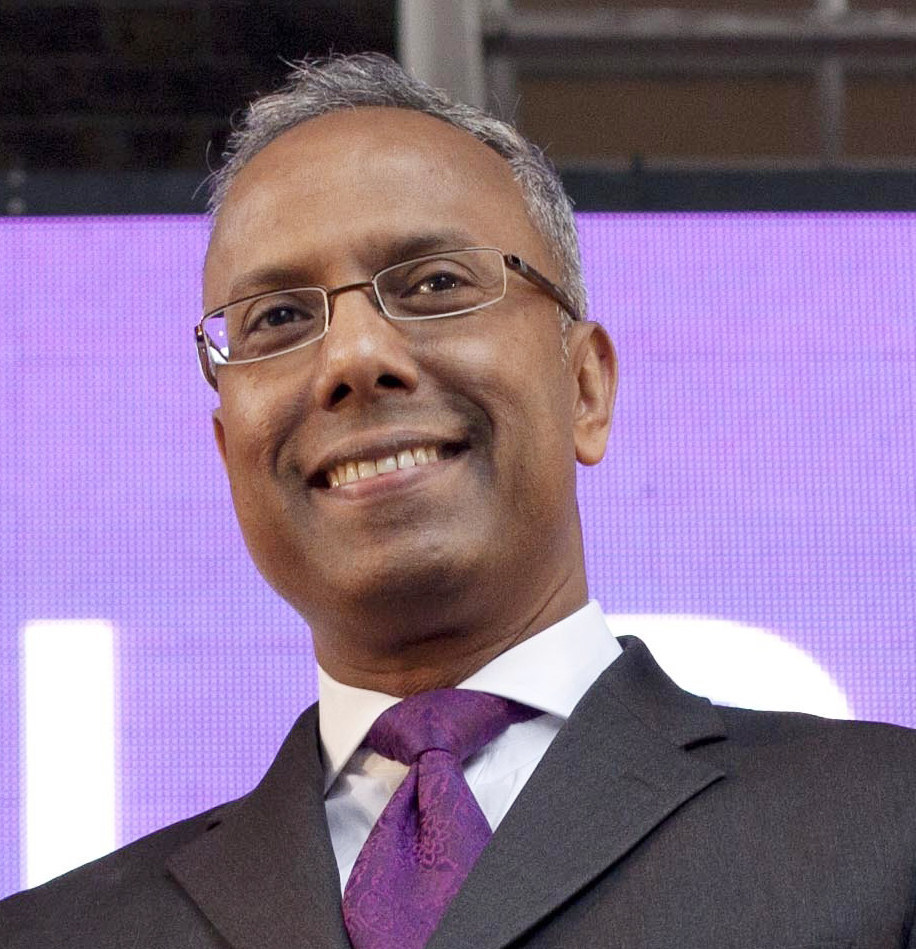 The meeting, which was attended by around 400 people, was called after the high court found Rahman had breached election law while campaigning for re-election last year.
Following the judgment, Rahman was ordered to pay court costs of £250,000, and banned from running in future elections in the borough.
The election commissioner, Richard Mawrey QC, who was serving as judge during the hearing, said Rahman had overseen numerous instances where his campaign team had broken the rules of the election, adding that Rahman had "driven a coach and horses through election law and didn't care".
While the majority of attendees were from the local Bangladeshi community in Tower Hamlets, the meeting was also attended by members of the National Union of Teachers (NUT), National Union of Students (NUS), the Stop the War Coalition (STWC) and the People's Assembly – as well as groups affiliated to the Labour party.
While many spoke of Rahman's achievements in the borough – citing education, affordable housing and implementing a higher minimum wage – others said that "establishment figures" in the government, judiciary and media, motivated by racism and Islamophobia, were behind the Mayor's downfall.
Rahman's supporters included Len McCluskey, the general secretary of the trade union UNITE, which is the Labour party's biggest donor.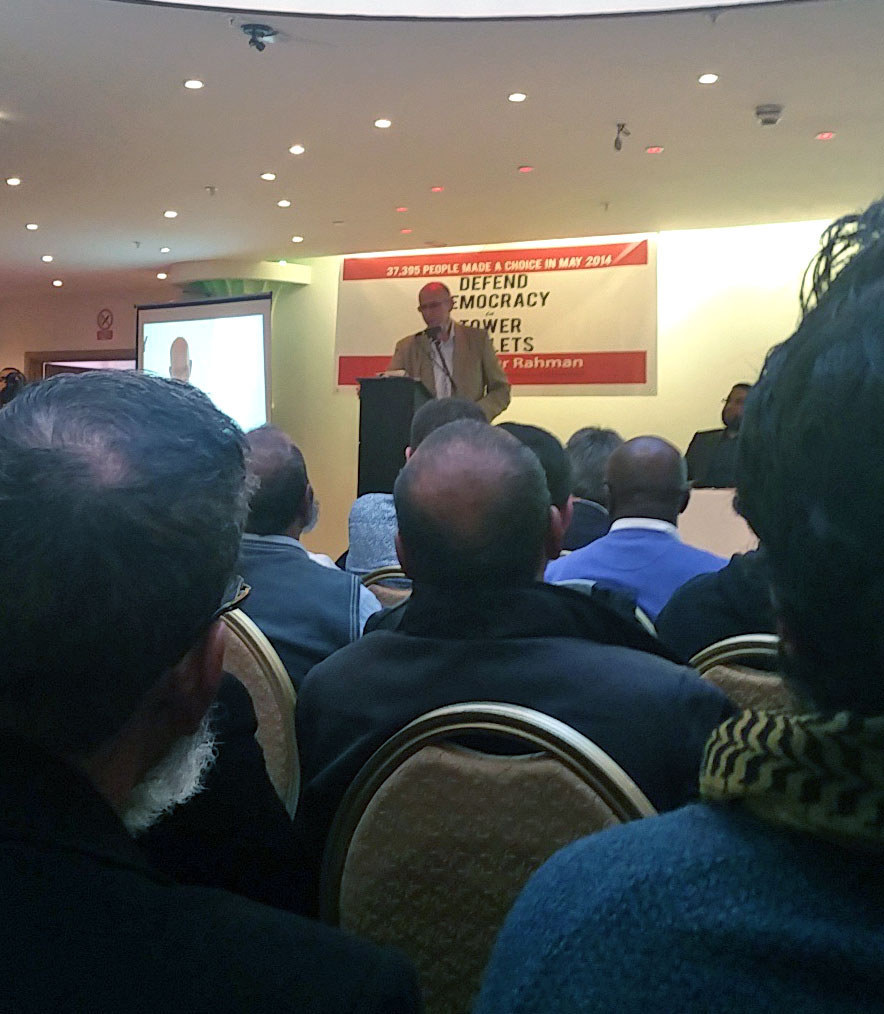 While McCluskey was not present at the meeting, a message of support was read out by Andrew Murray, UNITE's chief of staff.
Murray emphasised that he was not at the meeting "in a personal capacity, but representing UNITE", adding that he was also "bringing the greetings and support of our general secretary, Len McCluskey".
He said that the court judgment was an "attack on democracy in Tower Hamlets, and part of an establishment counterattack on the mobilisation of hundreds of thousands of British Muslims" in the borough.
"We are proud to have associated ourselves with Lutfur Rahman," he said. "We welcome the fact that this is one of the only local authorities in the country that will blacklist firms that will not do deals with trade unions."
He also urged Labour to support Rahman, adding: "On behalf of Unite, it's time the Labour party responded, reached out a hand and stopped allying itself with this undemocratic assault."
Christine Shawcroft, a member of Labour's ruling National Executive Committee (NEC) also vocally supported Rahman.
Shawcross, who sits on the Labour party's governing board but is also a trustee of Rahman's "legal defence fund", said: "Unfortunately, this is not the first time that the full weight of the British Establishment has come crashing down on Tower Hamlets.
"George Lansbury and Sylvia Pankhurst would all have found this very depressingly familiar. We will fight back and we will carry on fighting."
She added that she was "outraged" by the damning PriceWaterhouseCoopers audit report into Tower Hamlets council commissioned by the Department for Communities and Local Government (DCLG), referring to it as "meaningless drivel".
George Galloway, MP for Bradford West and leader of the Respect Party, also sent a message of support.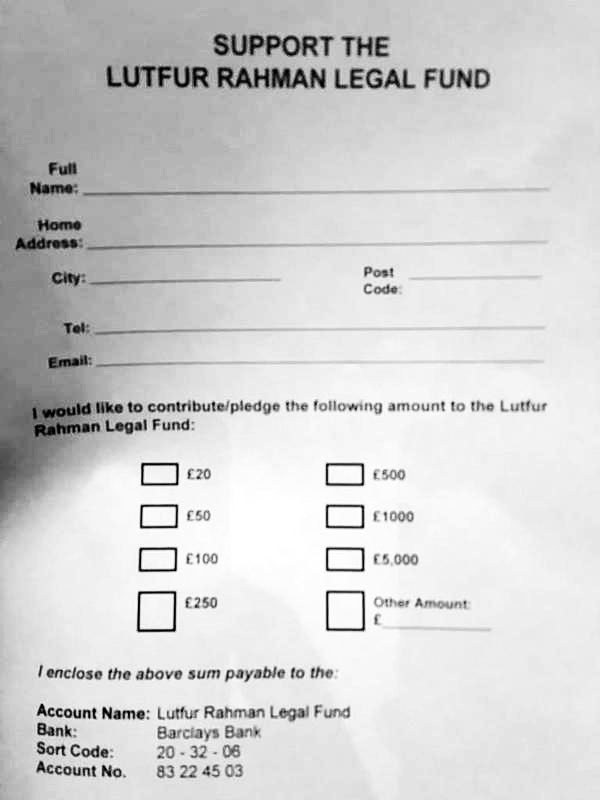 Rahman was a former Labour councillor, but cut ties with the party amid controversy in 2010.
He had been a labour councillor in Spitalfields and Banglatown since 2002, and in 2008 was selected as the Labour leader of Tower Hamlets council.
Rahman was initially selected as Labour's candidate for elected mayor of the borough in 2010, but this was later revoked after the party accused him of faking votes to secure his selection.
As a result, Rahman ran as an independent candidate, with the backing of former London mayor Ken Livingstone, receiving 51% of the vote.
In his first public appearance since being removed as mayor, Rahman insisted he was innocent, and that other parties had spent years attacking him.
Rahman said that the votes for him were "free and fair" and that he was "proud that the people of Tower Hamlets voted for me based on my record".
He added that "other big political parties have spent seven years trying to smear me, and to create a story".
While Rahman has not announced any plans to challenge the high court judgment, he added that he was currently assessing his legal options.
"I am exploring the possibility of a legal challenge. I am no longer a mayor. I may have fallen but I am not broken," he said.
While no official from Tower Hamlets First would respond to questions about mounting a formal legal challenge to the ruling, one supporter of the party told BuzzFeed News that the need to seek donations "may be because of the money [Rahman] was ordered to pay by the court".
"The community here will be able to raise it – many people love him, and what he's done for the community. We will fight with him," he added.
At the meeting, Rabina Khan, a current councillor in Tower Hamlets, was selected as the party's mayoral candidate in the next local election.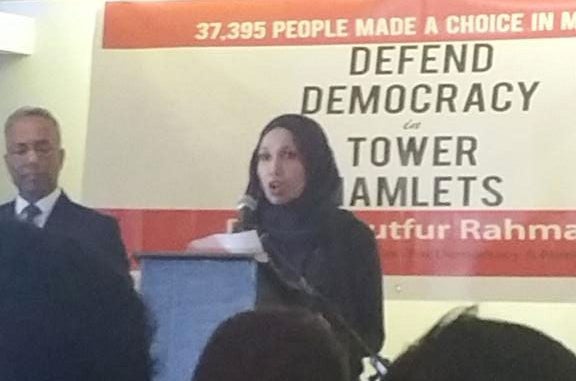 Khan thanked Rahman for his support and "showing confidence" in her, but insisted she was not a "puppet" to replace him.
"I think the people who live in this borough deserve more than the outdated, tired politics and prejudices of the past," she said.