School children as young has 9 have been identified as "at risk" of becoming extremists, a Freedom of Information request provided to BBC News has revealed.
Seven pupils at Greenleaf primary school, in Waltham Forest, North London aged between 9 and 11, were revealed as being part of a program known as "Building Resilience Through Integration & Trust" (BRIT) and had to answer questionnaires about their religious and political beliefs, according to a Freedom of Information request filed by a parent.
According to Waltham Forest council, the BRIT project is designed to "safeguard young people from potentially harmful information or views presented to them face to face or on the Internet and through social networking sites such as YouTube, Twitter and Facebook."
But Haras Ahmed, who filed the FOI request, told BuzzFeed News on Monday that he and other parents were concerned their children were being classified "at risk" of radicalisation without the school giving parents the opportunity to consent to participation in the program.
Ahmed said he sent FOI requests to four of the local authority schools in the area. Only Greenleaf Academy that provided more information than I expected — including correspondence between staff and the local council about the Brit project," he said, adding that some staff members had "vocally expressed their dislike with the program".
BRIT has been criticised for deliberately targeting Muslim students and some activist groups including "PreventWatch" have said that the project is part of the government's wider counter-terrorism strategy known as "Prevent", which they claim "promotes the widely discredited idea that there are signs of extremism that can be detected in young children".
BuzzFeed News obtained a screenshot of the questionnaire that was given to the students.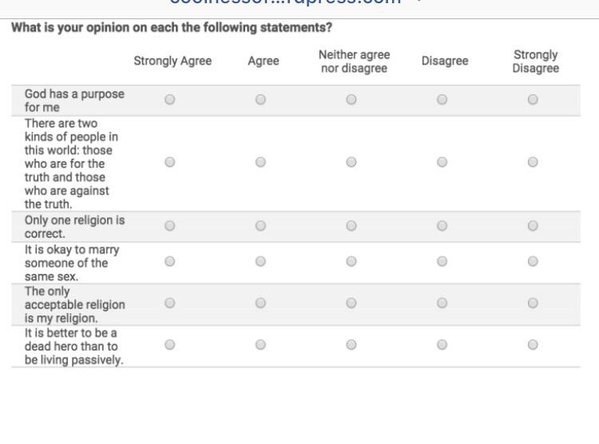 The pupils deemed at risk were identified by their first names in the FOI, which, according to a statement from Waltham Forest Council, was due to a "manipulation by a third party". The council said it is investigating the incident.
"Back in July, a local school responded to a Freedom of Information request, which asked for emailed correspondence between the school and the Council in relation to the BRIT Project. Because one of the emails contained one child's full name and the first names of other children, this information was clearly blocked out in the response issued by the school" the statement read.
"We now understand that the information sent out has since been manipulated by a third party to reveal the blocked-out names" the statement said. "Someone has then used their own methods to obtain all of the children's full names, rather than alert the school or the Council that there was a problem with the information released.
"On behalf of the school, the Council has taken legal steps to secure all copies of the information. The school has informed the families affected of the action that the Council is taking on its behalf, and that the Council has launched a full investigation."