A Syrian-born An Noor Mosque imam known for his outspoken views on Bashar al Assad was found dead in his car on Tuesday in Wembley, north London, his supporters told BuzzFeed News.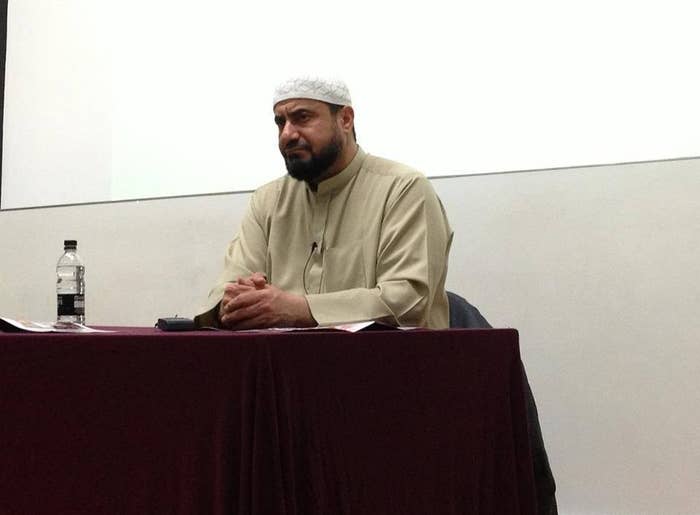 Shaykh Abdul Hadi al Arwani was born in Syria but was based in the UK for the past three years, where he acted as an Islamic jurist and teacher.
According to the London College of Islamic Studies, Arwani studied at the Faculty of Sharia in Jordan and was a teacher in various Islamic seminaries in Slough and West London.
Arwani was considered an authority on Islamic marriage contracts and divorce law, working mostly in London.
His supporters have expressed their grief and condolences on social media.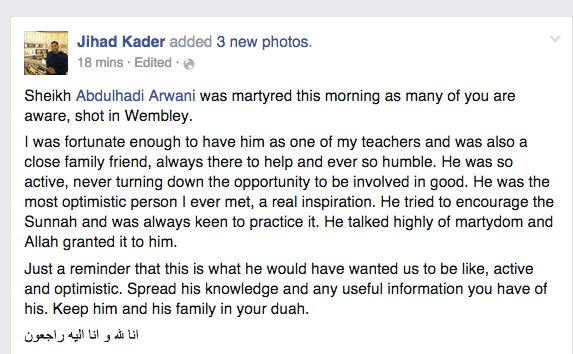 While Arwani had a large following of supporters in the UK, he had also been criticised for "extremist" views and his association with An Noor Mosque.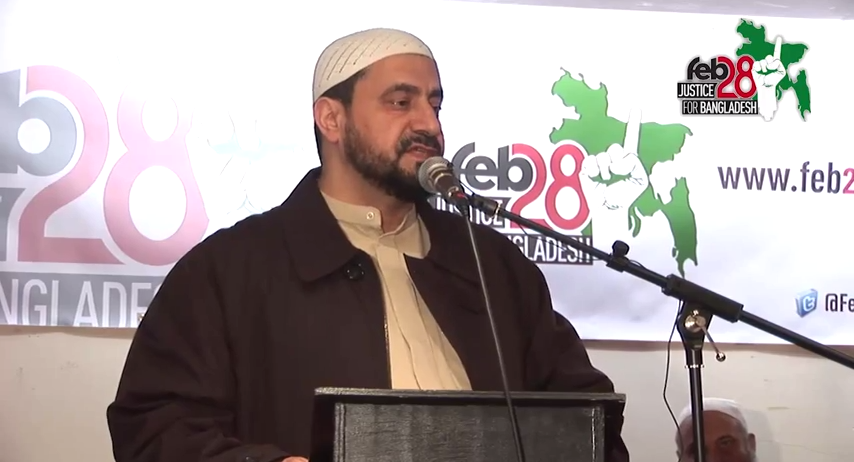 A blog written by the student activist group Stand for Peace accused Arwani of having links to the militant group Jamaat -e- Islami, and said An Noor Mosque hosted "the very worst hate preachers in Britain".
The shaykh was named locally, although Metropolitan police have not officially confirmed the victim's identity.
In a statement, a Met spokesperson said:
Police were called by the London Ambulance Service (LAS) at 11:15 hrs today to reports of a man found suffering what is believed to be gunshot injuries to his chest.

The man, aged in his late 40s, was found sitting in a dark coloured Volkswagen Passat, in Greenhill, junction with The Paddocks, Wembley.

The London Air Ambulance also attended. The man was pronounced dead at the scene at 11:48 hrs.

Detectives believe they know the identity of the deceased, however formal identification awaits. Next of kin have been informed.

A post mortem examination will be arranged in due course.
While An Noor Mosque has not made an official statement, a spokesperson told BuzzFeed News people were "shocked" to learn about the incident.
Mahmoud, a former student of Arwani, told BuzzFeed News that the shaykh was "well-known among the Muslim community in West London, not just for his Syria activism, but also as a community leader."
He added: "He was the type of person you'd go to if you had a problem, or if you had questions you needed to ask."
When asked about accusations of extremism, Mahmoud said Arwani was "outspoken on extremism, but a promoter of democracy".
"He was a moderate guy, and was against all forms of violence and extremism," Mahmoud said. "He was looking out especially for younger Muslims."
Arwani's family has now released a statement calling for anyone who has any information about his death to contact the police.
His son, Murhaf Arwani, said: "My father was a very well loved figure in west London. He was the most peaceful man you could ever wish to meet. He just loved to help people. He did not care what your background, race or status was. He did not care if you were rich or poor. He just wanted to help people in need.
"He was an old fashioned man who thought love and understanding could cure all of the world's ills. He was always smiling and joking with everyone he met. He showed so much love to his congregation and to his community as an Imam and a loving father to us, his six children. I don't know how we will cope without him."
He added: "My father was actively involved in the fight against extremism, campaigning for peace and advocating the importance of democracy and freedom. He loved the idea of freedom for all, regardless of religion, race and background. He spoke up and out against the crime of terror and oppression wherever he found it.
"He was an advocate of peace for all and he showed us this in the way he lived his life from day to day. I saw the way he communicated with people of all different backgrounds, how he befriended them, showed them love and always left them smiling."
The statement said that since 2011 Arwani had been focussing on his own business and helping the community.