We've all been there before: You join a friendly conversation, only to realize that everyone's talking about a TV show that you don't watch.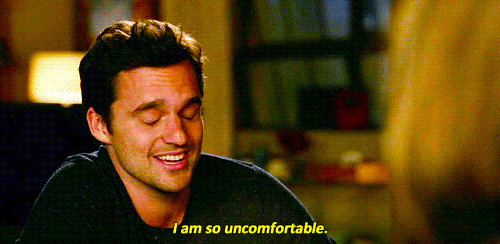 Obviously, you have no choice but to play along and pretend you've seen the show, hoping to BS your way through the entire conversation. But can you actually pull it off?
Now let's see if you can make it through a conversation about that show you've never seen!

"OMG, what did you think of it?"

"I recorded it, but I haven't watched it yet. No spoilers!"

"I watched it twice. I couldn't even sleep last night it was so good."

"Clarence? Is it Clarence?"

"LOL I can never remember either! I just call him 'The Tall Guy.'"

"I have no idea, and I also do not care at all."

"Wait, I thought that was Julian. I'm so confused."

"I think we all know who did it...right?"

"I have some theories, but it's too early to tell!"

"I dunno, but I need to rewatch every episode now to look for clues!"

"Dude, I would've stabbed her!"

"Does anyone else smell smoke? We should probably stop this conversation and exit the building in an orderly fashion."

"Right?! What was your favorite part?"

"It might be wrong to say this, but I'm totally Team Chiffon."

"Oh, I can't talk about that. I read some spoilers online that could ruin everything for you!"

"I don't think they'll find it. That would be too simple!"

"I know, right? Do you think they'll find it?"

"Same! I don't think they made that clear enough."

"Excuse me. I'm gonna go take a dump now."

"Here's a hint: It's never who you think it is!"

"I dunno, but we can probably find out online!"

"It's that one band that I forgot the name of. They're great!"

"Ew, that's my least favorite part of the show."

"Yes. So dope. Super dope."

"I saw it coming a mile away."

"So cliffhangery, right?"

"Ugh. I know. They're so good at cliffhangers!"

"Not to change the subject, but let's talk about something completely different."

"I hope it's 'you know who,' right?"

"You know they're not really gonna die, right? You know they're actors, right?"

"I honestly have no idea. Who do you think it's gonna be?"

"Tall Guy. Definitely Tall Guy. Or Clarence. Unless they're the same person. Then it's that guy."