Can I be real for a second? As much as I like my friends and having people in my house and like laughter and stuff, I'm way more into the act of planning and decorating for a party than I am into the actual party. It's not that I don't like fun or am allergic to friendship, but I just REALLY love party planning and decorating. It's painfully dweeby, I know, but like I'm just tryin' to be honest with y'all.
The real negative to hosting a party, besides the cleanup, is how much you spend trying to create the perfect setting. It's a slippery slope: One minute you're telling yourself you just need napkins, and the next thing you know you have a cart full of overpriced sequin streamers, more balloons than any adult has a right to own, and six pounds of dry ice. What the heck are you gonna do with six pounds of dry ice?! This has been me at every party/dinner/Netflix-and-chill night I've ever hosted...but no more! It's 2017, I'm an adult woman, and I'll be damned if I spend too much money on things I don't need.

This year, for my annual Galentine's Day extravaganza (maybe I like Parks & Rec; maybe I also have a Treat Yo Self Day — don't judge me!), I decided to limit myself to only dollar store decorations and snacks. (OK, booze and bruschetta are my go-to party fixins, and I'm also gonna allow myself to use anything I have at home 'cause, well, it's mine, and who else is gonna use it? But those are the only exceptions.) Have you been to a dollar store lately? It's sort of the wildest place on Earth. Hit one that's ideally in close proximity to another one, get a little supply-and-demand action working on your side, and ees lit!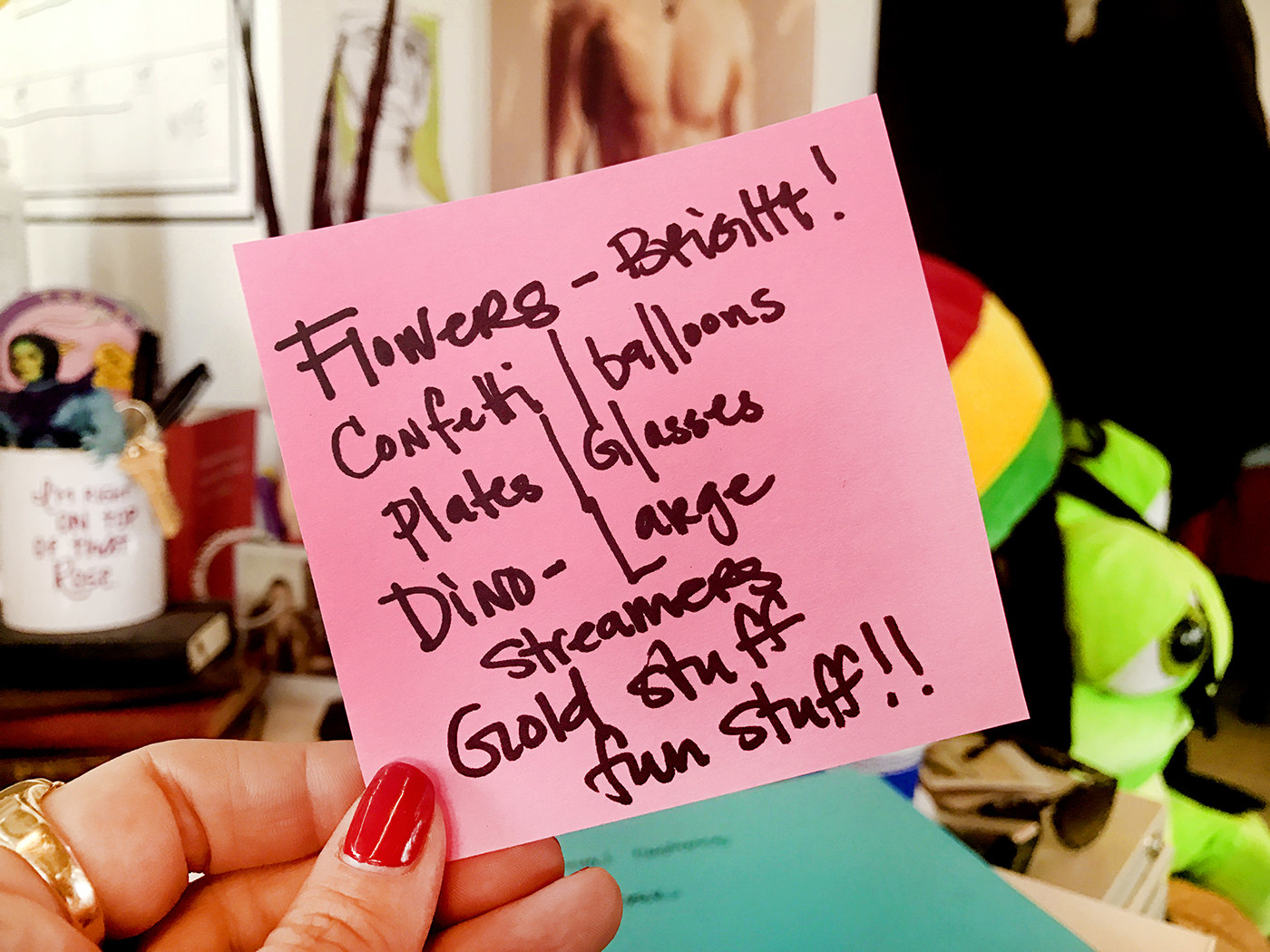 In preparation for my dollar store supermarket sweep, I decided it was best to go in with a slight semblance of a plan. Dollar stores are known for their sensory overload, and walking in without some rough objectives is rookie move number one. I quickly jotted down my wishes, hopes, and dreams before venturing out.
OK, so I made it to three dollar stores in just under an hour — a personal best! (I've never actually timed myself, but I'm proud anyway.) I had originally planned on this sort of elegant, all-white-and-gold theme — think Solange's wedding meets Galentine's Day party. But while stalking through the aisles full of Brooklyn's hidden gems, I kept finding myself attracted to these very brightly colored baubles. So my party morphed from "Solange's wedding" to "Miley's dog's birthday" — and tbh I think I'm more suited to pull off the latter.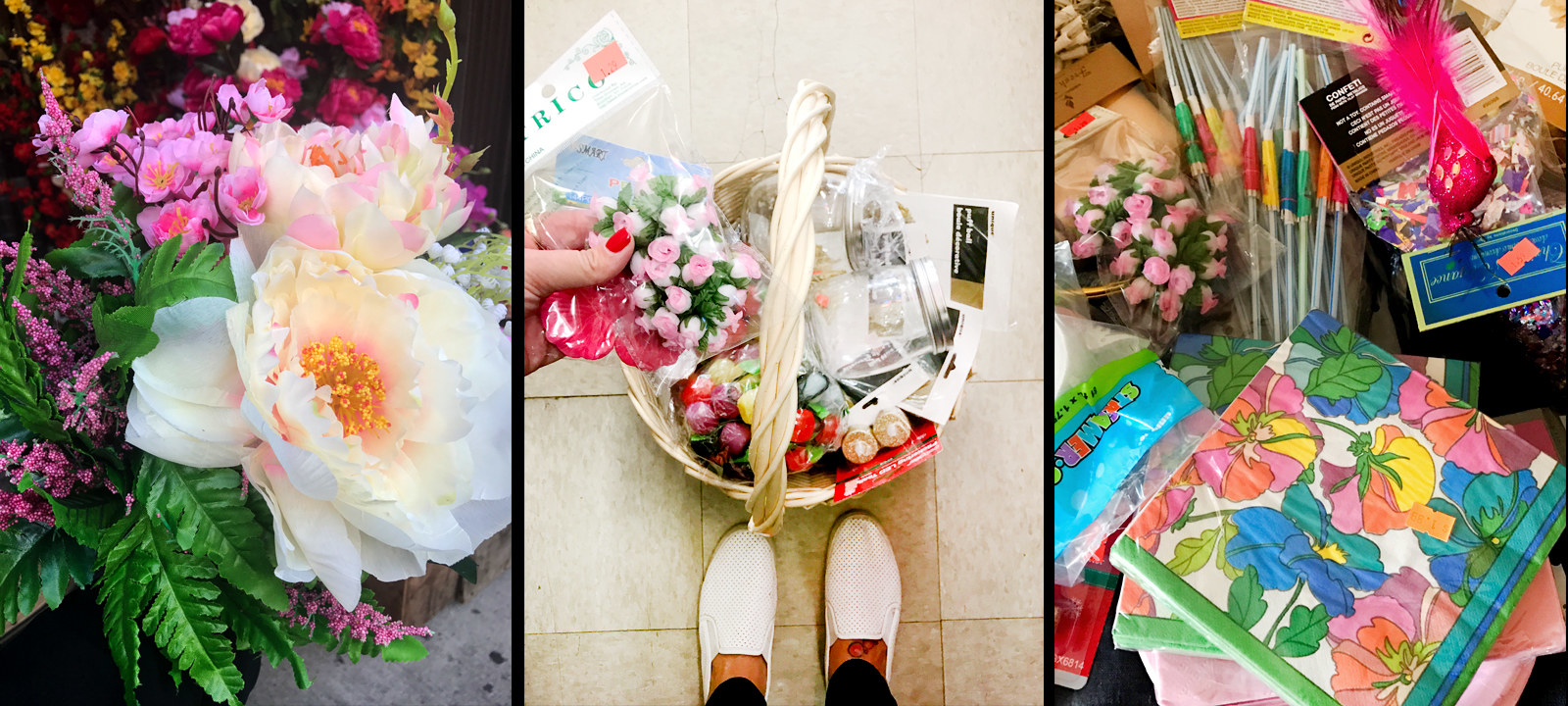 Balloons, confetti, and streamers? Check! Plastic stemware and Galentiney plates? Check! Not-totally-fake-looking flowers? But bright and wild? Check! Gold accents? Duh! Large dinosaur toy? He's a bit weird-looking, but check! Tons of cute and delicious snacks? You know it! They had pink frosting and heart-shaped cookies, y'all! The biggest surprise? I scored a bag of moss (!!!), glass jars, and tiny figurines, so obviously I was making Galentine's gift dioramas. The grand total for my haul? Just over $73. Why haven't I done this for every party? I'm kicking my former self and kicking HARD!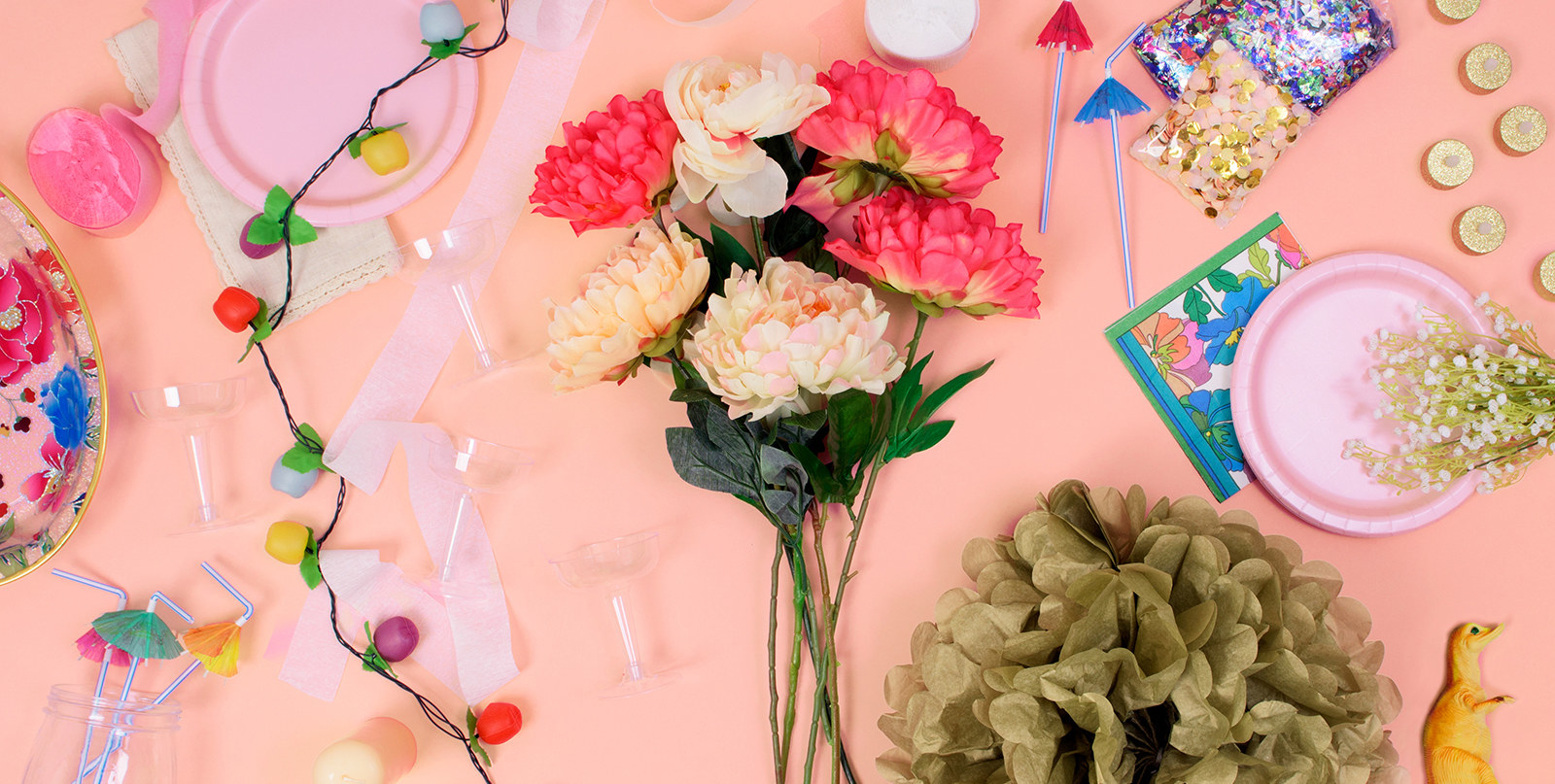 Now that I had my theme and goods, it was time to get some guests! In an effort to save some trees (and some time), I decided to text-invite my pals. Should be stated, I am a known oversharer, and most of them already knew I was planning a party and had received several photos of weird things I found along the way, some I purchased and others that will live forever just in my cloud.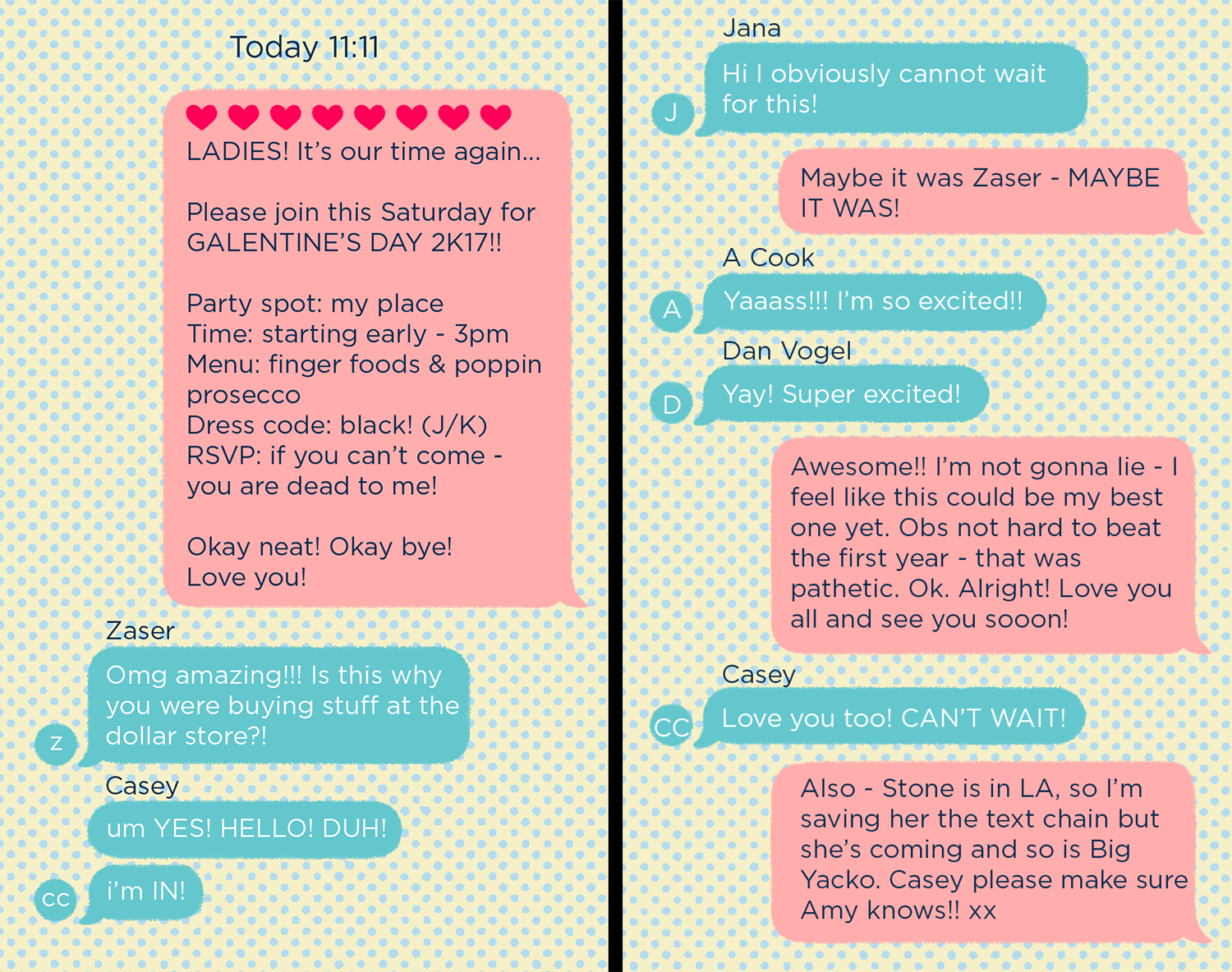 Once I knew people were actually gonna show (phew!), it was time to work on a few DIY upgrades to help my dollar store finds live their best life. I've seen a few 'saurus plates and have been looking for a reason to create one, and it was so much simpler than I had imagined! Measure twice, cut once, use some paint to make him shine and a little hot glue to make him level, and ladies and gentlemen, I give you Plateypus Rex! What a rose-gold hunk!
Keeping with the dino theme (that I hadn't realized was happening), I crafted my dioramas. It's honestly surprising how easy it is to create a cool lil' universe with fun figurines, a touch of gold paint, some bright moss, and a tiny jar to hold it all. If you guys haven't realized yet, I believe everything is better with a little gold paint — put it on my gravestone! (No, seriously, when I die, please paint my gravestone gold.)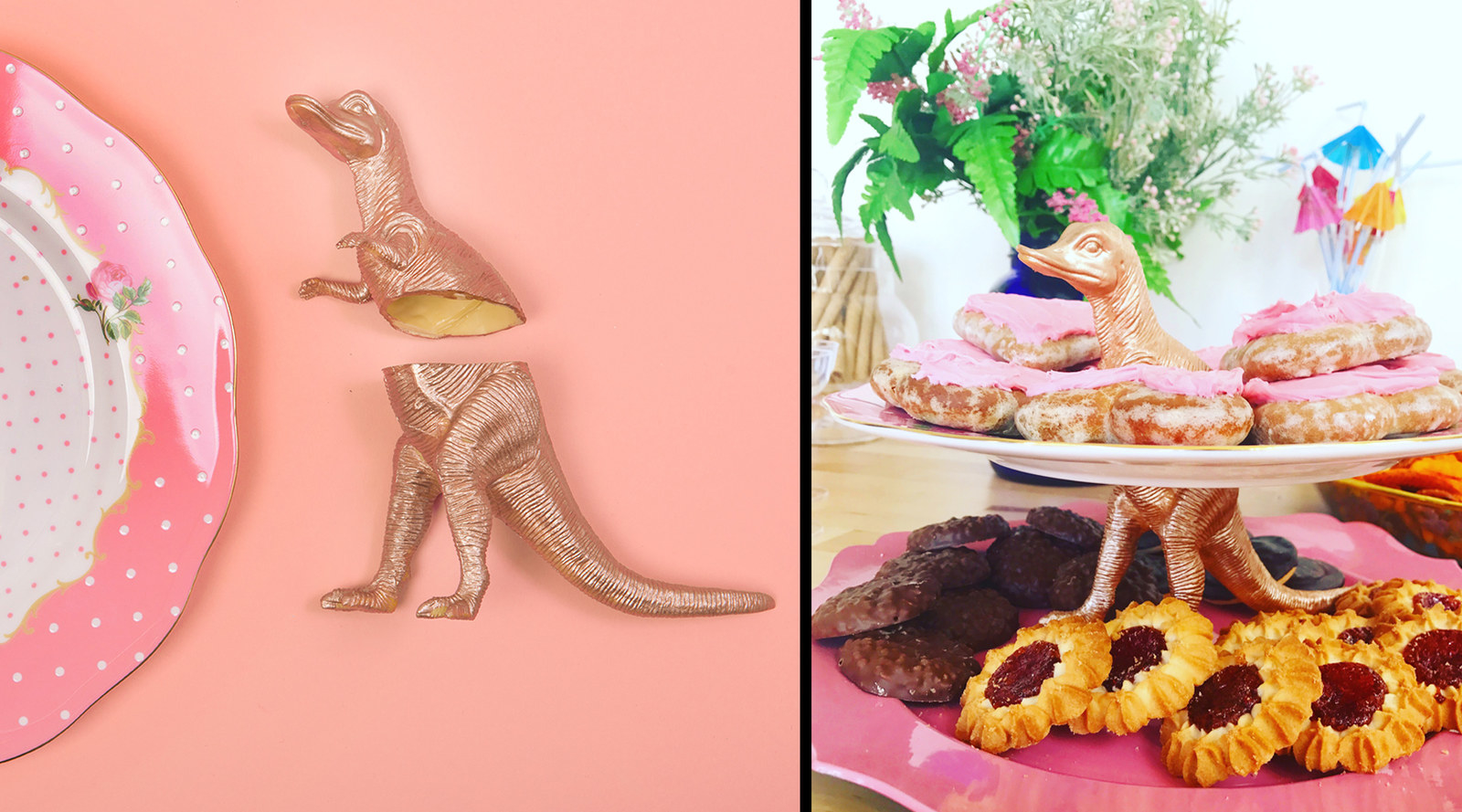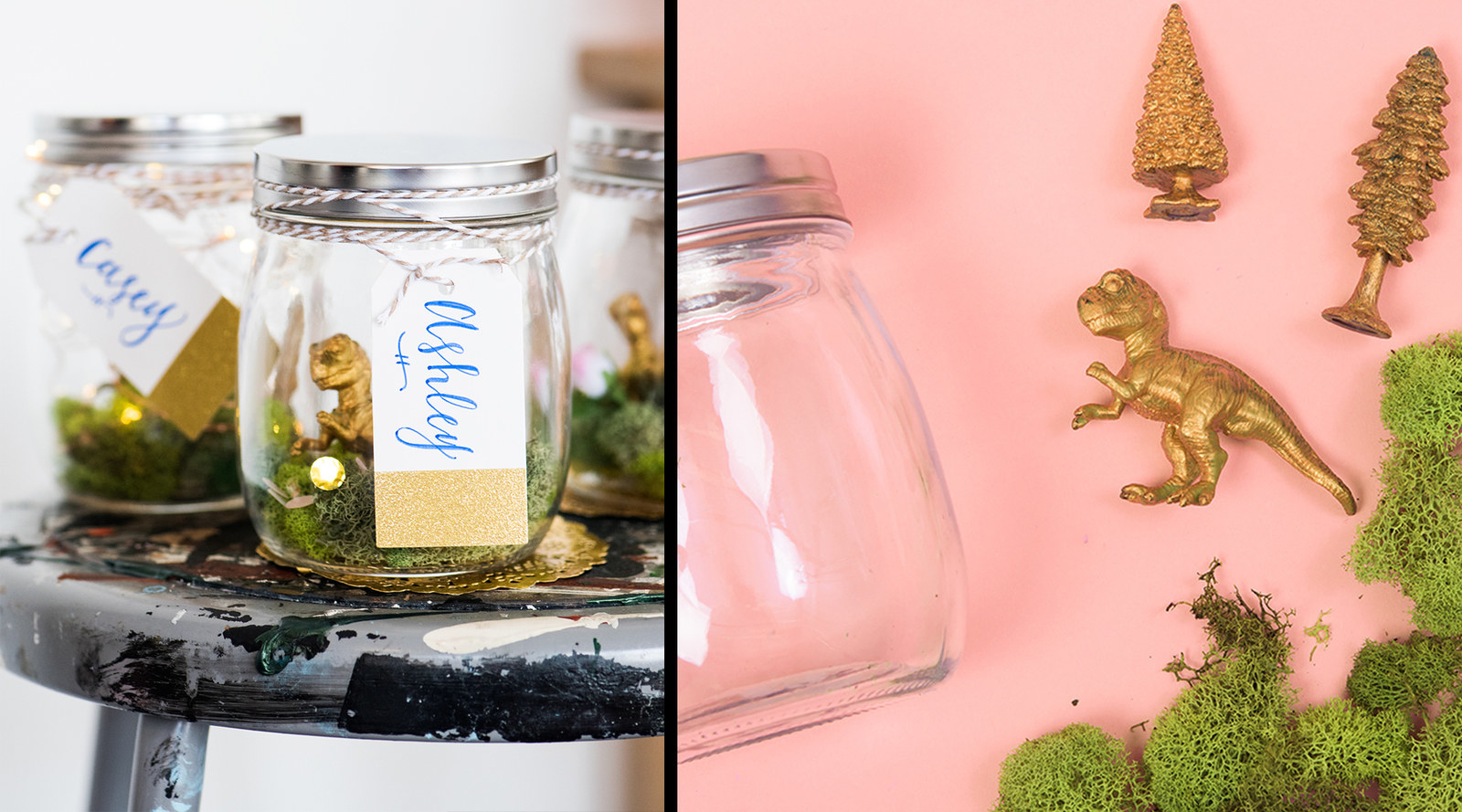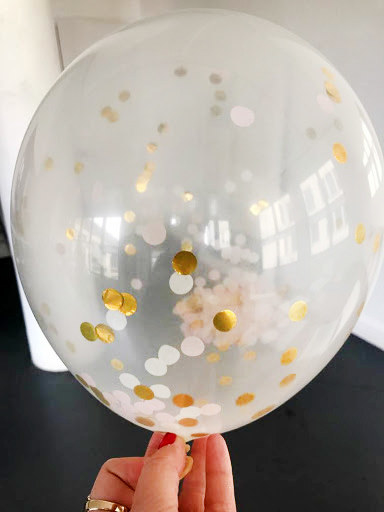 Party day arrived, and our kaleidoscope of goods would finally have their day in the sun! Quite literally since it was a daytime party. I started with my table setup first: Using some of the flowers to create a centerpiece, I filled the table with snacks, a little prosecco station, and candles, and I gave my new BFF Plateypus Rex a spot right up front. Utilizing vases my mother gifted me and a weird floral foam ball I had (this was more time-consuming than I anticipated), I created some additional bouquets. Making floral arrangements is like making friends, y'all, so go ahead and give them a seat at your party. (I did.) Table, done! Flowers, done! Time to blow up some dang balloons.
(Pro tip: If you want to get confetti into balloons, you're gonna need a funnel and like some sort of tool to jab it down with; a decent amount of time; and a serious amount of patience.)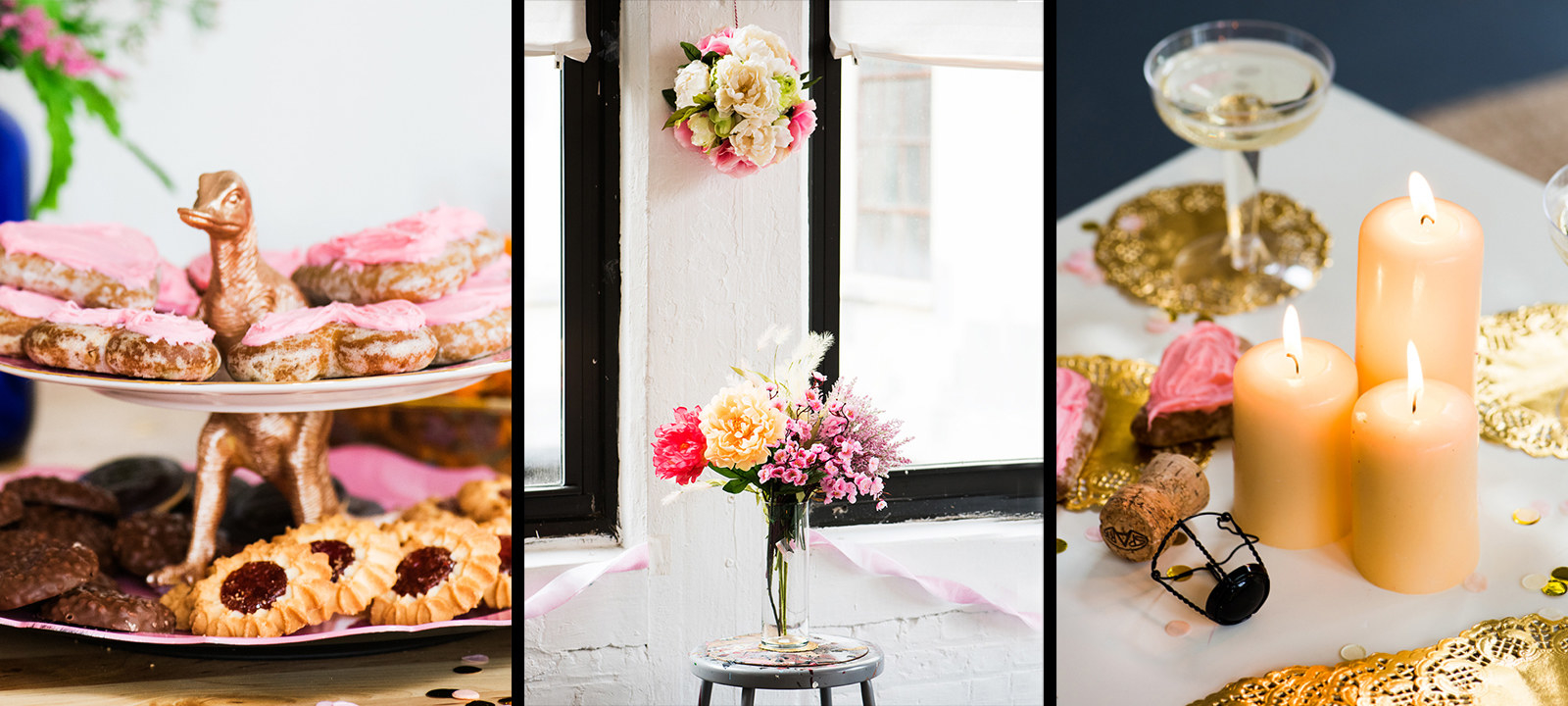 Because I'm an overachiever, I also decided to make a bizarro little balloonelier (read that as a "balloon chandelier"). Since we started this trip with honesty in mind, I'm gonna be honest again: I totally spaced about having bought streamers and these adorable gold puffs (rude, I know), so I tossed them on the wall and awkwardly to the top of my balloonelier just before I lit the candles and popped some bottles.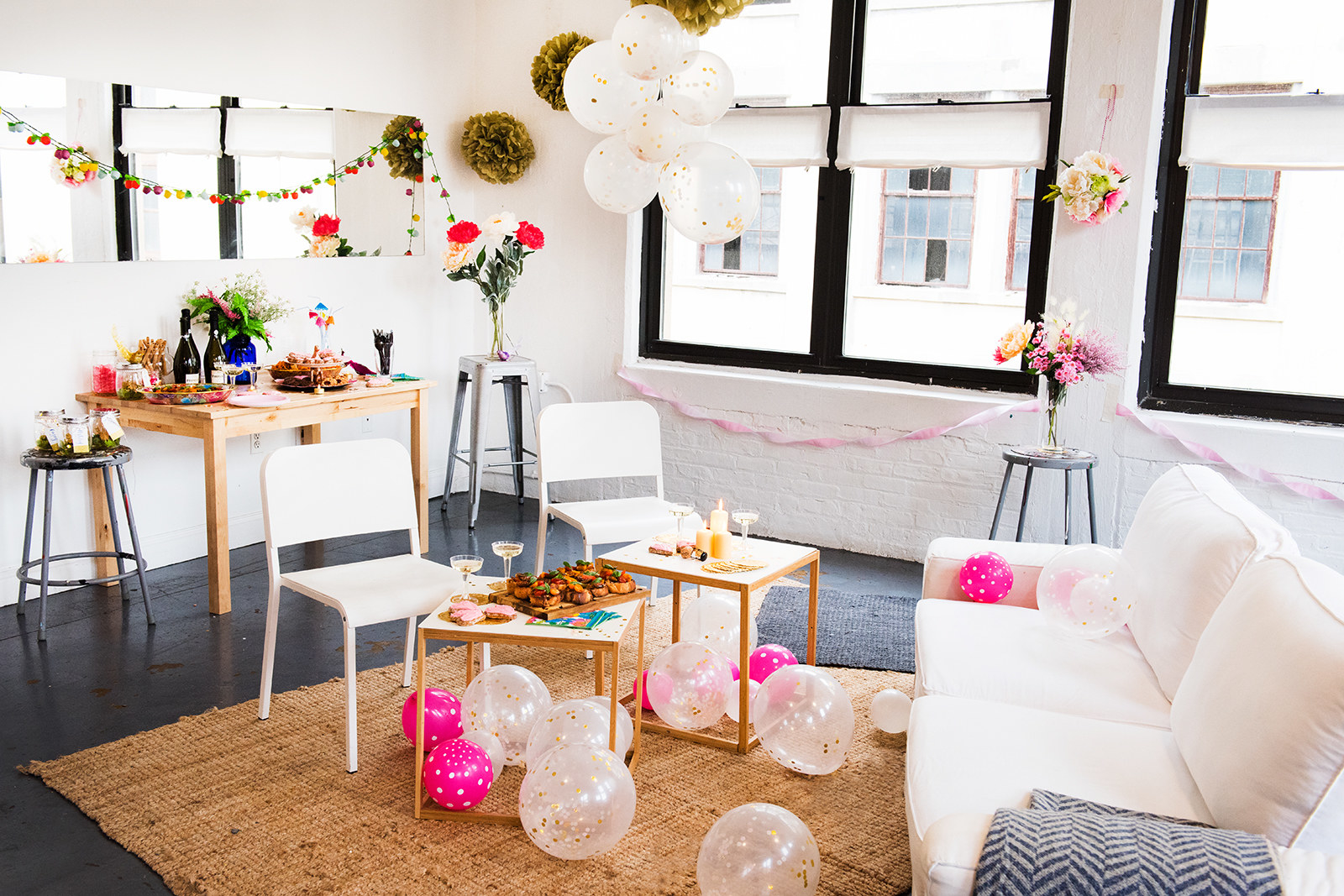 If you're still with me, it's done; we've done it! Our party was a helluva success! The ladies came over, and gang, we had a time! Everyone was in legit shock when they walked in — even though they knew what I was planning, no one could believe it was all possible thanks to the dollar store. My BFF, Casey, a constant fixture at past parties, said this was some of my best work yet! (Should be stated, she's sort of a snob, so this was HIGH praise.) The snacks, delish! P. rex, a hit! (A pal who is hosting a baby shower actually took him home, so Plateypus Rex shall shine on in 2017.) The dioramas, a MEGA hit; they got a legit squeal! And the balloons! Don't even get me started — they got more attention then I did. As for my flower friends, our relationship has really blossomed (zing) with all of them claiming permanent spots in the house. Bang for your buck, y'all! Bang. For. Your. Buck.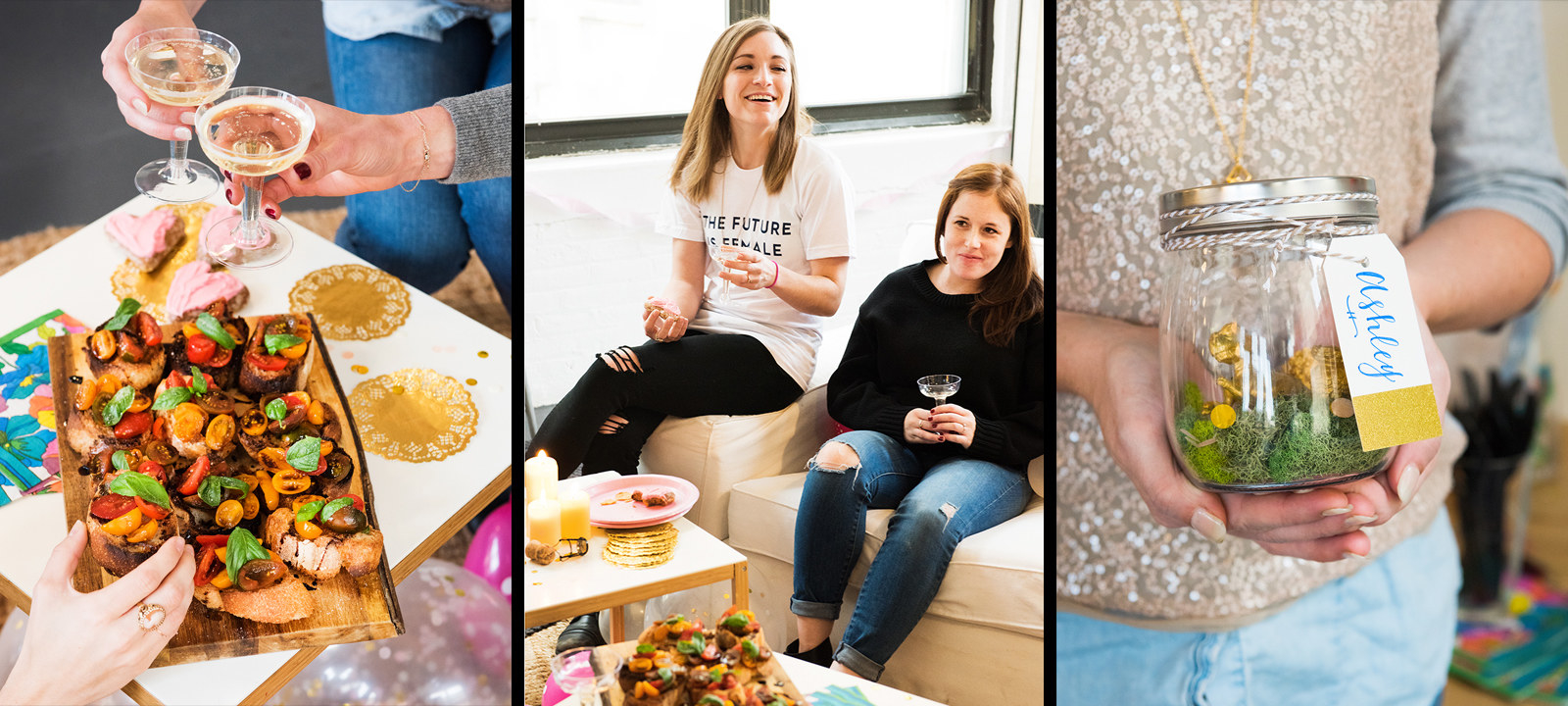 It's always special being in a room with women you love and celebrating the friendships that you've built, but lemme tell you, it's even better when you feel like a thrifty little minx! So until next time, friends, never forget what we've learned here — that you don't have to spend a lot of cash to throw a killer bash!
And also: Life is better with a little gold paint.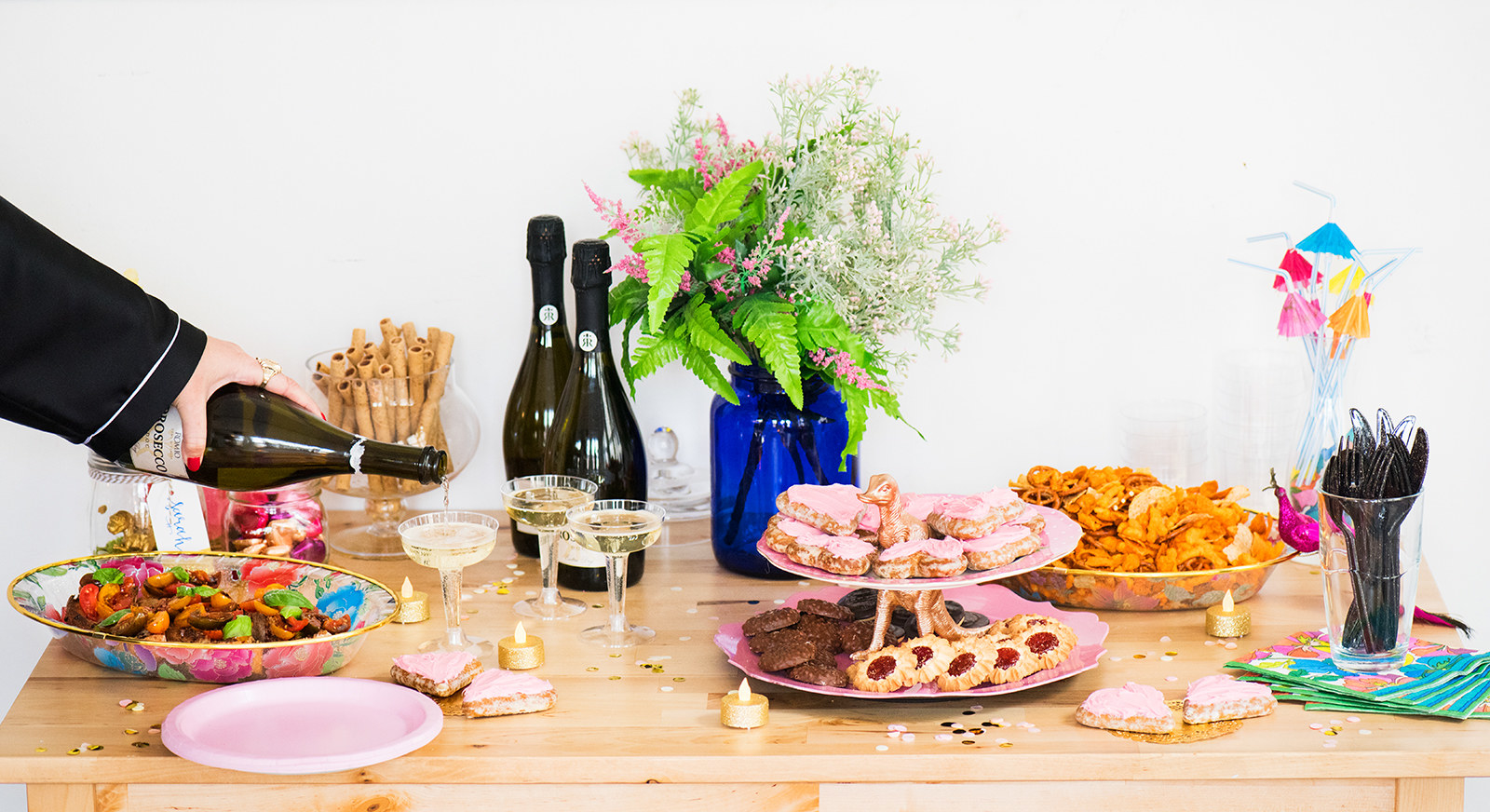 Photographs by Stone, Vogel & Zaser Design by Marjan Farsad
Decorating for a fabulous party doesn't need to be expensive, and neither does doing your taxes! File them online quickly, easily, and for free with H&R Block. See hrblock.com for details.