Roast Beef Hash Benedict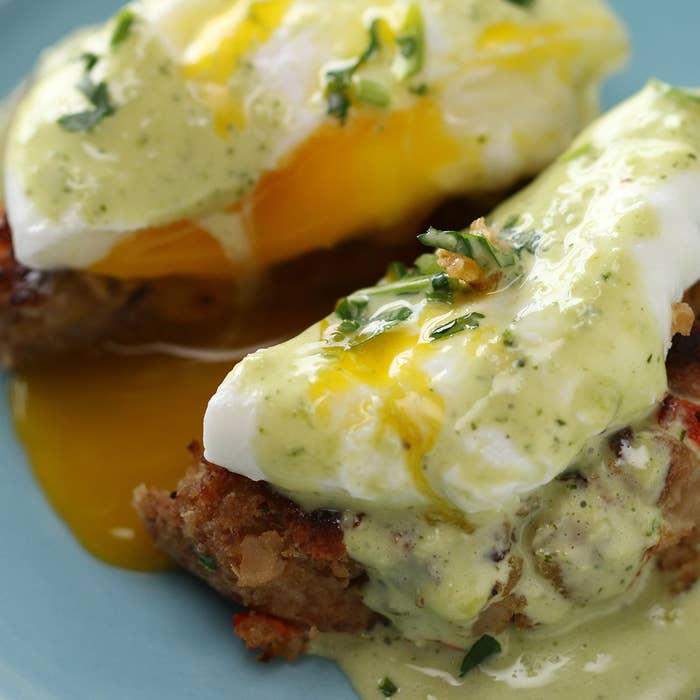 INGREDIENTS
Servings: 6
Hash Cake
1 can HORMEL® MARY KITCHEN® Roast Beef Hash
½ red bell pepper
½ cup sliced scallions
1 cup bread crumbs
1 egg, beaten
Black pepper, to taste
Oil for the pan
Cilantro Lime Hollandaise
2 large egg yolks
2 tablespoons lime juice
2 tablespoons cilantro
2 tablespoons diced jalapeño (optional)
6 tablespoons melted butter
Salt and pepper
6 poached eggs
PREPARATION
1. In a large mixing bowl, combine HORMEL® MARY KITCHEN® Roast Beef Hash, bell pepper, scallions, bread crumbs, egg and black pepper. Cover and chill 30 minutes in refrigerator.

2. Heat a large skillet over medium heat and add a small amount of oil to coat the pan.

3. Shape the corned beef mixture into patties (about 3 inches in diameter) and add to the hot pan. Cook 3–4 minutes per side until brown and crispy. Keep warm in a low oven.

4. Add egg yolks, lime juice, cilantro, and jalapeño to a blender. Blend on high for 10–15 seconds. Melt the butter.

5. While the butter is hot, turn on the blender. Slowly add the melted butter a few drops at a time. The sauce will thicken and form an emulsion. Season with salt and pepper. Just before serving, add a tablespoon of very hot water and blend again quickly to warm the sauce. 

6. Poach the eggs or cook them your favorite way.

7. Take the warm hash cakes out of the oven. 

8. Top each cake with an egg, and spoon some of the hollandaise over the top.
9. Enjoy!