Corned Beef Hash Breakfast Cups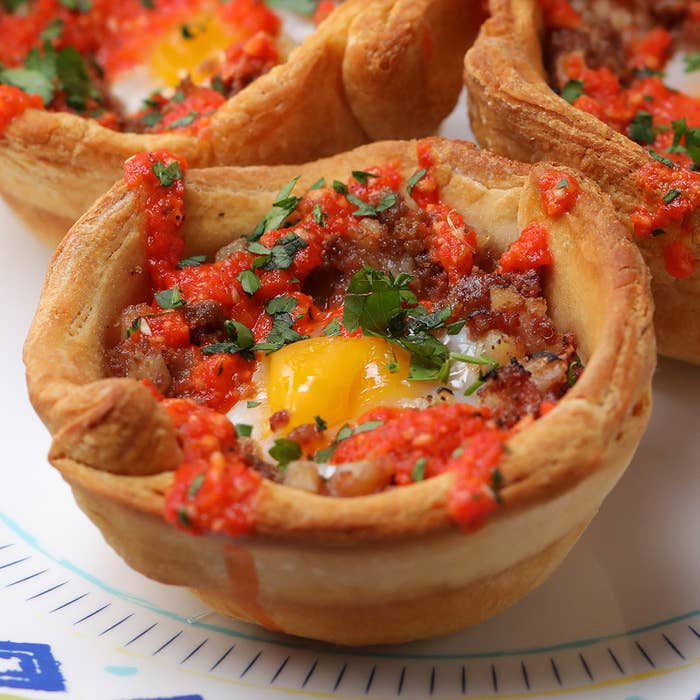 INGREDIENTS
Servings: 6-8
Breakfast Cups
1 can HORMEL® MARY KITCHEN® Corned Beef Hash
1 can large buttermilk biscuit dough
6-8 eggs
Red Pepper Sauce
1 cup roasted red peppers
3 cloves garlic
1 lemon, juiced
1 tablespoon extra virgin olive oil
1 teaspoon coarse salt
Chopped Italian parsley for garnish
PREPARATION
1. Preheat oven to 350˚F/177˚C. Using a rolling pin, roll flat each biscuit and mold over the back of a large muffin tin. Use dough for 6 or 8 biscuits, depending on the size of your muffin tin. Bake for 7 minutes, then cool for 10 minutes. Turn oven temp down to 325˚F/165˚C.

2. Place cooled biscuit cups on a baking sheet, open side up. Fill each cup with 2-3 tablespoons of HORMEL® MARY KITCHEN® Corned Beef Hash and form an indentation with your fingers or a tablespoon.

3. Crack an egg into each cup. Return to oven and bake for 15 minutes or until egg whites are just set.

4. In a food processor or blender, combine ingredients for red pepper sauce and blend until smooth.

5. Serve cups drizzled with red pepper sauce and topped with parsley garnish.

6. Enjoy!