The Office is a great show with many A+ episodes, but one is clearly the best: "Dinner Party".
Here are 32 moments from the episode that prove its brilliance.
1.
When Jim confirms with Michael that he didn't make any plans for tonight, so Michael "calls corporate" to tell them he's going to let his branch have the night off.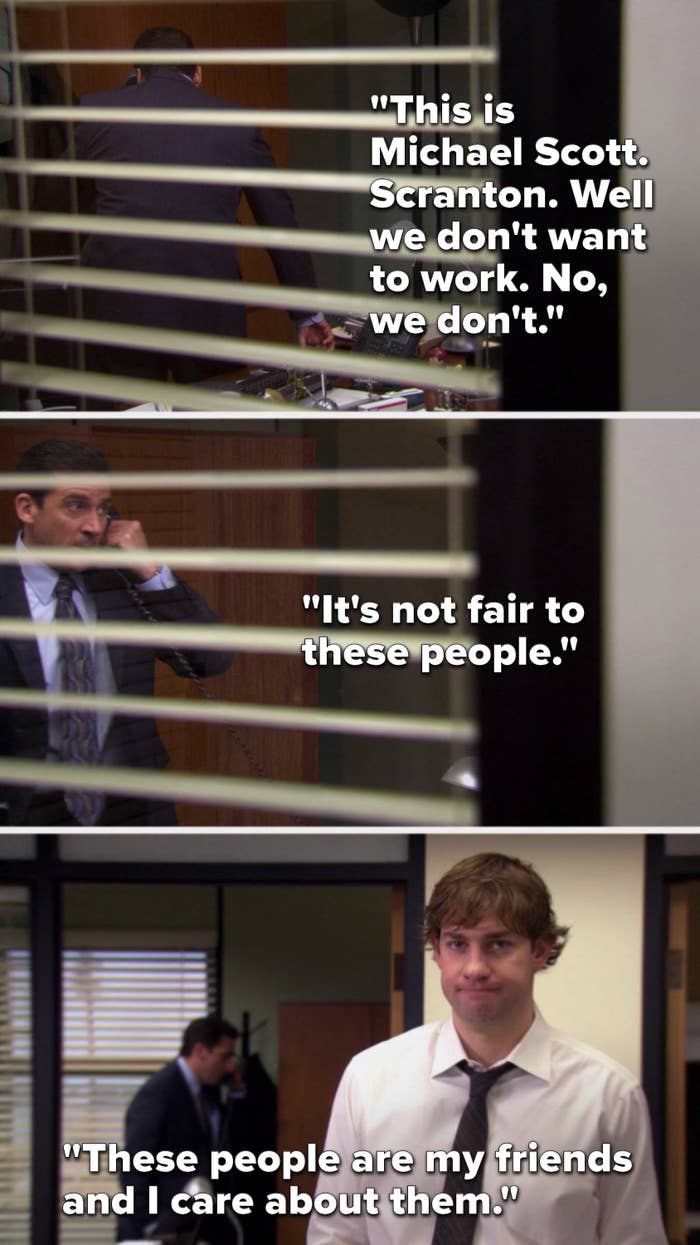 2.
When Michael invites Angela and Andy to his dinner party but not Dwight, because it's couples-only and Michael and Jan only have six wine glasses.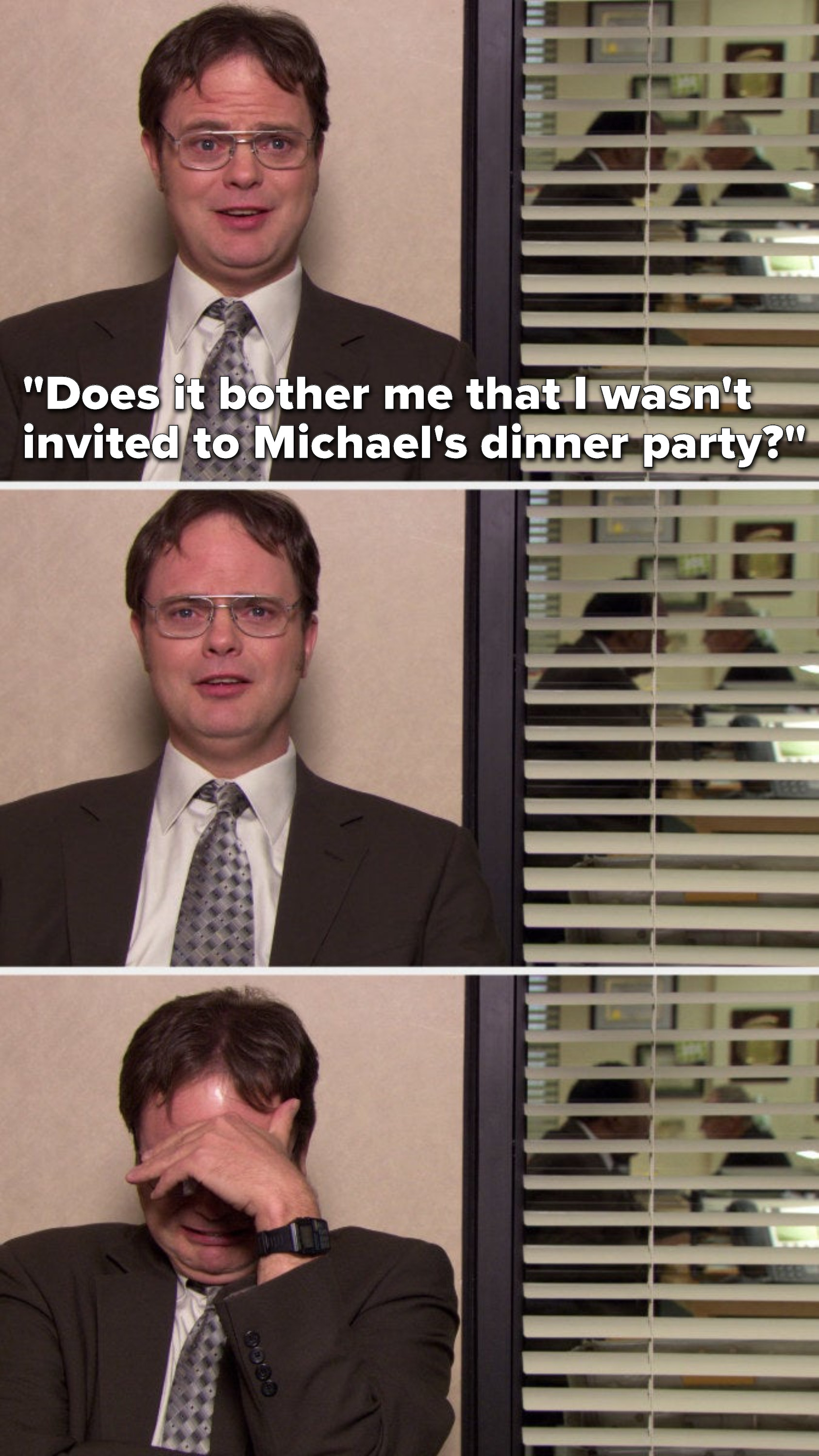 3.
When Pam and Jim arrive at the condo.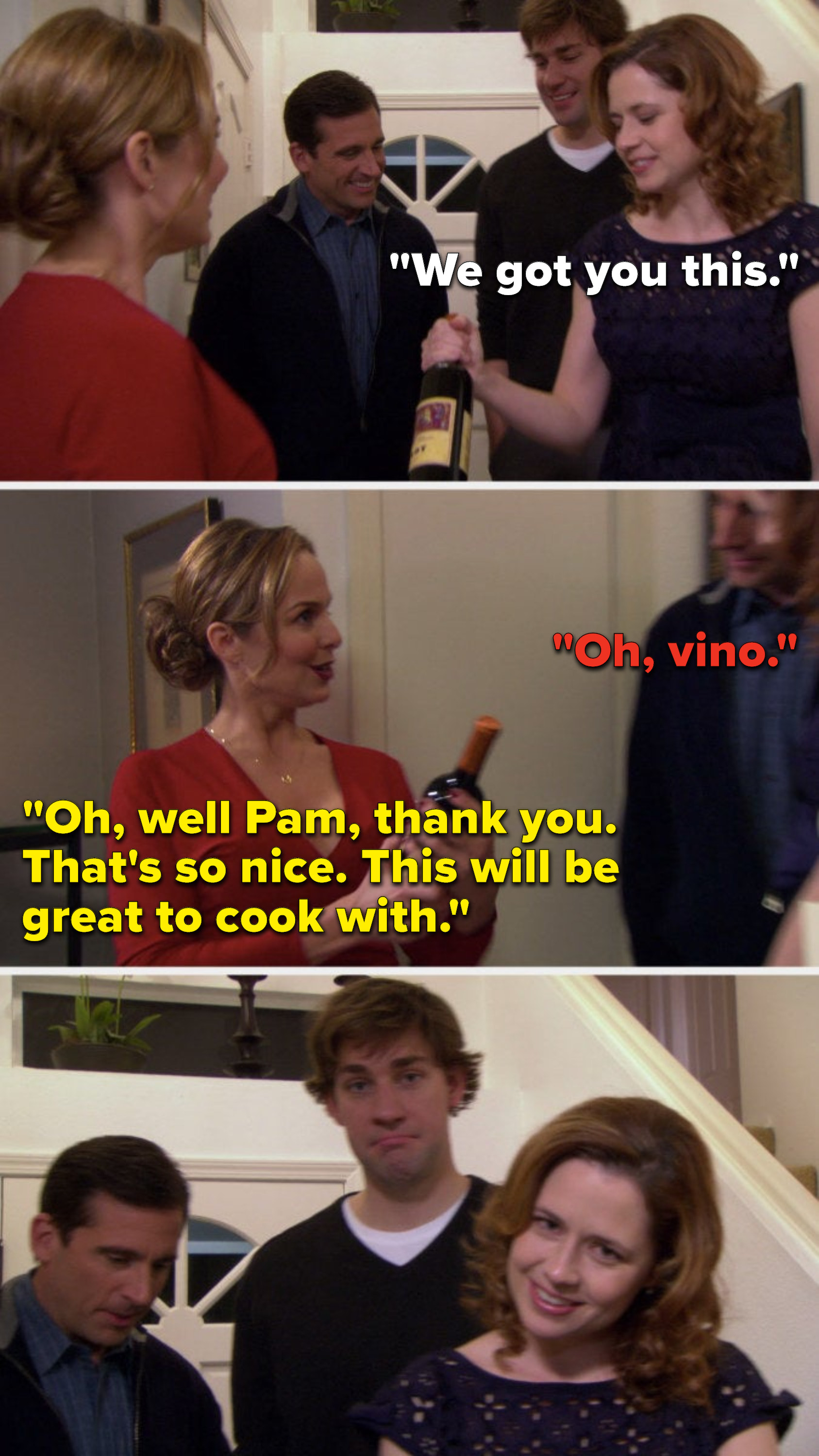 4.
When they start the tour of the condo, babe, and we see the art in the stairwell.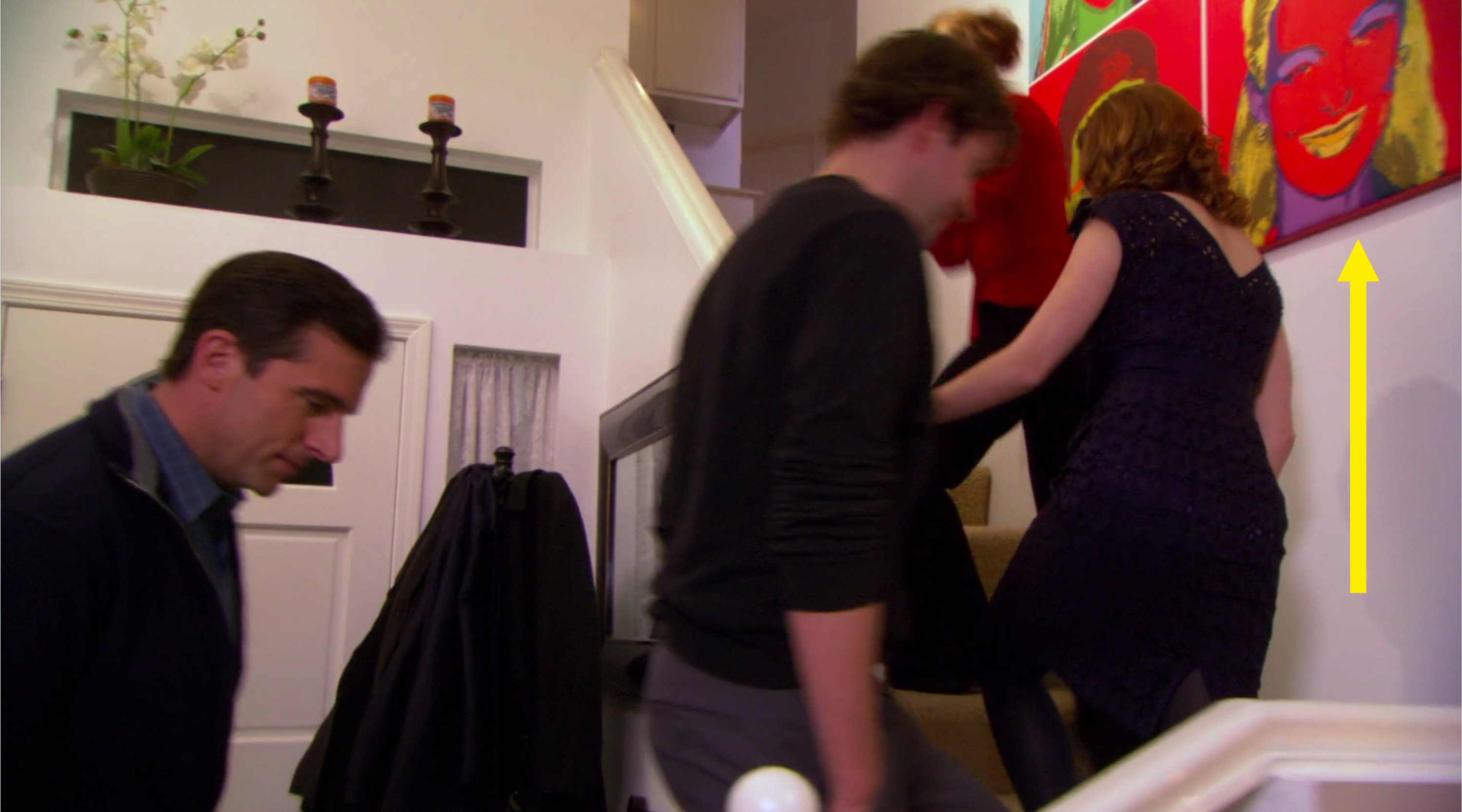 5.
When Jan shows them her office and her work space — where she makes her Serenity by Jan candles.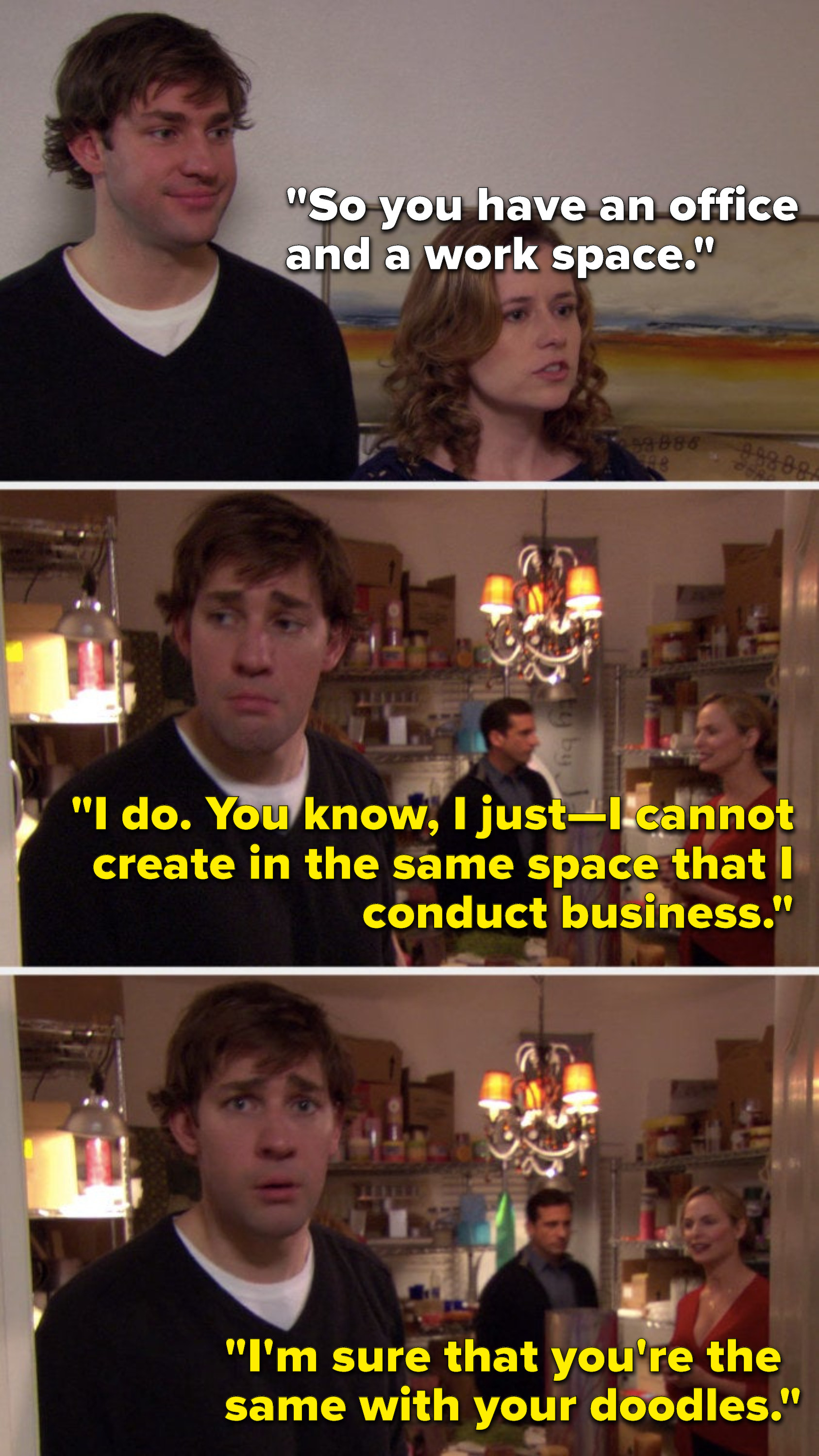 6.
"Men love this one."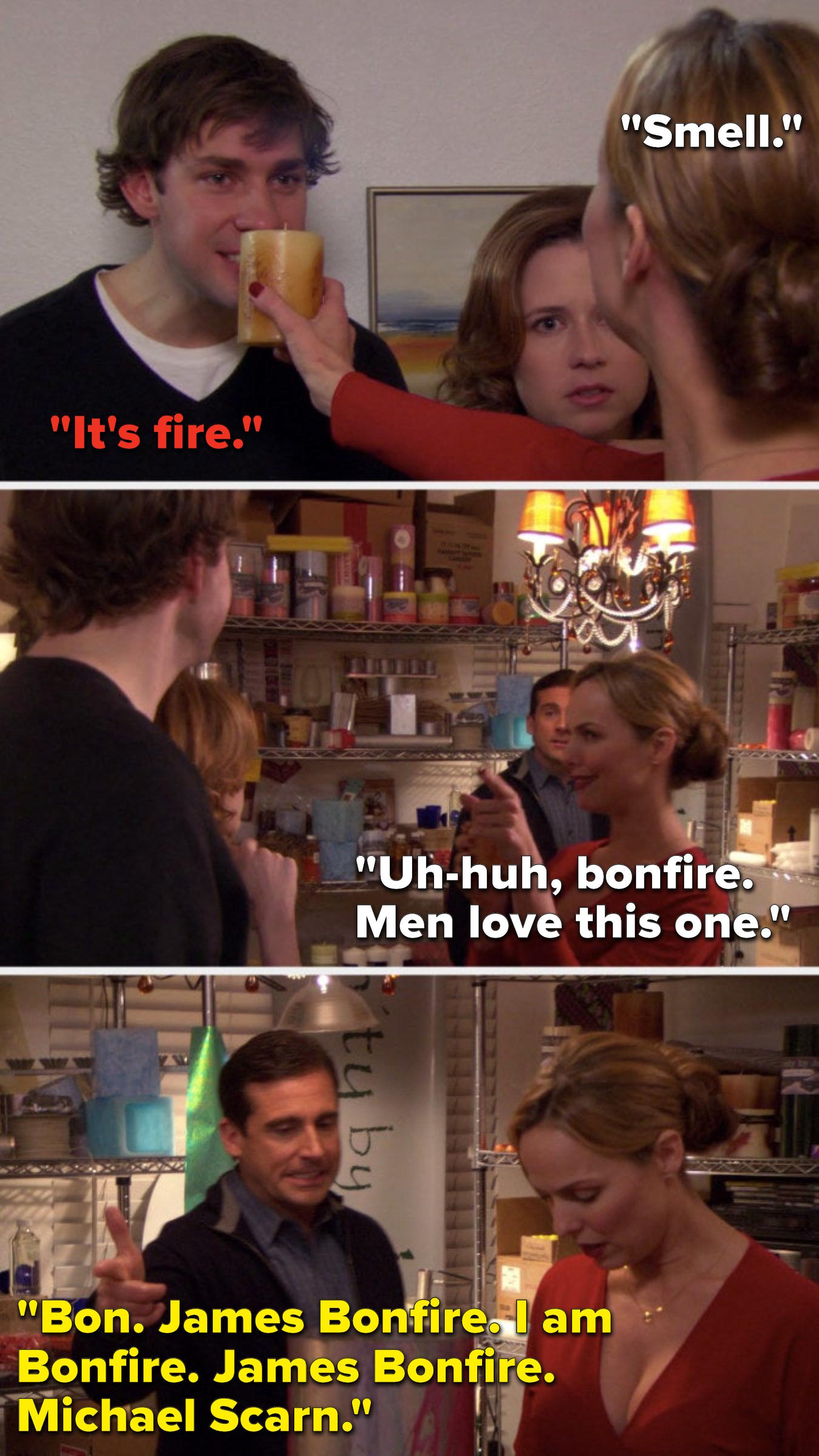 7.
When they get to the bedroom, babe.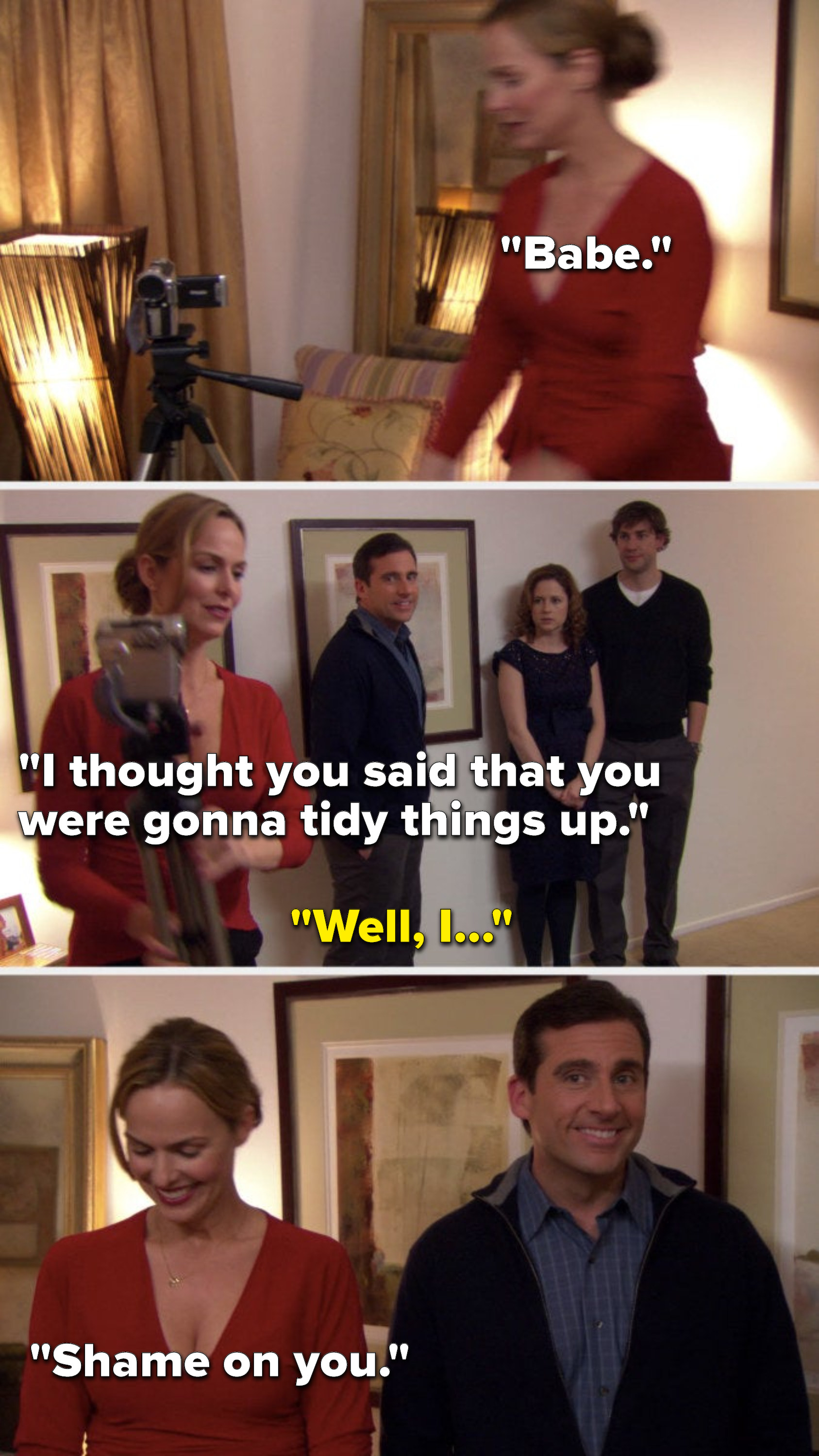 8.
When Michael shows Pam and Jim the bench he sleeps on at the foot of the bed because "Jan has some space issues."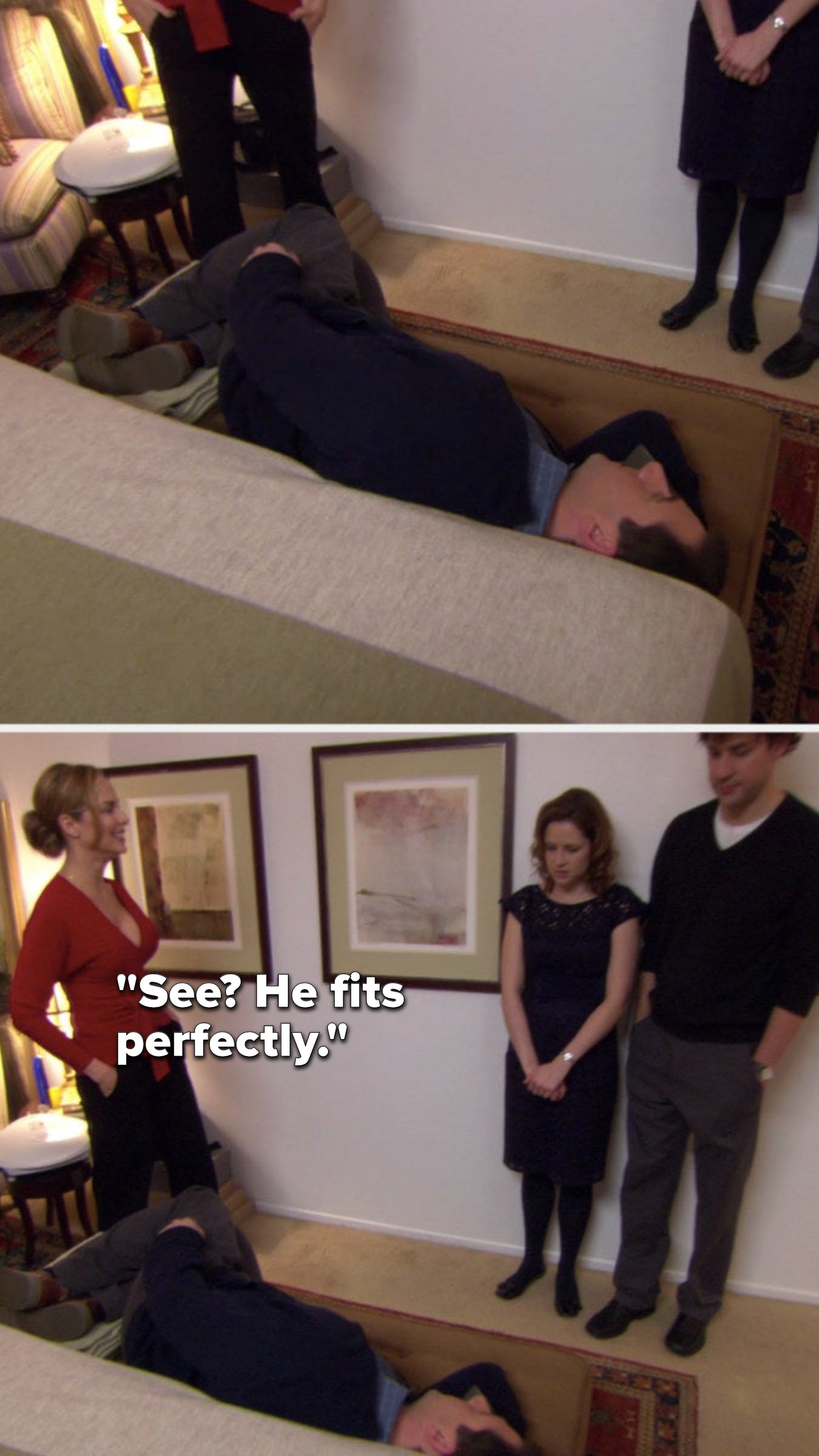 9.
When Michael demonstrates the wonder of the plasma screen TV he finally broke down and bought himself.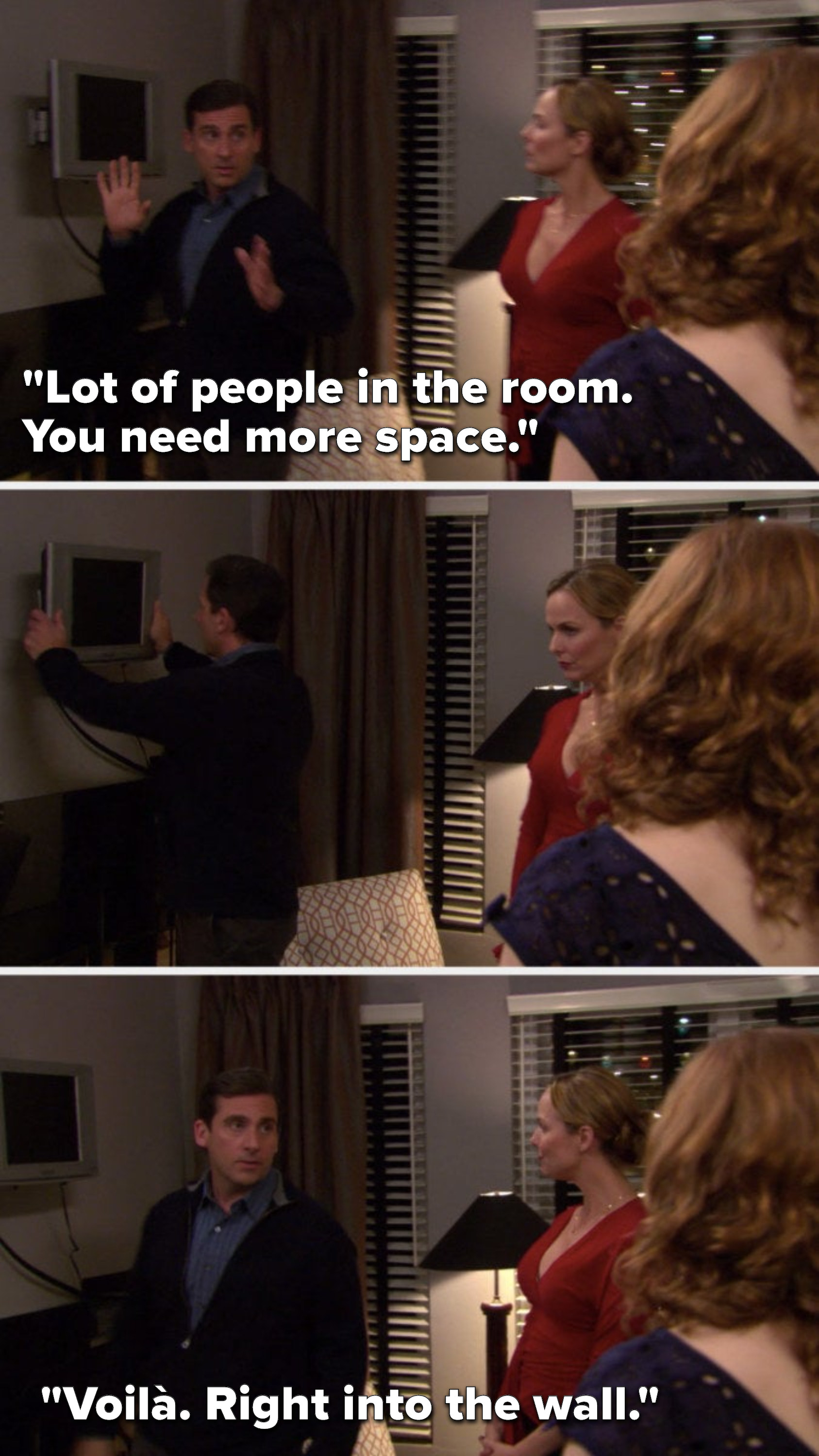 10.
"I love this TV."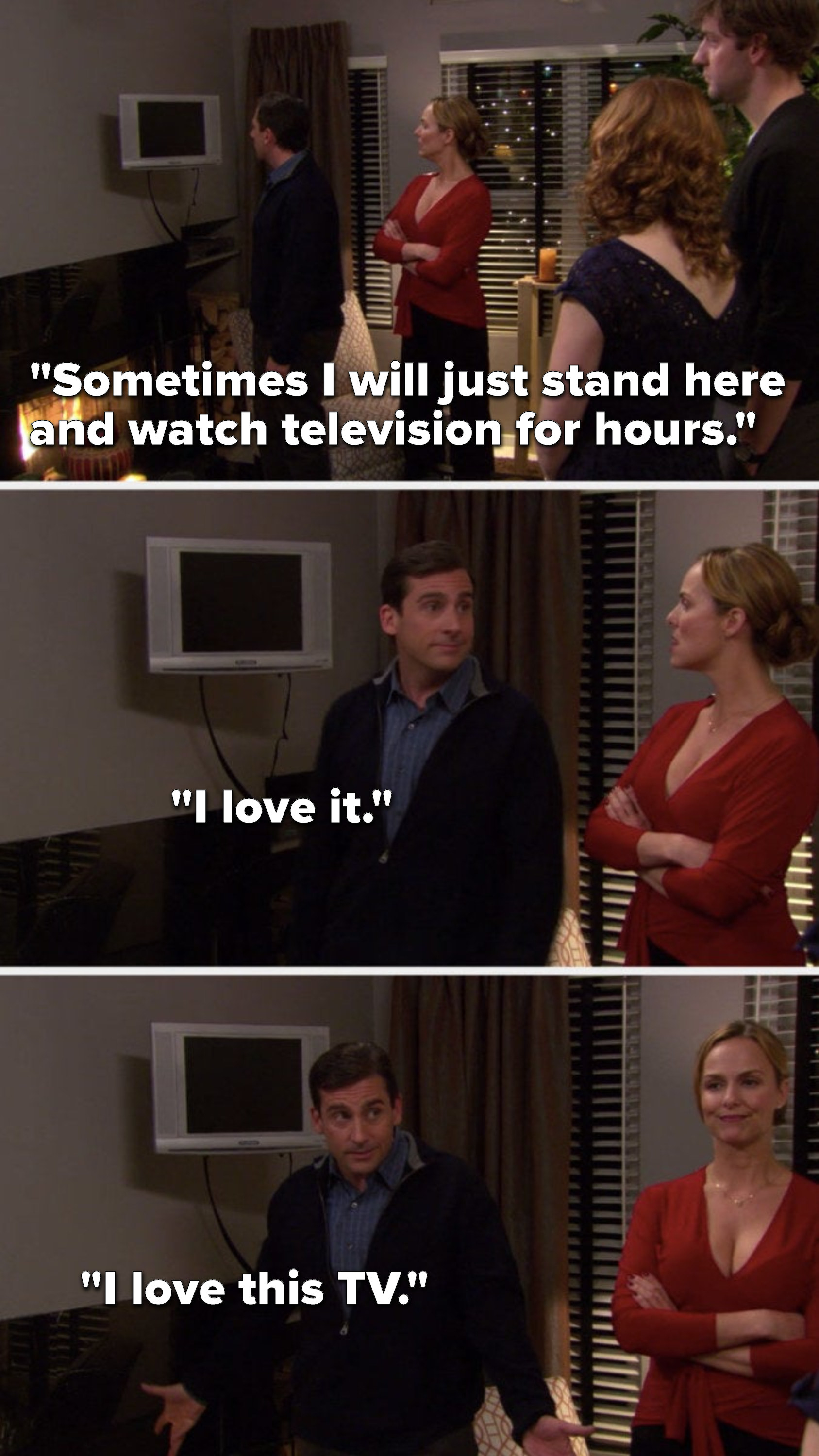 11.
When Michael calls Jan his second-best trophy.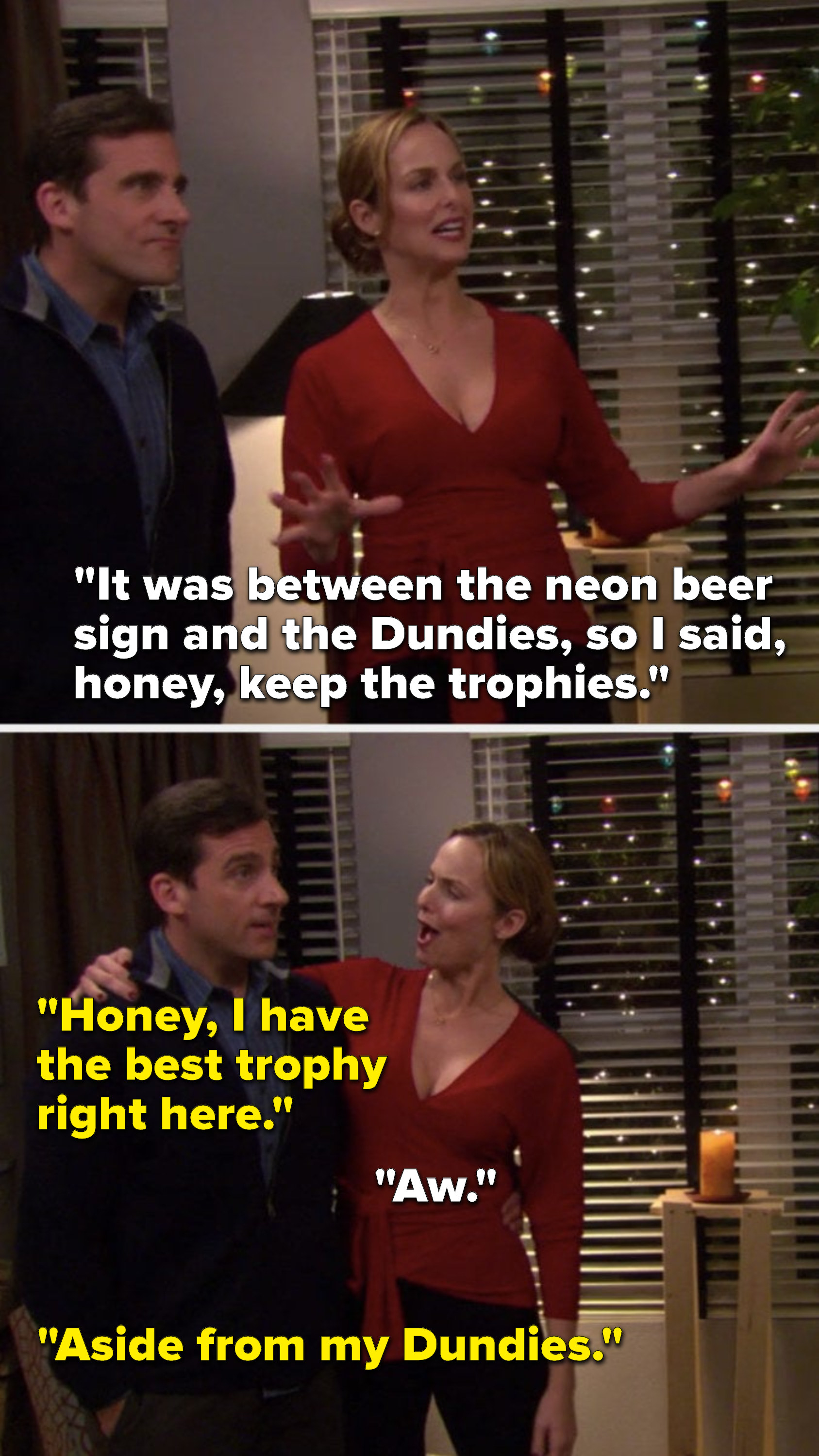 12.
When Angela and Andy arrive and Jan says the osso buco needs to braise for three hours, and Pam is like three hours from now or from earlier.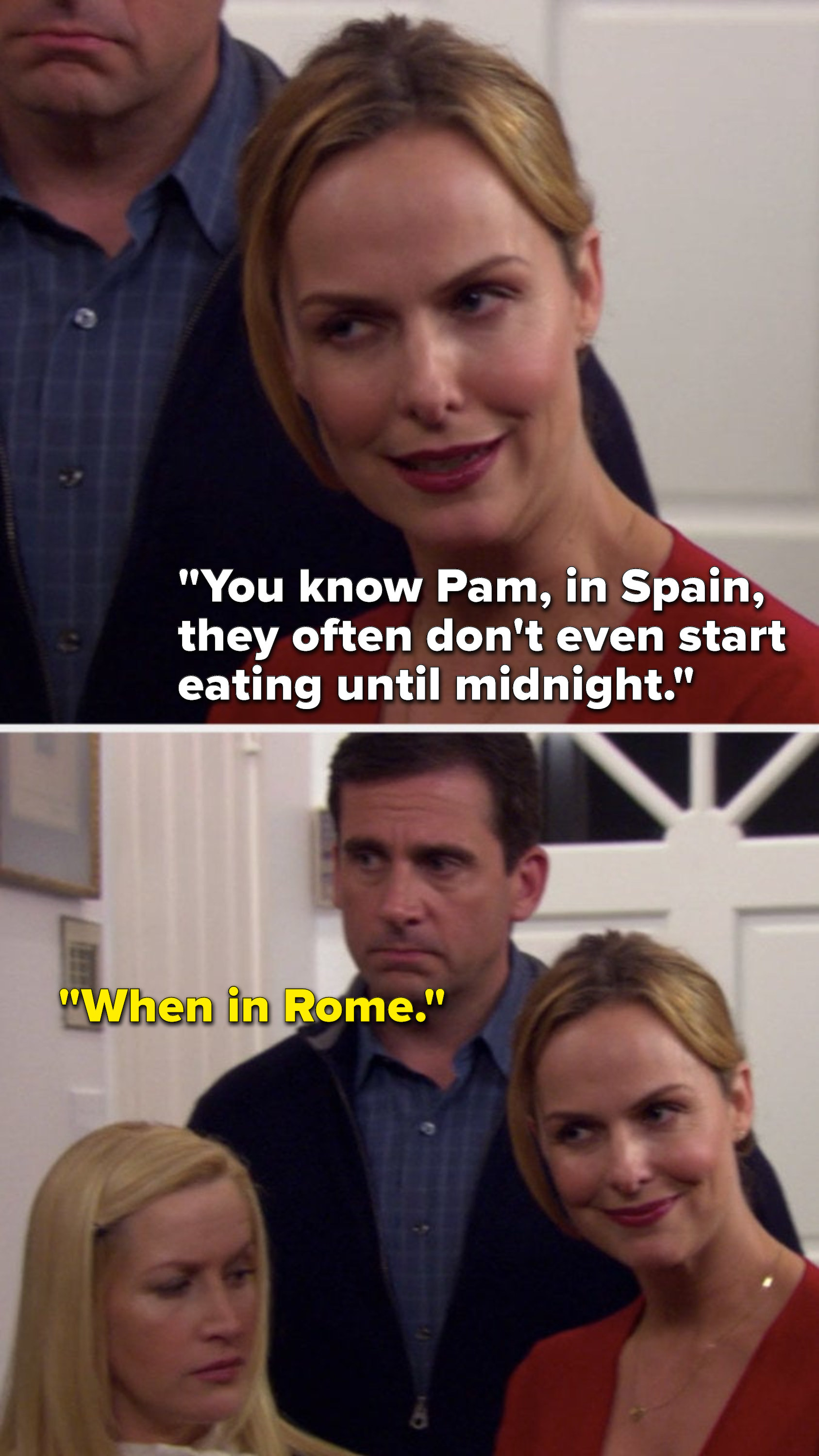 13.
Babe, when Michael has a sip of wine.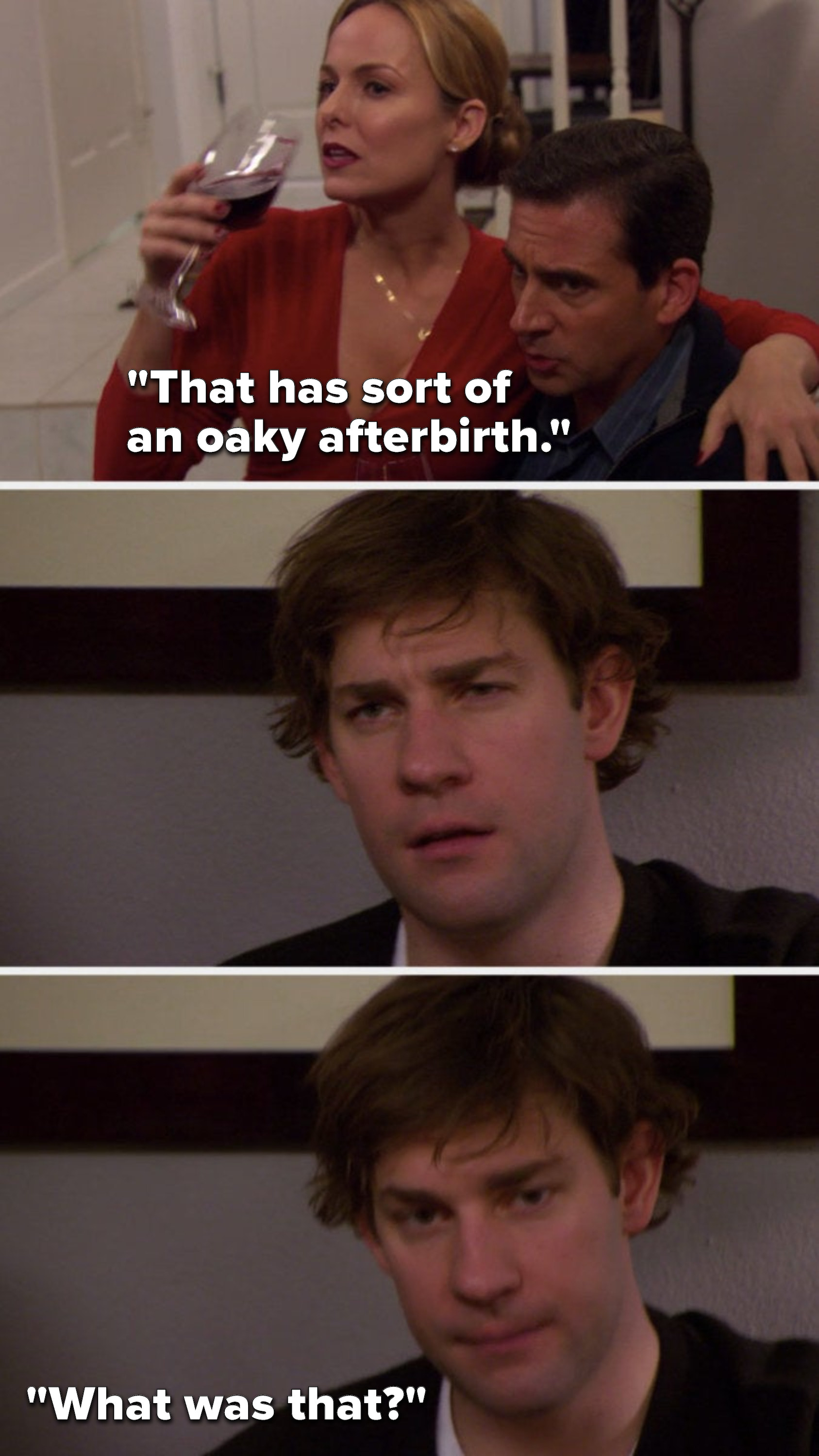 14.
When Jan dances to her old assistant Hunter's song, which is 1000% about her.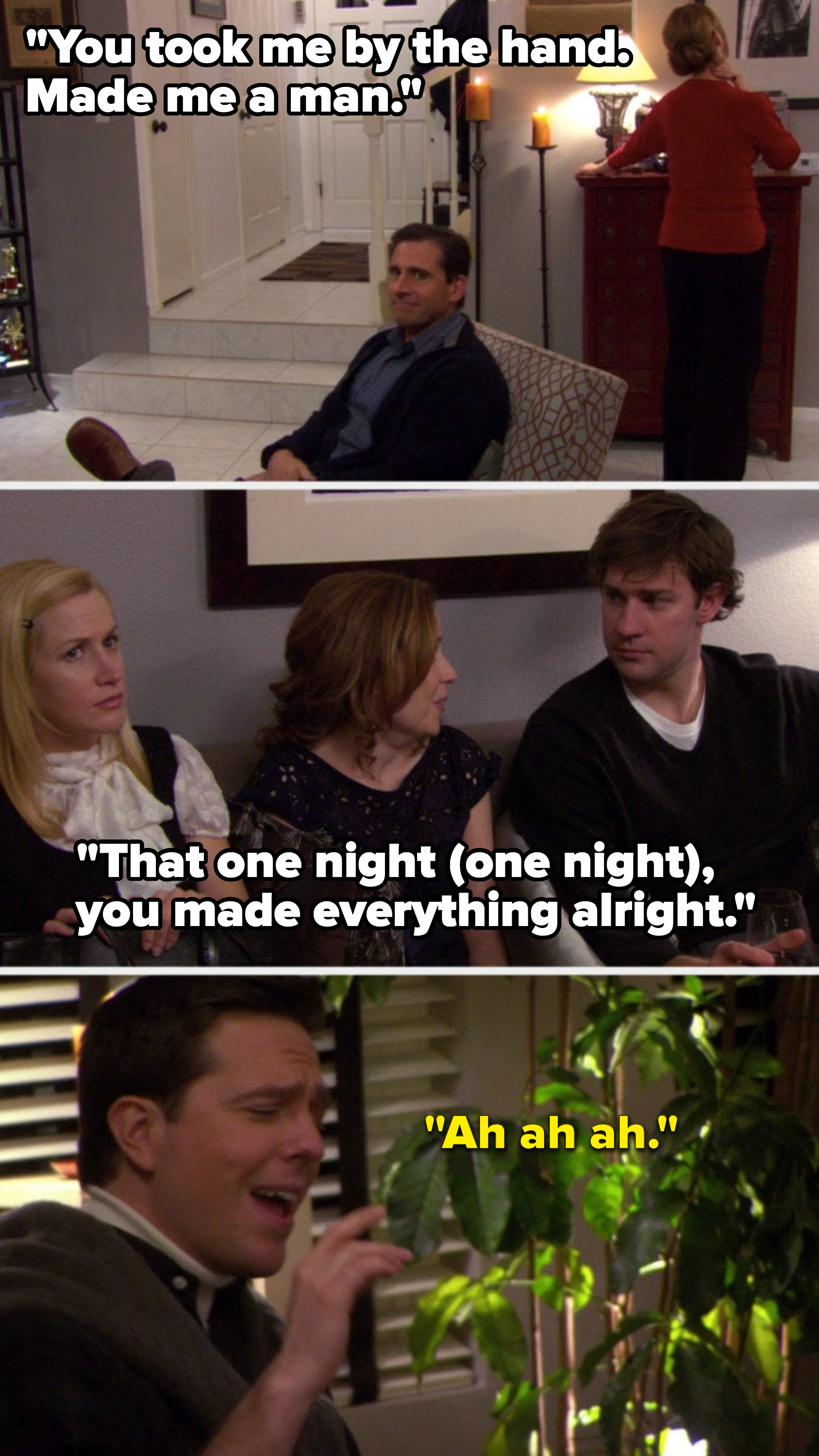 15.
When Jan tries to dance with Jim, but he's not on board.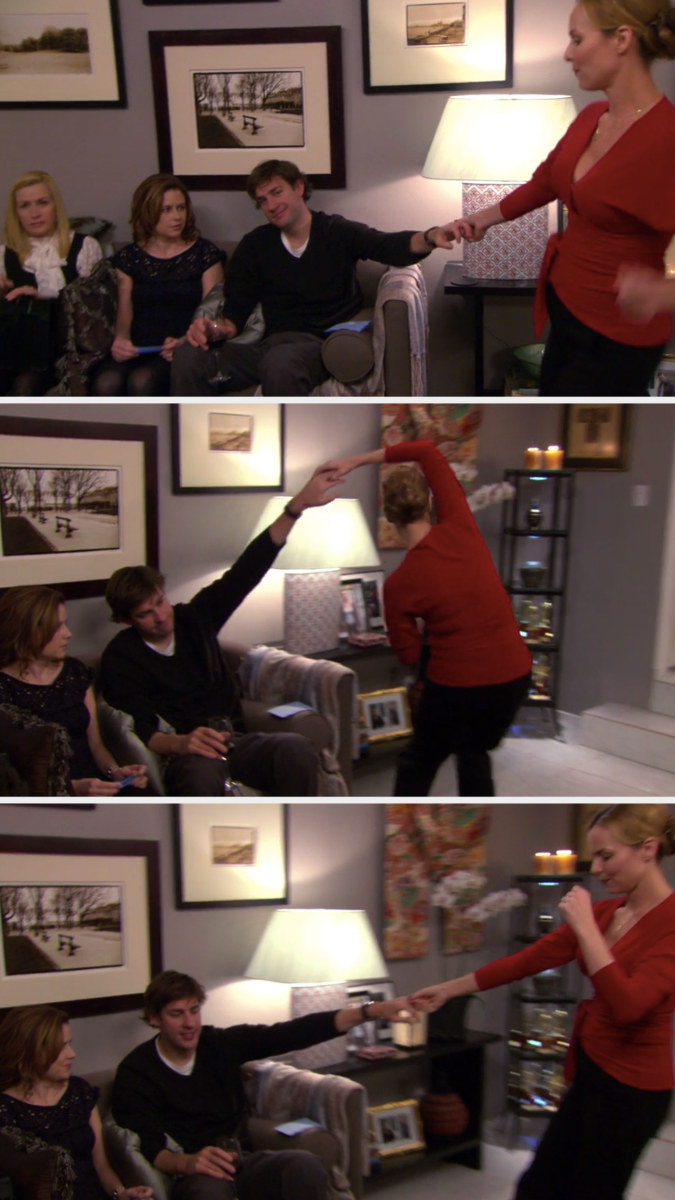 16.
When we hear the strongest proof for Jan's belief that Michael and Pam are currently having an affair, because she used to stay late with Hunter.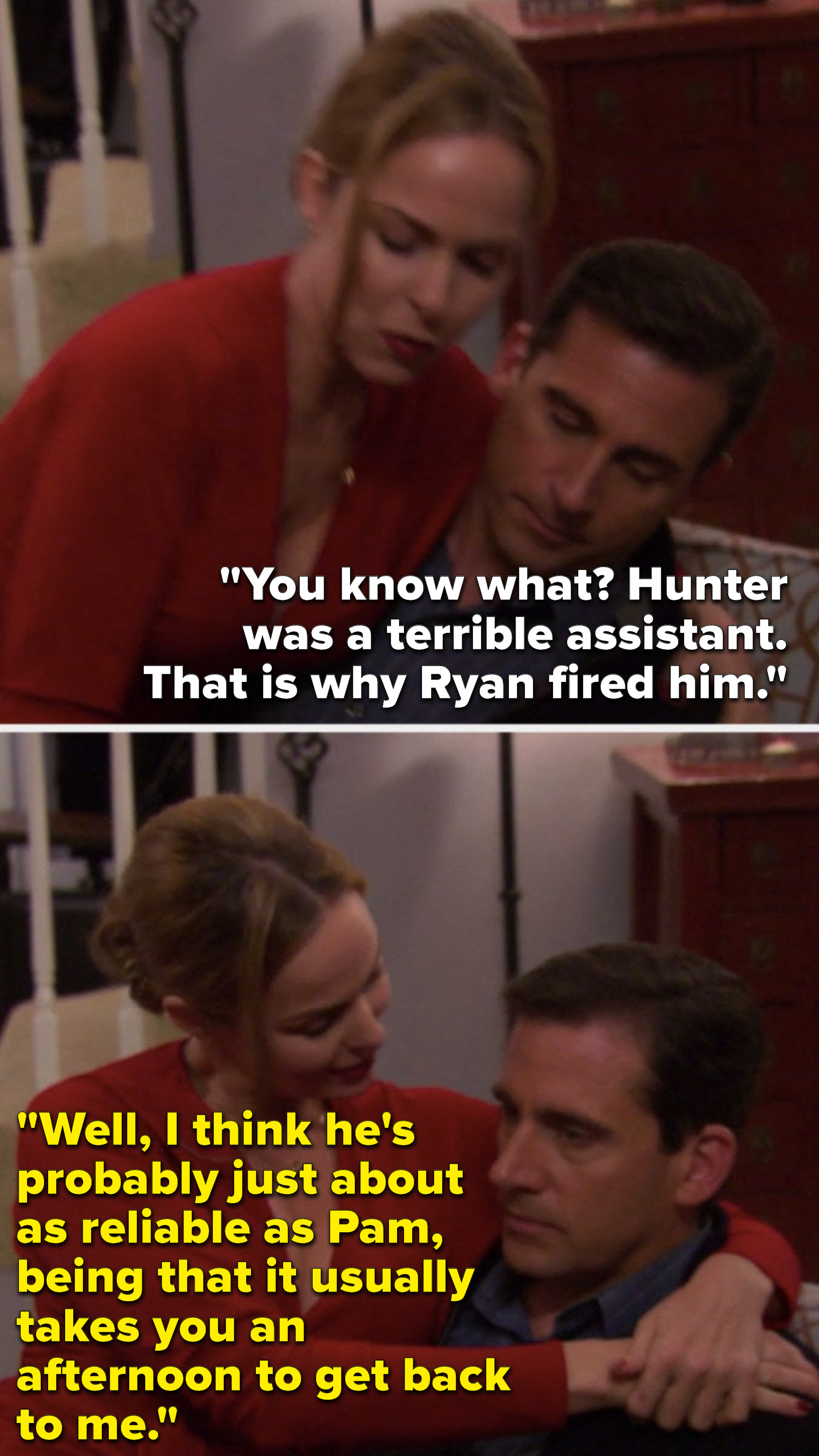 17.
When Michael and Jan argue a bit about whether Michael is being annoying or funny.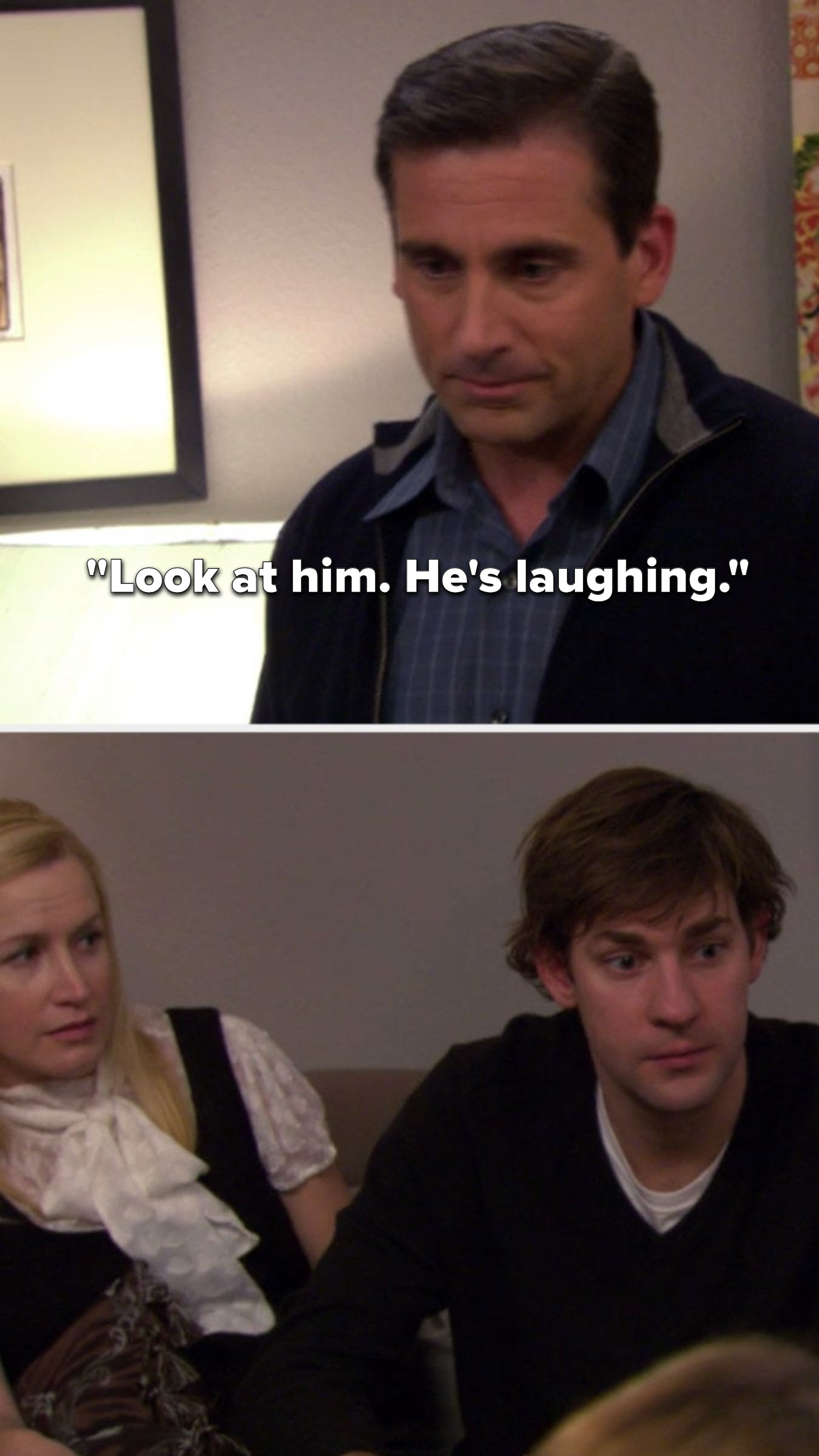 18.
When Jim says he and Pam have to go, babe, because his apartment flooded.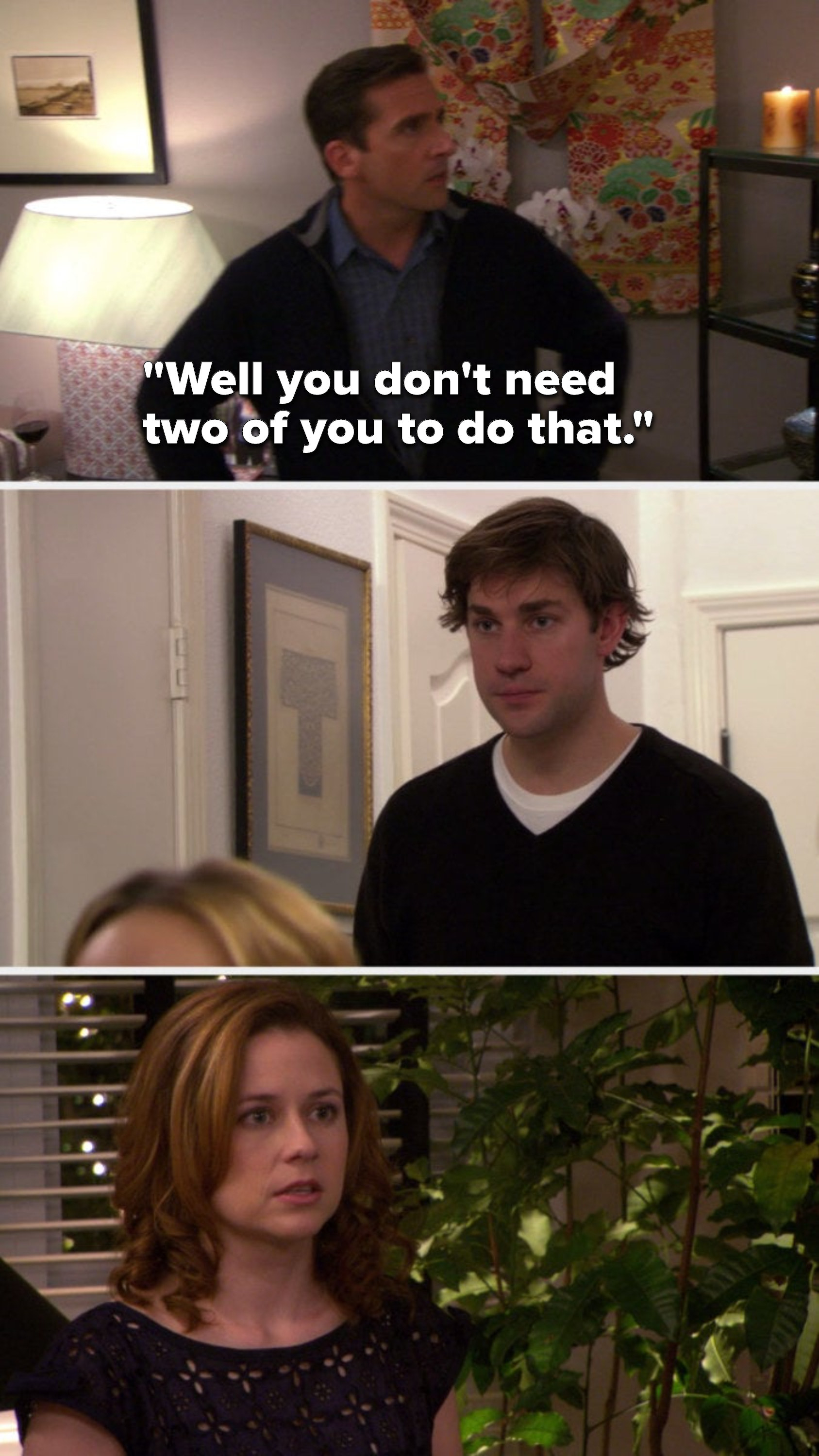 19.
So Jim says he'll go, but Pam is not having it, babe.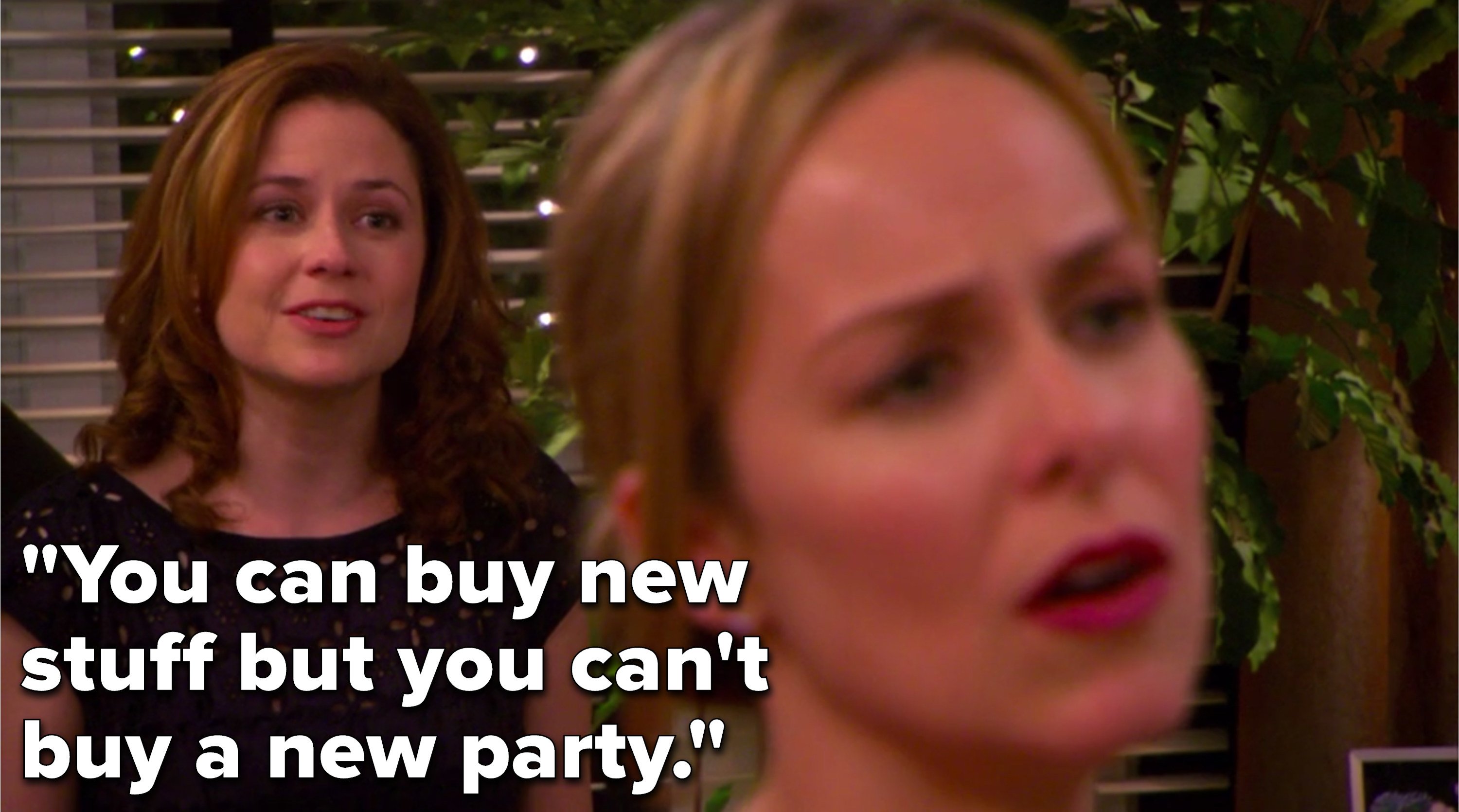 20.
When it's Michael turn in celebrity and he gets to two people.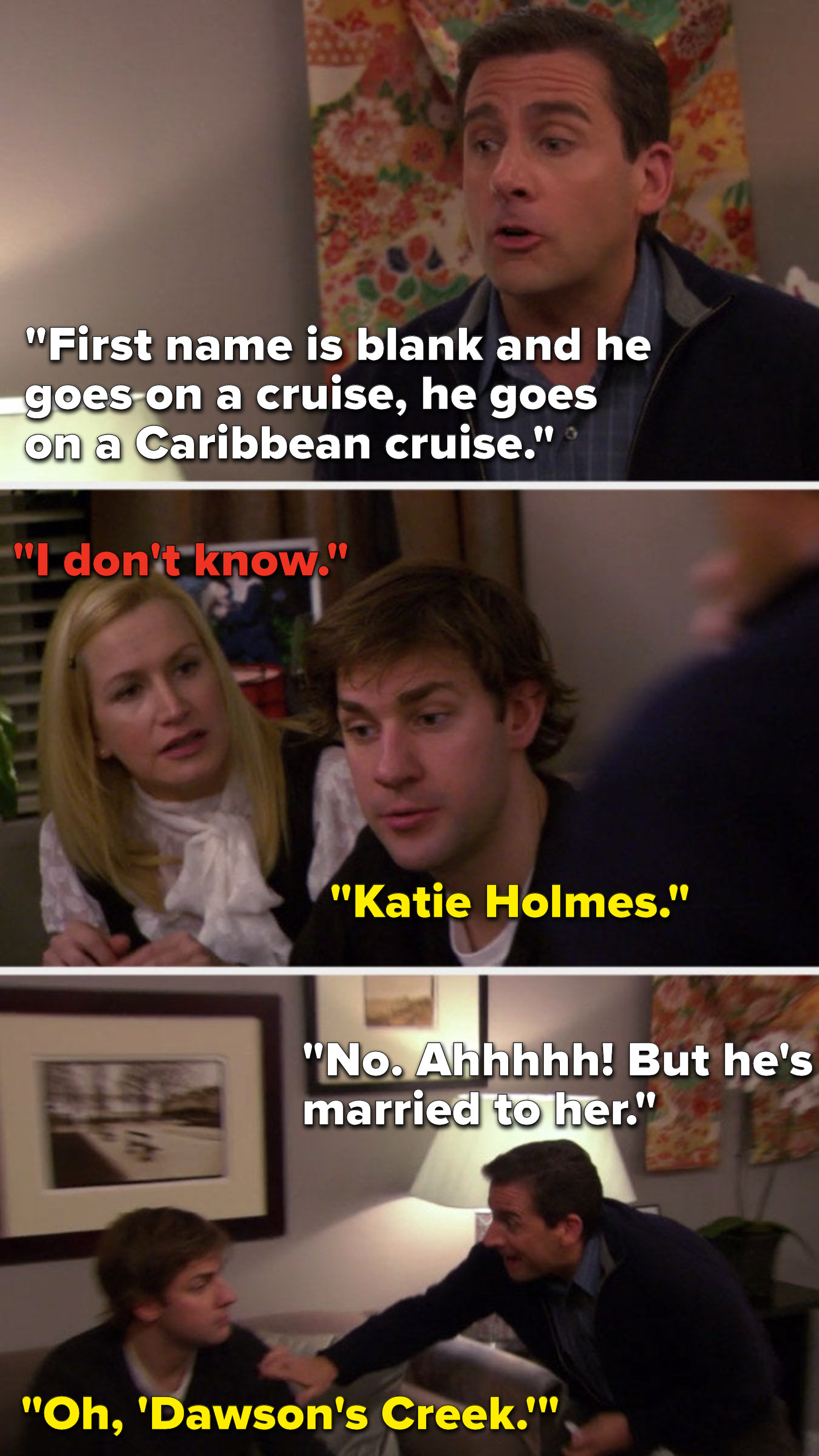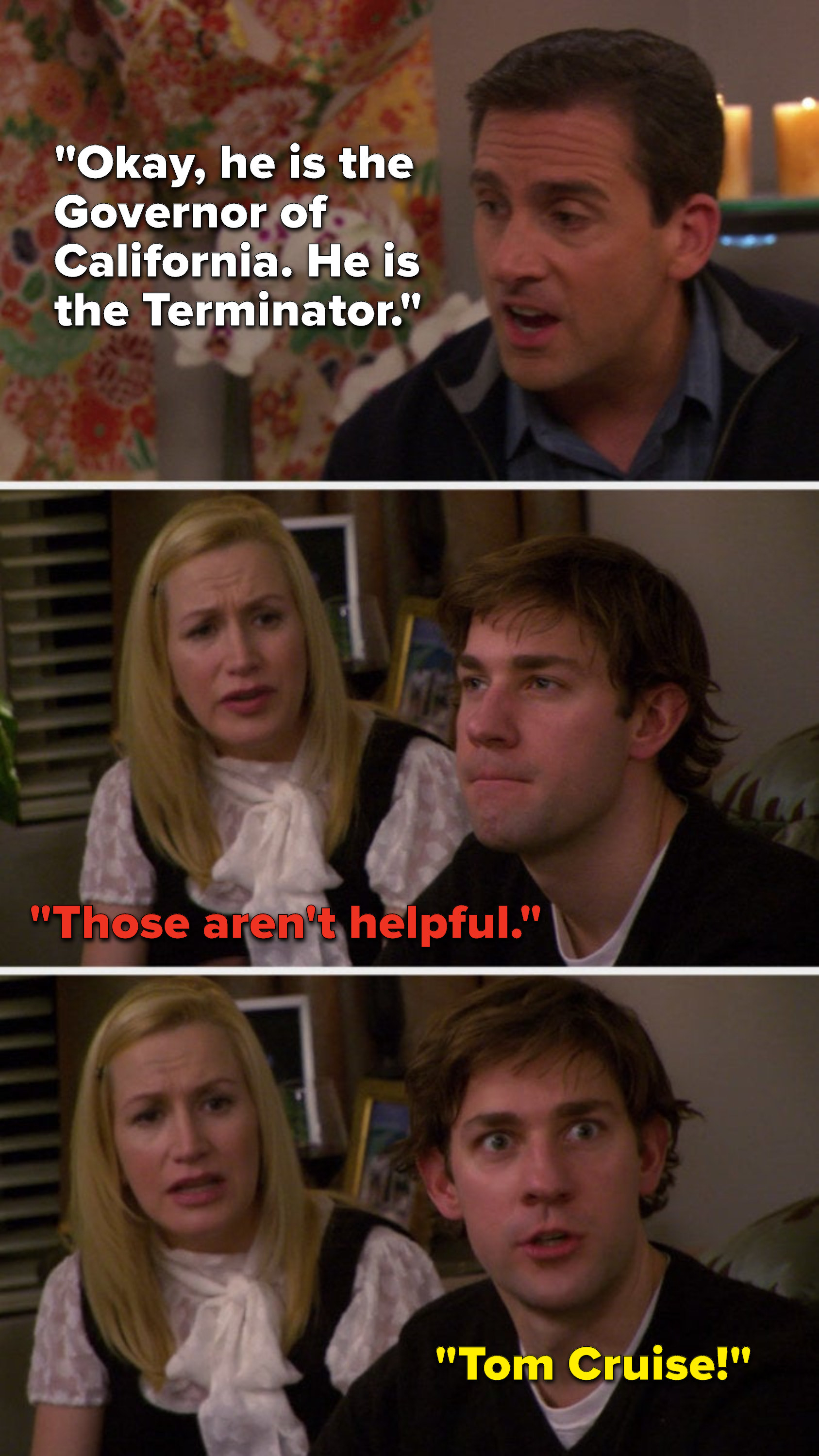 21.
When Jan reveals Michael ran through the sliding glass door because he thought he heard the ice cream truck and it gets very tense, so Pam offers to get more wine in the kitchen.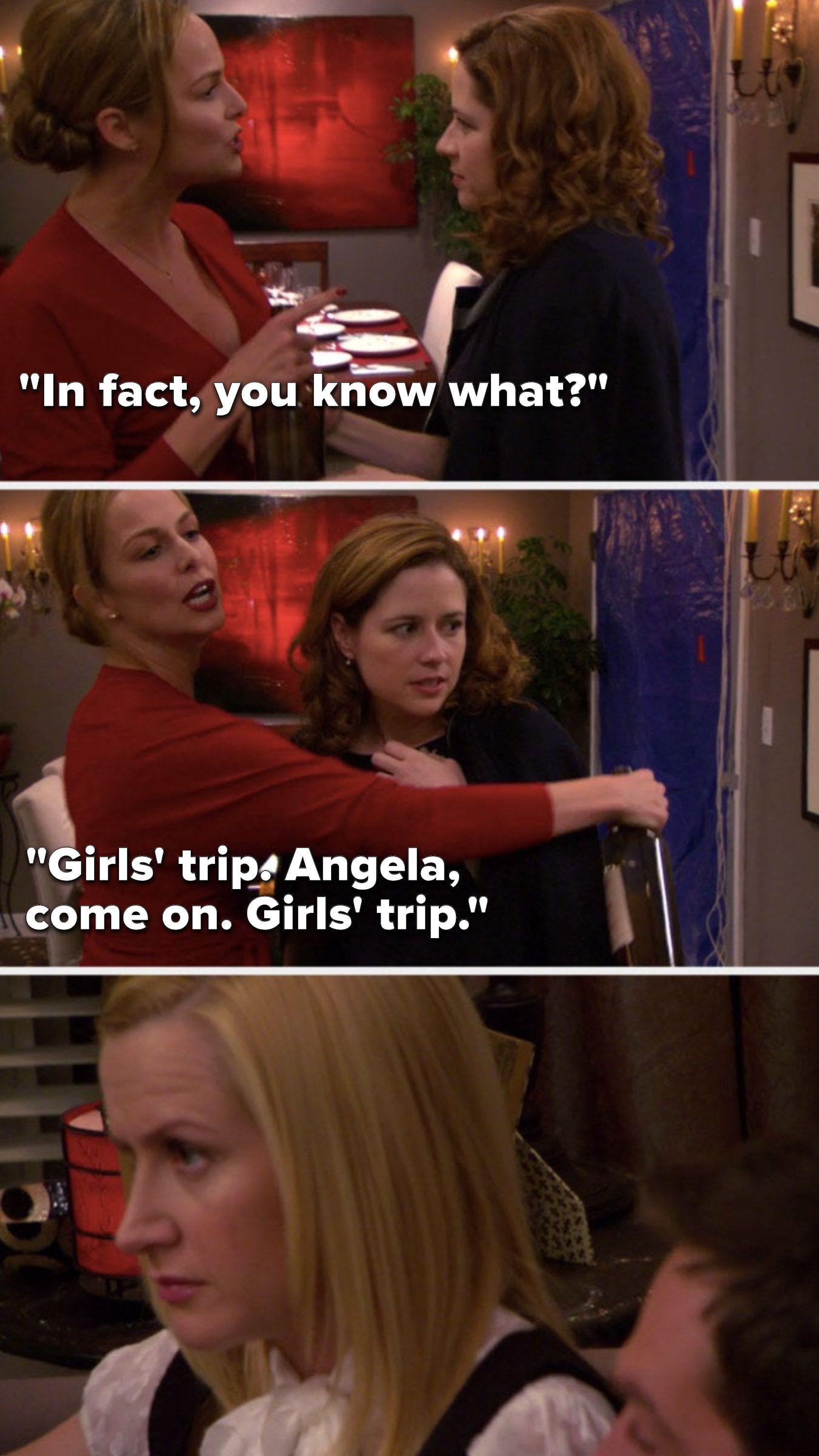 22.
When Michael says that candles are the #1 fastest-growing product in the scent aroma market, as if it would be anything else.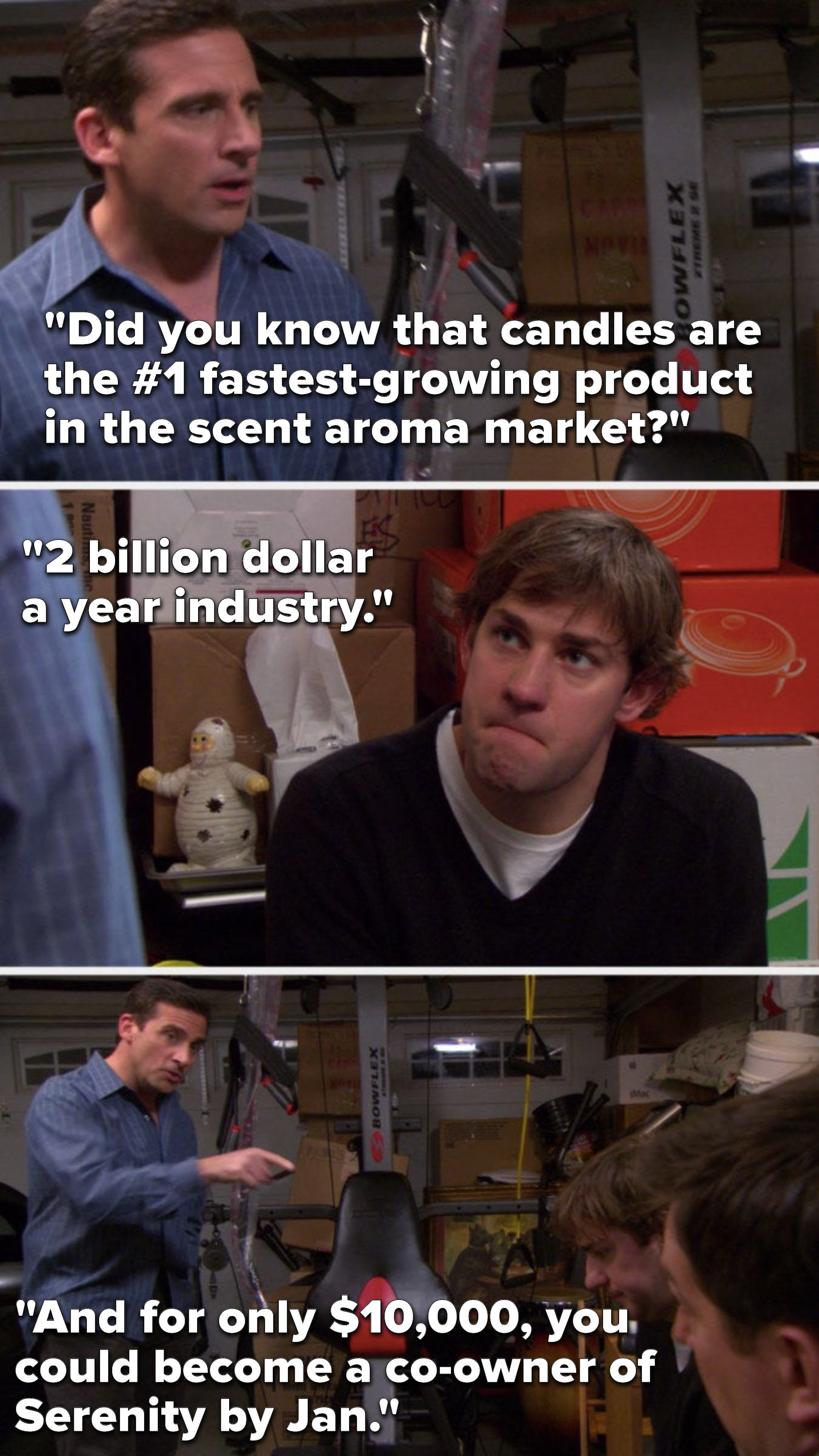 23.
When Dwight shows up with a date and two wine glasses and Jan and Michael get into a big fight. Michael says he had three vasectomies because she couldn't decide if she wanted kids.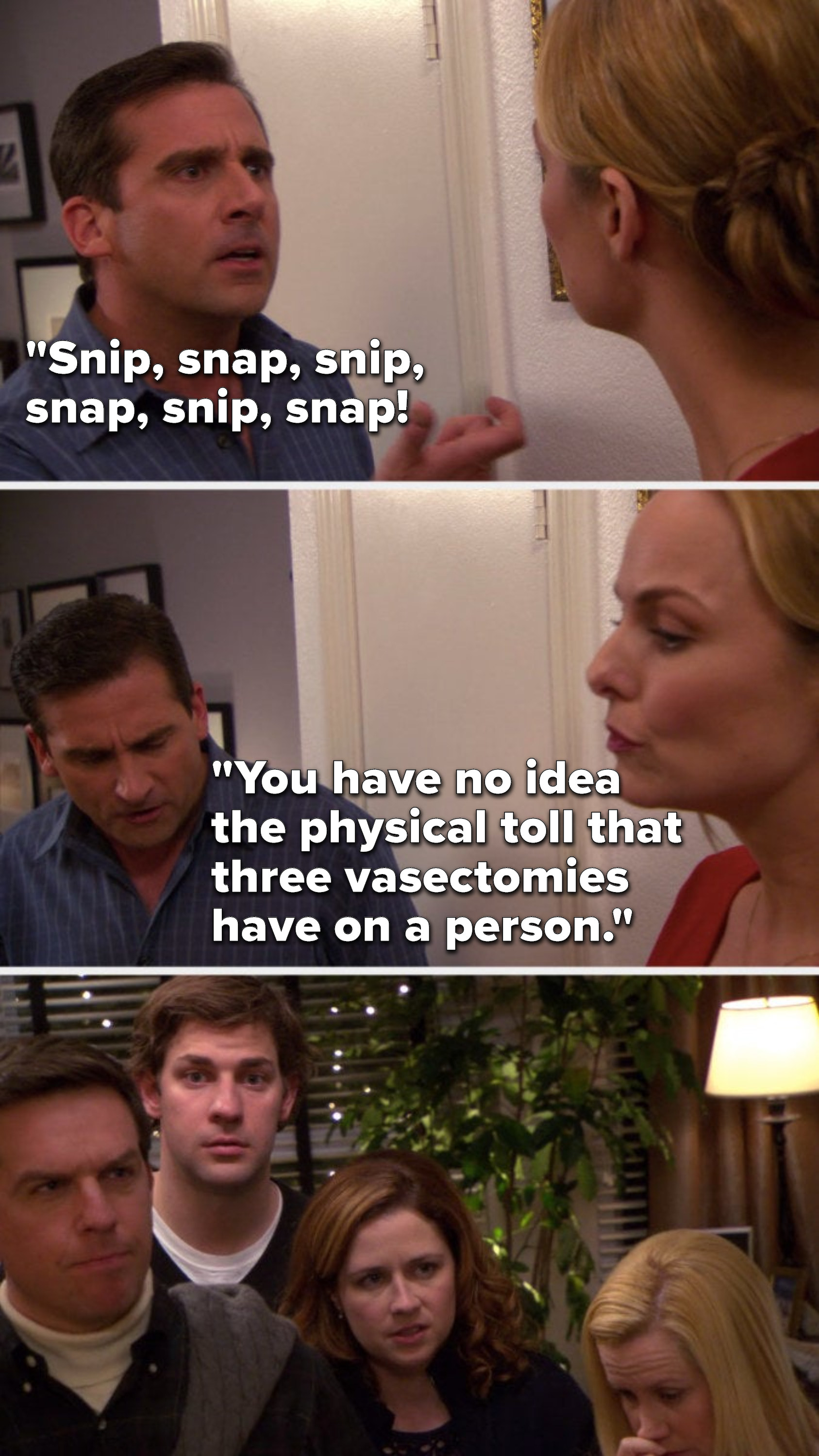 24.
When Michael tells Pam he thinks Jan might be trying to poison him.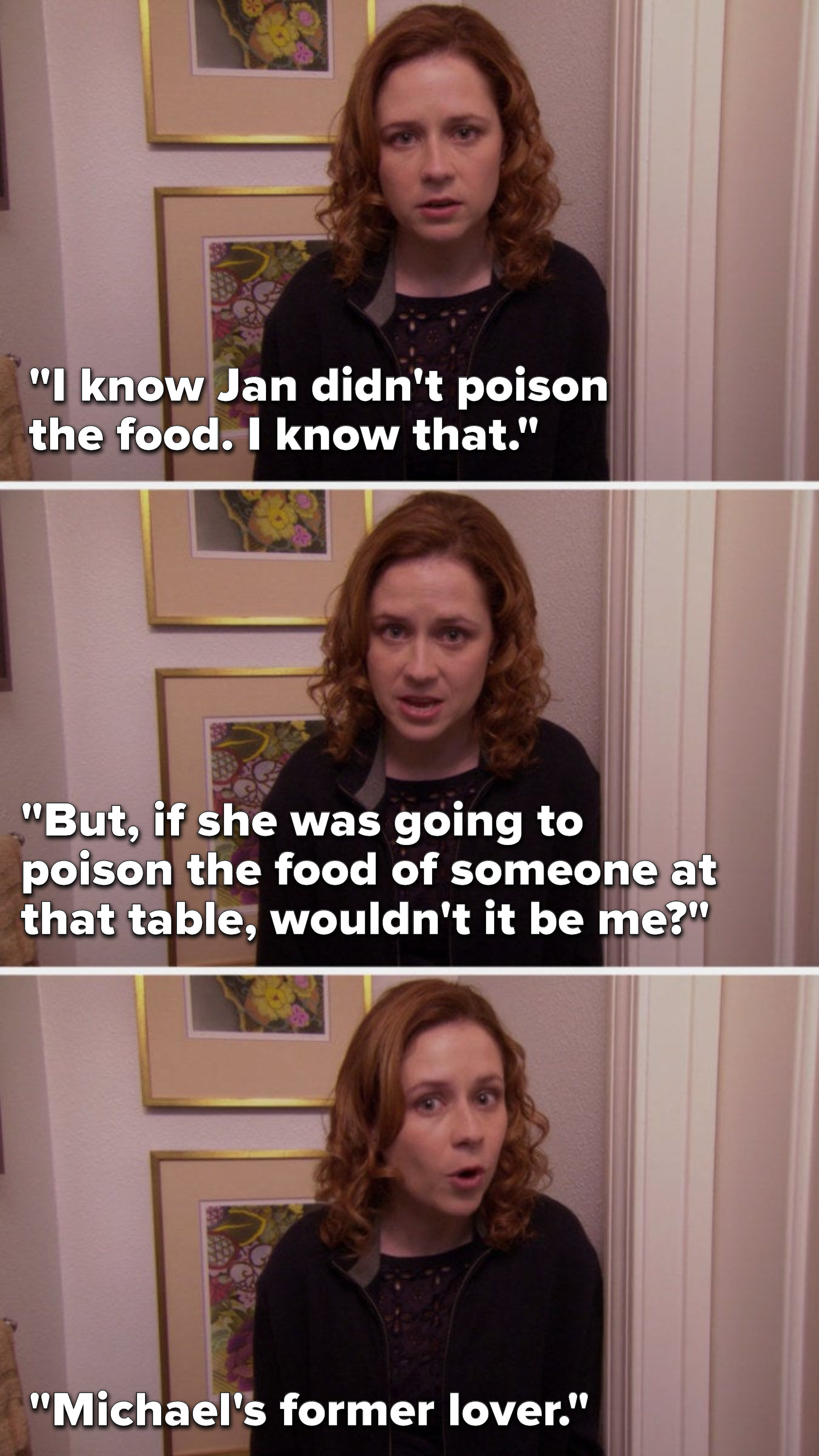 25.
When Michael dips his meat into his wine.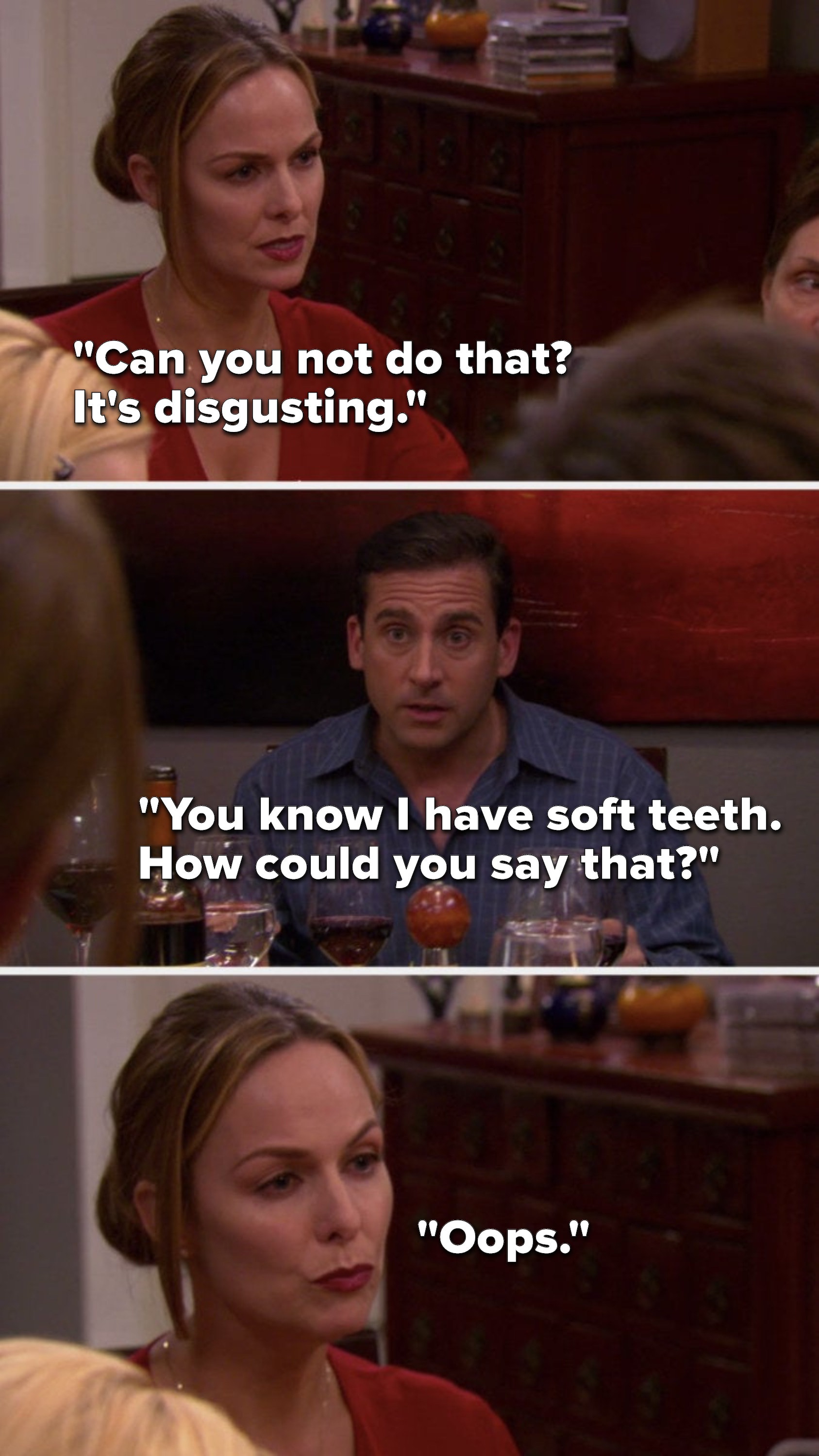 26.
When Jim learns Dwight's date used to be his babysitter.
27.
When Michael brings out the neon beer sign and hangs it on the wall.
28.
When Jan and Michael have their whole huge fight. It's all perfect — "You're hardly my first," "THAT'S WHAT SHE SAID!" — so I'll just put down the final moment.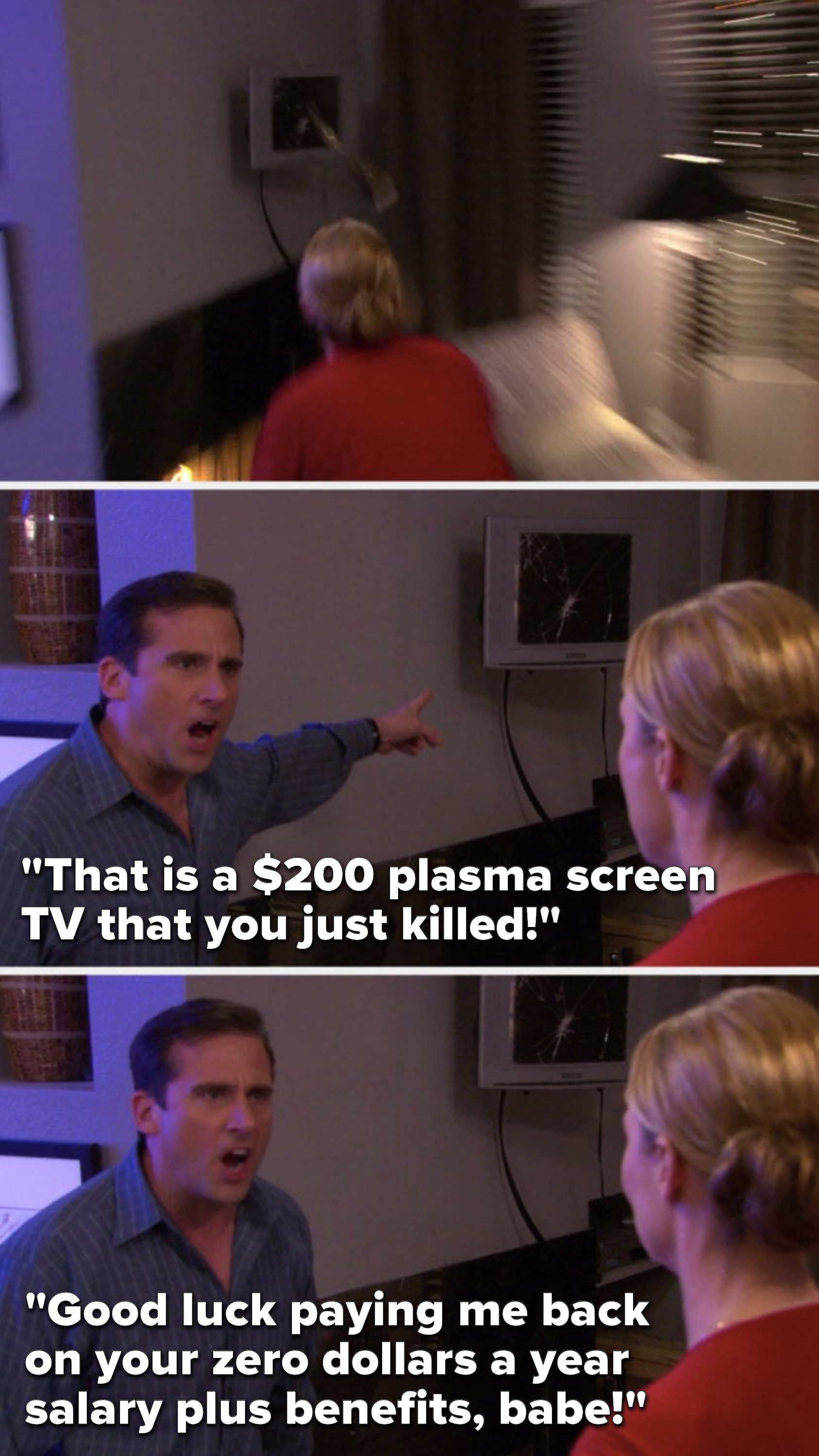 29.
When the police arrive because of the noise and Michael tells them that his girlfriend threw a Dundie at his TV, so they ask him if he wants to press charges.
30.
When Michael knows he's going to stay somewhere else tonight, but he doesn't want to stay with Dwight.
31.
When Angela and Andy get ice cream after the mayhem is over.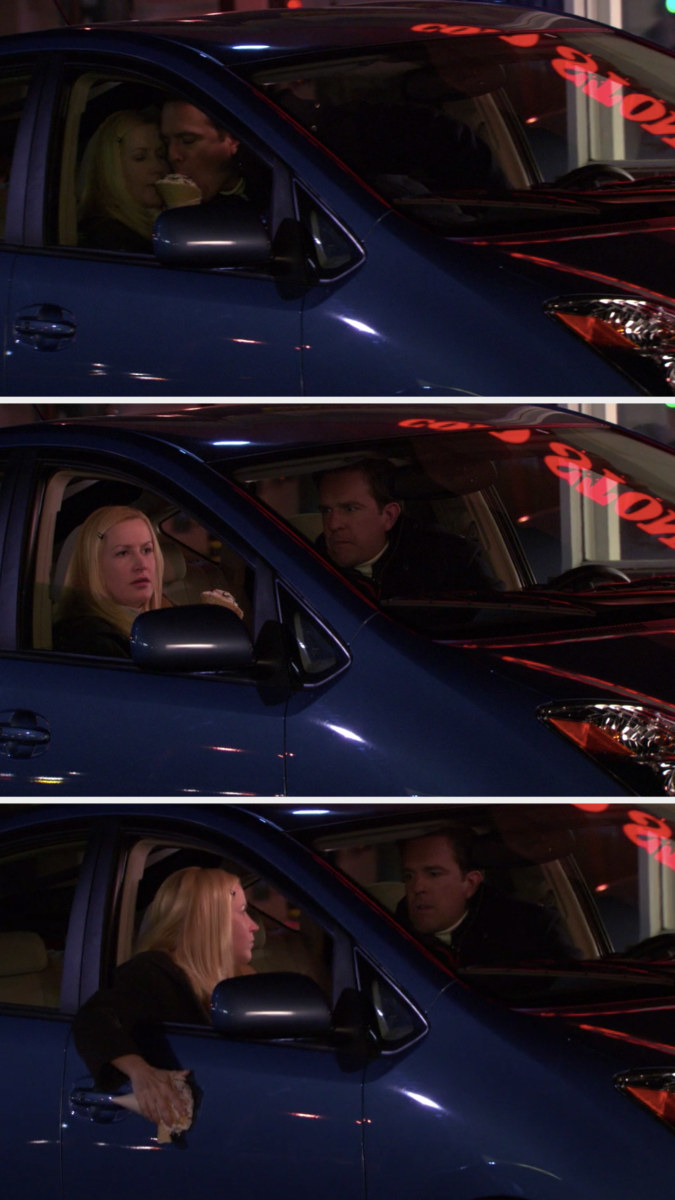 32.
And finally, babe, when Dwight takes sleeping Michael back to his place but doesn't pick up his babysitter/date when he sees her at the bus stop.
In conclusion: "Dinner Party" is a dream, and it will never get old.
There's a lot of amazing stuff I simply don't have the space to mention. Shoutout to the glass always being covered in smudges before Jan moved in, the hand chairs, Michael wanting to see Stomp, Dwight saying "Hey, hey, hey" to his date to get her to stop talking, and, "What seems to be the problem, officers?" "Not now, Dwight."