Creamy Slow Cooker Chicken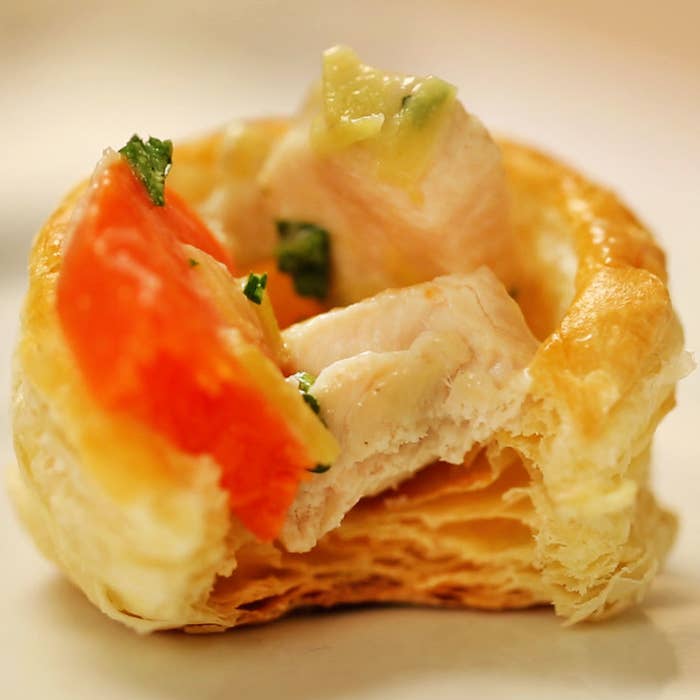 INGREDIENTS
Servings: 9 cups
3 chicken breasts
Salt and pepper
2 large leeks
4 medium carrots, peeled
3 cloves garlic, peeled
½ cup chicken stock
1 sprig fresh thyme
1 box (2 sheets) puff pastry
1 egg
2 teaspoons flour
¼ cup heavy cream
Fresh parsley (for garnish)
PREPARATION
1. Cut chicken into small pieces, season well with salt and pepper, place in slow cooker.

2. Carefully wash leeks, thinly slice, place in slow cooker. Slice carrots and add to slow cooker. Top with chicken stock and thyme. Set to high and cook 3-4 hours until chicken is fork-tender.

3. Remove about ½ cup of the liquid from the slow cooker and whisk in flour. Return to slow cooker along with the heavy cream. Stir, cover, and cook an additional 30 minutes (or until thick and creamy).

4. Preheat oven to 425℉/220℃.

5. Using a cookie cutter, cut 9 rounds from each sheet of puff pastry for 18 total. Using a slightly smaller cutter, cut a small round from the center of 9 rounds to form a ring. Line up the 9 rounds on a parchment-lined baking sheet. Brush with egg wash. Top each round with a ring of pastry and brush with egg wash. Bake for 8-10 minutes until golden brown. 

6. Spoon chicken stew into pastry cups, top with chopped parsley.

7. Enjoy! 

NOTE: There will be extra filling.