Cookies & Cream Empanadas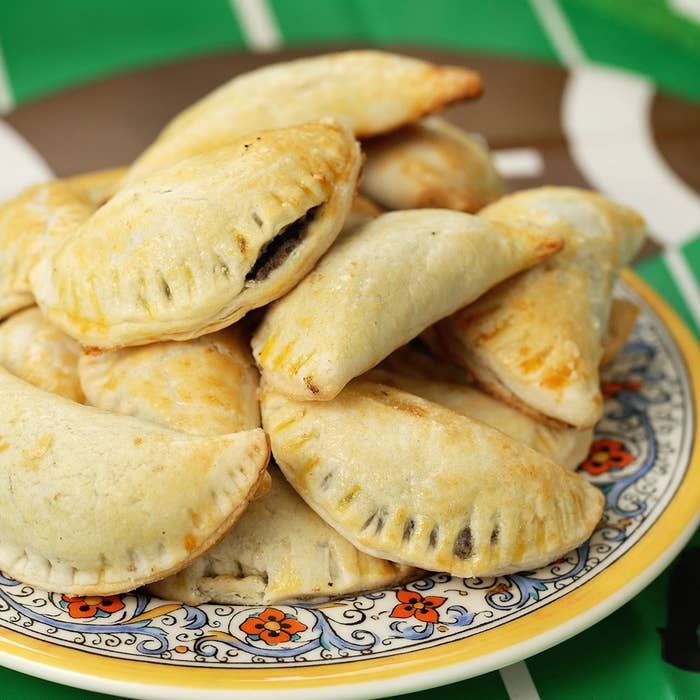 INGREDIENTS
Servings: 16
10 to 12 chocolate wafer cookies
1 (8 ounce) package cream cheese
¼ cup sugar, plus 1 tablespoon for topping
1 teaspoon vanilla
1 tablespoon heavy cream
2 eggs, divided
1 package pie crust dough (2 sheets)
PREPARATION
1. Preheat the oven to 450℉/230℃. 

2. In a food storage bag, crush the cookies to form coarse crumbs. 

3. Combine cream cheese, sugar, vanilla, heavy cream and 1 egg in a mixing bowl. Blend until creamy with a hand mixer.

4. Fold in the cookie crumbs.

5. Using a glass or round cookie cutter, cut circles out of the pie crust. Fill each round with a small amount of the filling. Fold over and press to seal. Line up on a parchment-lined baking sheet. 

6. Beat the remaining egg and brush each empanada with egg wash. Sprinkle with sugar.

7. Bake for 8 to 10 minutes or until golden brown.

8. Enjoy! 

Note: There may be some extra filling. This could make a few individual cheesecakes in muffin tins!