While Valentine's Day is a point of contention for some people who view it as a cheesy consumerist "holiday" engineered by greeting cards, to us at Hello Home Shoppe, if it's an excuse to go on a 50% marked-down chocolate bender, we're not complaining!
After all, Valentine's Day is what you make it.
Our advice? Surround yourself with those you love and post up at home with a well-curated "Valentine's Day" box full of your favorite things. Remember, it's engineered BY YOU to include the best stuff ever — your valentine will love you for it!
Make a "Valentine's Day in a Box"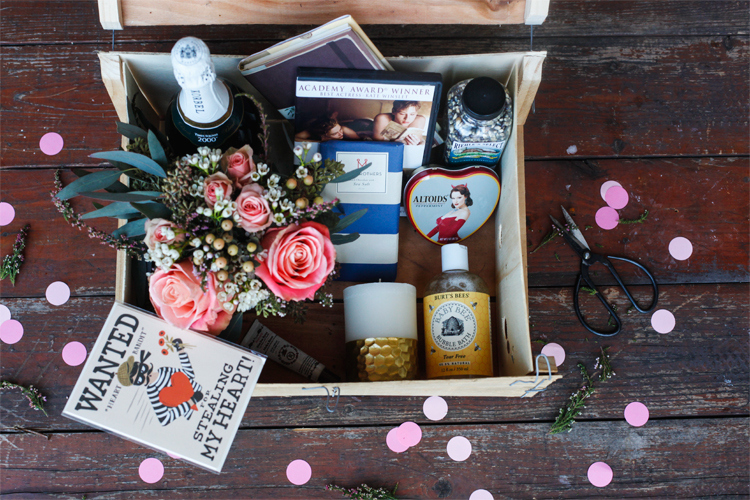 First Step: Acquire a box!
This seems obvious, but it can be tricky finding the perfect vessel to hold all your gifts.
We ended up using a produce box that we found on the street, but you can get creative! Some ideas:
-Wrap a cardboard box with wrapping paper
-Paint an old shoe box
-Ask a wine store for one of the boxes their wine ships in (usually fancy!)
-Kraft paper box from paper store
-Use the crate that clementines come in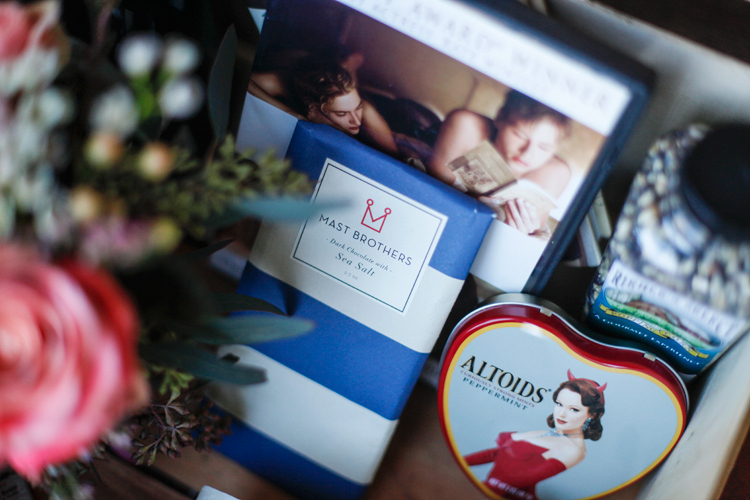 Second Step: Curate!
The first step to making a memorable "Valentines Day In a Box" (after acquiring a box that is) is to curate it with things that your valentine loves!
Obviously, you should tailor the boxes content based on their preferences but here's a solid base of items for you to work off of:
-Flowers (you don't have to buy an expensive bouquet--we made our own from corner store flowers for under $20!)
-Champagne
-Quick-reading Novel (extra points if it's sappy! We like The End Of The Alphabet by C.S. Richardson or something from Penguin's "Great Loves" series)
-Lip Salve
-Breath mints
-Mushy film
-Fancy popcorn
-Quality Chocolate (we love Mast Brothers)
-Candle
-Bubble Bath
Step Three: Add Some Flowers!
Whether your surprising your betrothed or best friend, flowers make everything better. But that doesn't mean they have to cost a fortune! Instead of throwing down lots of money for a bouquet, we made our own with grocery store flowers and greens that we arranged and tucked into a glass jar.
Trader Joes is always a good resource for this, as are flea markets, and corner delis.
Valentine not keen on blooms? You can substitute succulents, cacti, or a thoughtful plant.
Step Four: Wrap It Up + Gift!
After you've gathered everything you need for the perfect box, it's time to package everything together.
Carefully arrange everything in your box so that all the goodies are visible when your valentine opens it. You're now ready to start gifting--enjoy!