Here's How To Make Tacos Without Meat That Have Incredible Flavor
No meat tacos are a thing, people!
by
,
,
Sweet Potato Guerrilla Tacos As Made By Lucky Peach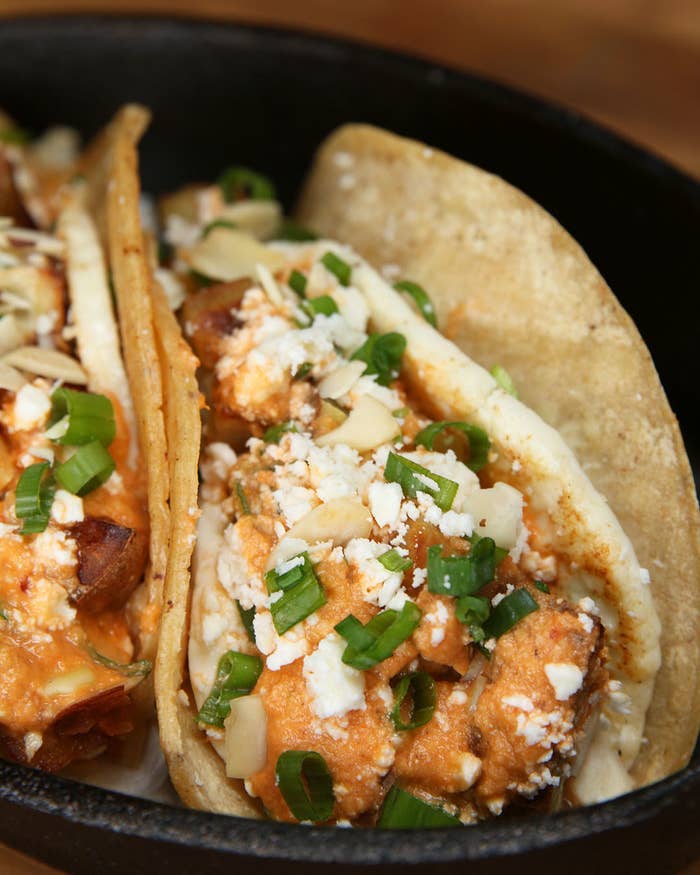 INGREDIENTS
Serving 4-6
1½ pounds sweet potatoes (preferably Japanese) diced
1 (750-ml) bottle white wine
5–6 sprigs fresh thyme
5–6 sprigs fresh parsley
2 leeks
3 tablespoon butter, melted
3 cloves garlic
12 corn tortillas
12 ounces Oaxacan or panela cheese
½ cup crumbled feta
¼ cup toasted pine nuts or slivered almonds
1 sup thinly sliced scallions, green parts only
PREPARATION
Preheat oven to 425°F/220°C.
Trim and discard the tough green parts from the leeks, then cut them in in half lengthwise. Swirl in water to remove any sand. Pat dry.
On a large baking tray place the leeks, sweet potatoes and garlic. Pour melted butter and salt evenly over the vegetables.
Bake for 25 minutes.
In a large saucepan, bring the white wine, thyme and parsley to a boil and cook until it loses the raw alcohol smell, about 5 minutes. Reduce the heat to a bare simmer.
When the leeks are golden take both leeks and garlic off the tray. Place potatoes back in the oven for another 20 minutes.
Add leeks and garlic into the simmering wine sauce. Cook until leeks are tender, about 30 minutes.
Melt 2 tablespoons butter in a nonstick skillet over medium-high heat. Pull the leeks from the cooking liquid, pat them dry and add to the butter to cook briefly on both sides, about 3 minutes total.
Remove the stem ends from the leeks and cut into 2-inch lengths.
For each taco, heat 2 tortillas on a griddle or in a large skillet over medium-high heat with a little butter. Place 2 slices of Oaxaca cheese next to them on the griddle. When the tortillas are warmed through, stack them on top of the cheese.
When the cheese has browned on one side, remove the tortillas and cheese to a plate, cheese-side up.
Add 2 to 3 strips of leek and some sweet potato. Spoon over 1½ –2 teaspoons salsa and sprinkle with 2 teaspoons crumbled feta, a few toasted pine nuts, and 1 teaspoon minced green onions and serve immediately. Repeat using the remaining ingredients.
For the Almond Salsa
Makes about 1 quart
INGREDIENTS
1 red bell pepper
1 tablespoon oil
1 ounce chilies de árbol, stems removed but left whole
1 habanero pepper, split lengthwise
2 tablespoon pine nuts
3 tablespoon sliced almonds
1 pound small tomatillos, rinsed and peeled
2 plum tomatoes, quartered
1 cup water
A pinch of salt
2 tablespoon red wine vinegar
PREPARATION
1. Char the bell pepper over a burner or under a broiler until it is well-blackened on all sides. Wrap in a plastic bag and set aside until cool enough to handle, then peel and seed the pepper. Set aside.
2. Heat the oil in a large skillet over high heat. Add the chiles de árbol and habanero and toast until fragrant, about 3 minutes; toward the end of toasting, add the pine nuts and almonds and toast until fragrant.
3. Add the tomatillos, tomatoes, water and three-fourths teaspoon salt, and cook over high heat until the tomatillos are tender, about 10 minutes.
4. Transfer mixture to a blender along with the bell pepper and purée until smooth. Add the red wine vinegar and adjust seasoning. The salsa should be thick enough to generously coat the back of a spoon. Any unused salsa will keep, covered tightly, in the refrigerator for a week.
5. Enjoy!