Chocolate Cupcake In An Orange Cup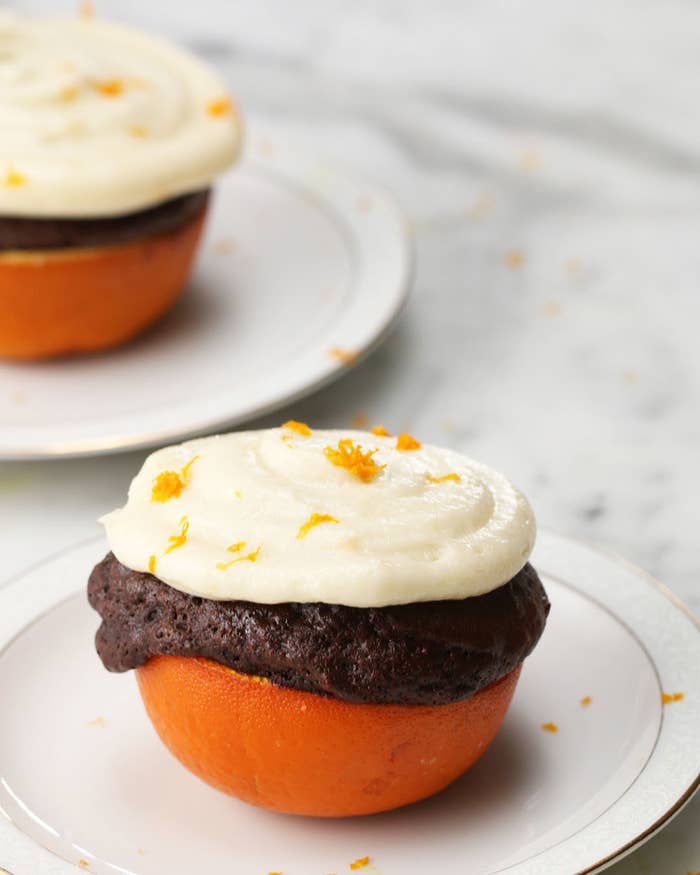 INGREDIENTS
Servings: 12
For the cupcake:
3 oranges
Chocolate cake mix
3 eggs
1/2 cup oil
1 cup orange juice
For the icing:
4 ounces cream cheese, room temperature
1 teaspoon vanilla extract
1/4 teaspoon orange zest, plus more for garnish
1 stick butter, room temperature
1 1/4 cup powdered sugar
PREPARATION
1. Cut orange in half. With a paring knife, carefully cut along the entire edge. With a spoon, scoop out the "meat" and set aside in a bowl. Repeat for all oranges. This will yield 6 empty orange halves.
2. Juice the orange, reserve for the cake mix.
3. Pre-heat oven to 350°F/175°C. In a medium bowl, combine cake mix, eggs, oil and freshly squeezed orange juice. Mix until the batter has no lumps.
4. Place the orange cups into a muffin tin and fill with 1/4 cup of the chocolate batter.
5. Bake 25 minutes.
6. In a medium bowl, blend cream cheese, vanilla extract and orange zest until nice and smooth. Add butter and mix on medium high for a couple of minutes. Add powdered sugar and mix until the frosting is uniformly smooth. Put icing into a piping bag.
7. Let cupcakes cool down. Top the cakes with icing. Sprinkle extra orange zest on top for garnish.
Want BuzzFeed Tasty right in your inbox? Sign up for our newsletter!