Want to brighten up the way you eat? Make these super easy and colorful bowls and utensils for your next outdoor adventure. (Or any adventure really!)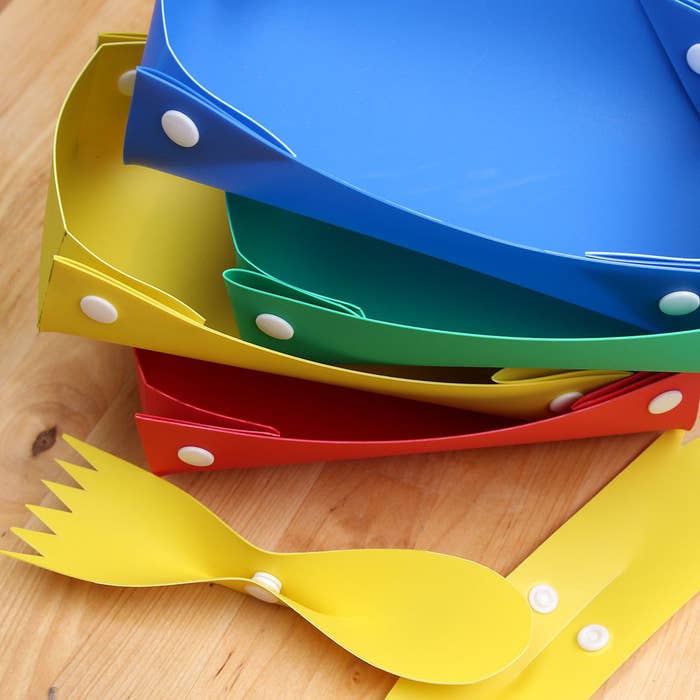 Here's what you'll need:
* Flexible cutting board
* Ruler
* X-acto knife
* Scissors
* Plastic snaps
* Awl (optional)
* Hand press pliers
Here's what you'll do:
# Cut cutting board in half.
# Make a 2x2-inch mark on each corner and lightly score.
# Flip the cutting board and score on a 45 degree angle in the 2x2 square.
# Bend the 45 degree-angled score towards you and fold to the right. It should create a corner. Repeat for all corners.
# With an awl or any sharp needle, poke a hole through the triangle formed by folding in the socred ends.
# Attach a plastic snap through the right hole. Repeat using the opposite snap on the left hole. Cut a hole or square for the middle.
# Refold the corners and snap into place. Now you have a foldable bowl!
# To make a foldable utensil, take an extra piece of the cutting board and cut a strip.
# Round one of the ends, and cut the other end into zig-zag shapes.
# Score 2 inches or so in the middle of the strip.
# Poke a hole and attach the snaps. Now you have a foldable utensil!